With just two matches in the German season left, there are the two usual suspects occupying positions 1 and 2 in the Bundesliga. Behind them however, is an unfamiliar name. Little old SC Freiburg, a yo-yo club historically, is treading new paths, currently lying fourth in the table, challenging for Champions League football.
Their appearance comes as no surprise to those that have been following the league for a while. Over the past decade, Freiburg have qualified for the Europa League twice and have consistently finished in mid-table under manager Christian Streich despite the occasional relegation.
SC Freiburg in the 2021/22 Bundesliga:

DWWDDWWDWWL

Bayern become the first team to beat them in the league this season. 😤 pic.twitter.com/X0IhHgSm7m

— Squawka (@Squawka) November 6, 2021
Their current status though is a new high, and credit goes to the entire organisation that is exceptionally well-run. On the field though, there is one clear leader of the side who has been a step above the rest this season – the towering 22-year old centre back, Nico Schlotterbeck.
WHO IS NICO SCHLOTTERBECK?
Hailing from near Stuttgart, Schlotterbeck is one of the most promising young players in Europe at the moment. He broke into the Freiburg senior team in early 2019 after joining them from his youth side Karlsruher in 2017.
Herzlichen Glückwunsch zur ersten Nominierung für das @DFB_Team , Nico #Schlotterbeck! 👏 pic.twitter.com/qajFaespX5

— SC Freiburg (@scfreiburg) August 27, 2021
He is a left-footed defender who usually plays as the left-sided centre back in a back three in Streich's Freiburg. Schlotterbeck has also been omnipresent in Germany's national youth sides, culminating in winning the U21 Euros last summer. He was also called up to the national team earlier this year but is yet to make his debut, although he probably won't be waiting very long.
PLAYING STYLE
Schlotterbeck is a modern centre-back in every sense possible. He is confident on the ball and has a decent passing range. Playing on the left-side of a back three allows him to exploit the space created by the wing-back and he drives forward often in the channel. 
His attacking positivity does not mean that he is defensively suspect. He ranks at the 87th percentile for tackles per 90 among Bundesliga centre-backs, and 90th percentile for interceptions per 90. He is also very active in the middle third, recording 6.02 pressures per 90 (93rd percentile).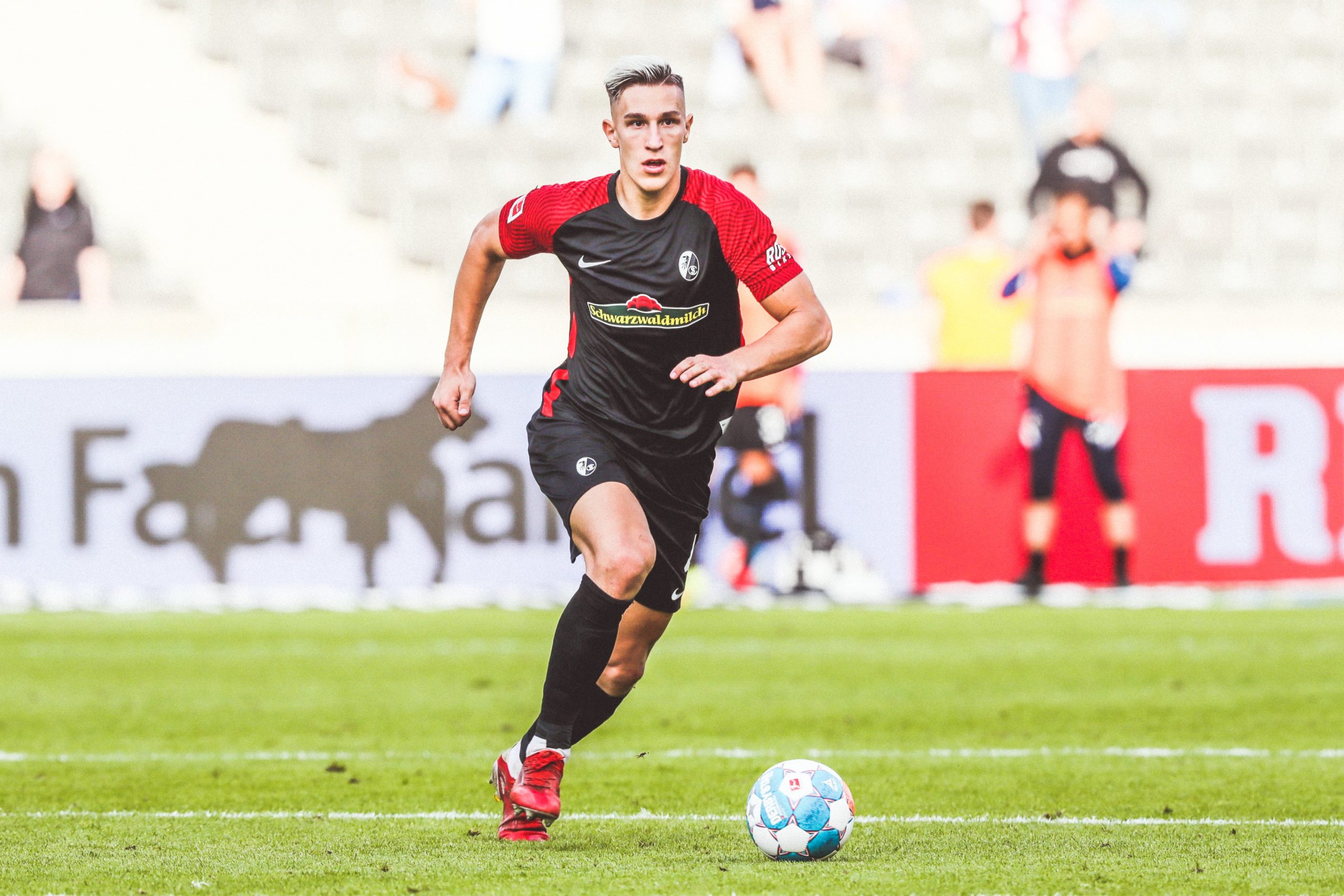 The Freiburg man is also 6 ft. 3 and wins just over 3 aerial duels per 90. His physique allows him to be a great defender – winning headers, making tackles and more – while his technicality allows him to be an asset going forward.
WHAT NEXT FOR SCHLOTTERBECK?
The 22-year old's contract runs until 2023 which means that he could be up for sale in the summer as Freiburg look to cash in. One of the concerns for prospective recruiters though is that Schlotterbeck has near-exclusively played in a back-three. It could be difficult for him to adapt to the centre-back role in a back-four, especially if he moves to another league.
However, he could also realistically develop this into a positive if he can play both as a centre-back and a left-back to add versatility to his already immense armoury. Bayern Munich are, unsurprisingly, interested but with the likes of Upamecano, Sule & Lucas Hernandez already at the club, playing time would not be guaranteed for the young German.
Tottenham have also been linked with Schlotterbeck and given new manager Antonio Conte's penchant for the back-three system, it could be a good fit. Spurs though are not guaranteed even Europa League football which is something that should be a bare minimum for a talent of Schlotterbeck's quality.
The defender has grown in leaps and bounds over the last couple of campaigns and this has been a breakthrough season irrespective of what happens hereon. If Freiburg make the Champions League, it will be a miracle come true and Schlotterbeck will have played his part. 
However, he will be at a crossroads in his career in the summer. To continue his development, he needs to make the step up. Irrespective of where he goes, one can only hope that Nico Schlotterbeck lives up to the hype and we get to enjoy his effortless play for years to come.