Sporting CP won the Primeira Liga title last season after an interval of what seems like a mammoth 19 years and one of the driving forces was the now 23-year old Pedro Goncalves.
The young Portuguese scored an astonishing 23 goals for the Green and Whites, also delivering 5 assists in the Portuguese top division. And it looks like he has picked up where he left off last season in Portugal.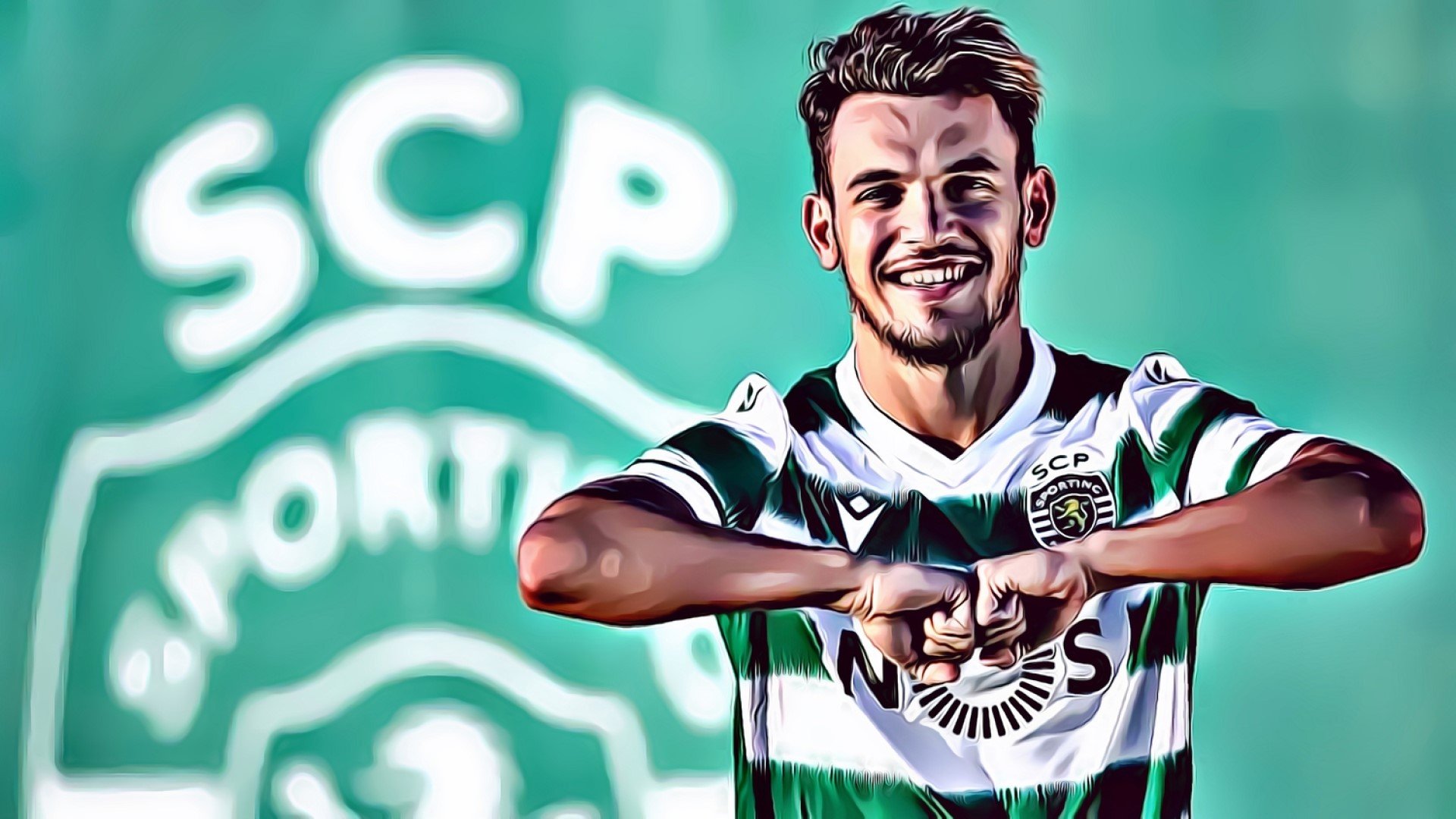 The former Wolves player has already opened his account in the Primeira Liga this season as Sporting CP prepare to defend their league title on the Iberian peninsula.
As the season in Portugal begins to play out week by week, FootTheBall offers its readers a holistic analysis about Pedro Goncalves, giving the readers a vantage point from which it would be easier to appreciate the 23-year old's contribution.
PEDRO GONCALVES – ONE OF SPORTING CP'S PIVOTAL PERFORMERS
The young Portuguese joined the ranks of Sporting CP last year when he put pen to paper on a five-year contract in Lisbon with the Portuguese club. And the fortunes of the Green and Whites soared after signing him.
He ended up as the top scorer in the Portuguese top-flight with 23 goals, pipping SL Benfica's Haris Seferovic to the top scorer accolade by one goal. And it would not be incorrect to say that his goals proved crucial in the Portuguese title race.
And it looks like he has no plans of slowing down as he has started the new season in similar fashion – scoring in Sporting CP's first match of the new domestic campaign in Portugal away to Braga to double their lead.
And his strike proved to be the winner for the Portuguese champions as they won 2-1 at Braga on the opening matchday of the Portuguese top-flight. As per some reports, Manchester United are reportedly interested in bringing him to Old Trafford.
The 23-year old is considered by many to be Bruno Fernandes' heir, both, for Sporting, and if United get their wish, at Old Trafford too. He was even selected by Fernando Santos for the Portugal senior team for the Euro 2020 tournament.
And now clubs like Manchester United and Liverpool are interested in bringing him to the Premier League – a move that could materialise if Goncalves keeps up his sterling form. Many sports media outlets are speculating that Pedro Goncalves is set to extend his stay in Lisbon with Sporting CP.
GONCALVES – THE JACK OF ALL TRADES WHO CAN ADAPT QUICKLY
One of the most important strengths that Pedro Gonclaves possesses is the ability to switch between roles as a winger and as a midfielder – this makes him a dream come true for any manager.
The 23-year old is primarily a right-winger, but as and when the situation demands it, he can also shift into a more fluid role in midfield to help out his team. Therefore, he is a valuable asset in whichever team set-up he plays.
He also has ingenious vision, near-perfect ability to pick out the correct pass or through ball and even get in dangerous positions in the final third to score or assist a goal at crucial moments, reminiscent of Bruno Fernandes, the Sporting icon whose boots he has filled quicker than expected,
All these attributes make him a perfect fit for Sporting CP and their manager Ruben Amorim, while the fact that he was the Portuguese top division's top scorer last season points towards his indispensability to the squad.
And what is more to say, he arrived at Sporting as essentially Bruno Fernandes' replacement when the former Sampdoria player left for the Premier League.
So far, he has filled in Fernandes' boots at Sporting CP in breathtaking fashion as he led them to their first league title triumph in almost 2 decades in Portugal. Going forward, it is safe to say that his stock in the transfer market will only rise in the future.
A MOVE TO THE PREMIER LEAGUE IMMINENT?
Just like Bruno Fernandes piqued Manchester United's interest with his spellbinding performances for Sporting CP, Goncalves is also making news in England as he seems to have caught the attention of both Manchester United and Liverpool.
From a career-oriented standpoint, a move to the Premier League to play for one of the 'Top Four' clubs would definitely be an upgrade for Goncalves after spending a season in Portugal.
He wouldn't take much time in adapting to the pace and physicality of the Premier League as he has already spent one season with Wolverhampton Wanderers in the English top-flight.
But the only apparent stumbling block in his move to the Premier League is his release clause that has been valued at €80 million and can possibly detract suitors from pursuing him this summer as the Covid-19 pandemic wreaks havoc in the transfer market.
But, on the flipside if he chooses to stay this season and reproduces the very form that led Sporting CP to domestic success last season ,he might have a lot of other options to choose from as undoubtedly many more clubs on the continent would sit up and take notice of the former Wolverhampton Wanderers player. For Sporting, one Fernandes followed the other, and their reign of dominance in the Portuguese top-flight shows no signs of slowing down.