Roberto Baggio is one of the best players in the history of Italian football. No matter what life threw at him, Baggio would always bounce back stronger. At the age of 18, he got into a serious injury that was about to end his career before it even took off. But Baggio defied all odds, endured the pain and went on to become one of the greatest footballers ever.
Baggio was often hidden behind the shadows of Alessandro Del Piero and Diego Maradona but many believe he was far better than both of them. Baggio has been injured for long durations during his career but he never ever quit playing football due to it. Although he has accomplished many feats in his career, he is and always will be, remembered for a missed penalty kick that would cost Italy the 1994 World Cup Final.
Baggio was highly versatile in terms of playing positions. He used to mainly play as a second striker, a position that was created especially for him because of his all-round ability in passing and shooting. Creativity, vision, ability to read plays and create chances, finishing and crossing ability, Roberto Baggio was amazing at all of them. He was almost the perfect player a club could have hoped for.
The fans used to call him 'The Divine Ponytail' for his trademark hairstyle and his liking for the Buddhist way of living. Baggio has stated that Buddhism has truly changed his perception of life and has helped him a lot while coping with pain and struggle. His  career is so interesting and inspiring, that there is a whole Netflix Documentary of his, set to be released on 26th May.
There is a generation of people who were raised by Football Italia who are going to be *very* into this…

BAGGIO: THE DIVINE PONYTAIL, coming to Netflix 26 May. pic.twitter.com/jVMhbVm7ko

— Netflix UK & Ireland (@NetflixUK) March 3, 2021
Baggio was born to a family of 8 in Venato, Italy. He started playing football at a very early age and had a natural flair for the game. At the age of 9, he impressed his local club Caldogno and got selected in their youth team. By the time he was 11, he had scored 65 goals in 25 matches. At the age of 13, he was bought by Vicenza Virtus, a Serie C club for €300. In 1983, at the age of 15, Baggio played his first game for a senior team. At the age of 16, he helped his side get a promotion to Serie B.
It is absolutely incredible how Baggio accomplished goals, other players take years to reach. By now, Italian Giants started sniffing around the youngster to try and sign him. Juventus and Fiorentina were the top 2 clubs who were desperate for his signature and Fiorentina beat Juventus to it. But right before he was about to join his new club, he suffered from an Anterior Cruciate Ligament knee injury. He was allergic to painkillers so he went ahead with the surgery without them!
Buon compleanno Roberto Baggio ⚪🔴#forzavicenza #forzalane pic.twitter.com/3v5iXjBwYR

— L.R. Vicenza (@LRVicenza) February 18, 2020
Doctors and specialists stated that he won't be able to play football anymore but Fiorentina still decided to have faith in the youngster and completed the move. Everything was happening well for the youngster until the injury, but Baggio didn't cry like a helpless kid, he decided to take his fate into his own hands and fought back strong.
PLAYING CAREER
FIORENTINA:
#OnThisDay in 1986 📆

Roberto Baggio made his Fiorentina debut ⚜️
The rest is History…#ForzaViola 💜 #Fiorentina pic.twitter.com/RO9SvLa7Hi

— ACF Fiorentina English (@ACFFiorentinaEN) January 29, 2021
The initial years of in Fiorentina were really sad because they were riddled with injuries. The phenomenal momentum the youngster had, was gone and he couldn't play any games for Fiorentina in his first season. In 1986, after recovering from his injury, he started getting some game time in the second season, but not for long. He again suffered from a knee injury for which he had to get 220 stitches. Just when the world thought Baggio has recovered from a fatal injury, life throws another one right at him.
If it was any other guy, he would have lost all hope in football, but Baggio was just built different. In 1987, Baggio recovered again and scored an equaliser saving Fiorentina from getting relegated. The next season was his long-awaited breakout season.
With 15 goals, he was the 3rd highest scorer in the league and won Fiorentina a Uefa Cup spot. Hence the fans went crazy for him. He had finally become the player he was destined to be. Former Fiorentina legend, Miguel Montuori was an admirer of the player and has said, " Baggio is more productive than Maradona; he is, without doubt, the best number 10 in the league."
Roberto Baggio's greatest goal is ____________ ✍️ pic.twitter.com/Ndr5OUbU3b

— ACF Fiorentina English (@ACFFiorentinaEN) February 18, 2021
In his last season for Fiorentina, Baggio scored 17 goals and was the 2nd highest goal scorer of the league. He even was 8th in the race for Ballon d'Or, 1990. Roberto Baggio surely left Fiorentina with many great memories by helping the team do well in the domestic competitions. Although he couldn't win any trophies for the club, he still became a club legend for years to come.
JUVENTUS: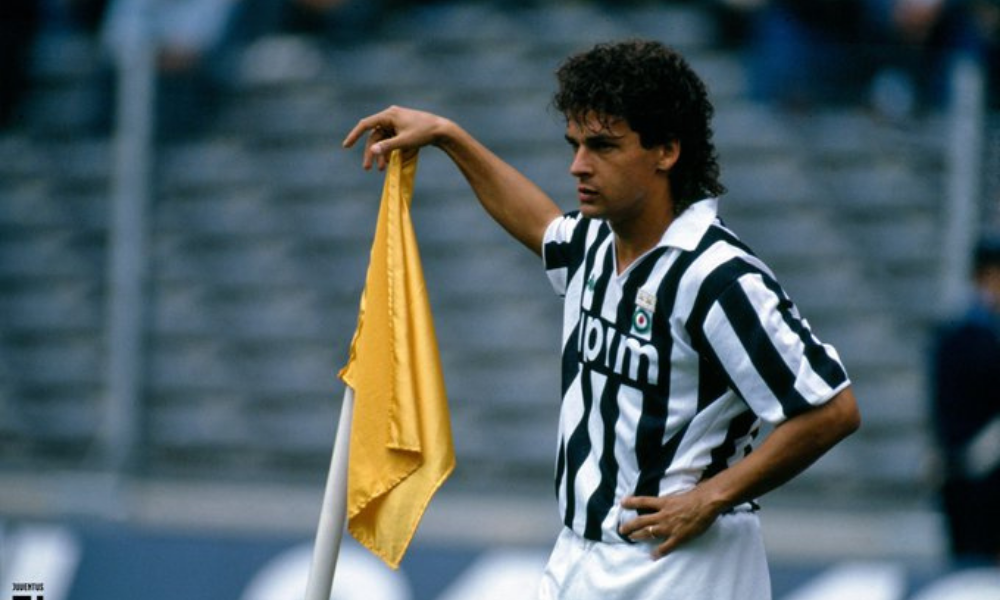 Juventus tried to sign Roberto Baggio when he was 16, but Fiorentina beat them to it. Juventus didn't lose hope though, they tried again in 1990 and were successful this time. They bought him for £8 million making it a world-record transfer. Fiorentina fans started riots upon his departure to a rival club, such was his influence in Fiorentina.
Baggio played the majority of his football career at Juventus. He won the 1994/95 Serie A and Copa Italia Title with Juventus. Baggio also made his 100th Serie A appearance while he was playing for Juventus.
Only from his second season, Baggio started to have influence over the Juventus side. Juventus's whole game started revolving around the passes and plays made by Baggio and soon the fans realised how good he really was. After an impressive 2nd season, the coach made Baggio the captain of the club in the 1992/93 season.
Baggio scored his all-time best, 39 goals across all competitions for Juventus, which helped him win the Ballon d'Or, the title of European Footballer of the year and the Fifa World Player of the year. But guess what, he still was the second-highest goals scorer in the League and hence couldn't win the award, yet again.
WHAT A HIT! 💥

Roberto Baggio 🆚 Reggiana ⚽️

15.04.1995 #GoalOfTheDay pic.twitter.com/jDD2Q3ivv4

— JuventusFC (@juventusfcen) April 15, 2019
1994/95 was Baggio's last season at Juventus. He was injured most of the season due to another knee injury but he still made ample of contributions in the latter half of the season. In total, Roberto Baggio scored 115 goals for Juventus.
His departure was not a pleasant one and it was almost like he was pushed out of the club. The club wanted Del Piero to play instead of him and hence tried to lower Baggio's salary by half. Even though his transfer out of Juventus was uncalled for, to date, fans regard him as one of the best captains and leaders this club has ever seen.
AC MILAN:
#OnThisDay
Roberto Baggio scores with a classy chip over the onrushing keeper ⤴
Roby Baggio batte Pagliuca con uno splendido colpo sotto ⤴ pic.twitter.com/yEFchKdVqZ

— AC Milan (@acmilan) November 24, 2018
Roberto Baggio was injured for most of the first season in AC Milan. The only highlight for Baggio that season was when he scored a penalty against his old team Fiorentina in a title-deciding fixture. Without much help from Roberto Baggio, AC Milan won the 1955/96 Serie A title.
The coaches didn't feel he was the same explosive player and hence made him a bench warmer for most of the 2nd season even though he was fit to play. Baggio was in AC Milan for 2 seasons, where he scored only 19 goals mainly because of his limited playing time.
BOLOGNA: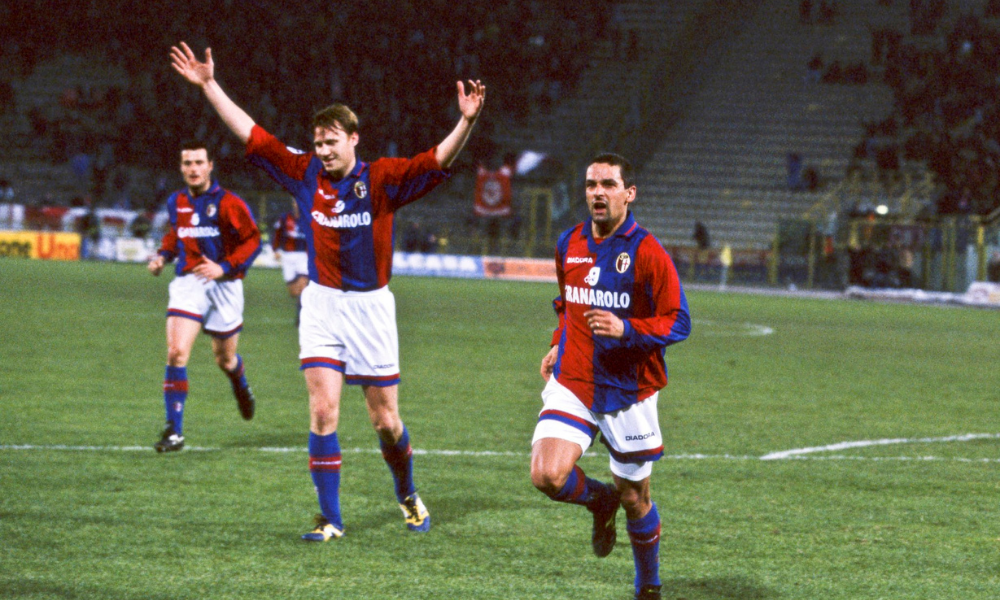 Baggio's spell at Bologna was one of redemption. He wanted to prove his old coaches and football pundits wrong, he wanted to show the world that he still had a lot of fight left in him, and that is exactly what he did. He was brought to Bologna to save them from relegation but he exceeded their expectations by a mile. They finished 8th due to his whopping 22 goals in that season (his personal best).
It was an amazing year for the player and we are sure the members in AC Milan regretted their decision. The only disappointing thing about Roberto Baggio that season was that he had cut off his iconic ponytail.
INTER MILAN:
🎂 | HAPPY BIRTHDAY

Many happy returns to Roby #Baggio: sending our best wishes alongside one of your many magical moments! 🧙‍♂💫 pic.twitter.com/qaaXZn9RHj

— Inter (@Inter_en) February 18, 2020
Roberto Baggio sadly remained injured in his first season again. He couldn't hit the heights that were expected of him after that dream run last season. Inter Milan as a whole also played really bad and finished 8th in the 1988/89 season. In his second season, Inter appointed his old manager from Juventus and because of their personal beef, he didn't give Baggio any playtime at his original position.
Roberto Baggio scored 17 goals in the minimal game time he had. Inter Milan was his favourite club while growing up and it is sad that he couldn't play for the club as he was hoping to.
BRESCIA:
Although Baggio had the option of joining Barcelona and Napoli as a free transfer, he decided to join Brescia for their first time in Serie A in order to save them from relegation and lead them to glory.
By now you might have guessed that he was injured in his first season here as well. But unlike the other times, he did well in his first season. He scored 10 goals and 10 assists helping Brescia, who were a relegation team at the start of the season, to a 7th place finish.
He stayed at the club till 2004, where he helped Brescia to maintain a midtable finish and was enjoying his football. He had his fair share of 46 clubs for the club and it is pretty clear that Roberto Baggio was at his best when he played for smaller clubs. He was a natural leader of men and he proved it during his time in Brescia and Bologna.
INTERNATIONAL CAREER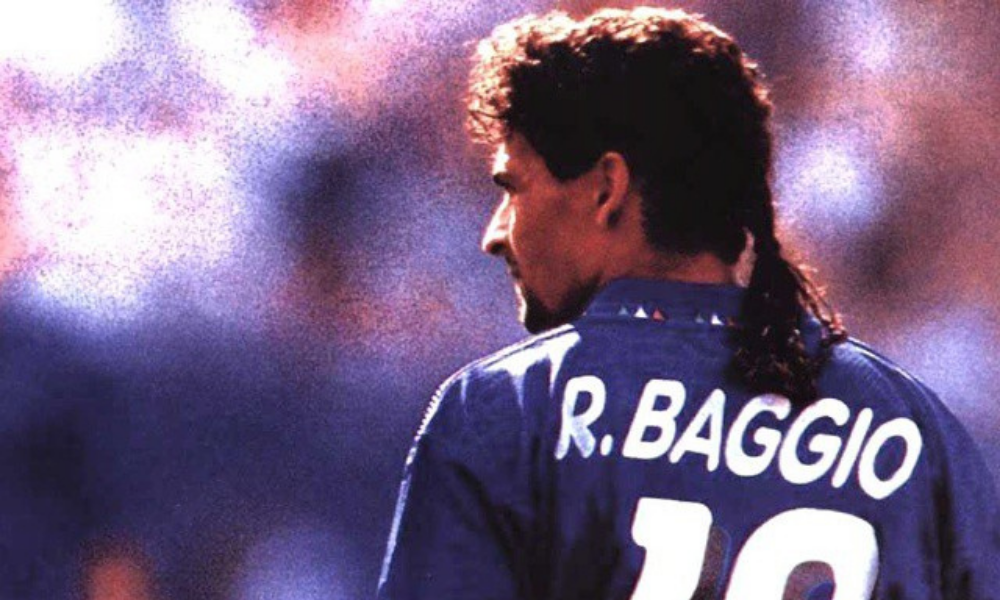 Roberto Baggio is the 4th highest goal scorer for Italy of all time with 27 goals to his name. In the 1990 world cup, he scored the best goal of the tournament and it was also the 7th best goal in the whole history of Fifa World Cups. Italy finished 3rd and Baggio made ample of contributions.
In the 1994 World Cup, Baggio scored 5 goals carrying Italy in the finals against Brazil. Although he is one of the finest players Italy has ever seen, he will always be hated for his mistake in the finals. After a 0-0 draw, the match went onto penalties and Baggio was the last penalty taker.
If he scores, Italy wins the World Cup becoming the first nation to win the competitions 4 times. Baggio was a composed penalty taker, but maybe the nerves got to him and blasted the ball above the goal losing the World Cup to Brazil.
INDIVIDUAL ACCOLADES
Relive Roberto Baggio's Ballon d'Or winning season with @juventusfcen 🔥 pic.twitter.com/0e6NulGD5S

— Dugout (@Dugout) February 18, 2020
The competition for the Ballon d'Or was extremely tough with players like Dennis Bergkamp, Eric Cantona, Paolo Maldini, in the running, but Roberto Baggio won the prestigious award rightly so. He won the Fifa Men's Player of the year and World Soccer Player of the Year in 1993. He won the Golden Foot in 2003. He also won the Bravo award in 1990, an award given by an Italian magazine to top budding talents in Europe.
LIFE AFTER FOOTBALL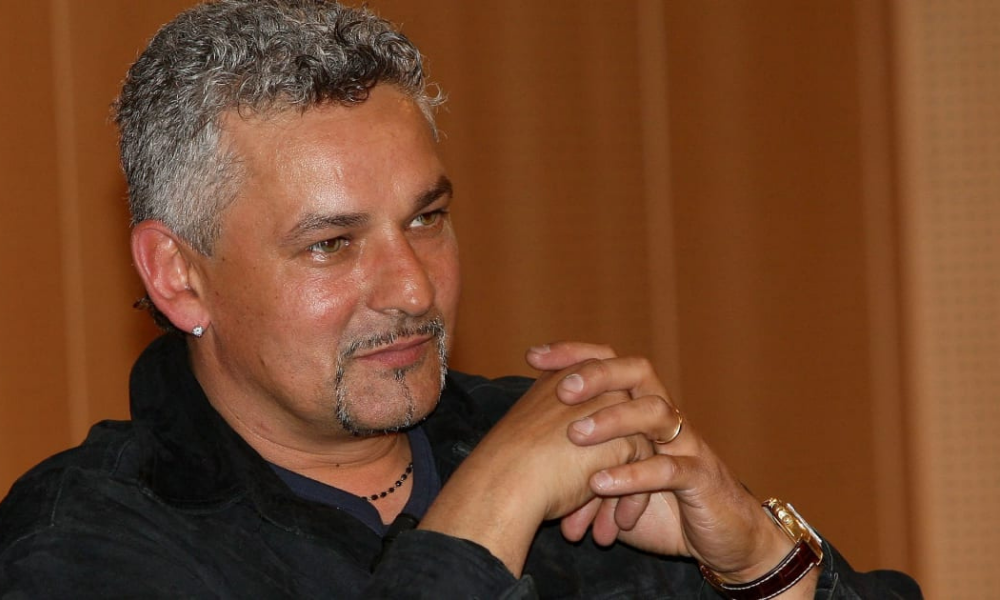 After retirement, Baggio became the global ambassador for the Food and Agricultural Organization of the United Nations. He is surely a man with a golden heart. From 2010-2013, he became the Technical Director of the Italian Football Federation. He even wrote an autobiography called ' A goal in the sky' during the later years of his career. His Netflix Documentary is also set to be released on 26th May this year. Baggio even has the license to coach any club in Italy but he isn't interested as of now. Right now he is busy enjoying his retired life.
With the Euros in a couple of months, Italy would be looking for someone who could bring the same impact, Roberto Baggio did in his time for them.