When Thomas Meunier crossed the ball into the box in the 94th minute against Japan in the 2018 World Cup with the score 2-2, everyone in Belgium had their eyes on Romelu Lukaku. Will he be able to score despite being harried by bodies around him? Lukaku, though, knew even before the ball was played, that a certain Nacer Chadli was in space, unmarked, running towards the ball behind him and he left it, to the surprise of everyone in the stadium, stepped over it!  A moment of brilliance, a moment that didn't need a touch of the ball, a moment that earned Belgium glory. 
Lukaku gracefully let go of the front-page moment then – sacrificing personal glory for the greater good of the team. Three years on, though, you can't help but feel that this time it is going to be him. In imperious form, on the back of a Serie-A winning, record-breaking campaign, and with a personal agenda on his mind – Euro 2020 is Lukaku's time.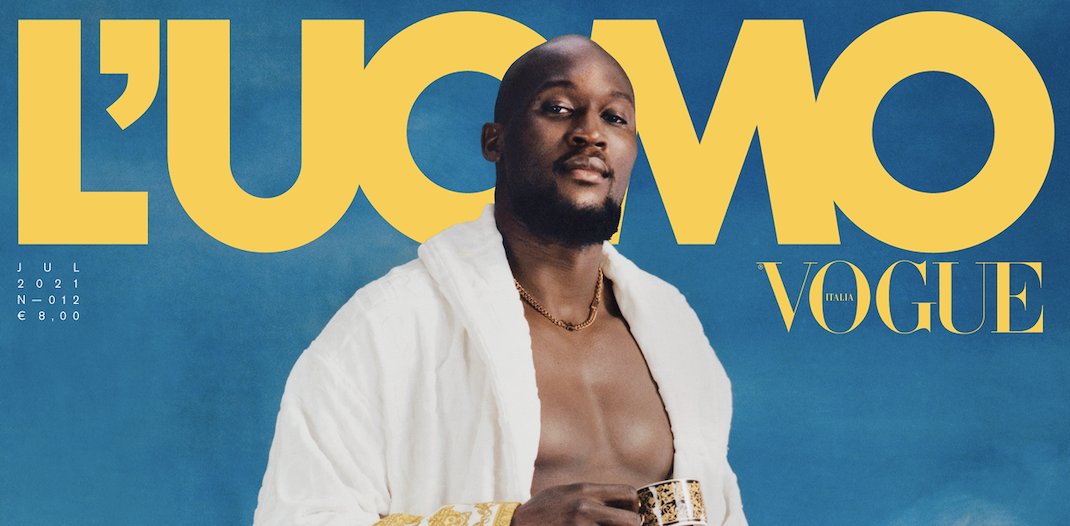 LIFE WAS HIS MOTIVATION
Romelu Lukaku is now one of the most celebrated footballers in the world. Earning wages that enable him to live the life of his choice, a luxury he never had in his early years. Belgium's all-time leading goal scorer has transcended his hunger to be the best striker in the country. An achievement that was inspired by a childhood of poverty and a constant need to prove oneself.
Fuelled by circumstances, the unnaturally big man was raised under a roof of poverty. His family did not have enough money for three good meals a day. The young Lukaku realised early on that he had to work desperately hard to improve their situation.
"I didn't understand what was going on. Then she brought my lunch over to me, and she was smiling like everything was cool. But I  realised right away what was going on. She was mixing water in with the milk. We didn't have enough money to make it last the whole week. We were broke. Not just poor, but broke."
Lukaku promised himself that he would work tirelessly to help his family. The Congolese descent caused scurtiny early on for his big stature, with opposition teams persistently demanding he prove his identity. There were times when he used to carry his passport in his bag to produce before the game just to prove his age.
Yet, despite all the setbacks, Lukaku made his dreams a reality and signed for Anderlecht in 2009. A successful spell gave him a ticket to London. He then spent a chunk of his time in the Premier League, playing for Chelsea, Everton, West Brom, and Manchester United. In 2019, he moved to Inter Milan and now is firmly amongst the world's best strikers.
WHAT MAKES LUKAKU SPECIAL
Football is one of those rare occupations in the world where talent is always given a trial. Colour, caste, race or religion simply does not take precedence in this world of football. What you do with the ball at your feet and sometimes even off it matters most. Yet, not every talent has the perseverance to make it! Not every pair of legs has the motivation to run the ninety, unbroken by the hustle and tussle that is thrown it's way.
Lukaku has the talent, he has the physique and above all, he has the heart. A big man in stature, his shadow looms even larger. There are some forwards who strike fear into the hearts of defenders even before stepping onto the pitch and the Belgian is definitely one of them.
The Inter Milan man isn't one to just use his muscle to find the goal. He doesn't need to lean on a defender to create the opening. His size is merely a disguise for a deadly finisher, capable of finding the net out of nothing. When pressed high, the Inter Milan backline plunges a high ball in hopes of finding their big number 9, and he likely gets there first too. Holding off the man that sticks to his back almost like a backpack ready to go for a trek. He uses his presence to lure the defence out of shape, and carefully and clumsily treads a ball to one of his teammates that often exploits the space that he creates.
Having a 6'3 body helps. Sandwich him between two veteran Italian centre-backs and he will still find a route through to goal. Push him and he will push back harder. Over-powering him is simply not an option. You either get the ball before he does or pray he loses his touch.
He realises his flaws. He isn't nimble or agile enough to squeak his way past a multitude of opposition bodies. Nor is he gifted with the most sensational first touch either. So, he uses what he has to maximum efficiency. He reads the game, makes out the movement before it even happens and lays down a contingency plan.
WORLD-CLASS ON AND OFF THE PITCH

Lukaku isn't your average striker, he isn't just there to score them goals, he is simply too good to be boiled down as just a striker. Perhaps he is too good to even be narrowed down to a footballer. The Belgian is one of the leading voices in Europe against the increasing trends of racism. Playing in Italy hasn't been easy. Even in the limelight at the Euros, Lukaku has used his airtime to convey that message via his celebrations.
There is of course pressure to shut up and get on with it but if you think he is the one to succumb to pressure, you haven't been paying attention. You can't keep him down, it doesn't matter whether you are a centre-back or a clown in the stands making monkey chants.
Lukaku sums it up best – "They don't have to check the ID anymore. They know our name."