Long before Kyogo Furuhashi was lighting up Celtic Park with technical brilliance and goals galore, it was the time of fellow Japanese Shunsuke Nakamura. The fleet-footed attacking midfielder was a joy to behold, known for his unerring finishes, sumptuous free-kicks and accurate passing.
Nakamura is a cult hero for Celtic with whom he stayed for four years and won silverware every season. However, it was in his native Japan where he really made a name for himself and alerted Europe to the imminent arrival of a new star at the start of the 21st Century.
Nakamura had started playing competitive football since he was five-years-old and progressed superbly through lower age groups before leading his high school to the national championship final in 1996.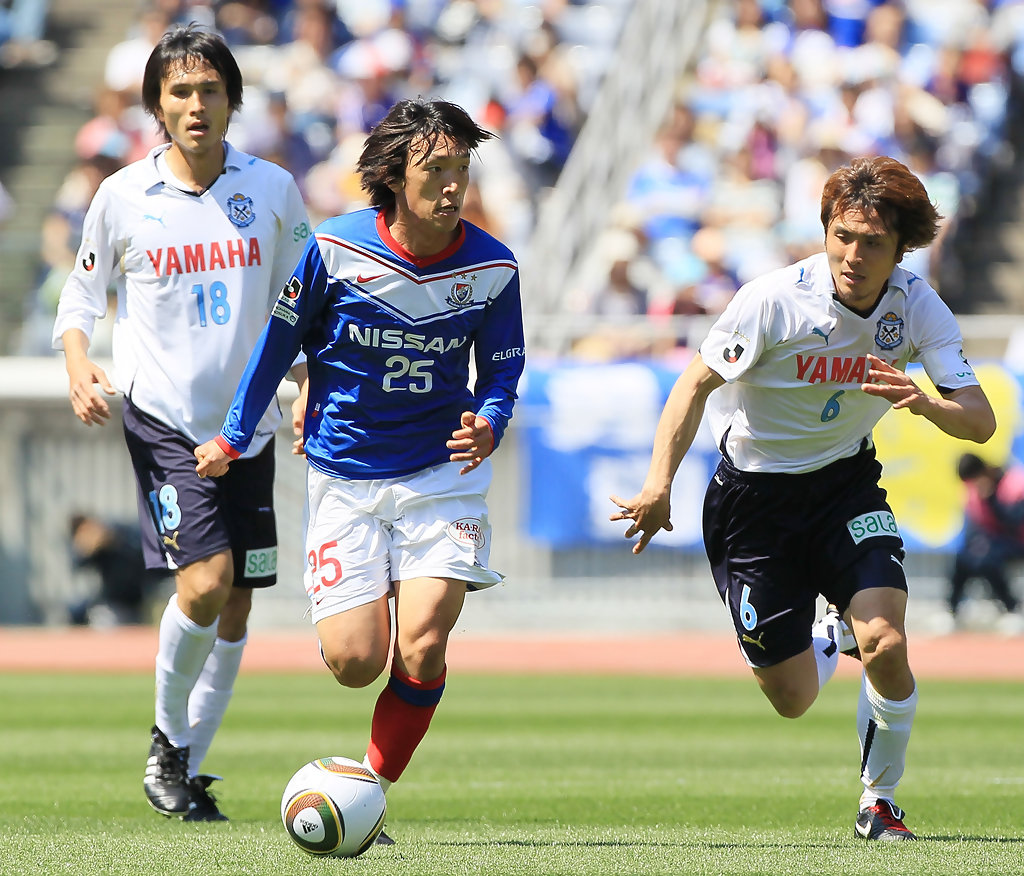 Those performances earned him a call-up to the U20 national team for the AFC Youth Championships as well as the 1997 FIFA World Youth Championship.
At just 19, he joined his first professional club. Nakamura would go on to become a much loved icon and also represent Japan with distinction over his decade-long association. His calm demeanour and friendly personality has helped him garner fans wherever he played which has certainly not stopped even in his 40s!
Shunsuke Nakamura (Japan)
in Coupe Internationale Hassan ll,
France vs Japan 2-2(pk 6-4)
at Casablanca in Morocco on 4 June 2000
photo by Masahide Tomikoshi/TOMIKOSHI PHOTOGRPHY pic.twitter.com/dFcLo1bTWs

— tphoto (@tphoto2005) April 23, 2020
Nakamura remains one of Japan's greatest ever players and is remembered fondly whenever a player from the Asian country makes a splash worldwide. 
PLAYING CAREER
YOKOHAMA F. MARINOS
Nakamura made his debut in a J. League Cup match for Marinos in March and his top-flight debut in April. He was a consistent part of the team and finished with five goals in 31 appearances. The next campaign was really when he turned his game up a notch.
He scored 10 goals while featuring 37 times while being heralded for his innate ability to create chances for players around him. He would continue his dominance over the next two years, netting 10 times as well as more than 15 assists. Nakamura helped his club win the J. League Cup in 2001. This would endear him to fans around the country who knew they had a special talent.
By this time he was being heavily scouted by teams from abroad, especially Italy, which only made a move away inevitable. Out of a long list of suitors, the 24-year-old chose Reggina with the side having just gained promotion from the second division. 
REGGINA
It was something of a coup for the Italian club to sign a burgeoning playmaker like Nakamura, who was promptly given the number 10 shirt. Sales of his kit hit an all-time high with the player scoring in three consecutive matches at the beginning of the season. However, Reggina's overall play meant that the club spent battling relegation most of the time.
Japan legends Shunsuke Nakamura (Reggina) and Hidetoshi Nakata (Parma) in action in Serie A, 2002/03 🇯🇵⚽️ pic.twitter.com/aqB54DJDBm

— Football Remind (@FootballRemind) August 8, 2021
Still, the newcomer finished with seven goals (joint-highest in the team) but his immediate future was not going to get better. Suffering from injuries meant he was limited to just 18 appearances and coupled with frequent managerial changes meant game time was lacking.
Walter Mazzarri arrived in 2004 but it was a season of poor results. Nakamura only scored twice and it was clear that his time with the club was coming to an end.
CELTIC
Nakamura was again linked with teams in Spain and Germany but was eventually persuaded to join the Bhoys. New manager Gordon Strachan was key in convincing him as he identified the Japanese attacker being the player who can lead Celtic back to the top.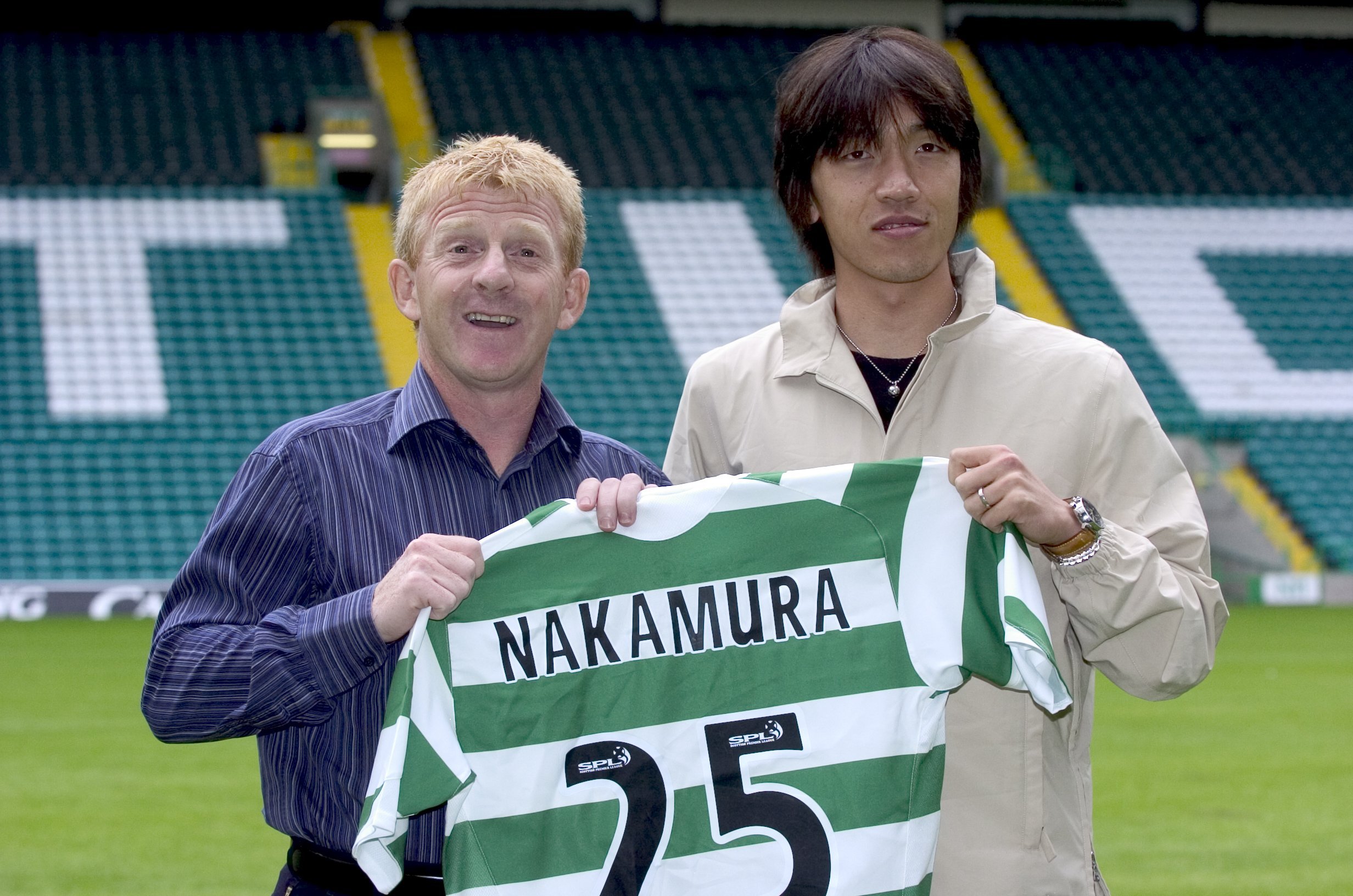 He made his debut in the second league match of the season and would soon develop into one of the most important names on the team sheet.
Nakamura ended his debut campaign with six goals and 10 assists but it was his intelligent playing style and controlled performances earning rave reviews. Celtic completed the double of the league championship and League Cup as Nakamura made his European bow next year.
The greatest free-kick taker in Scottish football history? 🎯

Shunsuke Nakamura made it look so, so easy 👏🍀#SPFLHeroes | @CelticFC pic.twitter.com/scQK0QgHy8

— SPFL (@spfl) August 25, 2021
He would immediately establish himself as a dead-ball specialist, scoring twice from free-kicks in two games against Manchester United. The second of those was perhaps his most famous goal in Scotland, as it helped the club clinch qualification to the knockout stages for the very first time. Furthermore, he would also win the SPL Goal of the Season award after his delicate chip against Dundee United.
Though the Bhoys fell against AC Milan, they secured a second league title in a row thanks to a last-minute free-kick from Nakamura helping them take an unassailable lead at the summit. With nine goals and 12 assists, he was named Scottish Player of the Year. The 2007-08 season would again see Nakamura struggle with injury, though he continued playing through it.
Happy birthday, Shunsuke Nakamura 🤩🇯🇵#CelticFC 🍀 pic.twitter.com/1XY2GybDyj

— Celtic Football Club (@CelticFC) June 24, 2021
That resulted in him finally having to miss three months of action from October. Celtic struggled to keep up their momentum during this period but Nakamura's moment would come. In a critical Old Firm derby in April, the Japanese star smashed home a 30-yard volley (his first against Rangers) in a 2-1 win. This led to his and the club's third Premiership in a row.
🚀 Shunsuke Nakamura scored an all-time great derby goal #OTD 13 years ago.#SPFL | @CelticFC pic.twitter.com/fKzCjWImOv

— SPFL (@spfl) April 16, 2021
His final season in Scotland would bring him another League Cup as he crossed 100 appearances for the club, finishing with 29 goals and 41 assists.
ESPANYOL
Though there was intense speculation that he would go back to Marinos, the 31-year-old moved to La Liga. However, cultural and language issues along with infrequent playing time meant Nakamura was mostly on the bench. As the season progressed, it was clear that this was not a happy association and would soon come to an end.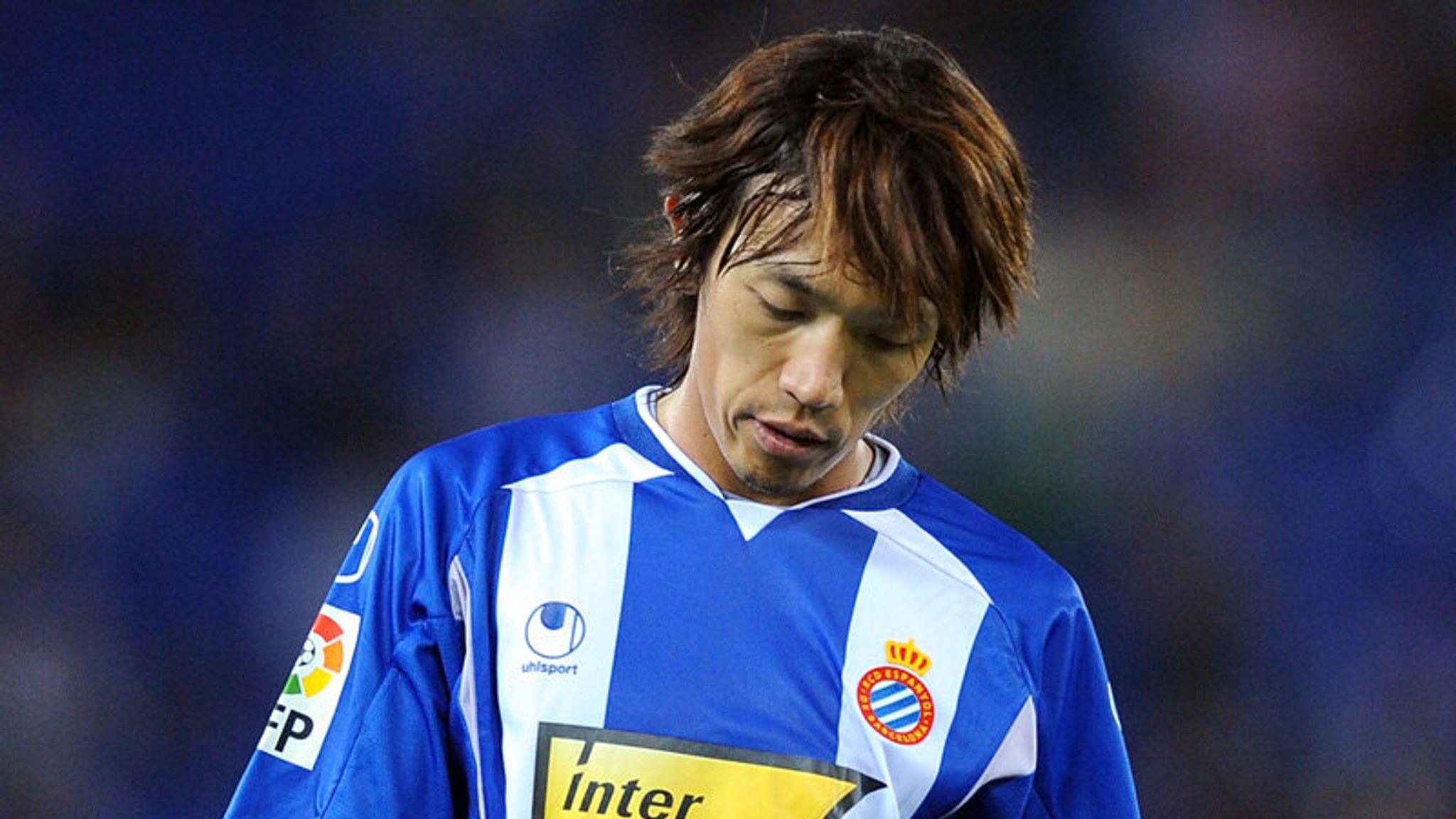 Despite another year remaining on his contract, the club moved to sell him in the winter transfer window. Though a reunion with Strachan was mooted, Nakamura eventually went back to Japan and his former club in time for the 2010 season.
RETURN TO MARINOS
Nakamura made 31 starts in his first year back, scoring five times and he was made captain the following year. The 2013 season would see Nakamura and co. go through highs and one despairing low. Marinos won the Emperor's Cup as well as breaking the record for goals from direct free-kicks with his 17th.
However, an injury to the captain caused the team to lose three of their final four matches and eventually the title by a solitary point. Nakamura described it as the "worst moment" of his career and the accolade of winning league MVP was scant consolation. He would score four goals and six assists in 2016, a season in which he became the longest-serving captain for the club and extended his goals from free-kicks record.
Shunsuke Nakamura's stunning 94th-minute free-kick rescued a 2-2 draw for Yokohama F. Marinos. https://t.co/rQ68ugwNpD

— Manchester City (@ManCity) July 21, 2015
His performances led to rival team Jubilo Iwata making an offer for Nakamura' services. Though he had stated his desire to retire with Marinos, the inner workings of the club made it impossible. Nakamura stressed the fact that the involvement of City Football Group- who had turned the club into a 'farm team' with a 20% stake- was getting out of hand and ruining his love for playing there.
JUBILO IWATA
He continued his goal-scoring prowess, scoring five times along with eight assists, including a pair of worldies. Nevertheless, increasing age and the rise of other players saw his game time decline significantly with just 16 appearances in 2018. 
YOKOHAMA FC
Nakamura signed with J2 League club, featuring six times and scoring once as they won promotion.
4️⃣0️⃣0️⃣!🎊 Congratulations to @yokohama_fc and former Japan national team legend Shunsuke Nakamura on making his 400th appearance in the J1 LEAGUE! ⚽️🇯🇵 #Nakamura400

© J.LEAGUE – All Rights Reserved #JLEAGUE pic.twitter.com/gALTnGwHwu

— J.LEAGUE Official EN (@J_League_En) June 4, 2021
His remarkable fitness and will to play has seen him continue his career, having made 17 appearances till now, with the last coming in June. 
INTERNATIONAL CAREER
Having represented Japan since he was 18-years-old, he made the step up to the U23 squad for the 2000 Olympics. He joined forces with fellow stars of the time to form the core of the Blue Samurais' attack in the future.
His senior debut came the same year in an Asian Cup qualifier, with Nakamura netting his first international goal in just his second outing. After some strong performances at that year's tournament which Japan won, he looked to have become a regular.
However, then-manager Philippe Troussier considered his physique and stamina as not up to par (an observation that was also made upon joining Celtic) and he was left out of the squad for the 2002 World Cup.
Prince Takamado with
Naomi Matsuda,Yosjharu Ueno,Koji Nakata,Shunsuke Nakamura,Akinori Nishizawa,Yoshikatsu Kawaguchi
Teruyoshi Ito,Hideyoshi Nakata,Shoji Jo,HiroshiNanami
Coupe Internationale Hassan ll, Japan vs Jamaica4-0
at Casablanca in Morocco, 6 June 2000
photo by Tomikoshi pic.twitter.com/5afkWT5jbj

— tphoto (@tphoto2005) April 23, 2020
With new manager Zico arriving after the competition, he recalled his former teammate and their partnership blossomed. Nakamura was instrumental as Japan lifted the 2004 Asian Cup and qualified for the 2006 World Cup.
⏪ @SaudiNT_EN were appearing in their 5th successive @afcasiancup final, but 20 years ago today Yoshikatsu Kawaguchi, Shunsuke Nakamura, Hiroshi Nanami, Akinori Nishizawa & Naohiro Takahara powered the @jfa_samuraiblue to their 2nd title. What a thrilling Japan team! 🇯🇵 🏆 pic.twitter.com/DvpKdAxjZx

— FIFA.com (@FIFAcom) October 29, 2020
He scored once and would continue to be a dependable playmaker till 2010 when he announced his retirement. Nakamura played 98 times for the Blue Samurais, netting 24 goals. 
INDIVIDUAL ACCOLADES
Along with the aforementioned prizes, Nakamura is the only player to have won the J. League MVP twice, with his first coming way back in 2000. 
He also won Japanese Footballer of the Year in those same two years but it was the stellar 2006-07 campaign with Celtic that garnered him worldwide attention. Nakamura was awarded the SFWA Player of the Year, Celtic Player of the Year, Celtic Fans' Player of the Year as well as earning a nomination for the 2007 Ballon d'Or.
Shunsuke Nakamura wins the 2013 JLeague Player of the Year! One of the best Japanese player in history. Legend. pic.twitter.com/b7p212dSDj

— デライ (@D_Shiryu13) January 16, 2014
Internationally, he won the AFC Asian Cup MVP in 2004. Furthermore, and this may be one of the most unique titles ever, Nakamura had Asteroid 29986 named after him in 1999 which seems a fitting tribute now. 
LIFE AFTER FOOTBALL
Given how Nakamura is still plying his trade, it is hard to see when he is going to retire. He is 43-years-old currently and still going strong. Moreover, he is not even the oldest member of Yokohama FC as the team also has 54-year-old Kazuyoshi Miura who serves as captain.
Yokohama FC's Shunsuke Nakamura took the first goal this season in the game against Tokyo Verdy today
El Golazo Shun-san!#ShunsukeNakamura pic.twitter.com/ZBKtzTEhq8

— Yuri (@yurixlax) October 27, 2019
Nevertheless, it is no surprise how revered Nakamura was in two countries and now his younger compatriot will try to do the same for a familiar club.