A week ago, Trevoh Chalobah was just another hopeful, training with the Chelsea squad to make it big. Fast forward to this Sunday, he's an overnight sensation. Chalobah made his league debut for the club, won a trophy and scored his first goal. The 22-year-old English centre-back is on cloud nine and would like to build on his success this season.
Your winner today! 👏 pic.twitter.com/8djR55F2IU

— Chelsea FC (@ChelseaFC) August 14, 2021
Chelsea were in the market for a new centre-back this season. Jules Kounde, Sevilla's centre-back was on the verge of moving to London. But finances didn't let the move to go through. The sudden emergence of Trevoh Chalobah might give food for thought for Marina Granovskaia. Chalobah could end up saving millions for Chelsea with his good form.
Chalobah's talent is immense and his potential is limitless. The fact that he made his way into the Chelsea squad from Chelsea's massive loan army speaks volumes about him. There were other centre-backs like Fikoyo Tomori and Marc Guehi on the books at Chelsea. They were sold in the transfer window this summer. But Chalobah impressed Thomas Tuchel and showed he can fight for his future at the club.
No words can describe how I'm feeling right now, Jehovah is great 💙🙏 #CFC pic.twitter.com/HE3oE1xg7h

— Trevoh Chalobah (@TrevohChalobah) August 14, 2021
So who is Trevoh Chalobah and what is his style of play? How can he be the perfect fit for Chelsea?
WHO IS TREVOH CHALOBAH?
Trevoh Chalobah was born in the South-West African country of Sierra Leone. His family moved to London in search of a better life when Chalobah was a toddler. Trevoh has an older brother Nathaniel who also joined Chelsea's academy. Trevoh joined Chelsea's academy in 2008 as a nine-year-old to follow in his brother's footsteps.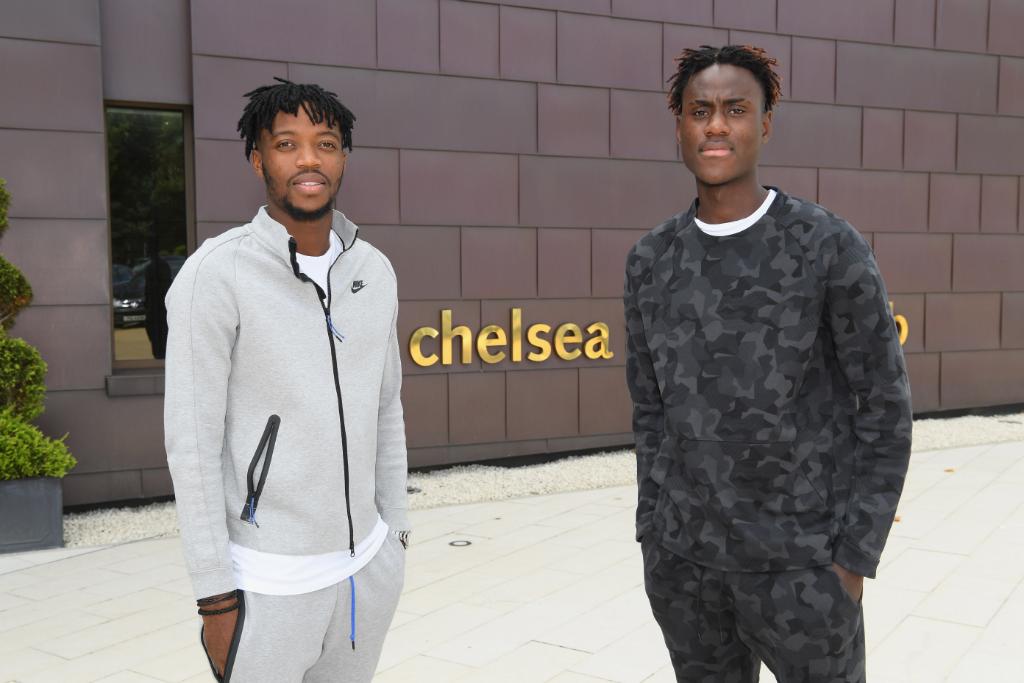 Chalobah was a regular member of Chelsea's youth teams and played with players like Mason Mount and Reece James together. He was a tall and pacy player capable of playing at the back or in the midfielder. Chalobah was a key member of the Chelsea youth squads that won the UEFA Youth League in 2015–16, the FA Youth Cup in 2015–16 and 2016–17, and the Under-18 Premier League in 2016–17. In 2016, he signed his first professional contract with Chelsea.
He was unable to break into the Chelsea squad and was content with loan spells in the Championship. Chalobah joined Ipswich Town in 2018 for his first full season as a pro. He was used as a defensive midfielder by the tractor boys and made 44 appearances. He was unable to prevent their relegation to League One that season.
Another loan spell was granted and this time he joined Huddersfield. He was often deployed as a centre-back for the Terriers and made 38 appearances.
📅 18th April 2012
Ballboy as Chelsea beat Barcelona in Champions League

📅 11th August 2021
Debut as Chelsea beat Villarreal to win Super Cup@TrevohChalobah made it 👏 pic.twitter.com/T8Ekd2S7ie

— Football on BT Sport (@btsportfootball) August 12, 2021
The move which caught everyones' eyes came in 2020. After signing a new deal with Chelsea till 2023, he joined Ligue one's new boys FC Lorient. A young English centre-back going to a big-five league without much senior experience would raise anyone's eyebrows. Chalobah defied the odds and impressed everyone in France. He played across centre-back, right-back and defensive midfield. Crucial defensive contributions and two goals from him helped Lorient stay up in the league.
PLAYING STYLE
Chalobah is an incredibly versatile player. A centre-back by trade, he also plays as a defensive midfielder and a right-back. The wonderful thing about his versatility is his proficiency wherever he plays. He never looks out of position when deputizing across the pitch.
Chalobah has an imposing figure of 6'3ft and is frightening on the pitch. He has incredibly long legs that help him in tackling and intercepting passes. For a centre back, pace is paramount these days and Chalobah has it in abundance. He also possesses crucial game awareness and positions himself excellently.
— ⚽️ (@calteckvids) June 7, 2021
For someone of his height, Chalobah possesses extreme agility and is superb with ball at his feet. He can drive out of tight spaces easily and can play the safe pass. When deployed in midfield, these traits make him an efficient ball winner. His energy and endless running make him a good presser as he closes the gaps brilliantly. According to FBREF, Chalobah profiles as an extremely proficient interceptor of play, wherein he can capitalise on his game awareness and cut-off opposition attacks at their source.
Trevoh Chalobah vs Villarreal

-95% Pass rate
-123 Accurate passes
-1 Blocked shot 🛑
-3 Accurate Long balls 🎯
-5 Duels won 🔒
-2/2 Tackles
-2 Aerials won
-5 Interceptions
-5 Recoveries

WHAT A PERFORMANCE 🙏🏼🙌🏼👏🏼💜🔥🏴󠁧󠁢󠁥󠁮󠁧󠁿#UEFASuperCup

-FotMob Stats

Pic from cfcnewspage – IG pic.twitter.com/Le5AXUDxW3

— 𝙍𝙚𝙮 𝙎𝙩𝙚𝙫𝙞𝙣𝙝𝙤 💙🇵🇾 (@Rey_Blues30) August 11, 2021
He turns 22 now and has a crucial season ahead. Chalobah is not the finished product by any means. Even with his height, he is not that effective in the air and loses duals easily. His passing can also improve and Thomas Tuchel needs his centre-backs to play out from the back. This can definitely be improved upon with Chalobah. We thought Chalobah isn't an efficient goal threat, but after his debut goal and the aplomb with which he took it, all bets on his ceiling as a player are off.
A HUMBLE AND DOWN TO EARTH PERSON
Chalobah didn't make a single professional appearance for Chelsea after joining as a kid in 2008. Players in this modern era are impatient and they demand to leave at a very young age to be starters. Chalobah is an old-school player and decided to stay and fight for his spot. He was duly rewarded with his professional debut in the Super Cup final recently. Suddenly he was in the spotlight and was given a chance to help his side win a trophy on his debut.
The greatest patience is humility, stay hungry 🙏🏆 #SuperCup #CFC pic.twitter.com/dczFtXGtvG

— Trevoh Chalobah (@TrevohChalobah) August 12, 2021
Chalobah took the opportunity excellently and did no wrong as Chelsea beat Villarreal on penalties on the night. His performance impressed everyone and Chalobah himself was moved by the moment. Those close to him always knew that Chalobah was a humble and down to earth person. He is an ardent devotee of Jesus Christ and knows patience is humility.
After a great debut in European competitions, a league debut was in store for him. Chalobah produced a man of the match performance against Crystal Palace. To top it, he even scored the final goal of the match from outside the box.
What dreams are made of! 👌 pic.twitter.com/91bmHipKF3

— Chelsea FC (@ChelseaFC) August 14, 2021
His first goal for Chelsea drowned him in emotion. He said, 'It's been an amazing week for me. When I scored, I didn't know what to do — I was crying, really. I'm happy for myself and for my family. I've had to work hard and stay patient. I need to keep doing that.'
Chalobah received high praise from his manager Tuchel who said 'It was well-deserved, he's been so solid in pre-season.'
This is just the start for Chalobah who must keep working hard to fulfil his potential and become the star he's destined to be.