Serie A has long been a daring destination for footballers from the United Kingdom. Only three Scottish players have ever played in the Italian top-flight. Denis Law, Joe Jordan, and Graeme Souness made up that illustrious list. Or, they did until the beginning of 2020. That was when an 18-year-old by the name of Aaron Hickey joined Bologna.
Denis Law was a legend for Manchester United and Scotland. Here are his best moments over a very illustrious career. 
🚨 OFFICIAL 🚨

They thought he was a myth, they hunted high and low, they believed he would appear. Now, he's here and he's real 🦕💪

Our Flower of Scotland 🏴󠁧󠁢󠁳󠁣󠁴󠁿#WeAreOne pic.twitter.com/4v7OipkWQ2

— Bologna FC 1909 (@BolognaFC1909en) September 24, 2020
The rest, as they say, has been a dream. Hickey has blossomed into one of the most promising youngsters in the league, alongside Moustapha Cisse, Nicolo Rovella, and more recently, Dejan Kulusevski. Hickey's superb form has seen him already make his senior debut with Scotland.
4 – Aaron #Hickey is the fourth Scotland 🏴󠁧󠁢󠁳󠁣󠁴󠁿 player able to score a goal in Serie A, the first since Graeme Souness in January 1986 (the others Joe Jordan & Denis Law). Bagpipe.#BolognaGenoa

— OptaPaolo 🏆 (@OptaPaolo) September 21, 2021
There is no doubt that he will add to the long line of illustrious fullbacks that the Tartans have produced over the years. A big European move can be on the horizon soon, with several top clubs interested. So, why is everyone so excited about this teenager from Glasgow?
Playing career so far
Aaron Hickey joined Hearts at an early age, where he used to play for the youth teams in the mid-2000s. The Glasgow native then left for Celtic in 2014 and would remain with the Bhoys for four years. Having grown frustrated at the lack of first-team opportunities by 2018, Hickey rejoined Hearts.
16-year-old Aaron Hickey starts for Hearts.

16-year-old Karamoko Dembele on the bench for Celtic.

Great to see two rising stars involved in the #ScottishCupFinal. 👏🏴󠁧󠁢󠁳󠁣󠁴󠁿 pic.twitter.com/ow4WJhfUS7

— 888sport (@888sport) May 25, 2019
That turned out to be a very fruitful decision as he made his senior debut in the penultimate league game of the 2018-19 season. Hickey made further history by becoming the youngest player to feature in the Scottish Cup final since 2008. He would go on to play 30 times for Hearts in 2020-21, scoring once, against Hibernian, along with one assist.
⚽️⭐️ At 17 years, 104 days, Aaron Hickey is @JamTarts' youngest ever scorer in an Edinburgh derby

He is also the youngest scorer in Scottish Premiership since Dec 2017 (Harry Cochrane, also for Hearts, v Celtic) pic.twitter.com/QpdFIbtjAi

— Sky Sports Statto (@SkySportsStatto) September 22, 2019
Hickey's superlative performances earned him rave reviews, with several clubs vying to sign him. Bayern Munich, Aston Villa, Lyon, Celtic, and Bologna were the interested parties. In the end, Hickey decided to join the Italian side, stating,
"I came to see Bologna and immediately liked the feel of it all. The training ground, the people, the city. Serie A was a big attraction, this felt like a good move.
Needless to say, it was always going to be a huge task for Hickey to succeed quickly. He made his debut in September against Parma. However, the debut campaign got derailed a bit as Hickey contracted covid in December.
Hickey's season ended in March 2021 after he suffered a shoulder injury and had to undergo surgery. That could have sent Hickey on a downward spiral but he rose back stronger.
How many 18-year-olds can say they've received a standing ovation on their debut in a new country?

You did good, lad 🏴󠁧󠁢󠁳󠁣󠁴󠁿👏#BolognaParma #WeAreOne pic.twitter.com/fSZr2B4gUD

— Bologna FC 1909 (@BolognaFC1909en) September 29, 2020
He has become a mainstay in the Bologna side under Sinisa Mihajlovic, himself a former defender. Bologna have been chugging along with Hickey shining every time he plays. That led to a senior callup to the Scotland national team in March, he even got his first minutes with the team.
All signs point to a long and successful career at the top with Hickey becoming a major asset for any side.
Bologna have been one of the most impressive teams in Europe in recent years. Here's how they have managed this feat. 
Stats
First things first, Aaron Hickey's numbers will not blow any minds. He is predominantly a left-wingback in Bologna's 3-5-2 formation. Hickey has scored four goals already from an xG of 0.7. That puts him in the top 94 percentile of players with 0.16 goals per 90 for players in his position across Europe over the past year.
Hickey has a great ability to get past his marker and make an impact offensively. The chart below better illustrates how Hickey is improving at a rapid rate.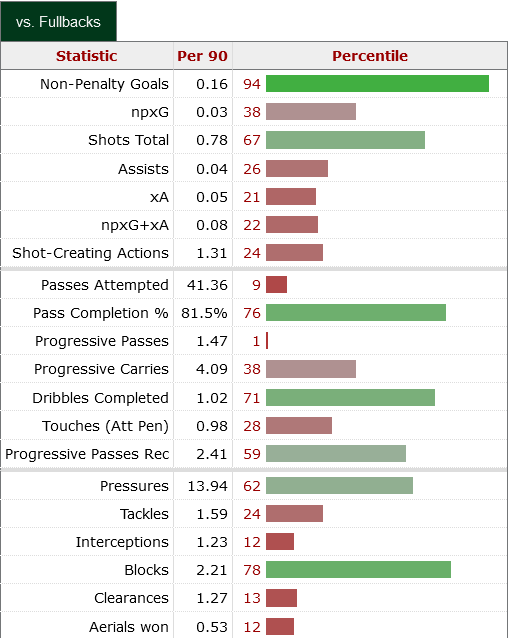 He fancies a dribble, completing 1.02 per 90. On the defensive end of things, Hickey's most notable trait is getting in front of the ball. He averages 2.21 blocks per 90 and has the capability of increasing that by honing his awareness. Like most wingbacks/fullbacks these days, Hickey is expected to have significant contributions in the attacking third.
🏴󠁧󠁢󠁳󠁣󠁴󠁿 Aaron Hickey (19) v. Sassuolo:

☑️ 90 minutes
🚫 Clean sheet
⚽️ 1 goal
🚀 2 shots
⚔️ 7/9 duels won
💪 2/3 tackles won
❌ 3 interceptions
🤕 4 fouls suffered
🎯 21/23 passes completed
🤩 3-0 win

His 4th Serie A goal this season for @BfcOfficialPage. Breakout season! pic.twitter.com/07vl087Tcs

— Football Wonderkids (@fbwonderkids) December 22, 2021
Bologna have trusted Hickey by giving a consistent run of games in the team, leading to him becoming the teenager with the most minutes in Europe. Hickey is not too fond of carrying the ball up the field, instead choosing to pass it to teammates.
Some parts of his game can certainly do with improvement, including a bit more defensive work. Bologna need to defend better than attack and Hickey can become a true dual threat in the future.
What the stats do not tell
Quite a lot. Aaron Hickey is one of those players who pass the eye test with flying colors. He is breezy in possession, seemingly gliding past opposition players with the ball. Hickey's talent was evident from a very early age.
The Wee Warrior. https://t.co/ayhZUCr1rr pic.twitter.com/WuRZ9RIDfU

— Bologna FC 1909 (@BolognaFC1909en) April 4, 2022
"I had absolutely no worries about putting him in against Aberdeen," says Craig Levein, his boss at Hearts, speaking about his debut to the BBC. "He played because he was training so well. I watched all the youth games and he steadily improved from the period where he came back to us from Celtic."
View this post on Instagram
Listening to Hickey himself, it is clear that he is enjoying his time. "So far it has gone well," he told The Guardian. "Coming into the season, I thought it might be a case of working my way back into the team after my injuries, that maybe I'd get a few games, but I've managed to play a lot and even add a couple of goals as well.
So I'm very happy. I didn't expect to get into the team so early and play so regularly."
See ya later 🏃💨#WeAreOne pic.twitter.com/lcMP0A1cnr

— Bologna FC 1909 (@BolognaFC1909en) September 29, 2020
However, one of Hickey's most important attributes is his versatility with both feet. That has allowed him to play on the right flank too when needed. Moreover, Hickey has slotted in as a midfielder, screening the backline. This gives both Bologna and Scotland a lot of positions to play Hickey in going forward.
What makes him special
For starters, his untapped potential. Hickey is setting the stage for a big breakout sooner than later. Given how he has already become a regular for a Serie A club, Hickey will be one of the first names on the team sheet. The following table elaborates on how Hickey has been booming this season due to regular gameplay
| | | | | | | | |
| --- | --- | --- | --- | --- | --- | --- | --- |
| League only | Goals P90 | Assists P90 | Shots P90 | Chances created P90 | Dribble accuracy P90 | Tackle accuracy P90 | Blocks P90 |
| 2020-21 | 0.00 | 0.00 | 0.24 | 0.24 | 0.83 | 0.94 | 0.12 |
| 2021-22 | 0.16 | 0.04 | 0.77 | 0.65 | 1.06 | 0.98 | 0.49 |
Date from Soccerment
Hickey is also a fan of crossing into the box regularly, which sets up solid chances for his teammates.
He wants to make things happen and is not shy about demanding the ball. Despite his quiet nature and shy persona, Hickey is no mug on the pitch and can expertly hold his own against much more older opponents. He has shown the willingness to play anywhere on the pitch and making a great job of it.
Potential
The length of Aaron Hickey's contract at Bologna is not known. However, it is safe to assume that the club will find it hard to resist any serious bid. The abovementioned clubs are all in the fray, with AC Milan joining the ever-growing list.
Brentford have entered the race for Scottish left-back Aaron Hickey, with the Bologna player also attracting interest from Newcastle United and AC Milan. (Source: Sky Sports) pic.twitter.com/f49sax352a

— Transfer News Central (@TransferNewsCen) April 1, 2022
Hickey is also going to tussle for a regular national team spot, and given his ability to play in a variety of positions, will see heavy minutes. Therefore, Hickey will have some options to choose his new club shortly. Money does not motivate him so Hickey will go to someplace where his talent is maximized.
Barcelona could be a good option, given Jordi Alba's increasing age and the lack of viable replacements.
🏴󠁧󠁢󠁳󠁣󠁴󠁿🏆 Great to see Billy Gilmour and Aaron Hickey nominated for the Golden Boy award.

Full list below 👇 pic.twitter.com/TWT3nm1Cnq

— Andrew Maclean (@AndrewMaclean_) June 15, 2021
Xavi has got the Catalans playing like the old days and Hickey can be a huge part of the incoming revolution. However, Arsenal's recently reported interest has intensified quickly. While Hickey would probably not be a started for the Arsenal side, the environment at the Emirates could be perfect for the Scottish youngster.
Mikel Arteta is building a young team with potential to flourish together and Hickey can be an instrumental part of it.
Nevertheless, he has a lot of time to choose from and there is no doubt it will be a very thought-out decision.