Ligue 1 is one of the foremost exponents of developing and nurturing young talent. Having recently sold Eduardo Camavinga to Real Madrid, they still have the likes of Yacine Adli, Lucien Agoume, Adil Aouchiche and more. One of the relatively new names on the scene was the centrepiece in a big deadline day storyline. Stade de Reims' 6'2" teenage forward Hugo Ekitike was the subject of a €25m+ bid from the world's richest club Newcastle United. Though the move eventually fell through, it has been reported that the 19-year-old is attracting heavy interest from big European names and is sure to leave for pastures anew in the summer.
Hugo Ekitike for Stade Reims this season:

☑️20 games
⚽️9 goals
🅰️2 assists
🥅1 penalty won
📊directly involved in a goal every 96 minutes
📈35% conversion rate

19 years of age. Enormous potential. pic.twitter.com/uLSrc3GbCC

— Football Talent Scout – Jacek Kulig (@FTalentScout) January 29, 2022
His current teammate, Nathanael Mbuku, is also a rising star in France and another one of the club's gems. So, why has there been so much hype surrounding the young forward in what is his first senior season in France? Well, one reason could be that he is the most prolific teenager in Europe's big leagues this season with a goal every 96 minutes across all competitions. But that's telling only a part of the story.
Playing career so far

Having been born in Reims itself, Hugo Ekitike started his footballing journey with local amateur side Cormontreuil FC in 2008, staying for five years.  He was scoring a lot of goals and had quick feet that allowed him to deceive defenders. Ekitike joined the youth academy of Reims in 2013, famed for their development of youngsters and opening up a pathway to the senior team for them. He made his senior team debut in October 2020, coming on against Lorient but could only make one further appearance that year.
𝗧𝗼𝘂𝘀 𝗮𝗺𝗮𝘁𝗲𝘂𝗿𝘀 𝗱𝗲 𝗻𝗼𝘀 𝗰𝗹𝘂𝗯𝘀 !

🔙 Retour aux sources pour Hugo Ekitike !

Notre attaquant stadiste est allé rendre visite aux jeunes pousses du club de ses débuts, le Cormontreuil FC 🤜🤛

🤝 SDR x District Marne de Football pic.twitter.com/2s5cdYQdJj

— Stade de Reims (@StadeDeReims) September 23, 2021
Hugo Ekitike was shipped off to Danish top-flight club Vejle in January 2021 to continue his progression in a first-team squad. Three goals and one assist in 11 matches in Denmark might not seem much but one has to remember the circumstances of that time. There was a lockdown in the country, with Ekitike's agent being told to leave within 48 hours of arriving. In a new country all by himself, he was determined to make the best of his opportunities and return to France a more accomplished player. Reims manager Oscar Garcia admits that when he returned for pre-season, he "was the fourth striker on our list."
Nevertheless, Garcia realized during that time that Ekitike "had a lot of the qualities required to become a top striker." It was also beneficial that Reims were fielding one of the youngest squads in Europe, with 12 players under the age of 21 having already featured this season. Ekitike has been a regular part of the lineup, whether from the start or coming on from the bench and looks set to continue his scoring form in the back end of the season as well.
Stats
Hugo Ekitike is a mix of the traditional number nine and the pacy forward with bursts of speed. Reims have scored 22 times, with Ekitike providing eight of those in just 955 playing minutes. He has often been used on his own up front or paired with a fellow strike partner. No matter the setup that he finds himself in, what has been eye-popping for onlookers has been his goals-to-minutes ratio.
119 minutes between goals is frankly ridiculous output at 19 and in his proper debut senior season in the French league. It is no surprise that he tops Ligue 1's P90 scoring table ahead of more experienced pros like Jonathan David and Wissam Ben Yedder.
Scoring 8 league goals in double-quick time, Reims striker Hugo Ekitike (19) tops Ligue 1's goals per 90mins table this season:

0.83 | Ekitike (Reims)
0.79 | David (Lille)
0.79 | Ben Yedder (Monaco)
0.72 | Diallo (Stras.)
0.68 | Elis (Bordeaux)
0.63 | Terrier (Rennes)

— Get French Football News (@GFFN) January 10, 2022
A deep dive into the numbers behind his extraordinary season reveals what a complete package Hugo Ekitike is molding into. 1.23 interceptions, 1.32 tackles and 1.13 blocks (all P90) show how battlehardy he is when it comes to winning possession and tracking down opponents. Furthermore, as mentioned above, his quick feet and willingness to carry the ball has seen him complete 1.88 dribbles P90. Ekitike is growing into becoming a masterful player on the ball, with more than 70% passing accuracy over short and medium distances.
When Reims are without the ball, it is the hardworking nature of the team that are instrumental in winning the ball back. Ekitike applies 17.81 pressures and makes 1.04 clearances P90 meaning that he is extremely involved with the defensive end of things. Showing such maturing at such a young age could only mean great things, proving the notion of attackers not doing the dirty work wrong.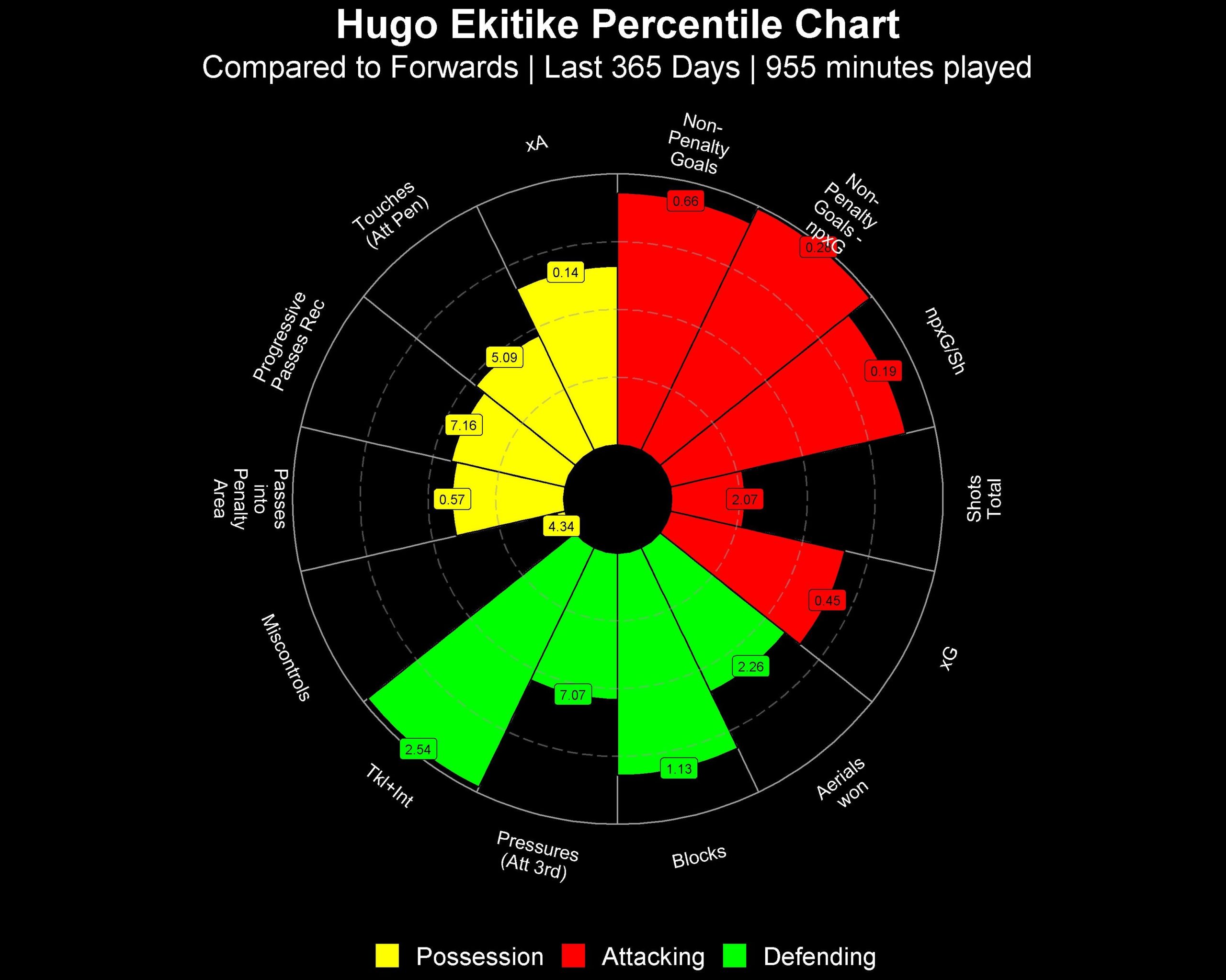 Ekitike is not an avid progressive passer of the ball with just 1.04 being made P90. However, when it comes to progressive carries, he has 3.86 per match which shows how attack-minded his thinking is always. He has not had too many touches in the opponents' penalty area (5.09) or even progressive passes received from teammates (7.16) in a match, which could be due to the fact that he has not seen enough game time for those numbers to rise. It is not too big a worry given how young he is and how he is just starting out on a truly elite level.
What the stats do not tell

Numbers can only take you so far. Other times, one has to observe the actual game play and make notes because some things have to be taught away from the figures. Hugo Ekitike's height for one stands out. His ability to win aerial duels and make important clearances, giving Reims a much better chance of winning the ball in both areas of the pitch. Moreover, the young striker is also benefiting from the experiences of his coach and the philosophy he aims to instill in his charges. Garcia played 18 years for Barcelona through the various age groups, and was a coach for the U19s later on.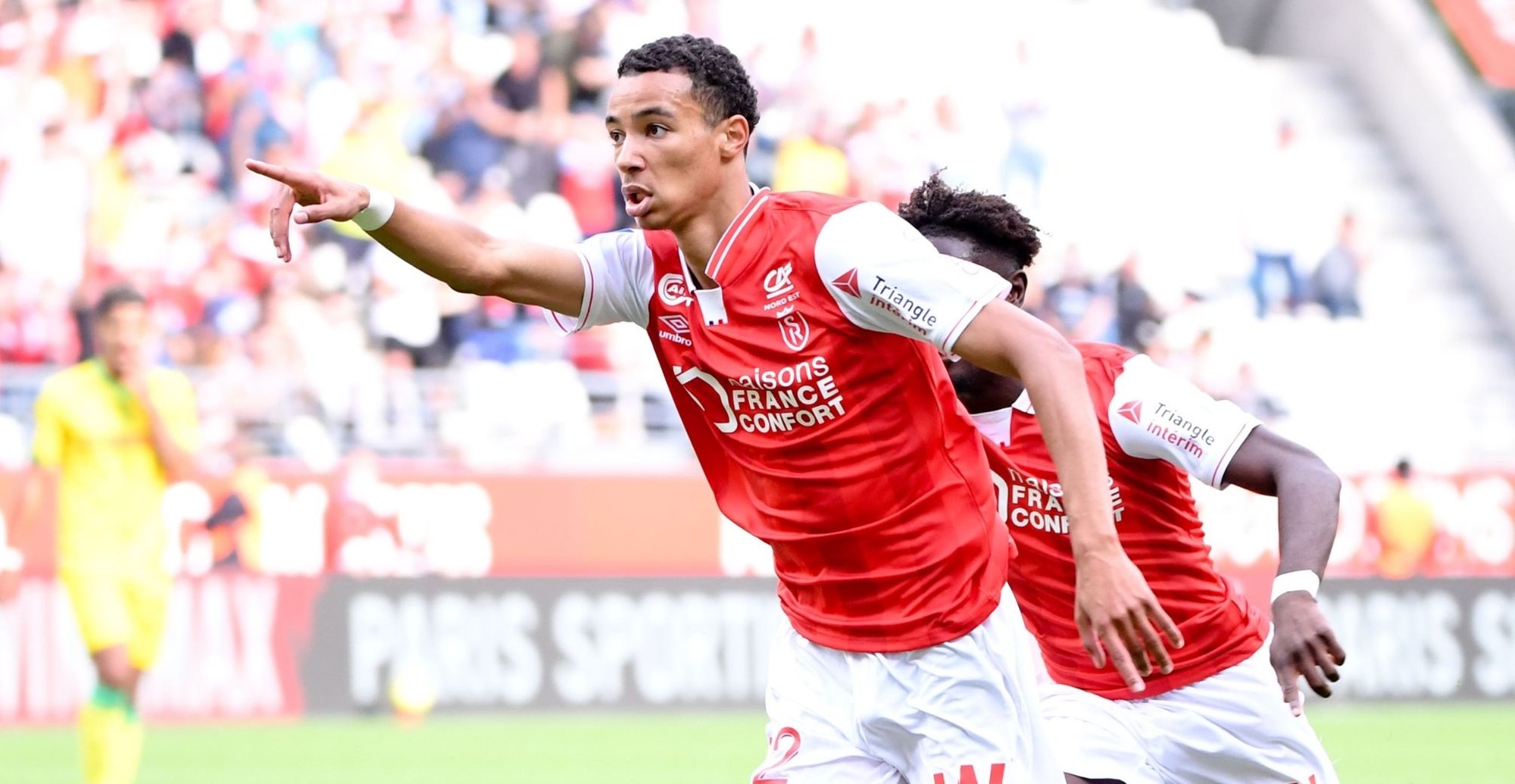 Later on, he was also involved in RB Salzburg's setup during Ralf Rangnick's famed 'gegenpressing' time. Playing 'against the ball,' pressing and counter-pressing are all evident in the Reims side now, which makes it no surprise that Ekitike is honing all of these crafts. The work he does without the ball, the tenacious nature to excel in the defensive end of the things in attack itself, always looking to create the pressure on opponents. Though his physicality needs to be worked on, there is no doubt that Ekitike's current learning environment is as fruitful as it could get this early on in a player's career.
What makes him special

Hugo Ekitike has been a teenage sensation already but it is his calm head and matured play that has been earning plaudits. In Ligue 1, he has been ranking within the top 10 in some key areas including shots-on-target (59.1%, 6th), goals-per-shot (0.32, 2nd), non-penalty expected goals-per-shot (0.19, 7th). Furthermore, he has also been involved in 26 shot-creating actions (2.45 P90) and six goal-creating actions (0.57 P90).
All of these point to a young man who is always in and around the action during matches. It brings to mind another sharpshooting forward who also exudes many such abilities. Raul Jimenez of Wolverhampton Wanderers has been the stalwart striker for his side in recent years, but is being heavily outperformed by Ekitike. A look at the chart below makes the stark difference even clearer.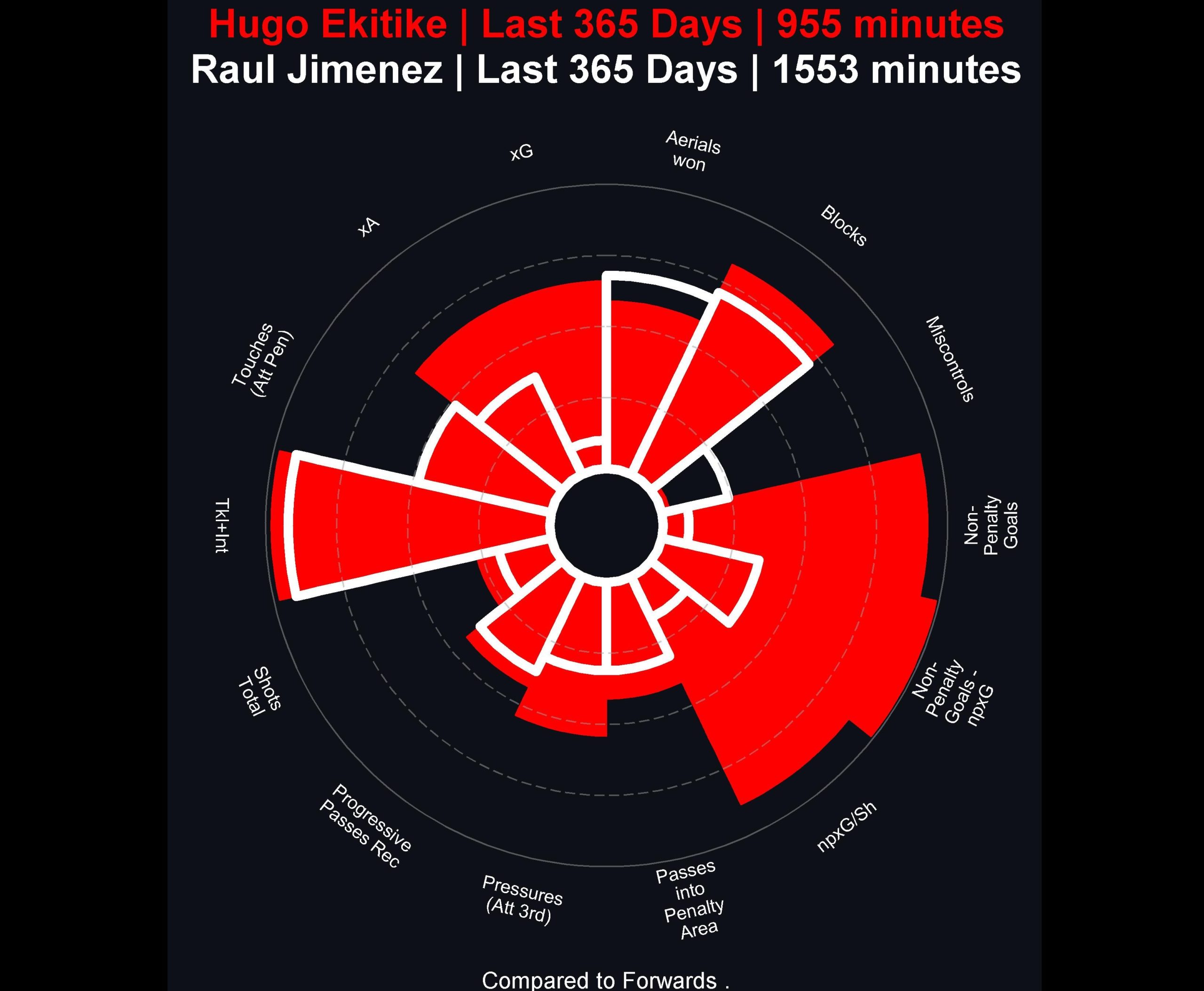 The only area where Jimenez does win the battle is the aerial one with the Mexican winning 2.78 as compared to 2.26 for Ekitike. Even in the event of poor control of the ball, Jimenez is the leader. The metrics of xG, xA, npxG, and npxg-per-shot are all in the realm of Ekitike who is looking set to become a complete striker across all departments in the years to come. Indeed, the Frenchman's numbers are some of the best in Europe, all of which makes it clear why multiple European clubs are keen on signing him soon.
Potential
The sky's the limit as they say and Hugo Ekitike has the world firmly at his feet. Having already made his debut with the France U20 team last year, he will undoubtedly represent Les Bleus in the years to come, given the veteran nature of their current strikers. His club future could be trickier to pinpoint come the end of the season. Most teams look for players who can get their shots away and trouble the opposition in a regular manner.
Hugo Ekitike is an adept shooter, taking his attempts from all around and inside the penalty box. Though he is mostly a constant presence where the crosses come and gives him the best position to score from. He has tried a few shots from long distances and can develop into a fine 'fox in the box.'
Ekitiki's agent confirmed that they have had offers from Europe but did not want to make a late switch to Newcastle United, especially as they were not convinced fully with the sports project there. That kind of thinking might provide an understanding as to where Ekitike might land up. Borussia Dortmund and Ajax are two of the foremost clubs in helping young players with regular time in the first team setup. Brentford could be another attractive option, provided they can stay in the Premier League for the next season. In Italy, AC Milan have two aging forwards and can use an understudy like Ekitike lessen the workload while continuing to feature regularly.
View this post on Instagram
A move to one of the super rich clubs might not work out in his favour with no guarantees of game time, something that is desperately needed at this stage of his career. No matter where he ends up, Ekitike is sure to keep his head down and focus on bettering himself.
View this post on Instagram
But before that, an explosive end to the current season beckons and Reims should be expecting a hefty transfer fee as they still have, in the words of their president, "a piece of history to write together."