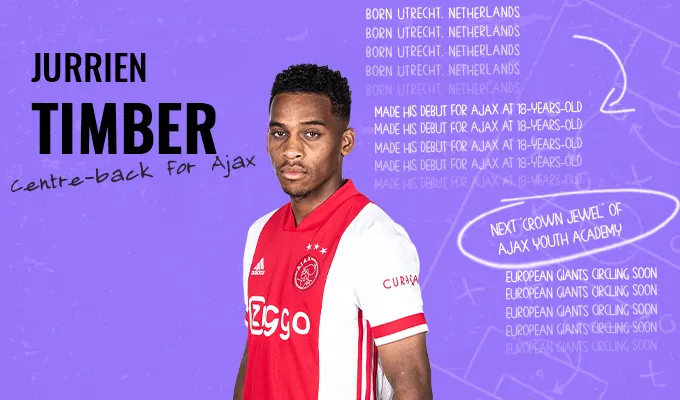 Jurrien Timber- The Next Rolls-Royce CB From The Ajax Youth Academy
The football culture of the Netherlands is just special. A player's excellence in multiple facets of the game is an absolute necessity to be successful there. There are attackers who press maniacally to force turnovers, and then there are defenders who are better at carrying the ball with their feet than most of the good midfielders of other nations. A list of "World-Class Dutch Centre-Backs" would probably be as long as the day feels on a Monday. Hoping to add his name to that list in due time is Ajax's crown jewel, Jurrien Timber. 
From classic Dutch CBs like Ronald Koeman to the present day where Virgil Van Dijk is arguably the world's best in the position with Matthijs de Ligt not far behind, Timber has some way to go before being considered in the same bracket. Still, if there was one player who you wouldn't bet against making it like former right-footed Ajax wunderkind de Ligt, it would be present right-footed Ajax wunderkind Timber. 
PLAYING CAREER SO FAR
Timber is a product of the famed Ajax youth academy, home to numerous legends of the game. After impressing scouts in his hometown, he was snapped up by Feyenoord. However, Ajax's history of developing young talent was too great to ignore. So, he joined Ajax at the age of 13 for the formative years of his footballing education. 
Jurrien Timber has only recently emerged as the hot prospect everyone is talking about. He made his debut in March 2020 and put in a calm and composed performance against Heerenveen. His progress was curtailed due to the suspension of the Dutch League, Eredivisie, due to COVID-19. 
Ajax coach Erik Ten Hag, however, was impressed with what the youngster showed on his debut. "He has proven himself, and I will take that into the new season," Ten Hag had said after the season abandonment was confirmed. 
Ten Hag was true to his word and season 2020-21 has been a true breakout year for Jurrien Timber. He took every chance that came his way en route to making 20 appearances in Eredivisie, with 16 coming from the start. He added another five appearances in the Europa League as he gained some continental pedigree, never once looking out of his depth, a testament to his strength of character.  
On the international scene, he has appeared for Netherlands age group teams, from U15s to U21s. There might be some time till he becomes an established member of the senior national team but if he keeps taking into his stride every level he plays at, that time might come soon. 
STATS
As is the case with almost every player to come out of Ajax's youth academy, regardless of position, Jurrien Timber profiles as a smooth operator with the ball at his feet. With a passing accuracy of 88% at 61 passes attempted/90, he can slot in seamlessly into elite teams of the world looking to play out from the back.
There is a slight youthful exuberance to his game which is reflected in his slightly poor tackling rate. He makes 1.7 tackles/90 while conceding 0.5 fouls/90 leading to a below average 70% tackling success rate. 
Due to his comparatively small stature, at about 5ft 9inches, he could lack the height to play as a CB long-term. Recognising this, Ten Hag has also played him as a Right Back this season. His dribbling abilities have shone through in this role as he has looked adept at taking players on and beating them off the dribble. 
WHAT THE STATS DON'T TELL
Despite not being very tall and at an age where he is yet to fill out his frame, he relishes physical contact and can more than hold his own in one-on-one duels on the ground. He contests aerial duels with fearlessness despite his height and profiles as someone who can grow into a leader with some more reps under his belt. 
"He will not immediately be the leader of the Ajax first team," Ten Hag had told Ajax TV in September 2020. "But he dares to speak out immediately and has not been shy in the dressing room. Those are important qualities to get far," he said. Moreover, to compensate for his height, he has developed a strong sense of positioning to sniff out the attacks before they even gather steam. 
One of our own. ❤️

🍾 Jurriën Timber ⇝ 2024!#ForTheFuture

— AFC Ajax (@AFCAjax) September 18, 2020
Like another player who made a big-money move from Ajax, Frenkie de Jong, Timber might also be someone who ends up taking his career to the next level with a change of position. Ten Hag has already marvelled at his ability with the feet, saying the 19-year-old might have a future at centre-midfield. 
In the long term, this versatility should ensure that he remains a key part of whichever club he plays for. However, if he wants to gain command over the full-back position, where he has played extensively this season, he will need to improve the confidence in his crossing.
Although Ajax normally don't rely on aerial bombardment in the box, Timber still visibly lacks conviction in his delivery. Dest's transfer to Barcelona last season opened up more minutes for him. He took his chance with both hands, despite being played out of his preferred position, showing a flexibility and a workmanlike ethic to his game. 
WHAT MAKES HIM SPECIAL
His fundamentals and intangibles are on-point which makes it only a matter of time before the on-field issues, as minor as they may be, are soon ironed out. It is often said that talent is only as good as the talented person's willingness to work on it. Fortunately for Ajax and any prospective buyers, Jurrien Timber has looked like a model professional so far. Rarely are there any 'bad eggs' in Ajax's academy and Timber looks sure to continue that trend.
Players with a driven mentality and a single-minded focus to improve can improve the whole atmosphere and personality of the dressing room. Timber looks to be of the character that a successful dressing room craves. There should be no off-the-field caveats attached to the youngster which is a rare situation in modern-day footballers.
PREDICTION
Despite starting 16 games in the league, Timber has actually played only 49% of the available minutes. Therefore, the next step of his career progression should be to establish himself as the first name on the Ajax teamsheet. Learning to ply his trade in multiple positions wouldn't go amiss but he would do well to nail down his preferred starting position.
He is a part of another famed batch from the Ajax youth academy, with the likes of Ryan Gravenberch, Naci Unuvar, Brian Brobbey and many more.  He might soon outgrow Ajax as he has already been deemed good enough to make the final Netherlands squad for Euro 2020. 
Ajax are not known to stand in the way of an upwards career move by their players and if Timber keeps up his trajectory of progress so far, he will soon end up in the bright lights of a major club in Europe, just like his famed seniors. FootTheBall believes that another season at Ajax would serve him well and if he continues showing improvement, a move to a European giant that plays possession football beckons.