The search for the next manager of Manchester United is warming up. There have been several names thrown into the ring ever since Ole Gunnar Solskjaer's departure. The names proposed have become familiar to all by now. Mauricio Pochettino seems to be out of contention after PSG collapsed against Real Madrid. That leaves the frontrunner in the race as Erik ten Hag.
BREAKING! Erik ten Hag has held 'positive' talks with Manchester United's hierarchy who are thought to be "impressed by his vision and philosophy", but there is no favourite for the role.pic.twitter.com/1qvPNEn2OX

— Sky Sports Premier League (@SkySportsPL) March 23, 2022
The former FC Utrecht boss has been earning rave reviews ever since taking over at Ajax in 2017. It has been reported that Ten Hag has already had his interview too. Though there will definitely be other candidates in the fray, fans are extremely excited for his arrival. However, the thoughts then turn to how the Red Devils will look and play under him.
During the meeting, Erik ten Hag wanted to hear about Manchester United budget and plans for the future. His English level has now improved – ten Hag feels ready to try Premier League experience soon. 🔴 #MUFC

Man United will also meet other managers. Process still ongoing. pic.twitter.com/vMTw4iCnCc

— Fabrizio Romano (@FabrizioRomano) March 23, 2022
Erik ten Hag is a purveyor of strong tactics and using very solid personnel across each position. FootTheBall looks at how United could lineup next season with ten Hag.
Erik ten Hag tactics
First things first, the quality of the Eredivisie has to kept in mind. Erik ten Hag will face far stiffer opposition in the Premier League. Apart from the increase in quality of teams, even the bottom dwellers can spring a surprise often.
Moreover, another thing to keep in mind is how best the players will fit into his style. Keeping all that in mind, there is still much to look forward to from next season.
🤯 Ajax are the only team from UEFA's top-10 coefficient-ranked leagues with a greater goal difference (+67) than points haul (66) this season

😏 Heading to the Eredivisie title in style pic.twitter.com/wi2xKwCuCR

— WhoScored.com (@WhoScored) March 23, 2022
Therefore, Erik ten Hag and his tactics can be broken down into some key components. He uses the 4-3-3 with a double pivot in midfield. The buildup starts right from the goalkeeper who is extremely adept with his feet. The two centre-backs are adept in receiving the ball and making passes around them.
The fullbacks, either on one or both, usually drop back in order to provide extra cover. Like their centre-backs, Daley Blind and Noussair Mazraoui are comfortable with playing long balls forward. Going a little further up, Erik ten Hag often links his tactics for the midfield and attack.
If you ever want to know how much impact Daley Blind has over this Ajax team, here is a pitch map of all his passes (red) and carries (grey) this season.

The most absurd map I've seen that I had to check that it was only for one player. pic.twitter.com/k7ayhxBTDC

— UtdArena (@UtdArena) February 17, 2022
The double pivot can become a single player with only Edson Alvarez sitting deep. Therefore, this allows Ryan Gravenberch and Steve Berghuis to attack in a consistent manner. Simon Haller emulates the Harry Kane-style of play by dropping into midfield to receive the ball.
However, unlike Spurs, Erik ten Hag has several options ahead who act as runners in behind. The wingers, Dusan Tadic and Antony, stay extremely wide and are comfortable in a variety of situations.
🇧🇷 Two goals for Antony in Ajax's KNVB Cup victory over Vitesse takes the winger in to double figures for the season.

2022 is shaping up rather nicely for the 21-year-old who is also breaking into, and scoring for the Brazil squad during the World Cup Qualifiers.#Ajax pic.twitter.com/gPRsZ3vS8o

— FotMob (@FotMob) February 10, 2022
Both can receive the ball at feet and look to immediately run at the opposition or cross. Antony, in particular, loves in-swinging crosses that reach the centre of the penalty box. Needless to say that the relationship between the fullbacks and wingers are integral to the whole plan.
By stretching the opposition's press wide, Ajax can overload on either side often. A lot of it is also down to the supreme quality of their own players and the subpar nature of their opponents.
Sébastien Haller has scored 30+ goals across all competitions in a season for the first time in his career:

◎ 31 games
◉ 31 goals

Loving life at Ajax. 🙌 pic.twitter.com/zkwqUxxElo

— Squawka (@Squawka) March 6, 2022
However, that is not to say that Ajax are lacking in substance. Erik ten Hag has implemented his tactics in such a manner that every player has his role very clearly defined.
He does have an overreliance on defenders who can have a nervy moment in the big matches. Nevertheless, there are many things that Ajax are doing way better than United at the moment.
The 11 Red Devils
Coming to what and how Erik ten Hag will do with his tactics at Manchester United. The first and most important point has to who plays under him. Ten Hag does not change his personnel much. All top clubs tend to follow that policy. Liverpool, Real Madrid, Bayern Munich, and others know their first-choice players.
Erik ten Hag will want a holding midfielder who can reliably pass the ball if he becomes the next United manager #mufc https://t.co/cE1UgLwPN1

— Rich Fay (@RichFay) March 19, 2022
However, United have some gaping holes in the certain key positions. A strong, ball-playing defensive midfielder. A prove right winger and right back. A striker who is not 35+ years old. Even a centre-back, given how shaky Harry Maguire has been.
In conclusion, finding 11 players from the current squad who start under Erik ten Hag is tough. Therefore, the following list will include potential transfer targets who can shine in the tactics espoused by Erik ten Hag.
Goalkeeper: David De Gea
This one pretty much picks itself. United will never be in the goalkeeping market as long as De Gea is there. He is one of the leaders in saves made in 2021-22 but the rest of his game needs improving. De Gea gets nervy during distribution and can be pressurized during tough situations.
David de Gea: "I really believe Man United will be back, I'm sure – I don't know when but it's definitely gonna happen". 🔴 #MUFC @JamieJackson___ pic.twitter.com/uCjHGsVt2D

— Fabrizio Romano (@FabrizioRomano) March 15, 2022
His unsteadiness while trying to play out from the back led to him being dropped by Spain for the March friendlies as well. De Gea will need to improve greatly if he is to imbibe the tactics of Erik ten Hag.
Right back: Diogo Dalot
United have two options at right-back so they may not buy another one just now. Aaron Wan-Bissaka is the better defender while Dalot is better at going forward. It seems like Erik ten Hag will favour the Portuguese for his tactics. He can supply crosses more often and can linkup play with the wide players. Dalot is also good at making overlapping runs. If he can get his crossing radar right, there can be a big future under Erik ten Hag.
Centre-back: Raphael Varane
Mr. Champions League has mostly been great through the season. Varane has showed his ball-reading skills and how to intercept the danger often. Unfortunately, he has also been hampered with a few injury issues. Varane was missing in the defeats to Leicester City, Watford, Liverpool, and Manchester City.
Erik ten Hag's previous comments point to Raphael Varane becoming captain if the Ajax man is appointed at Manchester United | @JackFlintham #mufc https://t.co/M9y8pL9vIz

— Man United News (@ManUtdMEN) March 23, 2022
Moreover, Erik ten Hag has spoken glowingly of Varane's attributes in the past so he will be key player. Varane can play the ball out regularly from the back along with making critical decisions in key moments.
Centre-back: Victor Lindelof
Erik ten Hag will be happy to have the Swede. Lindelof has been putting in solid performances whenever he has played. For instance, Varane will be the more competent of the pair, Lindelof will put in some strong tackles. If the tactics of Erik ten Hag can be filtered through, Lindelof can develop into a potent option.
Left back: Luke Shaw
No matter how great Alex Telles is, Shaw remains the better option. The English fullback is a marauding presence when charging with the ball. He can play it forward, overlap and most importantly, tuck inside to create space. Shaw's ball carrying skills will be reminiscent of Blind's form at Ajax. United need to give him enough options in order for Shaw to do what he does best.
Defensive midfielder: Declan Rice
The cleanest option for United to go for in the summer. Rice has seen his game grow leaps and bounds in the past couple of years. He has developed in the best in his position for club and country. Rice's reading of the game and perfectly times challengeHs help in setting up transitions for West Ham.
EXPLAINED: Why Declan Rice would be the perfect midfield partner for Paul Pogba at Manchester United.

But they might not end up with either of them. 🙃 pic.twitter.com/6deowIuHaZ

— Squawka (@Squawka) March 4, 2022
Moreover, he can also embark on forward runs frequently before finding attackers. Rice has a cool head, is hardworking, and young with consistency on a daily basis. However, landing him will not be easy and United can for a cheaper option like Lesley Ugochukwu of Rennes.
Central midfielder: Fred
The cult of "Fredinho" comes and goes. The Brazilian has been putting on some incredibly smooth displays recently. However, his inconsistency is extremely frustrating for fans. Fred has the quality to shine and become a key asset offensively. Moreover, he has shown that he has the scoring touch along with have an eye for passing. Erik ten Hag can coach the best out of him with more rigorous training and tactics.
Central midfielder: Bruno Fernandes
Yes, Donny Van de Beek will return and can expect to be heavily involved under his former manager. Nevertheless, the chief creator will be Bruno Fernandes, whose hot start to his English tenure has cooled a bit. Fernandes is seen being extremely agitated with the officiating in most matches. That may have an effect on his main job. Similarly, United often look to Fernandes in order to create something. Erik ten Hag will be excited to coach Fernandes and he can evolve his game further.
Right wing: Antony
The insane belief of supporters that Erik ten Hag will be able to bring Antony with him is staggering. If that does prove to be the case, he will be an immediate improvement. Marcus Rashford has struggled mightily while Anthony Elanga is still too young and needs more time. Antony can be a nightmare for the opposition to deal with.
Ajax star's Erik ten Hag verdict shows why he'd be perfect for Manchester United #MUFC https://t.co/uR28znXDmy

— Man United News (@ManUtdMEN) March 20, 2022
He loves cutting inside and crossing often. He can take shots from distance and score. Therefore, Antony's pace and skills will be supremely beneficial in order to progress the attack better.
Centre forward: Cristiano Ronaldo
The signs are currently good with regards to whether Ronaldo stays for the next season. Granted, it has been a tough campaign without silverware but Ronaldo's numbers have been impressive as always. The main problem will be how much work Ronaldo puts in for Erik ten Hag. For instance, Haller regularly drops into midfield to linkup play. Ronaldo will need to press well, close down gaps and be a menace in the box at 38-years-old. The sublime moments of magic may have to be replaced by matured pragmatism.
Left wing: Jadon Sancho
The return to form of Sancho has been one of the biggest success stories of 2021-22. He has slowly settled into the English game and looks extremely confident at the moment. Sancho is blessed with natural pace and quick feet with great ball control. He can run at defenders and score cracking goals.
Jadon Sancho has been involved in 5 goals in his last 6 Premier League games (2 goals, 3 assists) 🔥 pic.twitter.com/Prb1WdVLfg

— United Zone (@ManUnitedZone_) March 12, 2022
A big upgrade on Tadic and Erik ten Hag can get the best out of him. Hence, Sancho will be a key offensive threat and knows he can transform his game further. With age on his side, he will be very important in the future.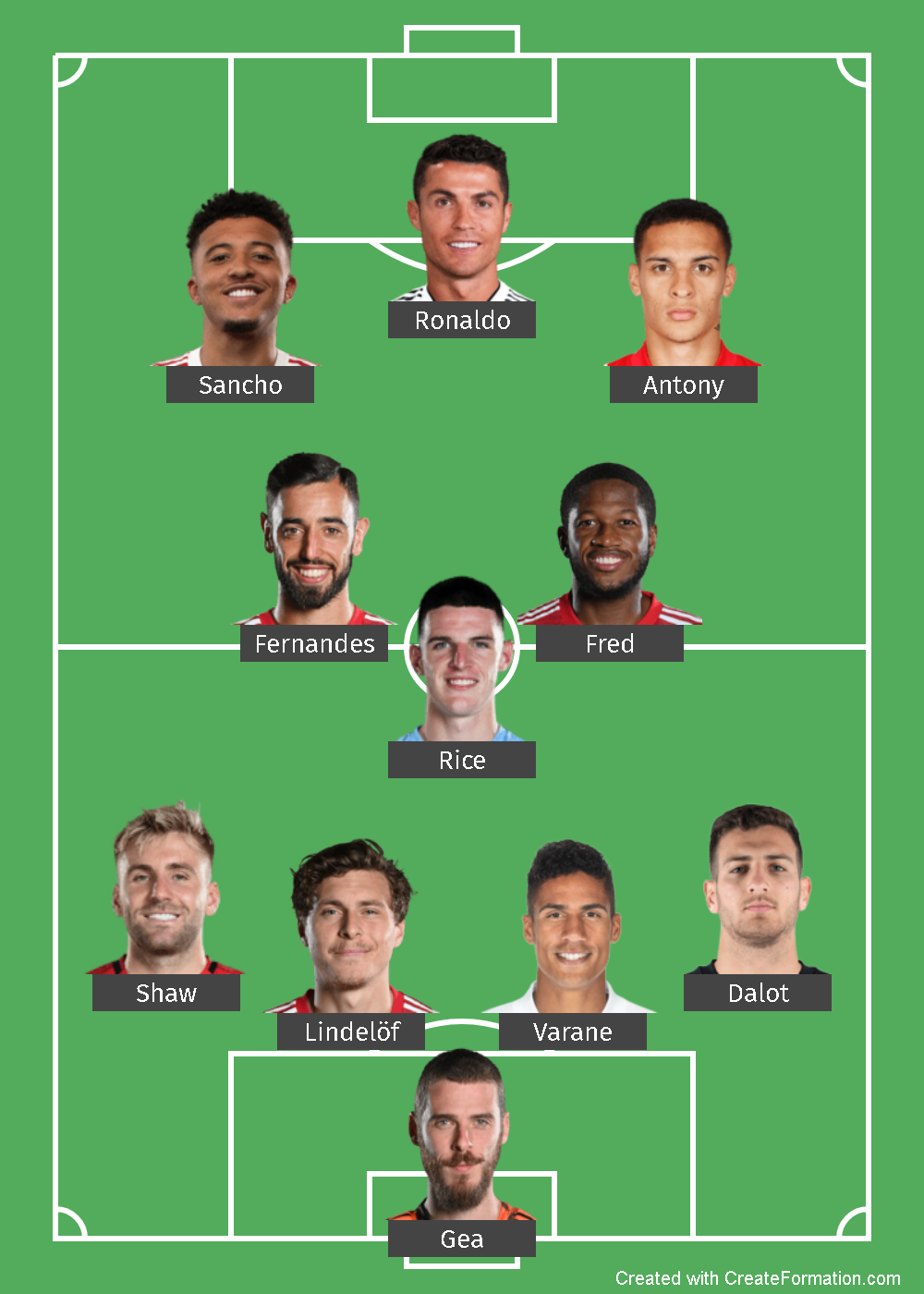 Above all, Erik ten Hag will be helped given United also use the 4-3-3 currently. They can be further boosted by the new signings, if they arrive. In other words, United will be better off with Erik ten Hag but a lot of things still remain uncertain.