Leicester City narrowly missed out on a Champions League qualification once again last season. A mere point separated them from Champions League winners Chelsea in fourth. After gripping onto the Champions League for a good half of the season, no one expected them to slip up, but they did. Therefore, Leicester City have gone onto identify a few transfer targets that can improve their chances of qualification next season.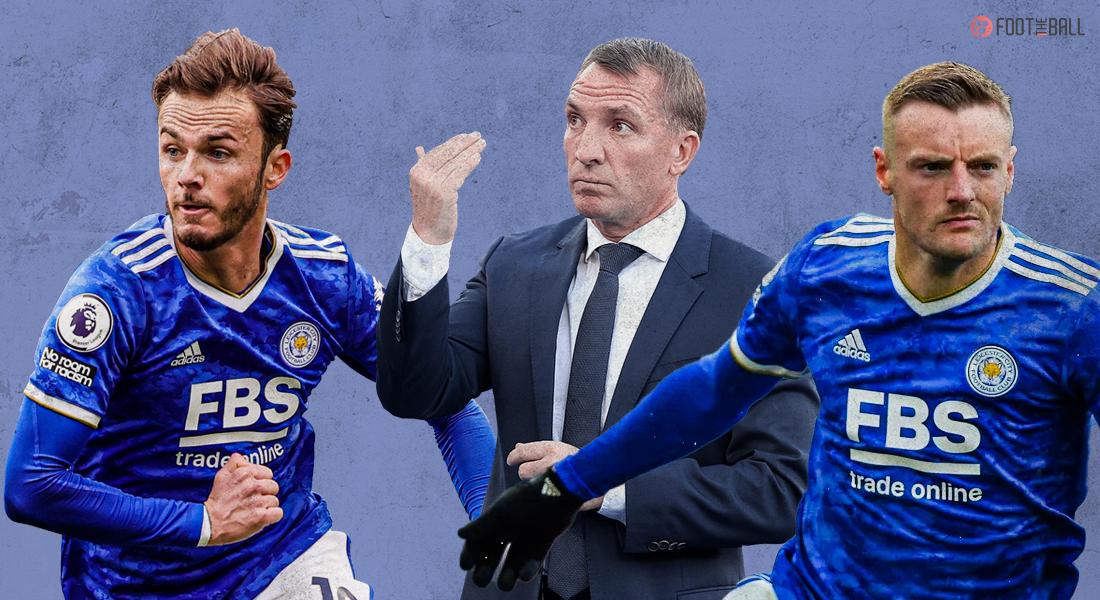 Brendan Rodgers has been an incredible presence for the Foxes and has shaped the club as a Premier League contender. Although the team does not possess the quality of the bigger names in the top flight, this team possesses tenacity. The hunger to succeed and the brilliance as a team has kept them in the midst at the top for quite a few seasons now. But, to emulate their Premier League triumph, this team will need to do more!
Foxes new signing @PatsonDaka20 pays tribute to his #lcfc team-mates 🔵⤵️

— Leicester City (@LCFC) July 23, 2021
As a realistic approach, Brendan Rodgers will be looking to finally clinch the Top 4 next season. To do so, they have brought in some quality names to strengthen the squad. Zambian forward Patson Daka's introduction amplifies their intentions. But they still need some vital reinforcements! FootTheBall looks at the two key transfer targets Leicester City are looking to bring in!
PRIORITY NO 1- RW
IDEAL OPTION – MATHEUS PEREIRA
Riyad Mahrez was one of, if not the best right-winger the Foxes have ever had. His scintillating skills and eye for goal helped the club achieve a dream run for the title. And so, his departure has left a gaping hole that the club simply hasn't been able to fill. Matheus Pereira fits the bill perfectly. The West Bromwich Albion winger is exceptional and could potentially be the next sensation for the club.
On this day in 2020… 🗓

Matheus Pereira did what Matheus Pereira does best.

A class assist for the Albion against Hull 🎯@MatheusPereira #WBA
pic.twitter.com/aHwAvbuhpc

— The Second Tier (@secondtierpod) July 5, 2021
Scoring eleven goals and assisting six times in the Premier League last season, Pereira would not be content with a Championship side. A move to Leicester could potentially give him the recognition he truly deserves.
An excellent dribbler who cuts inside from the wide areas, Pereira can hurt defences on the run. An eye for goal and an even better one for picking up teammates. Leicester has quality upfront and the Brazilian can be the man that completes the attacking unit.
BUDGET OPTION – NONI MADUEKE
Nineteen-year-old English sensation Chukwunonso Madueke or Noni Madueke will be another Leicester City transfer target. Currently playing for PSV Eindhoven in the Netherlands, Madueke will rejoice at a move back to England. In 24 appearances last season, the player scored seven goals and provided four assists. Out of the 24 appearances, seventeen came off the bench.
Capable of playing centrally if needed, Madueke is one baller worth keeping an eye on. Leicester will get him cheap if they move in now. Further down the line, this is one player every club could regret not investing in. Madueke will also benefit from playing under Brendan Rodgers.
FOOTTHEBALL'S QUIRKY OPTION – LEON BAILEY
Jamaican international Leon Bailey has been on the radar for many clubs over the years. The Bayer Leverkusen winger has been nothing short of amazing for the Bundesliga side. Slotting in nine goals and assisting eight times in 30 appearances for the club last season, Bailey has gained attention once again.
The first is terrific but the second is sensational. 😵

Share some love for @Bayer04_EN's @LeonBailey! 💖 pic.twitter.com/PzEQxogFC1

— Bundesliga English (@Bundesliga_EN) July 17, 2021
A versatile player that can play across any position in the front line and even in midfield. Strong passing and excellent movement combined with good dribbling ability. Bailey is excellent at carrying the ball and has at least three successful dribbles per ninety. Bailey could slot right into the team and with plenty of years ahead of him, can improve on his abilities. The Premier League can be the perfect platform to establish himself among the best.
PRIORITY NO 2 – CB
IDEAL OPTION – MERIH DEMIRAL
Turkish international Merih Demiral was tipped to be the successor of Bonucci. But not so much anymore. With just fifteen appearances under his belt last season, the Juventus centre-back is not enjoying the game-time he was expecting. At just 23-years of age, the Turkish sensation might be on the verge of an exit.
🇹🇷⚔️ pic.twitter.com/W4tFKwz4fA

— Merih Demiral (@Merihdemiral) June 6, 2021
The Foxes on the other hand could have paramount benefits with a player like Demiral. Leicester City has already shortlisted Demiral as one of their transfer targets this summer.
The presence of Caglar Soyuncu, another Turkish centre-back should help their cause. If they can rope in Demiral as well, Leicester might well fix their defensive woes. A string of injuries in the position had hurt them last season and Brendan Rodgers will be keen to address it.
BUDGET OPTION – OZAN KABAK
Another Turkish centre-back Leicester could look to take up is Ozan Kabak. Significantly cheaper than Merih Demiral, Kabak already proved himself in the Premier League. Slotting in for half a season at Liverpool, the young Turkish centre-back provided much-needed cover for the injured backline. His performances were decent as well. Apart from a minor miscommunication with Allison, the centre-back enjoyed a decent spell at Merseyside.
Thanks for everything @LFC pic.twitter.com/ndeA2JjjVW

— Ozan KABAK (@ozankabak4) June 30, 2021
If not for Konate's arrival, Liverpool might have kept the Turkish international. This might be the perfect time for Leicester to swoop in on the Schalke defender. The club is on a downward spiral right now and is prepared to let go of the player for a significantly reduced fee. Kabak could provide additional support and stability for the backline and at just 21 years of age, has enough time to improve.
FOOTTHEBALL'S QUIRKY OPTION – GIANLUCA MANCINI
Roma's towering central defender has been phenomenal for the club. An excellent ball-playing centre-back who acts as a pivot in the defence. Mancini played 33 games last season in the Serie A and was one of the best players in the team.
The Italian slotted in two gaols and also provided two assists during the campaign. Under new boss, he is sure to be featured as the starting option once again. But if the Premier League comes knocking there's a chance he could leave.
Excellent passing ability is one of Mancini's greater features. Attempting nearly sixty passes per ninety with a completion rate of close to 90 per cent. Keen on winning the ball back, Mancini is often found putting pressure on the attacking players.
He is also adept at reading passing movements and intercepts whenever the opportunity arises. Mancini will slot right into City's first team. A solid player that can improve the backline while also providing a viable attacking influence.