Collective effort with a plan always defeats extravagant individualism without structure. Might sound like something out of the Communist manifesto but it just as well applies to Czech Republic's win over Frank de Boer's Netherlands in the Euro 2020 Round of 16.
Many would blame De Boer's pale tactics for the Dutch defeat, but it was the Czech Republic's superb execution of Jaroslav Silhavy's tactics that won them the game and a ticket to the quarter-finals.  
Now the real question remains whether they can recreate the heroics from Euro 1996 and reach the finals once again, or perhaps even go one better?
A RECREATION OF EURO'96?
25 years ago, tournament debutants Czech Republic authored one of the fairytales of the European Championships that their fans still cherish to this day. They made headlines by storming to the tournament's final, their brilliant squad grabbing the attention of Europe's best, with names like Pavel Nedved and Patrick Berger rising to prominence.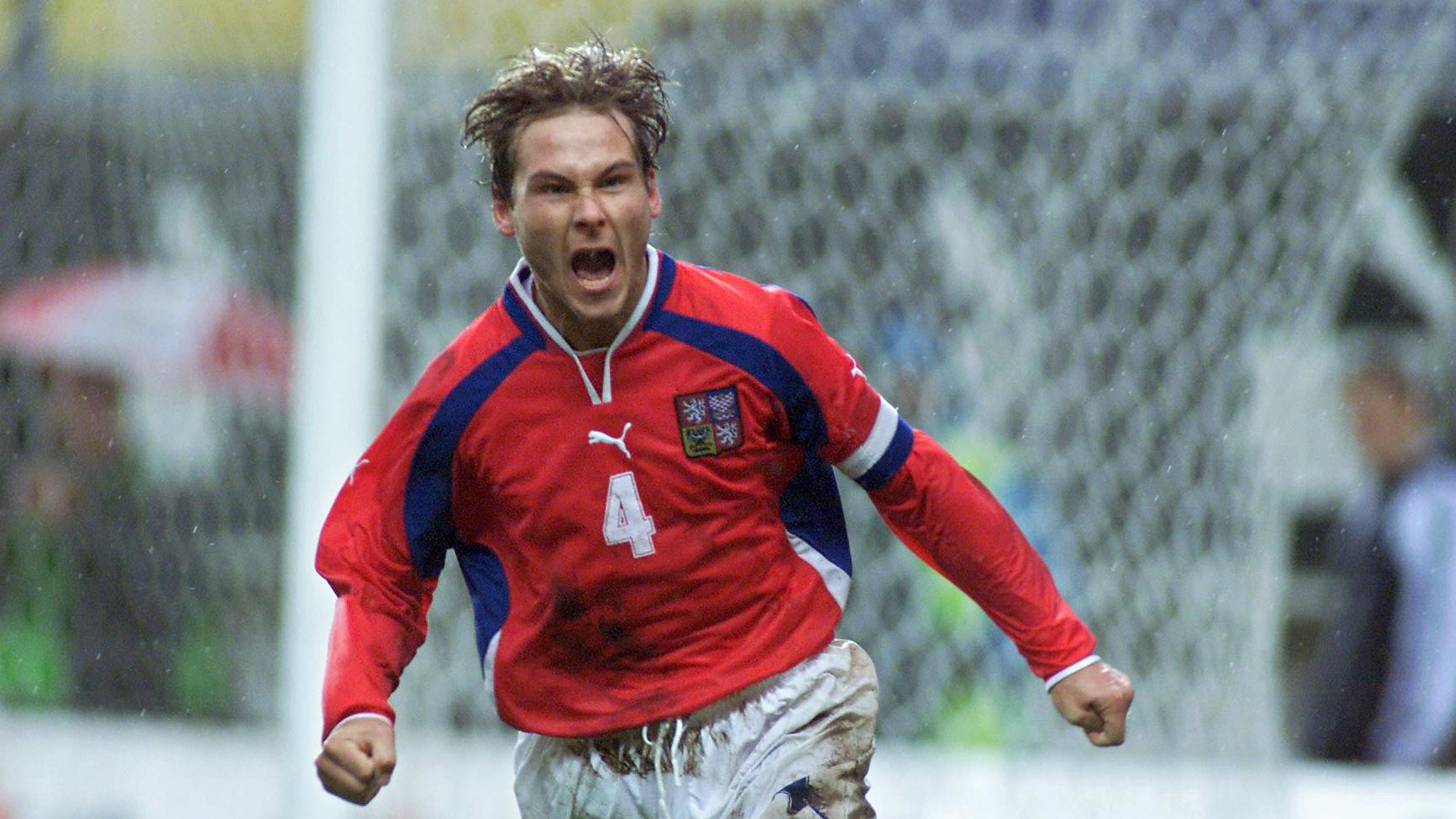 However, Karel Poborsky was undoubtedly the talisman for this team. His hair alone suggested that he may have been the fifth member of Led Zeppelin and he did make everyone rock out to his moves but on the football field with his creativity.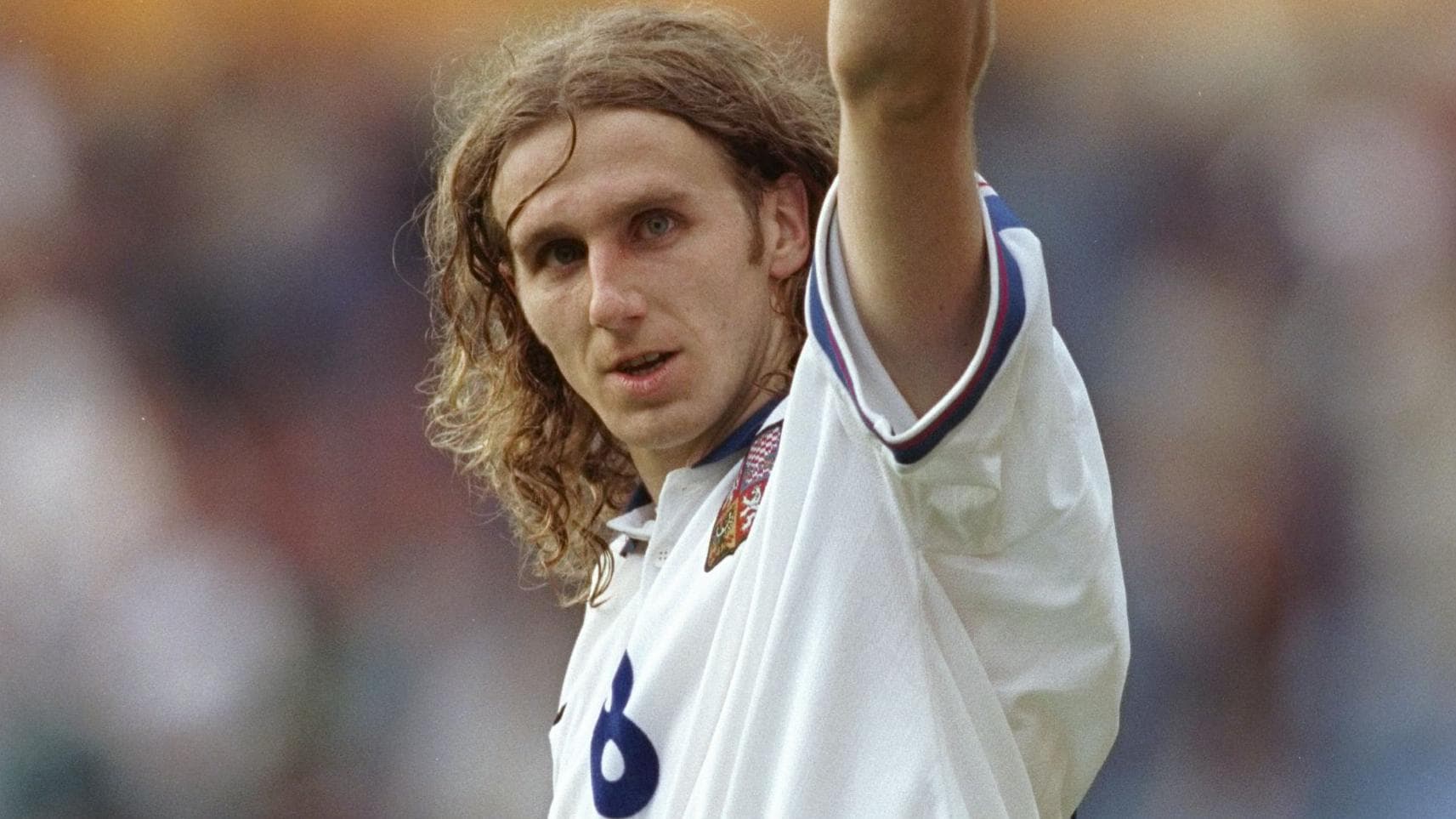 Czech Republic bounced back from an opening match loss to Germany to advance to the knockout rounds with a win over Italy guaranteeing advancement on the head-to-head rule. 
An enthusiastic and talented team improved as the tournament progressed and overcame Portugal's "Golden Generation" in the quarter-finals, with Poborsky displaying his genius and emerging as the match-winner with a flash of pure magic. The midfielder took possession of the ball in a central position with four Portuguese defenders surrounding him, twisting and wheeling his way past a flurry of tackles to find himself in the penalty area.
Poborsky, noticing Vitor Baia off his line, lofted an outrageous chipped attempt up and over the confounded goalie to produce one of the best tournament's goals and seal the Czech's berth in the semi-finals. 
#OnThisDay in 1⃣9⃣9⃣6⃣

🎩🐰✨🇨🇿 Karel Poborský 🆚🇵🇹#EURO1996 | @ceskarepre_cz | @ceskarepre_eng pic.twitter.com/kTBNm4Hgua

— UEFA.com DE (@UEFAcom_de) June 23, 2020
After defeating France on penalties in the semi-final, Germany halted their historic run in the final. They were only 17 minutes away from victory until Oliver Bierhoff equalised for Germany after Patrik Berger had given them the lead from the penalty spot. Bierhoff would break Czech hearts by scoring the first Golden Goal at the Euros to secure Germany the Euro championship.
🇩🇪 EURO 1996 🏆

Oliver Bierhoff's two goals inspired Germany to EURO '96 glory as they came from behind to beat the Czech Republic 2-1 in extra time #OTD!@DFB_Team | @DFB_Team_EN pic.twitter.com/WSYNzR2Sfj

— UEFA Nations League (@EURO2024) June 30, 2020
They may have failed to conquer the Euros, but the number of hearts they conquered was insurmountable. Returning to Euro 2020, it appears that Czech Republic are locked and ready to go on another dream run and perhaps win it all this time. Overcoming a powerful side like the Netherlands was no fluke, as they appeared to have arrived to wreak havoc.

EMERGENCE OF A NEW GOLDEN GENERATION
Following the heroics of 1996 and 2004, it appears that the emergence of a new Czech golden generation is not far away. Although this squad may not have the same talent on paper as past golden generations, the heart and tenacity in today's players to give it their utmost and not back down has been evident in their performances.  
With players like Patrick Schick, Tomas Soucek, Tomas Holes, Vladimir Coufal, and a slew of others, it's fair to conclude that the squad is loaded with players in all lines across the pitch, known for their toughness and determination. 
Patrick Schick has been their killer upfront, with four goals already, while Soucek and Holes are in charge of pulling the strings in the middle of the park. Coufal has been doing what he did all season for West Ham, which is offering defensive tenacity and refusing to back down from any challenge.
Only Cristiano Ronaldo (5) has more goals at Euro 2020 than Patrick Schick (4) 👏 pic.twitter.com/4XsIsZs4Y0

— ESPN FC (@ESPNFC) June 27, 2021
The Czech Republic may not be exceptionally talented, but they are reliable and reaping the perks of having a competitive side in their nation and Europe. Jindrich Trpisovsky's Slavia Prague, that also reached the Europa League quarterfinals, has built the groundwork for the national squad in terms of personnel and tactical concepts. It is displayed on the pitch. 
A COLLECTIVE EFFORT
Talent alone is not enough. Tactics alone will not suffice. To be able to execute strong tactical ideas, you need players who are suited for such ideas and the level at which they compete. 
While a national team coach has little influence on the amount of talent at his disposal, he does have power over the tactics. And it is those tactics, the relationships between footballers, that he can alter to improve his team's chances of winning. Winning is never certain, no matter how good the players are, but probabilities can be enhanced through the right tactics. 
The Czech Republic has collectives that stand out above any individuality, and they by no means have the plethora of talent of France, Portugal, or any other superior team. They do, however, have a more defined playing identity and considerably more developed patterns throughout the pitch. Not just to defend, but also to press and attack in a variety of zones and scenarios. 
Their strong conviction in Jaroslav Silhavy methods is what has propelled Czech Republic into the Euro 2020 quarter-finals and has the potential to drive them much farther.