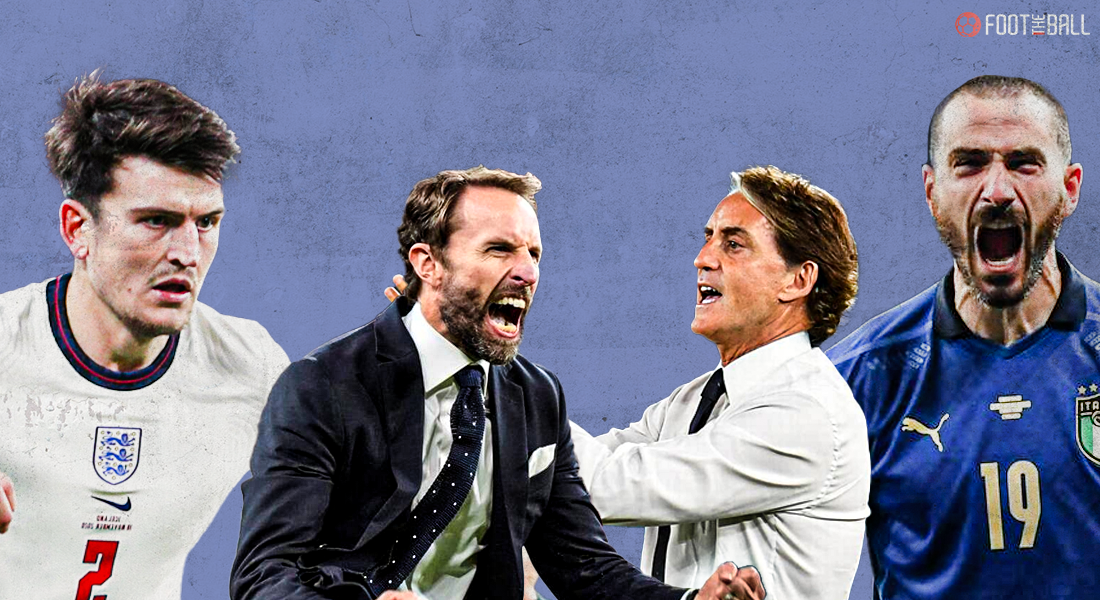 ENGLAND SUFFERING FROM MAIN CHARACTER SYNDROME BUT SOUTHGATE WILL BE WARY OF MANCINI'S ITALY
As much as the British press would have you believe, England is not the story here. England finished fourth at the 2018 World Cup. They finished third in the UEFA Nations League. A final at the Euros was a natural progression and it was apparent – England have only improved over the past few years.
Southgate: "People have tried to invade us and we've had the courage to hold that back. You can't hide that some of the energy in the stadium against Germany was because of that."https://t.co/rvfpSnpjHF

— Rob Harris (@RobHarris) July 9, 2021
As long as you were not blinded by disdain for Gareth Southgate and his waistcoat, it was easy to see that England have semifinal experience, a very high quality squad, and a manager who has the tactical maturity to take calculated risks. England's story at Euro 2020 is not one of comeback or of hardships. It is romantic only to English fans. Italy's, on the other hand, is one for the ages.
THE LOWS OF THE 2010S
The decade gone by was poor by the Azzurri's standards. The high of being the 2012 Euro runners up soon came crashing down with the unceremonious exits from the 2014 World Cup and 2016 Euros at the hands of Uruguay and Germany respectively. The score-lines of those defeats might be respectable, but Italy were second-best by a distance in both the matches.
The 2018 World Cup brought a new nadir – the first time that the nation failed to qualify for the showpiece since 1958. The manner of the 1-0 playoff loss to Sweden highlighted everything that had gone wrong for Italy. Their attack was neither creative nor ruthless enough and they could no longer rely on their defence to be an impregnable wall. In short, Catenaccio was dead.
🇸🇪 These were the scenes three years ago today in Milan as Sweden beat Italy in a #WCQ play-off to reach the 2018 #WorldCup 🥳#OnThisDay | #FlashbackFriday | @svenskfotboll pic.twitter.com/RzvRMOAUUU

— FIFA World Cup (@FIFAWorldCup) November 13, 2020
It wasn't just on-field tactics also. A sense of lethargy and meek acceptance had begun to set in. In the second leg against Sweden, the angry man of Rome, Daniele de Rossi, screamed at manager Gianpiero Ventura to send on forward Lorenzo Insigne when Italy needed a goal instead of himself, a mere defensive midfielder. Ventura ignored. Italy crashed and burned.
The stalwarts of old in de Rossi, Gigi Buffon, Andrea Barzagali and Giorgio Chiellini announced their retirement in the aftermath of the failure. In these, ignominious circumstances, came in Roberto Mancini. Mancini had been the face of the new Manchester City at the turn of the decade but since had slipped into relative anonymity. Underwhelming spells at Galatasaray, Inter Milan and Zenit St. Petersburg had followed his time at the Eithad and his appointment as the head coach was billed to be uninspiring.
ITALY'S RESURGENCE
Their transformation since that tough period has been remarkable.  They waltzed through qualifying, winning 10 matches out of 10. They are the second-highest scorers at Euro 2020 while also conceding the second fewest goals. They have taken the second highest number of shots while also making the third highest tackles.
Five players have scored two goals each for Italy so far at the tournament. From a want of goals to an excess of goalscorers, Mancini has redefined Italy's footballing identity. They have added attacking flair to their defensive solidity to become one of the most consistent and entertaining teams on the continent.
🇮🇹 Italy have become the second side in EURO history to have 5 different players (Chiesa, Pessina, Insigne, Immobile & Locatelli) score 2+ goals in a single competition, after France in 2000 ⚽️🔥#EURO2020 pic.twitter.com/YaPvt3xMeV

— UEFA EURO 2020 (@EURO2020) July 8, 2021
Chiellini was recalled by Mancini to partner Leo Bonnucci and made captain. Players like Dominico Berardi, Federico Chiesa, and Manuel Locatelli have been blooded in with great care. Marco Verratti, Jorginho, and Ciro Immobile have grown in stature and stepped up a level under Mancini. The fact that Insigne, who was being overlooked by Ventura against Sweden, got the winner against Belgium in the quarterfinals shows just how drastic the turnaround has been under Mancini's stewardship in a short period a time.
Italy's revival is shorter and stronger and to an objective fan, more important. And what they do on-field at Wembley come Sunday is also more important than what England do. Everyone knows what England's game plan will be. Southgate is a great manager as he has shown but he is no Pep Guardiola and is unlikely to throw any curveballs. England, in a nutshell, will aim to be defensively solid and quick on the counter. Italy, though, has been the juggernaut and it is their outlook which will decide how the final goes.
WHO ARE THE FINAL FAVOURITES
In the group stage, they attacked through the channels with Locatelli given full freedom to roam and find space against weaker opposition. In the knockouts against Austria and Belgium it was the maverick dribblers in Chiesa, Insigne and Pessina who had the attacking onus. In the semifinal, Mancini decided to cede the ball to Spain and target Eric Garcia as the weak link in La Roja's defence while countering.
🗣️ "We wanted to get to the final, even if not many people believed that we would before the start of the tournament." – Roberto Mancini

🇮🇹 What were your pre-tournament expectations for Italy?#EURO2020 #ITA pic.twitter.com/A9IOX6Fvd9

— UEFA EURO 2020 (@EURO2020) July 8, 2021
Italy have shown that they have the tactical nous and the individual quality to get results. That leaves just a potential psychological hurdle that could undermine their performance against England. And well, that has never been a problem for Italy. The prime example being the mind games played by captain Chiellini and goalkeeper Donnarumma ahead of the penalty shootout in the semi-final against Spain.
The reports and narratives may all well be about Southgate's boys in the English press ahead of the final but it is Mancini's men who are in-charge of the match. If they turn up, and there is no reason to suggest they won't, then even God won't be able to save the Queen.