Gareth Southgate had a peculiar issue at his hand while he was selecting the 26 players who would represent England at the Euros. There were too many top quality players to choose from, weird flex but okay. England has such a wide range of top talent that it is impossible to pick a squad that makes everyone happy, but we feel that Gareth Southgate has done a pretty fine job with the squad selection. Here's why.
SOUTHGATE PLAYED IT SAFE
To avoid any tension from the media, Gareth Southgate announced a 33 man squad prior to the final squad selection a week ago, but he still had to remove 7 players before the deadline. A few hours ago rumours about Trent Alexander Arnold being dropped out of the squad started spreading through social media.
A few months ago Southgate had left Alexander Arnold out of England's world cup qualifiers which made this rumour even more controversial. The fans started sharing their opinion on the decision and they were definitely not happy. But in the end, Trent Alexander Arnold was included in the squad. Maybe it was a last-minute decision to make the fans happy, you never know.
Your #ThreeLions for #EURO2020…

The stoppers 👐

1️⃣ @JPickford1
1️⃣3️⃣ @deanhenderson
2️⃣3️⃣ @samjohnstone50 pic.twitter.com/OmkUjqeaK3

— England (@England) June 1, 2021
Gareth Southgate could have also removed Harry Maguire and Jordan Henderson because of their recent injuries. Jordan Henderson hasn't played since February due to some surgery and even Harry Maguire is going through an ankle injury. It would have made sense if Southgate left these two out of the squad but the fans would have been definitely fuming if it had happened.
Although Southgate tried his best at satisfying the fans, they are still a bit pissed about players like Jesse Lingard, Patrick Bamford and Ollie Watkins not being in the squad but they will have to understand how difficult it has been for Gareth Southgate. We feel Southgate has made the squad by keeping the feelings of supporters in mind or else there won't be any drunk blokes singing 'It's Coming Home' on the streets.
THE REASON BEHIND THE 4 RIGHT-BACKS
We have seen that the fans are wondering the logic behind taking 4 right-backs. It is simple, Southgate doesn't see them as right-backs at all. They are 4 players with exceptional quality and are also highly versatile. Walker can play in the central midfield and as well as a centre back if they go ahead with a three man defence. Kieran Trippier can play on both the flanks and Reece James can also play ahead as a winger.
Always believe in yourself. Silence the doubters. 🏴󠁧󠁢󠁥󠁮󠁧󠁿 pic.twitter.com/vf5Nah3ji7

— Trent Alexander-Arnold (@TrentAA) June 1, 2021
Similarly, on paper it might look like the squad doesn't have a lot of midfielders and is filled with forwards and wingers which is not true. We don't know what formation they are going to be playing in. Foden and Jack Grealish can always play in the midfield as they have done for their respective clubs. The squad is so versatile that Gareth Southgate can play with it in a lot of ways which is perfect for a competition at this stage.
WHY IS THE ENGLISH MEDIA HARSH AGAINST THEIR MANAGERS
The English media can be really harsh while criticizing their nation's football coaches. So as you all know football is more like a religion in England and fans don't like giving the players and the staff any second chances. The influence of the media is so strong that they have even caused managers to resign from their posts.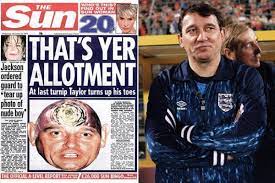 Back in 1992 England lost to Sweden and were knocked out of the group stage. The then manager, Graham Taylor was humiliated by 'The Sun' as they called him 'Turnip Taylor', mocking the shape of his head. Even after his death, till this day people have been referring to him as Turnip Taylor.
Steve McClaren was the head coach of England when they failed to qualify for Euros in 2008. The media completely battered McClaren's image in front of the supporters with severe criticism in their articles.
Gareth Southgate doesn't want to turn into a meme in the local newspapers and that is why he hasn't made any controversial choices in the squad. With the squad Gareth Southgate has, England are surely one of the top contenders in the Euros and it might actually come home this time.