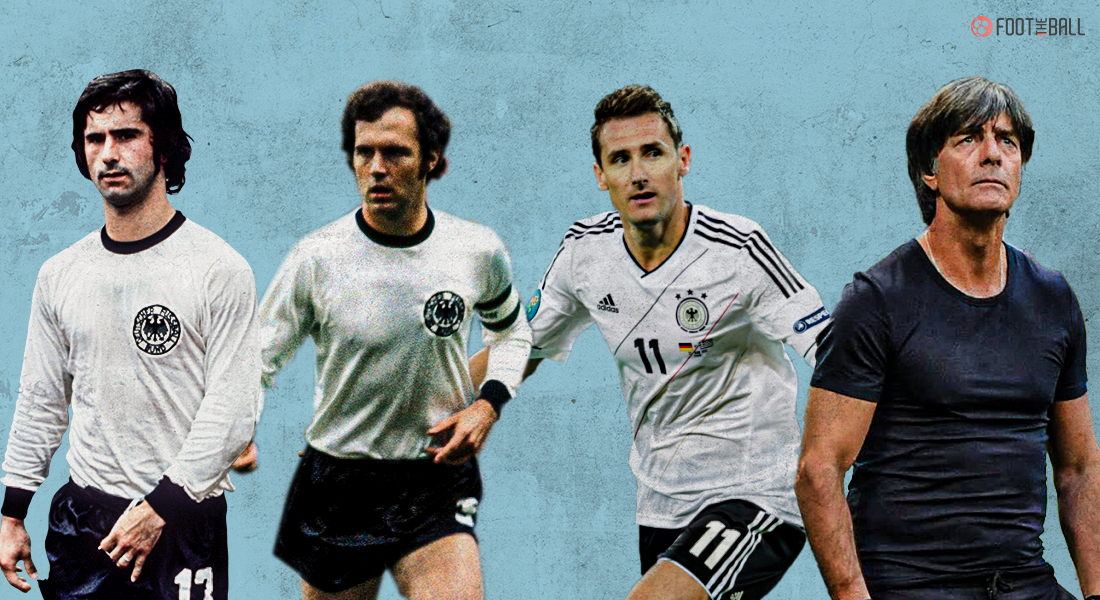 THE MIGHTY GERMAN PRESS - GERMANY'S FOOTBALL CULTURE, HISTORY AND PHILOSOPHY
Germany has been one of the most controversial European countries politically, but also one of the most successful teams in world football.
Despite spending most of their footballing history divided into three teams, Germany won the World Cup on four different occasions and the Euros three times. Known for always having powerhouse teams, efficiency has become their second name over the years.
🖤❤️💛#DieMannschaft #GER pic.twitter.com/l87vKA8osX

— Germany (@DFB_Team_EN) June 11, 2021
From Gerd Muller to Thomas Muller, Germany has produced many football legends over the years and boasted one of the most terrifying teams of all time that won the Euros in 1972 and the World Cup in 1974 and became the first team to become European as well as World Champions at the same time.
As the Euros begin, let's take a look at the history, culture and evolution of German football.
THE BEGINNING OF GERMAN FOOTBALL
Football in Germany goes back to a friendly game played between a Danish Football Association team and a Hamburg-Altona Football Association team in 1897.
Germany formally formed their first national team in 1901 who played their first official match in 1908 against Switzerland in Basel and lost it 5-3.
The team, back then, was selected by the German Football Association until they hired the first manager for the German national team in 1926. Otto Nerz, their first manager, was a school teacher who took Germany to their first-ever World Cup and finished third in the competition.
After World War II, political repercussions led to a ban on any German team from participating in any international sports events. And they missed out on playing the 1950 World Cup in Brazil.
THE EVOLUTION OF DIE MANNSCHAFT
Die Mannschaft, or The Team had a turbulent journey throughout the 20th century due to its politics and leadership. But the team kept on succeeding despite continuous wars, partitions, annexations and redrawing of maps.
Post World War II, Germany and their football team were divided into three new states called West Germany, East Germany and Saarland. The three teams played separately in all the competitions and West Germany was the most successful amongst them, winning two World Cups and two Euros including the great World Cup 1954 glory.
⏪ Switzerland 1954 ⏪

Part III in our #WorldCup Rewind

The Miracle of Bern – one of the greatest upsets in footballing history and a first star for West Germany ⭐#DieMannschaft pic.twitter.com/CiZoTsAZ46

— Germany (@DFB_Team_EN) June 3, 2018
In 1990, after the fall of the Berlin Wall, Germany reunified and so did their football teams. Reunified Die Mannschaft played their first international tournament in the form of Euro 1992 and finished runners up. But they didn't sit back for long and finally won at the next available opportunity in England at Euro 1996. It was Germany's first Euro triumph since West Germany's golden generation won it in 1980.
Germany won the World Cup in 2014, and their recent international success came in the 2017 FIFA Confederations Cup.
'THE GERMAN WAY'
German football has always been based on players' work rate and efficiency, and despite tactical revolutions, this has remained the essence of their football. German footballers are rugged and commanding, they might not be as skilful on the ball, but are technically very strong.
Earlier, they used to play with a 3-5-2 formation, led by future coach Franz Beckenbauer as their captain and an attacking sweeper. Their style used to be more pragmatic back then, waiting for the opponent to make a mistake. The two wingbacks in the middle had to run up and down the pitch to maintain defensive solidity as well as provide an attacking option.
🏆 World Champion
🏆 European Champion
👑 The Kaiser

Happy 74th birthday, @beckenbauer! 🎉#DieMannschaft pic.twitter.com/U6M2ysAkEd

— Germany (@DFB_Team_EN) September 11, 2019
This system brought them huge success in the 1970s, both in international as well as club football. Germany national team and Bundesliga clubs dominated the continent for the whole decade.
The evolution in German football came in the early 2000s, which first saw the use of zonal marking and the high-pressing that they became known for. Ralf Rangnick, among other coaches, brought this style of play to German football which was later adapted to the national team under Rudi Voller, Jurgen Klinsmann and finally by Joachim Loew. The influx of young players with an attacking mindset became the turning point for Germany after the failed Euro 2004. It started to show results, but the team was still in its building phase when they finished 3rd in the World Cup 2006 and 2nd in the Euro 2008.
ON THIS DAY in 2006, #GER beat #ARG 4-2 on penalties in Berlin to reach the semi-finals of the #WorldCup. #onyourside pic.twitter.com/sf6ld0Wqtc

— Germany (@DFB_Team_EN) June 30, 2014
Loew created a core of the team that could serve Germany for many years ahead. The team built around the likes of Miroslav Klose and Bastian Schweinsteiger, coupled with young talented players like Toni Kroos and Mesut Ozil finally led Germany to World Cup glory in 2014, their fourth ever World Cup.
THE GOLDEN GENERATION
Germany had the best decade of football in their history between 1970 and 1980 where they dominated both European and World football, reaching the later stages of every tournament they participated in.
The team consisted of some of the biggest superstars of their generation in every position. Captained by Franz Beckenbauer, the team also had the likes of Paul Breitner, Rainer Bonhoff, Gerd Muller and Jupp Heyneckes and joined by Lothar Matthaus and Karl-Heinz Rummenigge in the late 70s. Most players during that period were shining at top Bundesliga clubs such as Bayern Munich, Borussia Dortmund, VfB Stuttgart and Borussia Monchengladbach.
The Germans finished third in the 1970 World Cup and built upon it. Under the legendary manager Helmut Schon, Germany reached three consecutive finals in Euro tournaments, winning twice in 1972 and 1980 while also becoming world champions in 1974.
Along with the national side, German clubs too dominated the European competitions with Bayern Munich winning the European cup thrice in three years between 1974-1976 and Borussia Monchengladbach winning the UEFA cup twice in 1975 and 1979.
THE JOACHIM LOEW ERA
After a poor Euro 2004, the German Football Association (DFB) decided to change their manager Rudi Voller, who also took the team to the 2002 World Cup final and hired his former German teammate Jurgen Klinsmann. It didn't give the desired results either and after a third-placed finish in the World Cup 2006, Germany replaced Klinsmann with Joachim Loew as their new manager.
10 years ago today, Joachim #Löw became #DieMannschaft head coach. We're looking forward to some more Jogi years! 🇩🇪 pic.twitter.com/dWtuyQiT0O

— Germany (@DFB_Team_EN) July 12, 2016
Loew took over a young squad, with future stars like Philipp Lahm, Lukas Podolski, Bastian Schweinsteiger and Mario Gomez along with some veteran players like Jans Lehmann, Michael Ballack and Miroslav Klose and took them to a second placed finish in the Euro 2008.
The national team was showing great progress under Loew while playing the famous German "gegenpress" which translates to counter-pressing. A tactic founded in Germany that helps you win the ball back within the opposition half with the help of a suffocating press. They later came third in the World Cup 2010, when they lost the semi-final to the eventual winners Spain. Germany under Loew looked like an almost side that needed a bit of creativity in the midfield to blast on the big stage.
#OnThisDay in 2010 a certain duo made their debuts for #DieMannschaft against Argentina.

We lost that game 1-0, but made up for it a few years later 😉 🇩🇪 @esmuellert_ @ToniKroos pic.twitter.com/3aTks1Rmnw

— Germany (@DFB_Team_EN) March 3, 2018
Loew found what he lacked in future Real Madrid stars Toni Kroos and Mesut Ozil along with ever reliable defensive midfielder Sami Khedira. This new crop of players formed the core of German midfield for years to come and they alongside Joachim Loew eventually led Germany to World Cup glory in 2014.
Loew revolutionised the German team which almost became unplayable. It was displayed in the semi-final of 2014 World Cup when Germany thrashed Brazil 7-1 and shocked everybody.
THAT'S IT! Germany are 2014 #WorldChampions! INCREDIBLE!!!! ⭐⭐⭐⭐ #2014WorldCup #DFBhistory #GERARG 1-0 pic.twitter.com/ncpzcuDFdj

— Germany (@DFB_Team_EN) July 13, 2015
Jogi, as he's fondly called by his fans, became Germany's longest-serving manager in history and will head them into the Euro 2020. Their form has dipped since the 2014 glory and the system looks rusty and exposed. Germany had one of the worst title defences in the World Cup 2018 and were knocked out in the group stages by South Korea, Sweden and Mexico.
In March 2021, Loew announced that he will be resigning after Euro 2020 and DFB decided to hand over the Die Mannschaft to his former assistant and Bayern Munich's treble winning coach Hans-Deiter Flick.
WHAT LIES AHEAD
At Euro 2020, Germany is drawn with the defending European champions Portugal along with current World champions France. It is being termed as the infamous "group of death" with Hungary as the underdogs and the fourth member of the group. The chances of Germany going through to the later stages are still high, even if they finish third in their group. But in order to progress further in the tournament, they will need the best performance from their best players.
Preparation? Completed it ✅

👈 This way to @EURO2020!#DieMannschaft #EURO2020 pic.twitter.com/McaOjcYk4W

— Germany (@DFB_Team_EN) June 7, 2021
Thomas Muller and Mats Hummels, who were banished from the national side after the 2018 World Cup have been called back to the squad in Loew's farewell tournament. Other key players include Toni Kroos, Ilkay Gundogan and Manuel Neuer.
There has been an influx of young and talented players in the team, similar to when Loew first took over in 2006. With the advent of Champions League winners Kai Havertz and Timo Werner, and pacy wingers like Serge Gnabry and Leroy Sane along with the omnipresent Joshua Kimmich in midfield, Germany looks like a strong and improved side at Euro 2020. They recently annihilated Latvia by 7-1 in their last pre-tournament warmup friendly.
Loew will be hoping to leave the national side with a mark and has the means at his disposal, how he ends up using them though, lies only on himself.