It isn't easy being a goalkeeper. Any mistake is over-scrutinized by people who have probably never spent a minute in goal. You don't get any credit unless you have a 10-save game like Yann Sommer did against Spain. Add relentless outside media scrutiny to this internal pressure cooker and you wonder why would anyone want to be England's number one?
Jordan Pickford, though, is up for the challenge. The 27-year old might not have been first choice had Burnley's Nick Pope been fit, but given the opportunity to keep his place he has taken it with both hands (all puns intended). England and Pickford are yet to concede a goal in their four matches so far and one would certainly bet on them keeping their tournament clean sheet intact against Ukraine.
A ROLLERCOASTER SEASON
The Everton man seems to always be at his best when he dons the white of the Three Lions. Coming on the back of an up and down season at Goodison Park, Pickford has shown no signs of doubt and has been the leader at the back – especially in the absence of Harry Maguire.
Virgil van Dijk was forced off with an injury after a challenge from Jordan Pickford. pic.twitter.com/pTBaW2fcTB

— Squawka News (@SquawkaNews) October 17, 2020
Pickford's season began in iffy form. Early on he faced immense backlash due to the unfortunate injury to Virgil van Dijk (No, Liverpool fans, it was not intentional). His form dropped and he was dropped by Carlo Ancelotti but Gareth Southgate kept his trust in him. And Pickford had warranted that faith.
ENGLAND CAREER
When the young goalkeeper was breaking through with Sunderland, England's goalkeeping situation was not very bright. Joe Hart was out of favour and on the wane. Tom Heaton and Fraser Forster had staked a claim but hadn't backed it.
In fact, not since David Seaman in the 1990s had England's number one spot been occupied by someone secure. Hart and David James were there for a long time but did not turn in their best performances on the national stage. In between were periods of uncertainty, where good goalkeepers made bad mistakes and national disdain prevented them receiving a second opportunity.
Shilton, James, Robinson, and Hart combined for 0 saves from 16 penalties on target. Opponent keepers saved 9 of 28 on target.

— Justin Bryant (@Keepers_Union) March 7, 2015
In this environment up stepped a 23-year-old Jordan Pickford to make his debut in late 2017. His exceptional performances combined threw his name in the hat to be number one at the 2018 World Cup in Russia. The falling away of his colleagues-cum-rivals meant that Southgate handed him the starting spot and it seemed like Pickford was born for the moment.
2018 WORLD CUP
Russia 2018 was England's best major tournament in more than a generation. The Three Lions finished second in their group behind Belgium. Against Belgium, Adnan Januzaj curled in an exceptional strike, the only one of the game, and Pickford drew invalid criticism for letting that goal in. Opposing goalkeeper Thibaut Courtois claimed he had short hands while pundits in cushy studios felt he was trying to be more showy than necessary.
In the next match against Colombia Pickford was out with a vengeance. He saved a 30 yard volley destined for the top bin from Mateus Uribe before making a decisive save from Carlos Bacca in the penalty shootout to send his country through to the quarters.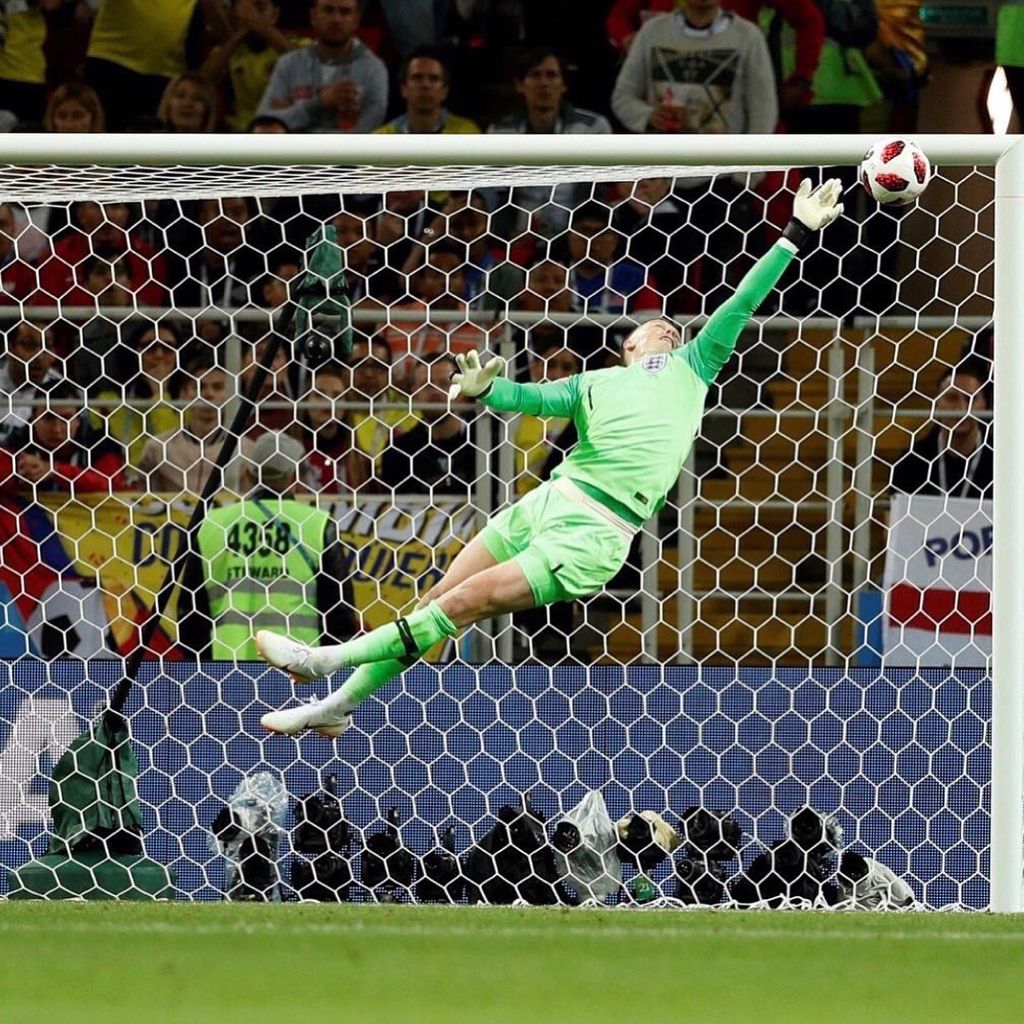 Pickford has shown throughout his career that he turns up when the pressure is high and the pressure has arguably never been higher. He now faces challengers of his own in the form of Dean Henderson, Sam Johnstone and Aaron Ramsdale, aside from Pope. And in true Pickford fashion, he has stepped his game up at Euro 2020.
PICKFORD AT EURO 2020
There has been no sign of the hesitant goalkeeper we were seeing in the early months of last season. Perhaps that is a way of repayment to Gareth Southgate for keeping his trust – something Ancelotti did not do. His form may fluctuate but it is undeniable that Pickford is the best English keeper at this point of time.
His saves from Kai Havertz and Timo Werner against Germany and before that from Stephen O'Donnell against Scotland have been crucial to England's unmatched defensive record. Pickford has put all the pre-tournament clamour behind him silently with his performances even though he may not necessarily be silent on the field.
Jordan Pickford appreciation post.

Four games. Zero goals conceded. JP1.#EURO2020 #ENG pic.twitter.com/hUGISs6J9V

— Everton (@Everton) June 29, 2021
A loud Northerner goalkeeper isn't exactly England's cup of tea but Pickford isn't here to please people. He is here to win and he is doing that in some style. There is every possibility that England can go the entire tournament without conceding a single goal. If football is coming home, then Pickford is in the front seat driving it back.