Robert Almer is an Austrian former professional footballer who played as a goalkeeper for Austria Wien before retiring in 2018 at the age of 35. Almer debuted for the Austria national football team in a 2–1 loss to Ukraine on 15 November 2011.Almer's biggest claim to fame is a shut-out against European giants Portugal in Euro 2016.
He kept Austria's first clean sheet at a major tournament in 32 years during the 0–0 group stage draw with Portugal on 18 June 2016. He was easily the best Austrian player on the pitch and his performance up against the eventual champions was one of the best individual performances in the tournament.
FIRST HALF
Portugal started the first half of the game on top with majority of the possession of the ball and they created the first chance of the game in the 11th minute where Ronaldo's through pass to Nani went on to become a 1v1 chance against Almer.
Nani tried to bury the shot in the lower right corner but Almer read his intentions and came out quickly to make a good save with his left foot, the ball was not cleared out properly and fell to a follow up shot by Veirinha which was again parried away by Robert Almer.
Robert Almer thwarted Portugal on 6 occasions & jumps to 127th in the EURO player rankings: https://t.co/vychFFrSqp pic.twitter.com/4O3D6Jd0hs

— UEFA Nations League (@EURO2024) June 18, 2016
In the 28th minute, Nani came close again, only to be denied by the post after a very scrappy passage of play, Almer got lucky this instance because he was completely beaten.
In the 34th minute, Ronaldo got a really good opportunity to head home a goal from a Quaresma cross but Almer was equal to it as he dove to his left and parried the ball away, Ronaldo turned out to be offside and was already getting frustrated.
The first half ended with Portugal having 61% possession and 14 attempts on goal without being able to find the net even once.
SECOND HALF
The second half began with a really high intensity with both the teams having good passages of play, followed by a chance for Portugal in the 54th minute, where Pepe stole the ball at the half line mark before playing it to Ronaldo who tried a long ranger from his weaker left foot. Robert Almer was equal to it with a good low diving save to his left.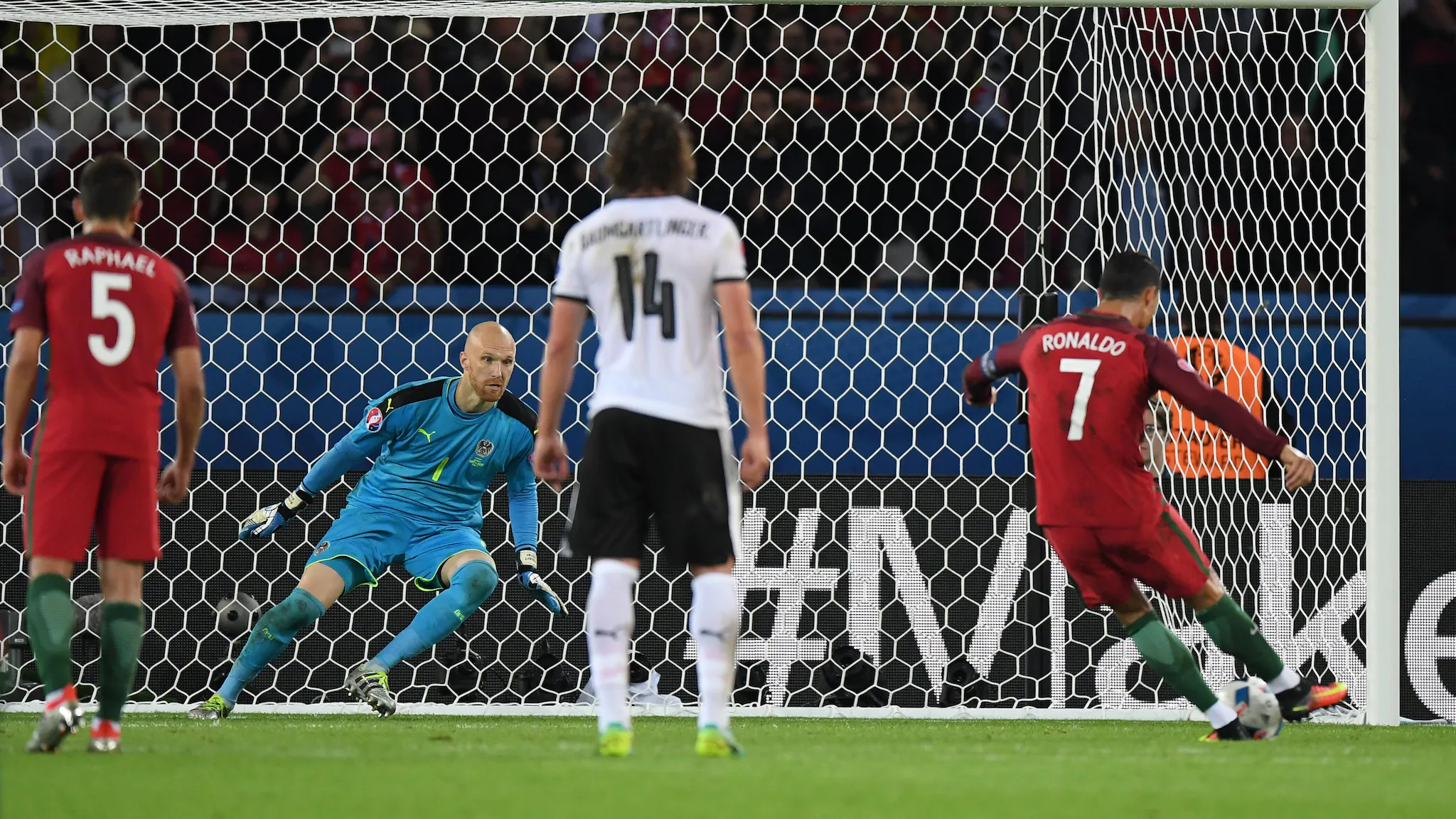 In the 77th minute, Cristiano Ronaldo won a penalty and everyone backed him to convert it. Ronaldo took his run up and hit the ball only to bang against the left sided post and bounce back into play. Nothing was going according to the mighty CR7 that night.
In the 84th minute, Ronaldo finally got a breakthrough and he scores from a really well worked free kick only for it to be ruled offside by the assistant referee on the line.
Luck played a huge part in Robert Almer's Man of the Match performance against Portugal but he still managed to win his country their first clean sheet in any professional tournament in the last 32 years.