Croatia had nearly made it to the Quarter Finals of Euro 2020 as their game against Spain went onto extra time. Croatia had a disappointing Euro 2020 campaign all around as they couldn't impress anyone for the majority of the tournament.
FootTheBall brings you three things that went wrong for Croatia and eventually caused them to be knocked out of the running in Euro 2020.
A SHAKY START
Croatia didn't have the start they were hoping for in their Euro 2020 campaign. But the truth is they haven't been playing well since long before the tournament. In 2021 they played 5 games heading onto the Euros and only won 2 out of them. What made the situation even worse that they lost by one goal without scoring any against Slovenia and Cyprus. Croatia lost to sides they should be ripping apart. Hence they had no momentum to rely on in the group stages.
Croatia played their opening game against England where they let their opposition walk all over themselves throughout the 90. They were even blunt in the attacking department against the Czech Republic and honestly were lucky enough to get away with a draw. Granted that they picked their act together and played well in their last matchday against Scotland, but it just came too late in the tournament.
Imagine the confidence they would have had against Spain if they did well in their first two games as well. Consistency is key in tournaments like these at it does wonders for the camp's morale. They were lucky that the other teams in their group weren't looking that solid as well or else they might not have even made it to the knockout stages of Euro 2020.
THE NEW SQUAD COULDN'T OUTPERFORM THE OLD ONE
When a team reaches the World Cup final, the supporters expect the same level of performance from their side in future tournaments as well. Their weir massive expectations on Croatia heading onto the euros but the supporters didn't realise that it wasn't the same squad representing them in Euros.
(1/2) It is with great emotion that I made the decision to announce my international retirement. It was a huge honor to have had the chance to represent my country, Croatia, at the international level and in the most prestigious competitions. @HNS_CFF #IvanRakitic pic.twitter.com/6fAl5qJpPZ

— Ivan Rakitic (@ivanrakitic) September 21, 2020
Ivan Strinic and Rakitic had a massive influence on their side in 2018 but were not part of the Euro 2020 squad for their nation. In the 2018 World Cup, Croatia had only conceded 5 goals in the entire tournament leading up to the final, all thanks to the man between their sticks, Danijel Subasic. Litkovic on the other hand conceded a total of 8 goals in the tournament. Petkovic and Kramaric were expected to fill in the shoes of Mario Mandzuvic but it is a shame that both the forwards failed to score even once in the tournament.
🤔 Your team is out, or did not qualify? You're looking for a team to cheer in the #WorldCupFinal? We'll make it easy for you and provide 10 reasons to support #CRO today! (We could easily do 100.) pic.twitter.com/SakF0GIRSB

— HNS (@HNS_CFF) July 15, 2018
Croatia's future endeavours aren't looking that well with the new players failing to make an impact on the field. Luka Modric and Perisic did really well this time around and hence their performance in Euro 2020 is looking a little respectable. But even they are bound to hang up their boots at some point and the youngsters have surely got to step up their game if they don't want Croatia to be called as one of the 'has-beens' in the world.
FATIGUE GOT TO THEM IN THE END
Croatia managed to go stride for stride with Spain by the end of 90 minutes but eventually conceded 2 quick goals in extra time and couldn't book a seat in the quarter-finals. This mainly happened because the lads gave it their all in the second half to find the equaliser and just didn't have any gas left in the tank to play another half hour of aggressive football. Zlatko Dalic is partly at fault here.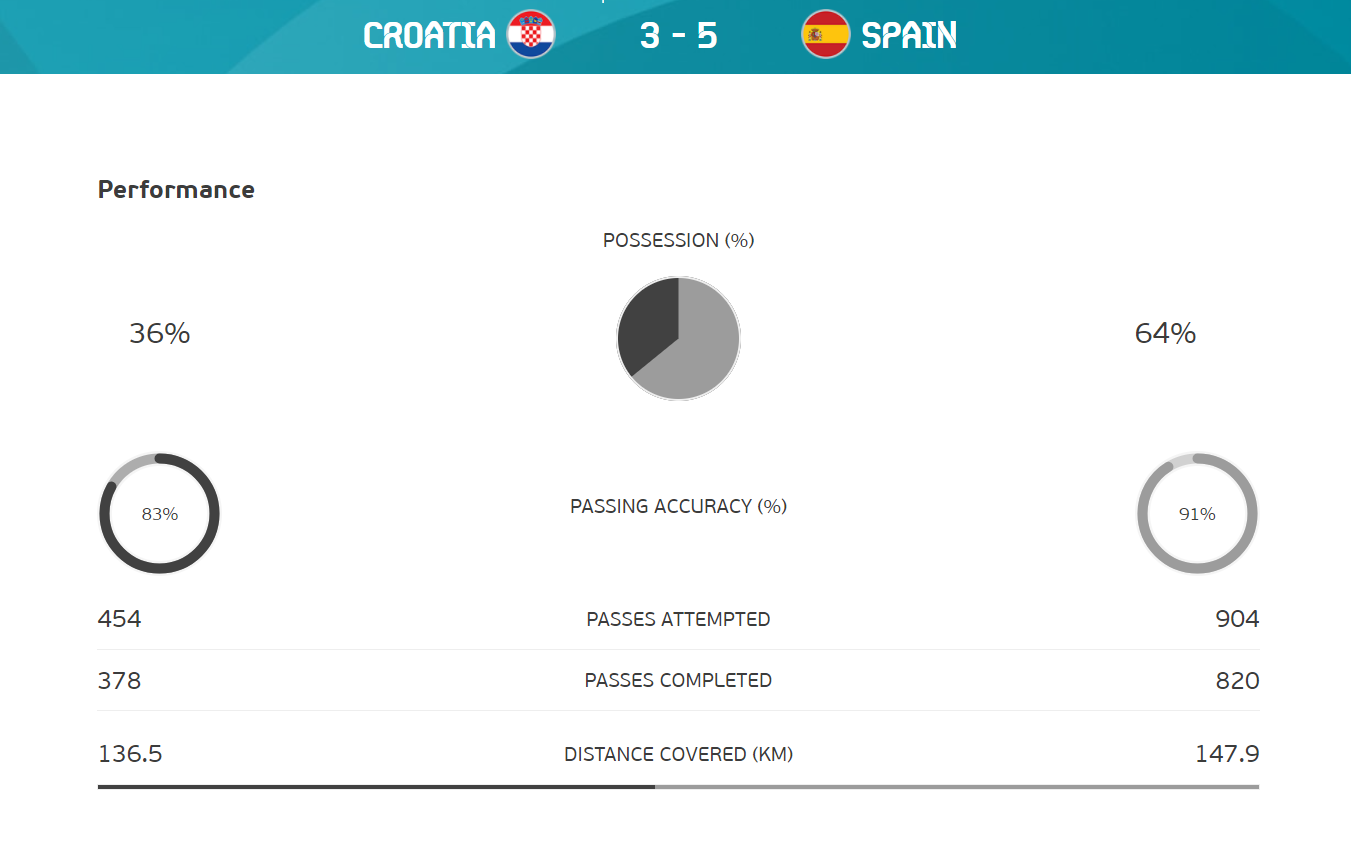 Croatia didn't control the game at all in the first halved and were just running behind the ball all the time. Modric and Brozovic could hardly create any chances since they were busy holding their backline together. In the end, it was clearly visible that the Croatian players were at the verge of collapsing. They wanted to run but their legs won't just listen to them. They were seen walking for most parts of extra time and it was just sad to watch a fresh-looking Spain toy with them at the end.
✍️📖 Croatia bows out having written a piece of history: being involved in the second highest-scoring EURO game ever!#CRO | #BeProud | #CROESP | #EURO2020 | #Vatreni🔥 pic.twitter.com/HQO003Z4ok

— HNS (@HNS_CFF) June 28, 2021
As a manager, it is a responsibility for Dalic to ensure that their game plan doesn't exhaust their players that they are not able to play more than 90 minutes. In conclusion, it has been a disappointing outing for Croatia in Euro 2020 and the only way for them is up at this point. They cannot rely on their veterans forever and need to restructure their squad and grow some talent for the upcoming Qatar World Cup in 2022.