Terms like 'Park the bus' , 'all 11 defending' or 'every man behind the ball' actually have immense tactical significance in football. Managers like Sean Dyche, Jose Mourinho and Diego Simeone have actually been very successful deploying such tactics. Technically, this tactic is referred to as a 'low- block' and has a very storied history in football. Even the infamous Italian 'Catenaccio' system shares some tactical and technical principles with the low- block.
The priority of the low block is to defend the goal, and to crowd the space in front of goal. Although most low blocks are initially made up of three units players are encouraged to drop back and cover for any teammates who get pulled out of position and leave gaps… 🧱🧐 pic.twitter.com/7VvgY466xt

— The Coaches' Voice (@CoachesVoice) May 20, 2022
Although the low-block is considered a "boring" tactic and is looked down upon, It is highly effective. Just ask Guardiola's Barcelona, whose beautiful tiki-taka system was nullified by Jose's Inter back in 2010.
What is a low-block?

The low block is a system where the players defend very deep in their own half and restrict the space for the opposition players to exploit. It is a static form of defending as there is not much movement unlike in a high pressure system.
A low block is an out-of-possession strategy through which a team focuses on protecting the defensive third of the pitch. The priority is to remain compact in a deep position, defending the space close to goal… 🧱🧐 pic.twitter.com/U2FDny8pbT

— The Coaches' Voice (@CoachesVoice) May 20, 2022
More technically a low-block is referred to an out of possession strategy of a team that focuses on protecting the defensive third of the pitch. The idea is to stay compact, especially in a deep position near the goal. The defensive line sits deep to limit the space behind the back line. Thus the midfield line and attacking line drop deep too to restrict the space between the lines. They make sure the distance between the three lines is constantly kept to a minimum too.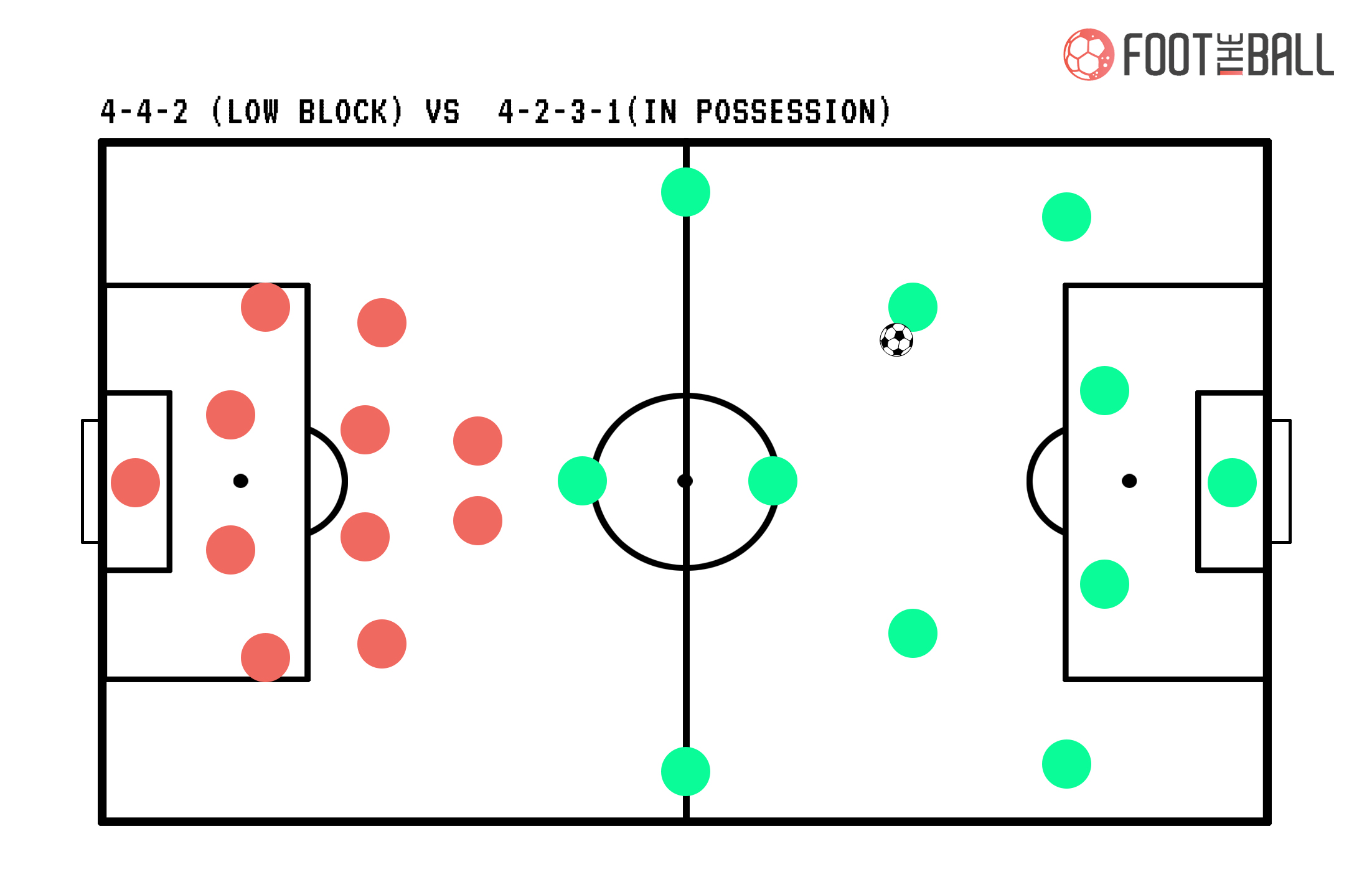 Generally the low-block consists of two banks of 4 that sit narrow to allow the attacking team space in the wide areas. This forces them away from goal as much as possible. Simeone, Dyche and Mourinho set up their teams with different degrees of narrowness though.
What do players do when in possession in a low-block?
Every player's priority is protecting and covering the defensive third in a low-block system. Opposition is drawn out of their half to make sure there is space to be exploited behind them. Especially once the attacking full backs have pushed up the team sitting in the low-block look to counter attack as soon as they have the ball.
🎙| Simeone: "Real Madrid's win is fair. They played a style that I like a lot, defending low block and taking advantage of the counter attacks."

— Madrid Xtra (@MadridXtra) December 12, 2021
They counter attack and look to exploit the space in behind them. Since the distance to be covered to the opposition goal is so vast it is usually done before the attacking team can reorganise it's defence.
A short and clear example of 'Rest Defence'

There has been lots of confusion regarding what rest defence is

It is simply the defensive organisation while attacking to prepare for transitions. This involves supporting the counter press and dealing with counter attacks pic.twitter.com/yE4kwqVwYL

— Michael Loftman (@michael_loftman) May 25, 2022
Counter attacks from such deep positions usually require incisive actions such as a crucial dribble or quick passes or switches of play to get the ball into the attacking third as fast as possible. The other interesting way teams with a low block attack is hold-up play from anyone high up the pitch. As the player holds the ball up, off  the ball runs are made to make sure they catch up with the play. This eventually helps them progress the ball and provide support.
so, Chelsea should sit back in a low block, allow Liverpool to have possession and hit them on counter-attacks using the pace of Pulisic. Pulisic has shown it so far that he has the pace and timing of runs to hurt the opponents on counter-attacks. Btw this is just a random lineup pic.twitter.com/I1SU2saGgF

— Nouman (@nomifooty) August 13, 2019
Often this is done through direct long balls , especially since when players manage to recover the ball in a low-block there tends to be a lot of players in certain zones as they overload the defence. Once they clear the ball they look to squeeze up the pitch.
What do players do out off possession?

It is extremely necessary for players to be disciplined in a low block especially when they don't have the ball. Players must avoid moving out of position to win the ball back in a low-block as it disrupts the compactness of the team. The distance between each line and each defensive unit should always be kept to a minimum for a successful low-block.
Diego Simeone has favoured a 4-4-2 throughout his tenure at Atlético Madrid. Defensively, he prefers a mid or low block, focusing on compactness between his units (below) and controlling matches through covering key spaces in Atlético's own half… 4️⃣4️⃣2️⃣🧵 pic.twitter.com/RXRzZ96EBp

— The Coaches' Voice (@CoachesVoice) March 18, 2022
Defenders are often tested under prolonged periods of constant pressure. They have to make sure stay compact and make the right  individual defensive actions. This ensures the attacking team does not get clear sight of goal.