There are some things in football which are never said out loud but are accepted as the norm. At Valencia or a West Ham United, if a player does well, it's an underwritten pact that he will look to move on to a "bigger" club, even if that club might not be doing so well in that time.
The biggest example is Manchester United capturing the signings of Ibrahimovic (PSG), Pogba (Juventus) and Mkhitaryan (Dortmund) during the season they'd play the Europa League. This unspoken hierarchy in football has led to the demise of many clubs, as the big brother above is always ready to pick the best cherries from the garden beneath them.
So, what can clubs do? The answer is simple for the Austrian club Red Bull Salzburg: you groom a new player using your club's academy and scout network. There was
 Erling Haaland
, then there was Takumi Minamino, then there was Dominik Szoboszlai and so on. The club has always emphasised developing players rather than buying them, a hugely successful tactic. And one of the newest discoveries of the system is 
Karim Adeyemi.
The 20-year-old Adeyemi has been in brilliant form, scoring 19 goals in the Austrian Bundesliga. And now Borussia Dortmund have signed him to replace Manchester City-bound Erling Haaland, who also had joined the German club from RB Salzburg. And so on goes the cycle.
His career till now shows that he has the talent, and in Dortmund, he will find the perfect environment to turn himself into one of the best players in the world, and as hierarchy reared itself during Haaland's saga, Adeyemi would take another step up soon.
Karim Adeyemi Stats
A look at Karim Adeyemi's stats tells you one thing clearly: he not only loves to score goals but also is involved in its creation. With 19 goals and four assists to his name, Adeyemi has been one of the best players in the Austrian league this season.
According to fbref, Adeyemi is brilliant when moving the ball upwards. The youngster averages 5.98 carries per 90 minutes, which puts him in the top seven percentile compared to all strikers. And the figures remain more or less the same when looking at his carries. The German averages 2.09 carries into the final third, putting him in the top six percentile of strikers. His numbers for carries in the penalty area are even better with 2.24 carries, good enough for the top one percentile.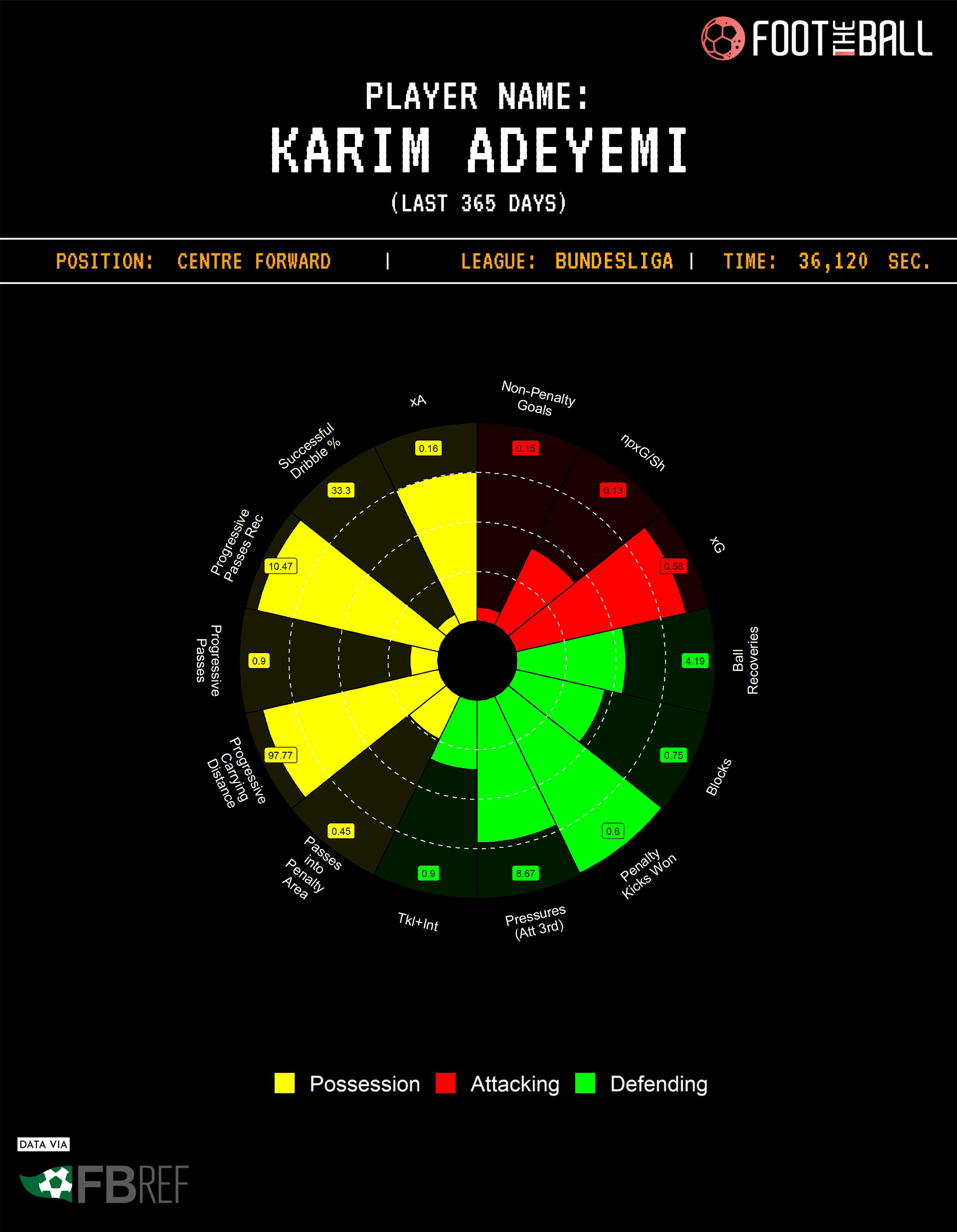 Karim Adeyemi also loves to drop into half-spaces to receive the ball. This is proved by the fact that he gets 10.47 progressive passes every 90 minutes, better than 94 per cent of all strikers. However, receiving the ball in half-spaces is only helpful if the player then has the skill to exploit the situation. And Adeyemi does exploit these situations with his speed, ball control, and quick feet. Fbref stats show that he attempts 4.49 dribbles per 90 minutes (top 8 percentile) and dribbles past 2.24 players, which puts him in the top three percentile.
Read More: Darwin Nunez: Uruguay's new star 
So, not only does he receive the ball in half-spaces and wide spaces, but he also uses his dribbling abilities and skill to make most of the situation.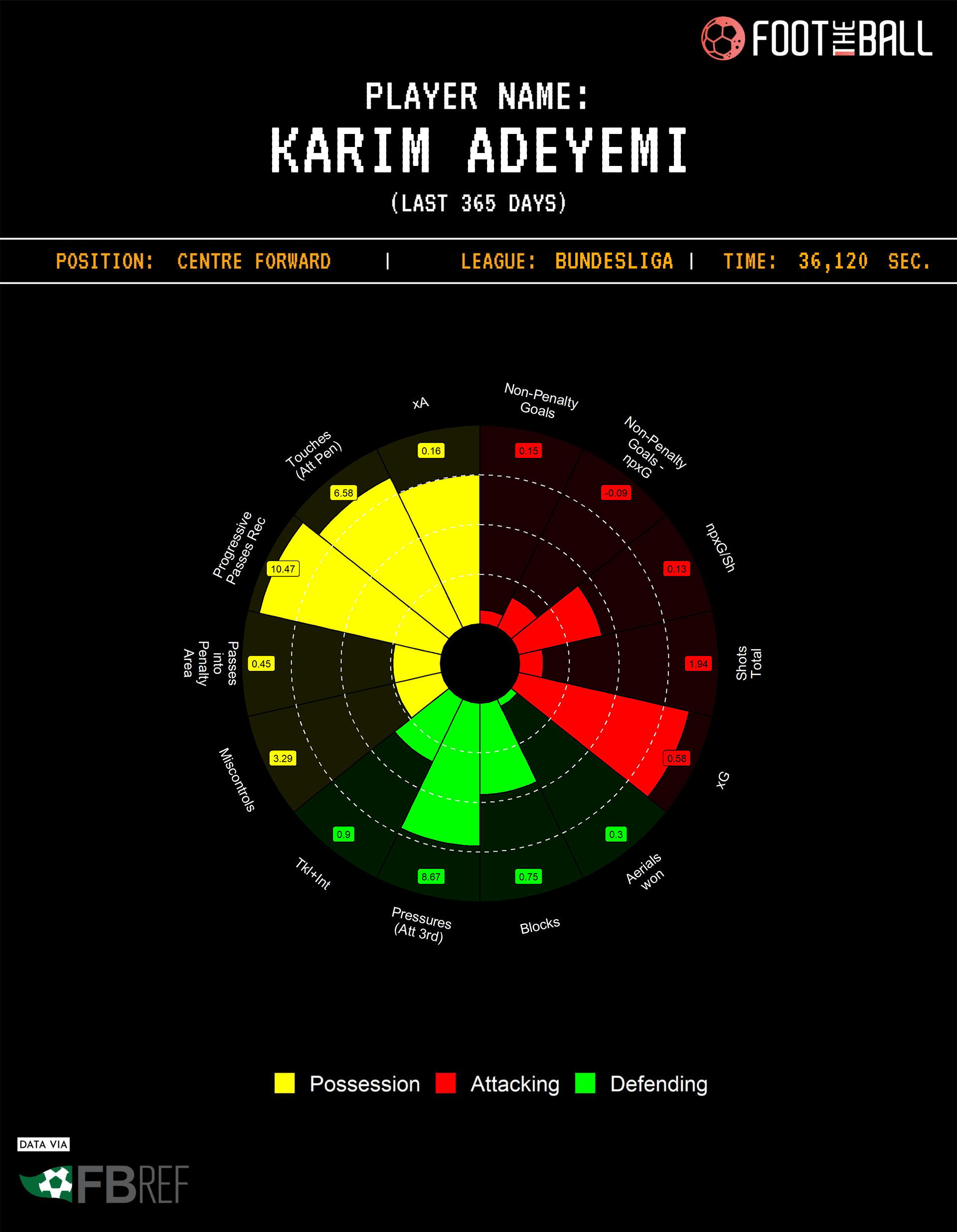 Because of this, he is fouled 2.84 fouls per 90 minutes, placing him among the top nine percentile. However, Adeyemi's rapid pace gets Salzburg into promising scoring opportunities. As a result, he wins 0.60 penalties per 90 minutes, which puts him as one of the best in the world. In addition, RB Salzburg scored a goal in every three matches from a dead ball situation which was won after an opposition player had fouled him.
His pressure numbers are also respectable for a player his age. This season, his only goal in the Champions League came after he won the ball from the defender by pressing him high up the field.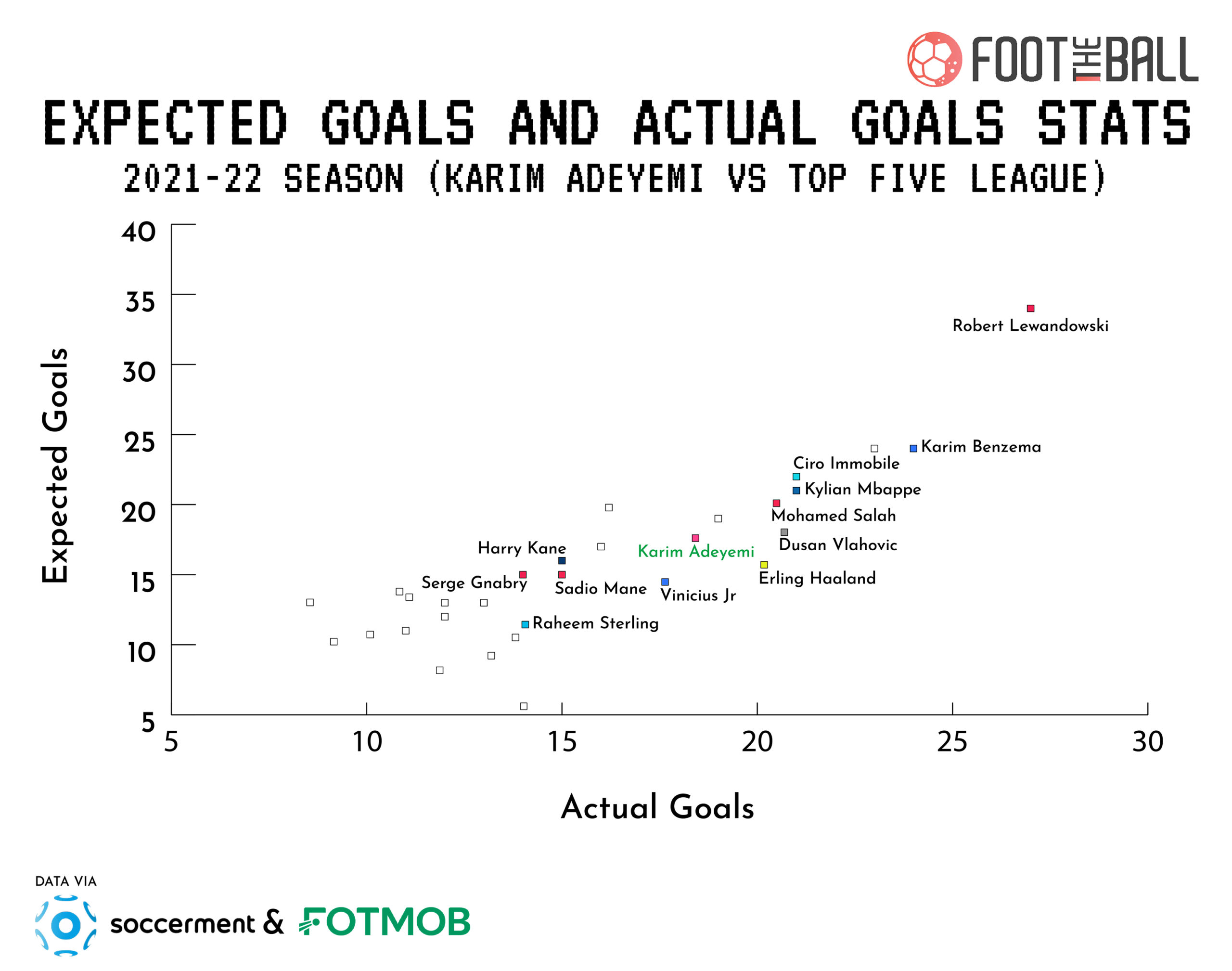 Karim Adeyemi: A complete forward
Karim Adeyemi is different from other strikers because of his versatility at such a young age. He can play in the centre forward and the left-wing position. He can score goals as well as assist them. According to FotMob, Adeyemi tops the list in the league when it comes to goals per 90 minutes, expected goals, expected goals per 90 minutes, and shots on target per 90 minutes.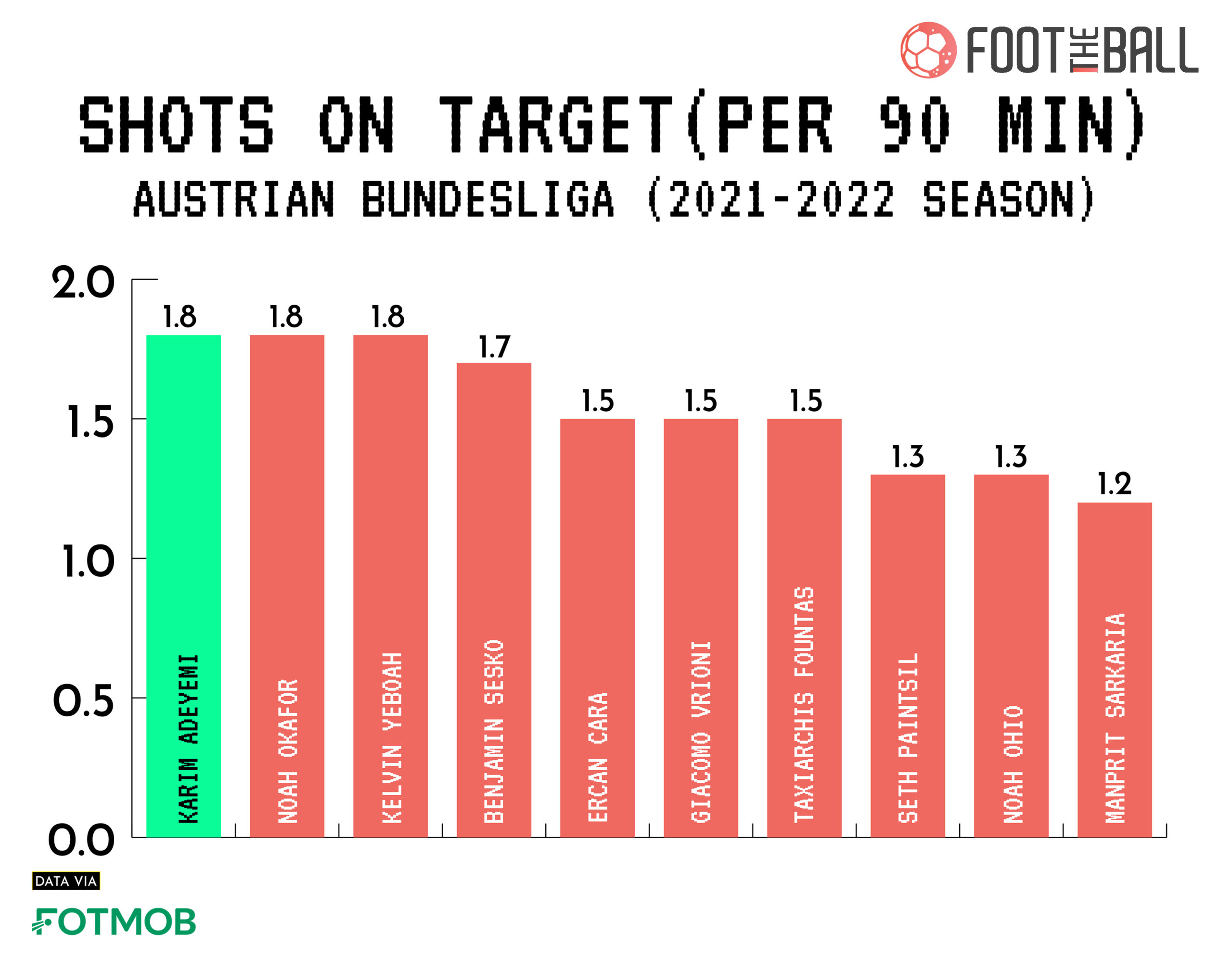 The data also point out an interesting observation. While Adeyemi is the top scorer, he is fourth in terms of shots and has a shot conversion rate of 20.9 per cent, the best in the league. This shows his efficiency, which will be a significant asset for any team. He has also created eight big chances for his team.
In case you missed it: Taylor-made for stardom
What completes this exceptional footballer is his fitness and tenacity. Out of the 19 goals that he has scored, 11 have come in the last 25 minutes of a game. While three of these goals are penalties, it shows that he can play the full 90 minutes even at such a young age. And his knack for scoring later goals shows that even at the end of the game, he has the tenacity and stamina to hurt the opposition.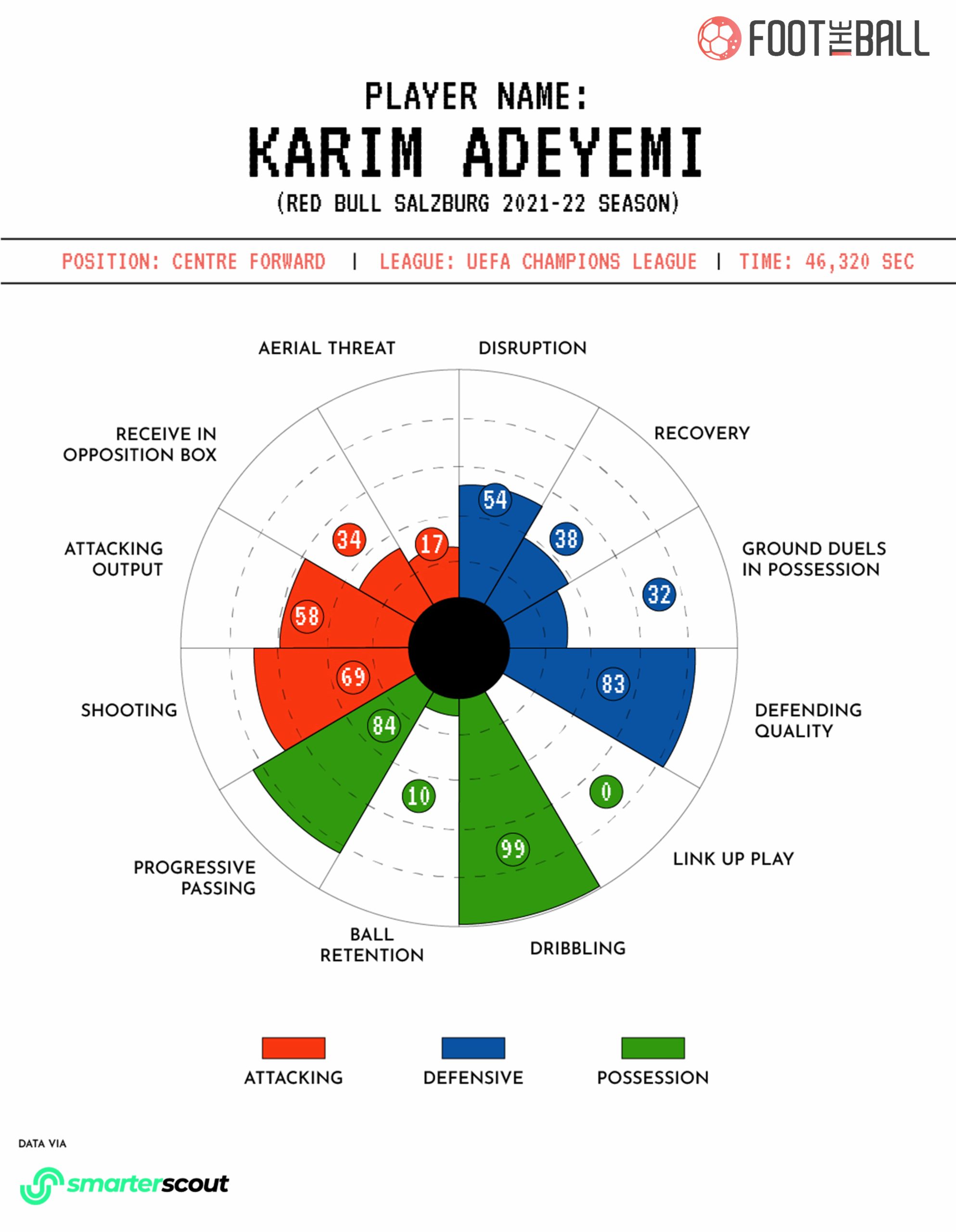 While Adeyemi is still far from the player that he can be, the base that he has built for himself at Salzburg will surely help him become one of the best strikers in the world.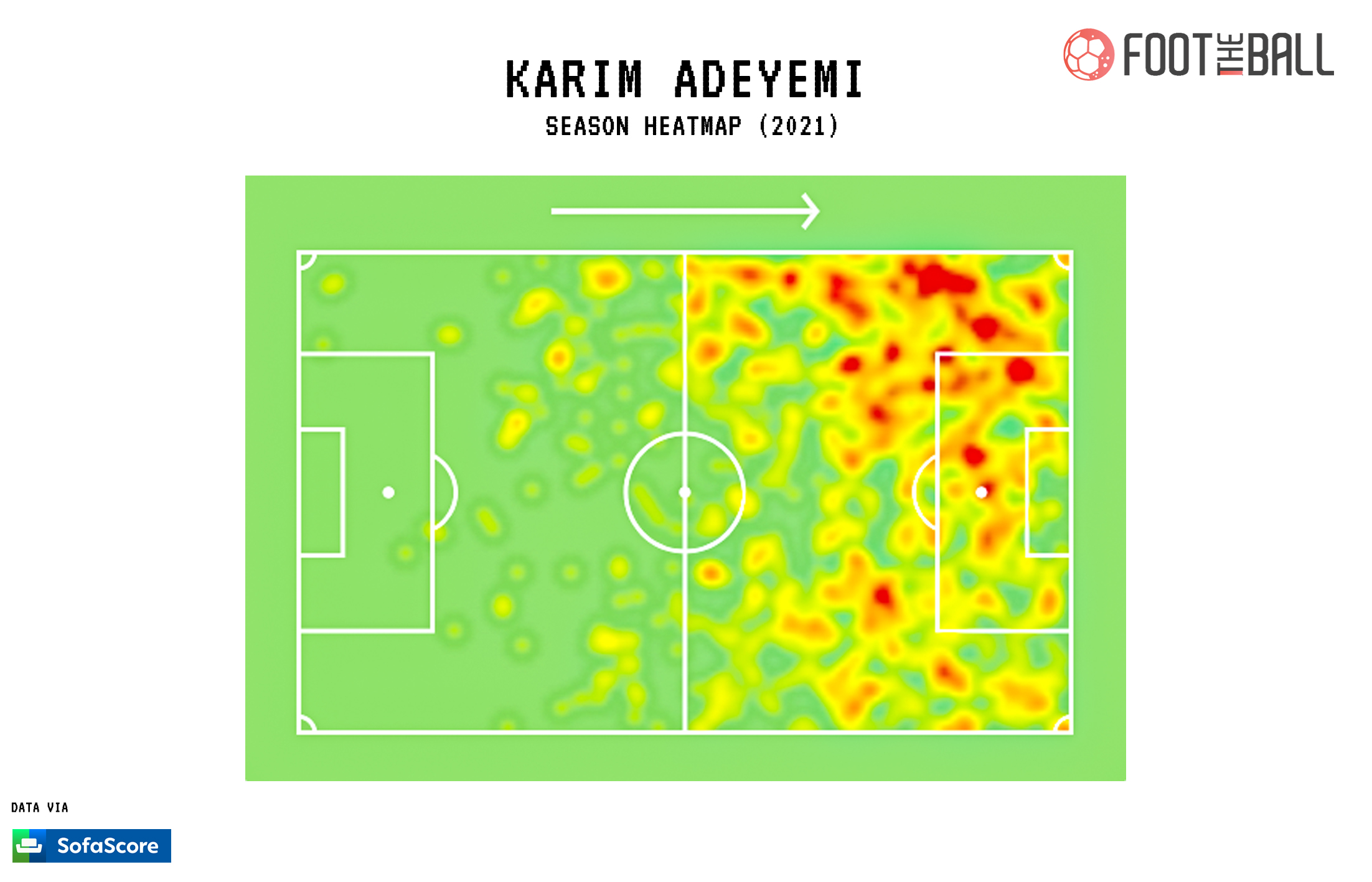 Why did Borussia Dortmund sign Karim Adeyemi?
Karim Adeyemi is perhaps the most suitable player to replace Erling Haaland. Adeyemi's arrival also mirrored that of Haaland back in January 2020. Both at the time of arrival were players with potential whose talent needed to be refined.
And we must also not forget that despite not having Halaland for the entire season due to injuries, Borussia Dortmund performed exceptionally in the attacking department.
They scored 83 goals, second-most in the league and 19.79 more than the expected goals model. This overperformance was one of the best in Europe. With Adeyemi and an improved defence, they could finally have an excellent chance to dislodge Bayern Munich's iron grip on the Bundesliga.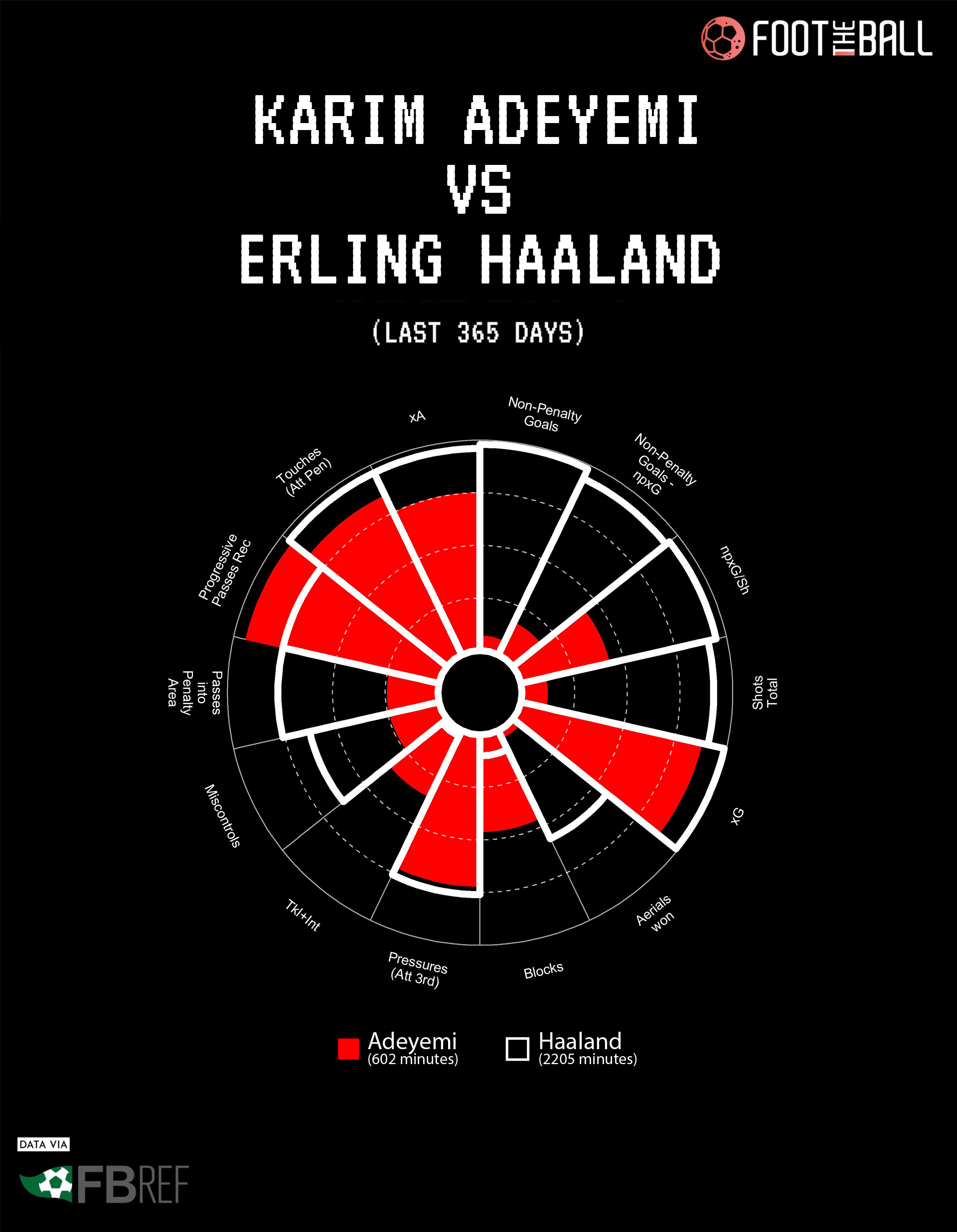 Adeyemi's rise also bodes well for the German national team, which has failed to find a proper number nine after Miroslav Klose's departure. The Die Mannschaft were knocked out of the 2018 World Cup in the group stages and would want to redeem themselves in Qatar. And they have the perfect mix of experience with the players such as Thomas Muller, Joshua Kimmich, and Leon Goretzka along with the young blood of Florian Wirtz, Luca Netz, and Jamal Musiala to mount a challenge for the World Cup title.
So, can he succeed? RB Salzburg's academy have churned out Patson Daka, Erling Haaland, Dominik Szoboszlai, Hee-chan Hwang, and Takumi Minamino off to better things. And with the talent that Karim Adeyemi has, he needs to show that he is not Germany's future but present.