There was something aesthetically pleasing in watching Juan Román Riquelme play football. The way the Argentine playmaker glided on the field, picking passes at will, dropping a shoulder to jink past the opponent.
That languid style of play, that artistry had a uniqueness. It made an average Joe feel closer to football. You didn't need to be a hulking, muscular physical specimen to succeed at the sport. In many ways, Riquelme was rightly called "the second inventor of football".
Today's football is all about running, athleticism and 'Gegenpressing'.Therefore, to see a "Riquelme lite" appear from the land of gegenpressing in Germany is so pleasing for the lovers of aesthetics. That "Riquelme lite" is Florian Wirtz of Bayer Leverkusen.
So who is Florian Wirtz? Wirtz comes from the 'Ruhr' region in Germany, one of the most mineral-rich industrial regions globally. Wirtz's richness of game is similarly eye-catching.
Riquelme lite because he combines the artistry of Riquelme with the energy of the modern athletic footballer. In the land of gegenpressing, the 18-year-old has made it a habit of bamboozling seasoned defences with his intricate play. Already on 10 goals and 14 assists in 30 appearances this season, the best is yet to come for Wirtz, a scary prospect for defences worldwide.
Also read: England's next great midfielder, Alfie Devine
Wirtz is a player who loves to be in the thick of creative action for his team. According to Fbref, the teenager Wirtz xA is 0.33 per 90 minutes which puts him in the top five percentile when compared to attacking midfielders and wingers. However, his actual assists is 0.47 almost 50 per cent more than the xA thus putting him in the top one percentile.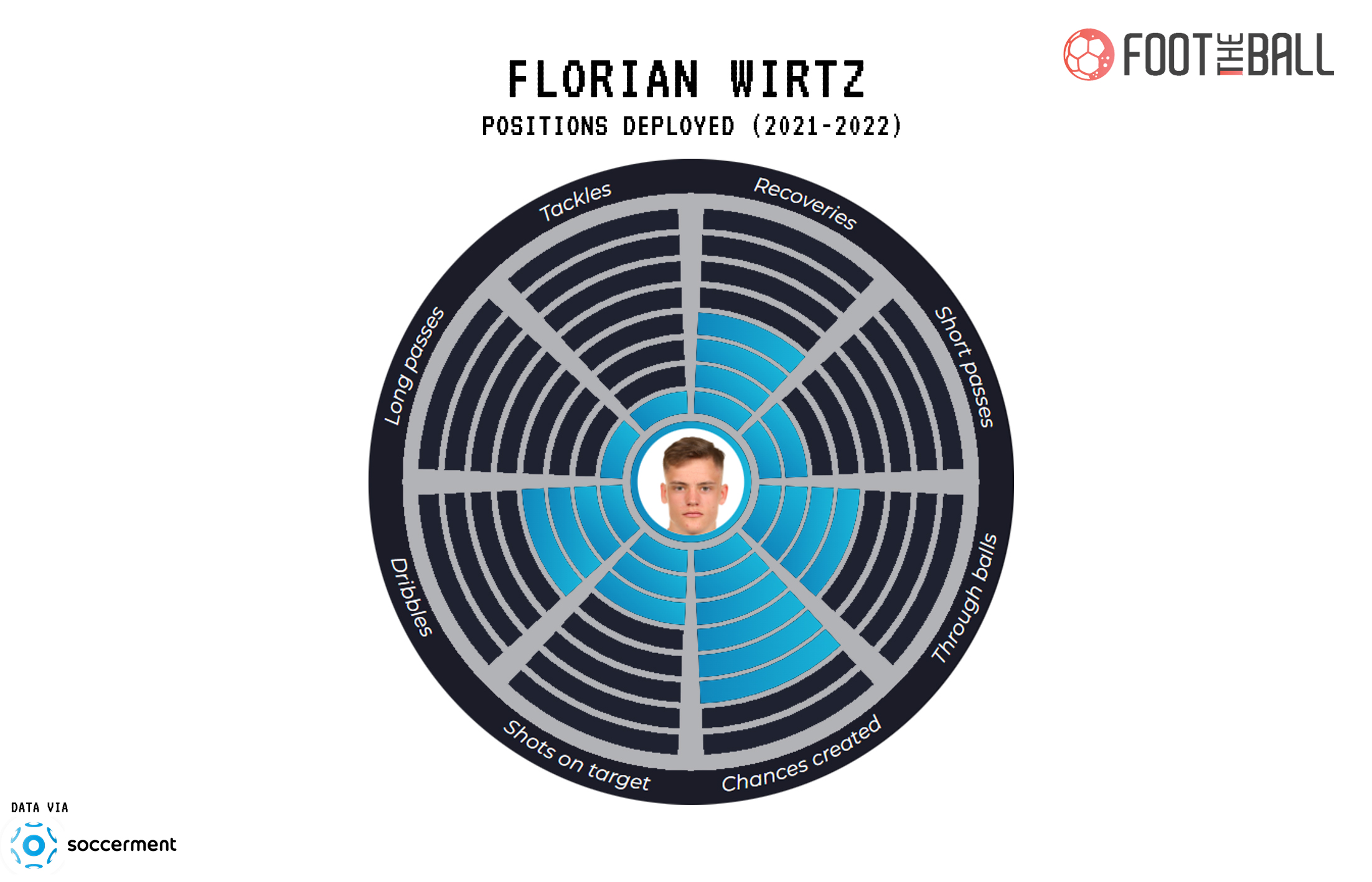 This trend continues with 2.84 key passes (top five percentile), 3.65 passes into the final third (top 11 percentile), 0.41 through balls (top four percentile), 9.70 passes under pressures (top ten percentile), 4.90 shot-creating actions (top eight percentile).
His goal scoring actions (GCA) numbers are even better. He marks 0.98 GCA per 90 minutes, good enough for the top one percentile. However, it is when we analyse his GCA numbers a little more closely we can see his true potential.
Out of his total GCA, 0.64 comes from live passes (top one percentile), 0.14 from dead-ball passes (top six percentile), 0.14 from dribbling (top four percentile). He even ranks among the top 13 percentile when it comes to GCA through defensive actions.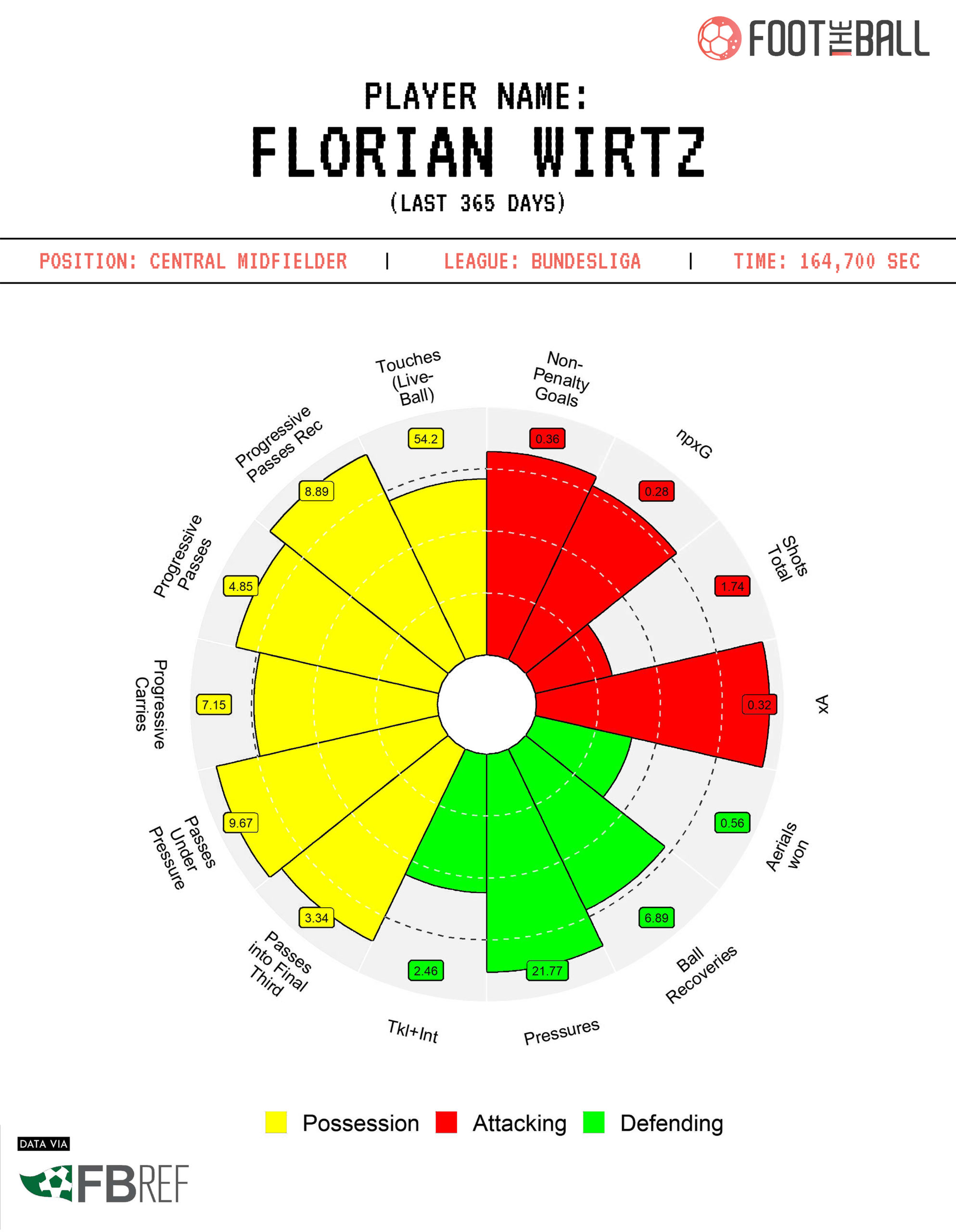 Wirtz's talent can be gauged by the fact that he has an xA of 5.15 according to Soccerment, but has managed to provide almost double that.
ALSO READ: Ryan Gravenberch, Dutch Football's big hope
He has also created 55 chances (third-best in Bundesliga), completed 12 through balls (second-best in Bundesliga), 2.97 expected threats per 90 minutes (eighth-best in Bundesliga).
"I had to find my role, I didn't say much to begin with. I was just carrying the ball, listening," Wirtz had said in January 2021.
And he did find it by becoming one of the main players on the team.
According to Soccerment, he has an expected Offensive value Added (OVA) of 6.12, 10th best in Bundesliga and best in the Bayer Leverkusen squad.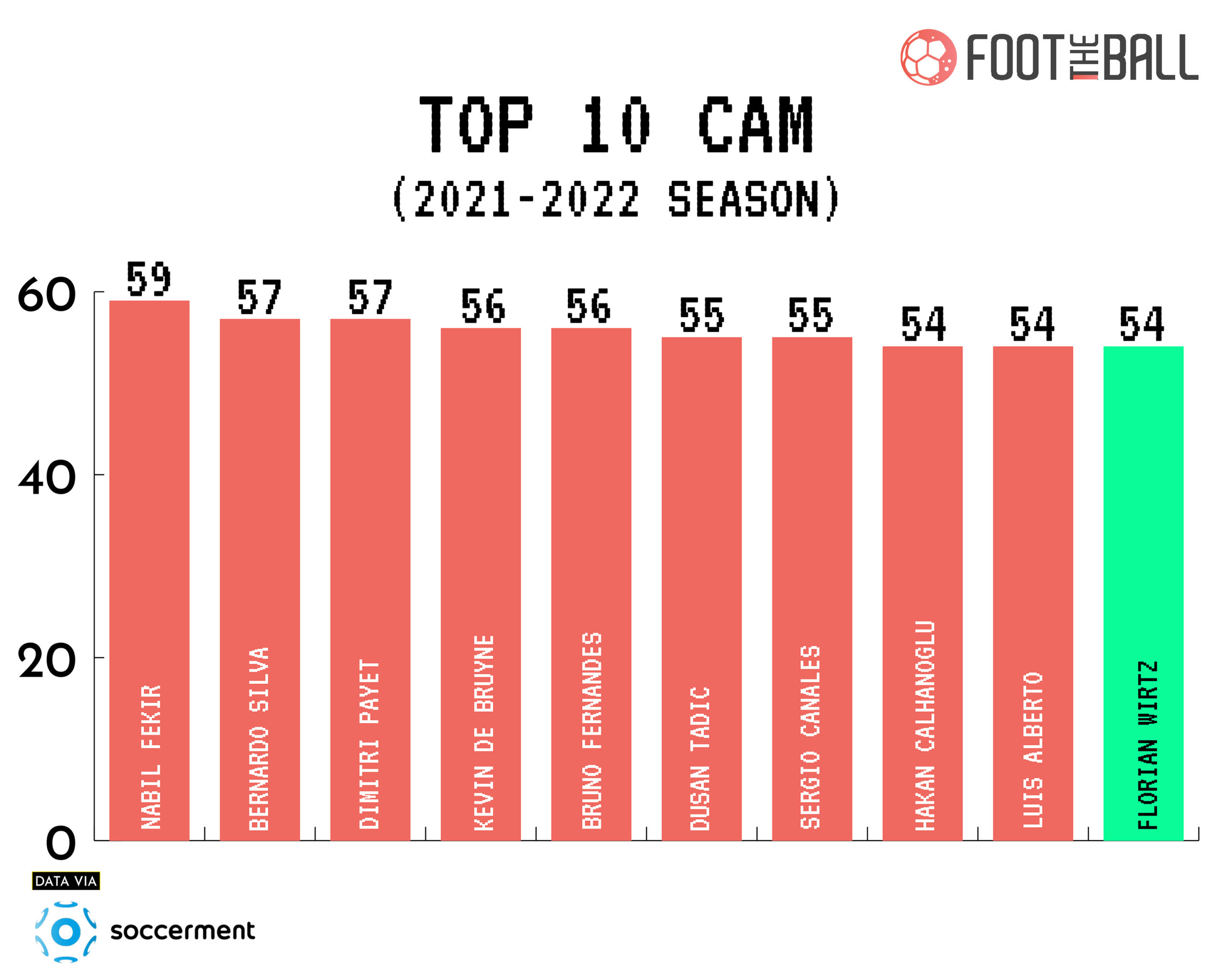 The versatile attacking midfielder
What makes Wirtz special is not his creativity but rather the multiple ways he manages to make these creative actions. He is adept at making brilliant through balls, drawing players and creating space for his teammates, but he also dribbles well and has the ability to get past defenders too.
While these qualities alone make him a special talent. Wirtz's skills are such that he excels in other areas too. In fact, it is due to his impressive creativity that his goal-scoring doesn't get noticed. 
According to Fbref, his 0.37 goals per 90 minutes puts him in the top 23 percentile, good enough for an 18-year-old. If we exclude penalty goals, he fares better (top 19 percentile).
The man from Pulheim also scores 0.22 goals per shot which is better than 94 per cent of the wingers and attacking midfielders.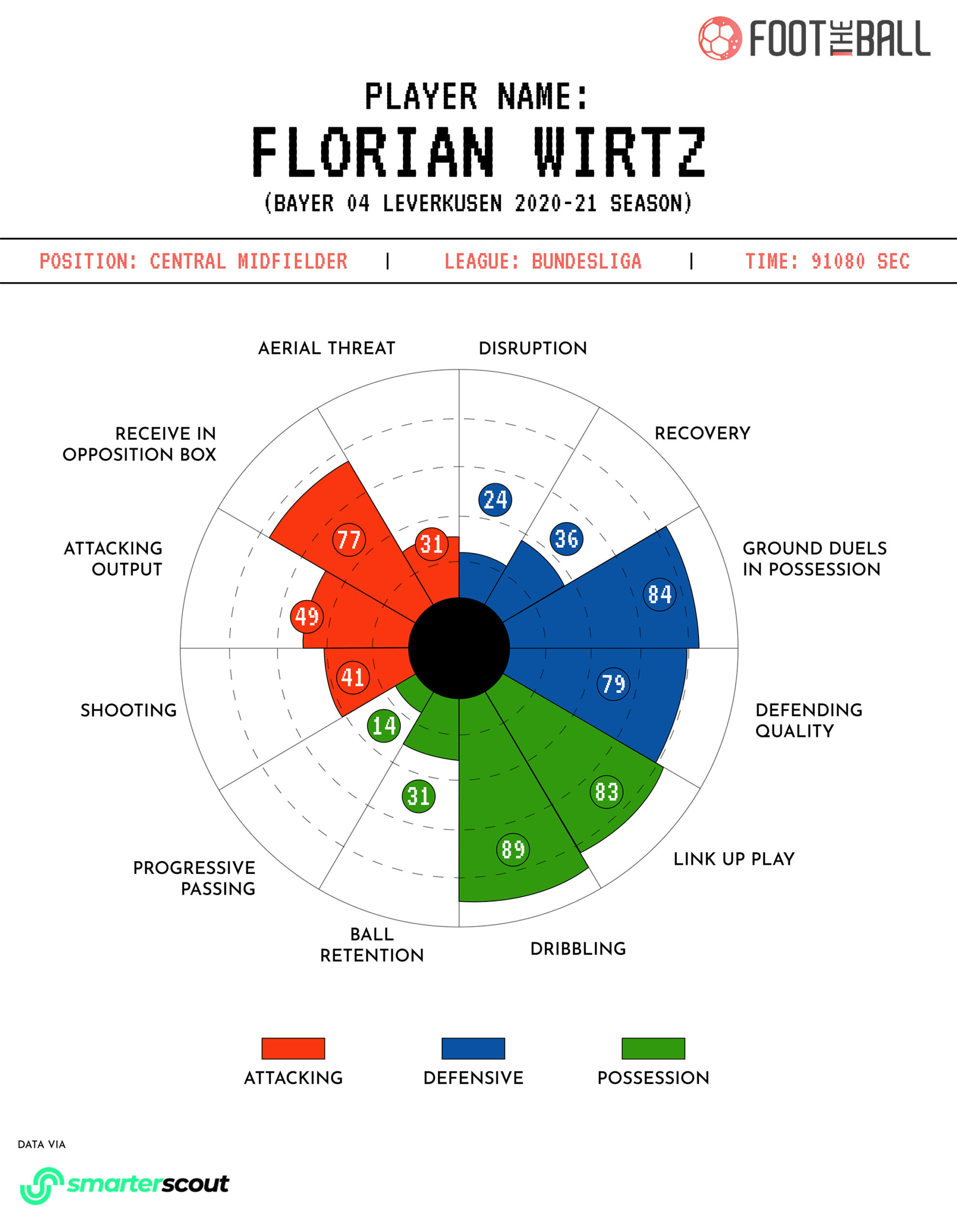 He also scores 0.52 goals per shot on target (top seven percentile).
A weakness of his had been helping his team out defensively, but it seems that Wirtz has even sorted out that part of his game too.
He initiates 21.44 pressures (top 15 percentile), 6.76 succesful pressures (top six percentuile) and 1.22 interceptions (top 26 percentile)per 90 minutes.
Wirtz is also a hard worker and is involved all over the pitch as is evident by his heatmap from Sofascore.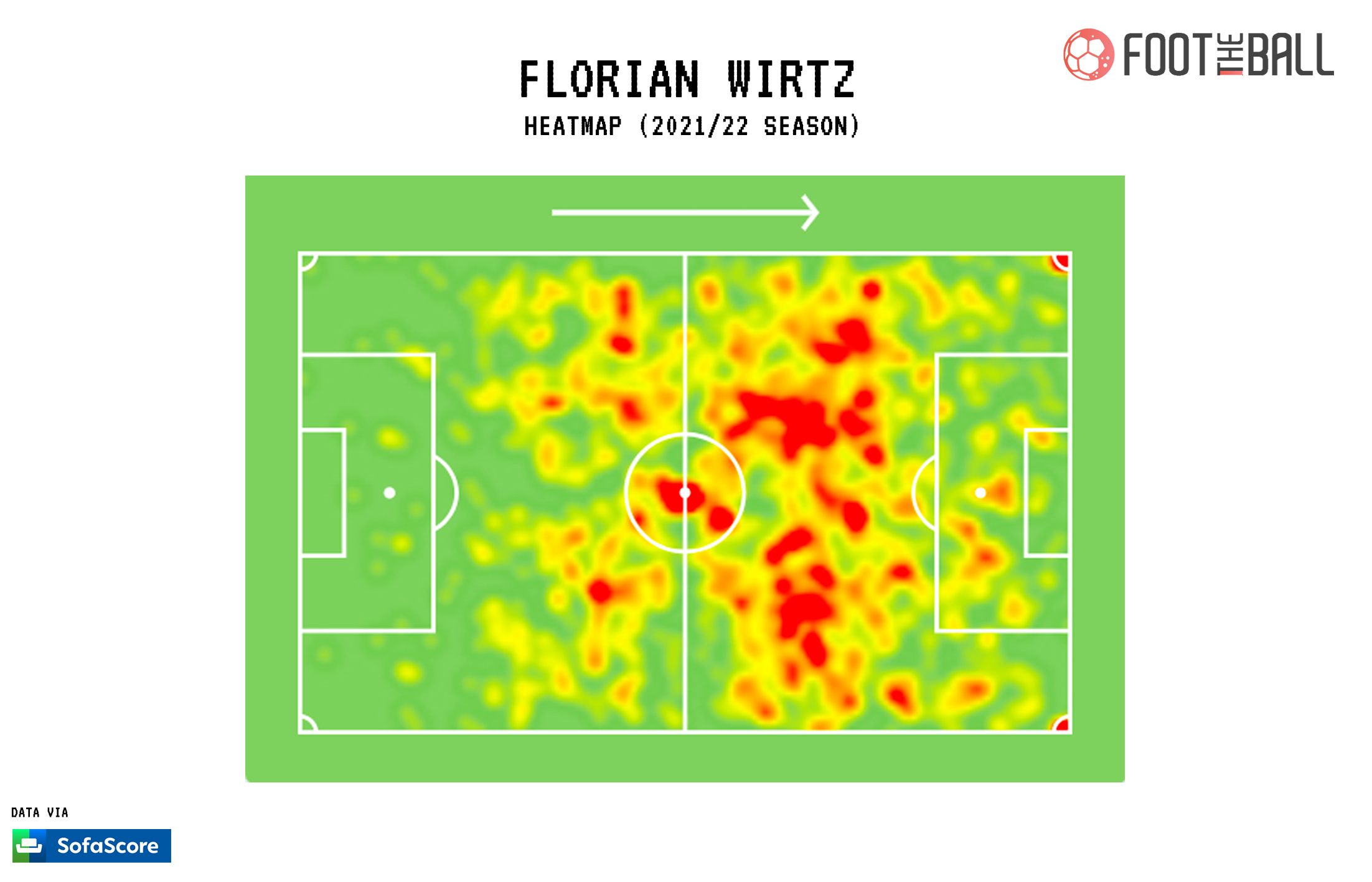 And he has achieved all this at 18 years old which just shows how far can he go under a good coaching staff.
Why should teams buy Florian Wirtz?
Well, the short answer should be why teams shouldn't. He is one of the best young prospects in Europe who is multi-faceted, and with his talent can easily play at the top level for more than 10 years, at the very least.
In addition, in terms of progression, he is ahead of his predecessor Kai Havertz which shows just how talented is. He is still a work in progress but it's not a question of if but when before big clubs start sniffing around him.
His ability to sort out his weaknesses in a short amount of time is another quality that will come in handy when he switches over to a big team whether be it in Germany or outside.
However, he may need a season or two at Leverkusen to further hone his skills before making the big move because one wrong move has the ability to seriously hamper his career (just ask Mario Gotze).
For now, Florian Wirtz must do what he has done so far, carrying the ball, and listening.