Sportspersons are a special breed. They enjoy an exalted status in modern society, and footballers have a wider base than most. Given the global popularity of the game, there is no doubt that most footballers are beloved by fans.
The usage of 'most' is deliberate, as there are players who are not…much loved. They are the ones who stand out from the crowd, often due to their words or actions. Indeed, the term "hate" is not thrown around lightly in football.
Players really have to be problematic and irritating over years in order to earn this moniker. FootTheBall presents the top 10 most hated footballers of all time.
Diego Costa
The big, burly striker was a constant menace for opposing defenders. The main problem with Diego Costa was his unnecessary roughness towards players. There is also the issue of a confrontational attitude, and trouble with training regimes.
Diego Costa has been suspended for three matches after violent conduct charge found proven http://t.co/DEYRqwIC9D pic.twitter.com/TgDDP3A32f

— England Football (@EnglandFootball) September 22, 2015
Nobody much liked, even more so after his spell with Chelsea. He clashed with opponents, and deliberately stoked the fires of a fight many times. PL's favourite villain now wants to run it back with Wolves, and rest assured, drama is going nowhere.
Ashley Cole
When you are termed "Cashley Cole," there's not much else to say. However, there actually is when it comes to the former England defender. Cole made headlines when he left Arsenal for Chelsea due to the huge wages on offer.
Ashley Cole said he saw the winning culture Arsenal "falling apart" Do you agree?#Arsenal #AFC #AFTV #AshleyCole pic.twitter.com/9zb6qWxB5x

— AFTV (@AFTVMedia) May 24, 2020
Moreover, he was often getting into trouble with the law over speeding offences and being cranky at police officers.
Cole was also famous for his infidelity, despite having a love interest in Cheryl Cole. All of this points to a player whose character was in doubt, but talent was not.
Steffan Effenburg
The German midfielder was a force of nature for Bayern Munich in the late 90s. However, Effenburg had an odd habit of calling opposing players names before matches. Moreover, he also had an extramarital affair which was a scandal in Germany.
Stefan Effenberg responds to suggestions that he is unworthy of spot in top 10 Bayern player list. #effe #stinkefinger #freundedersonne #tiger https://t.co/HymraAWAXI pic.twitter.com/PAihGPaBnP

— Mark Lovell (@LovellLowdown) August 7, 2019
The problems did not end at the turn of the millennium, with Effenburg criticizing his homeland and other footballers quite heavily. All of it came to a head in 2001 as he was arrested for assault, which marked a steep fall from the highs of his career.
Ashley Young 
The king of diving in the Premier League. The accusation of Young going to ground has dogged him his entire career. Several managers and pundits have called out Young's style of diving in order to win penalties.
Ashley Young straight after his dive won Man Utd a penalty He looks as if he's done that before. #MUFC pic.twitter.com/5AEZjJxY64

— Squawka (@Squawka) November 5, 2013
Moreover, Sir Alex Ferguson and David Moyes, managers who worked with Young, accused Young of diving. Though his career has petered out a bit, Young was one of the first to dive regularly, a trick copied by Raheem Sterling and Dele Alli later on.
Pepe
The most combative player in recent times? Very likely. Pepe had a stellar reputation being carded throughout his career. He was never afraid of flying into challenges or getting physical with opponents. Moreover, he was also extremely confrontational during matches, meaning the players attacking him could end up getting hurt themselves.
Pepe 🤝 Yellow cards pic.twitter.com/UaOXPobgXf

— talkSPORT (@talkSPORT) June 27, 2021
This was on display during his peak years with Real Madrid, where he was the most feisty player on the pitch. Thankfully, Pepe has cooled down as the years have gone by, defying time by becoming a key player for Porto aged 39.
Luis Suarez
The infamy of world football has a favourite boy in Luis Suarez. The biter of the game has sunk his teeth into three different opponents, with the final one coming at the 2014 World Cup. However, Suarez's bad blood with players started way earlier.
No matter his antics, Suarez was a prolific goal scorers and one of the best players to have never won the Ballon d'Or
My apologies to Chiellini: pic.twitter.com/CvfkkjxzlM

— Luis Suárez (@LuisSuarez9) June 30, 2014
He was involved in an ugly racial spat with Patrice Evra that ended with the striker getting an eight-match ban. Moreover, the bite at the World Cup is not the only point of anger people have with Suarez.
At the 2010 FIFA World Cup in South Africa, Suarez famously stopped a certain goal of Ghana with his hands on the goal line.
8 years ago today, Luis Suarez was sent off for a last minute handball against Ghana.

Gyan missed the penalty & Uruguay went on to win the penalty shoot-out.

The ultimate piss-boiling star was born. pic.twitter.com/ROz6Mepu01

— Footy Accumulators (@FootyAccums) July 2, 2018
Asamoah Gyan missed the subsequent penalty, and Uruguay won the match in the penalty shootout. Suarez has calmed down in the past few years, but his reputation remains.
Joey Barton
One of the dirtiest players in the English game, Barton was regularly getting into trouble. He had a reputation for tackling hard, fighting with teammates and managers, alongside opposing players. Barton was sent off and disciplined quite a few times in his career.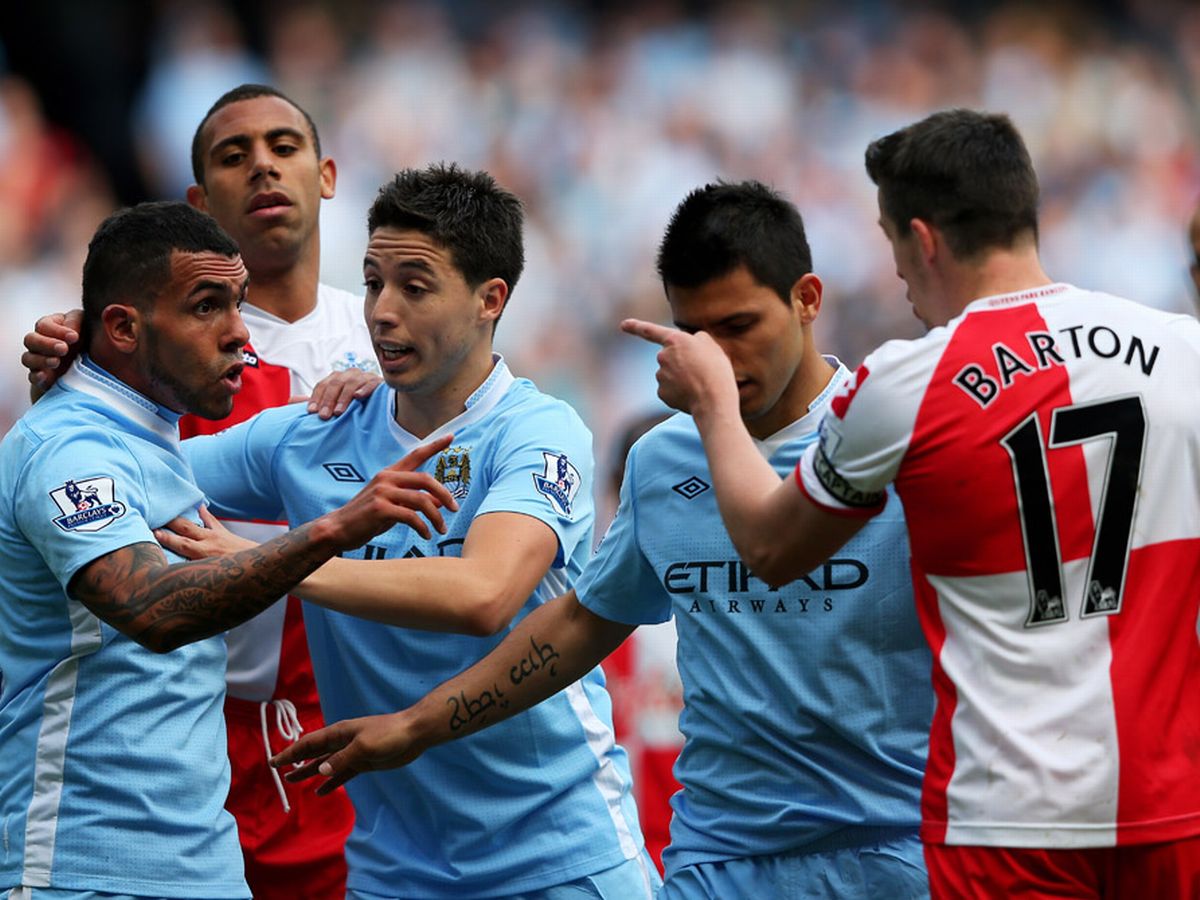 Moreover, his angry attitude and combustible nature meant coaches had a tough time dealing with him.
He was also battling with fans, and in one horrendous instance, stubbed a cigarette on a Manchester City youth player. Additionally, Barton is also a menace online and has regularly gotten into Twitter fights with others.
Read also: 10 players with criminal records
John Terry
The former Chelsea and England skipper got in trouble with both teams. Terry was famously found to have had an affair with his then-teammate Wayne Bridge's wife. Bridge was understandably distraught, and refused to interact with Terry.
Wayne Bridge rejecting John Terry's handshake, Never forget 😅 pic.twitter.com/7MCFgJGgz0

— Football Daily (@footballdaily) April 17, 2020
He left the English national team and Chelsea soon after this. However, this was not the only scandal that Terry was engulfed in. The centre-back was embroiled in a racism controversy against Anton Ferdinand, which did not do his reputation any favours.
The big moment – Anton Ferdinand refuses to shake John Terry's hand: pic.twitter.com/IOuFEBjS

— ESPN UK (@ESPNUK) September 15, 2012
Though Terry was eventually found not guilty, his relationship with the fans broke down. He was stripped of his England captaincy, and there are few defenders of him outside Chelsea currently.
El-Hadji Diouf
A long list of controversies followed Diouf wherever he played. He had a peculiar habit of spitting at opponents and even fans, which got him into trouble many times.
Moreover, Diouf also mocked the serious injuries of other players and once used a racial slur against a ball boy.
El Hadji Diouf On Steven Gerrard:

"I am Mr El Hadji Diouf, Mr Senegal but he is Mr Liverpool and Senegal is bigger than Liverpool and he has to know that." pic.twitter.com/CM5ZYOwhE9

— Euro Football Daily (@EFDSquad) April 16, 2018
He missed preseason workout while at Blackburn Rovers, and was involved in a fight at a nightclub. All these incidents destroyed Diouf's reputation off field, and made almost everyone turn against him.
Ryan Giggs
The current state of Giggs is a far cry from his heydays with Manchester United. The Welsh wizard won a record 13 Premier League titles, alongside two Champions League crowns.
However, things unraveled pretty fast once it was discovered that Giggs had had an eight-year long affair with his brother's wife.
Giggs is not the only one, as these footballers have also been arrested and charged previously
Natasha Giggs had an affair with former #MUFC Ryan Giggs while she was married to his brother… pic.twitter.com/HbzUatNftD

— Premier League Wags (@Wags4All) January 26, 2015
That was in the full public eye, and it caused a massive rift in his family with severing of ties.
It was not the last time Giggs was involved in this sort of stuff. He got a gagging order issued in 2011 to stop the media publishing his name in connection with an affair with Imogen Thomas.
Ryan Giggs has been arrested on suspicion of assaulting his girlfriend Kate Greville. pic.twitter.com/ystgoLpJIE

— Football Tweet ⚽ (@Football__Tweet) November 2, 2020
However, that was overtaken by what happened in 2020. Giggs was manager of the Wales national team by then, when he was arrested on two counts of assault. He was charged in 2021, with a trial set to take place in 2023.