The Premier League has been host to some of the best players of all time. There have been rising talents, veteran stars, and everyone in between.
Though the league has been pivoting to a younger crop of players in recent times, the charm with the experienced pros remains. James Milner extended his contract with Liverpool for another year, making him one of the oldest in the current era.
36-year-old James Milner signs contract extension at Liverpool. ✅ #LFC pic.twitter.com/zJFxQaZrSc

— Planet Sport (@PlanetSportcom) June 6, 2022
However, the 36-year-old is still some way shy of reaching the record held by players of the past. In that regard, FootTheBall runs down the oldest ever players to appear in the Premier League.
10. Edwin van der Sar – 40 years, 205 days (May 22, 2011)
One of the goalkeeping heroes of Manchester United over the past few decades. Van der Sar was an impregnable figure in goal, keeping clean sheets in 48% of his league matches.
Edwin van der Sar celebrates with the Champions League trophy in the Moscow rain, 2008. pic.twitter.com/lH86x7SZIc

— Manchester United Snapshot (@ManUtdSnapshot) June 28, 2020
Moreover, he was also a four-time Premier League winner, including the UEFA Champions League in 2008. His final outing came on the final day of the 2010-11 season against Blackpool. Van der Sar's record of 11 consecutive clean sheets in the league still remains unbroken.
9. Teddy Sheringham – 40 years, 272 days (December 30, 2006)
The only non-goalkeeper on the list. Sheringham knows a thing about setting records at being old. The Manchester United hero is also the oldest English player to score in a Champions League final.
Moreover, Sheringham holds the record for being the oldest scorer in the Premier League, alongside holding the next three positions too. His incredible longevity and fitness has been a marvel.
22 – Teddy Sheringham won the Golden Boot in the first ever Premier League campaign, and is the only player to have won the award while scoring for more than one club in the season (1 for @NFFC, 21 for @SpursOfficial). Leader. #OptaPLSeasons pic.twitter.com/VHpdJCNubx

— OptaJoe (@OptaJoe) March 23, 2020
8. Jens Lehmann – 41 years, 151 days (April 10, 2011)
The booking-happy goalkeeper was an Arsenal fixture in the mid-2000s. Lehmann was in goal as Arsenal made their only Champions League final in 2006. His final appearance came five years later and after he had already retired officially.
🤔 Seeing as we play @BlackpoolFC this weekend…

🇩🇪 On our last visit, back in 2011, Jens Lehmann came out of retirement to make a dramatic return to our line up at the age of 41

😄 We won 3-1 in what was Lehmann's 200th and final appearance for the club

⏮ #ThrowbackThursday pic.twitter.com/jiNcEjekyQ

— Arsenal (@Arsenal) January 3, 2019
With injuries to all four of their goalkeepers, Arsene Wenger was forced to turn to his old hand. Lehmann played in a 3-1 win over Blackpool, which was his 200th appearance for the Gunners across all competitions.
7. Kevin Poole – 41 years, 164 days (January 1, 2005)
Poole's appearance before his final one came almost three years previously. In the first match of 2005, Poole was in goal for Bolton Wanderers, who eked out a draw against West Bromwich Albion.
Kevin Poole penalty save ✔️
Julian Joachim winner ✔️

A 1-0 win away at Derby County #OnThisDay in 1995 🗓 pic.twitter.com/lOrzQLZ0JO

— Leicester City (@LCFC) September 10, 2019
After leaving the Premier League, Poole went on to play for many years with Burton Albion in the fifth tier. He eventually retired at the ripe old age of 48 in 2012. However, he was re-registered once again in 2013 but did not see any action.
6. Neville Southall – 41 years, 178 days (March 12, 2000)
A household name in the 1990s, Southall had not appeared in the Premier League for more than two years. He was signed by newly promoted Bradford City in 1999, but the chances for a debut were bleak.
Once again, an injury crisis forced manager Paul Jewell's hand. Southall made his return to the top-flight in a 2-1 loss to highflying Leeds United, and that was it for the famed goalkeeper of his time.
#OnThisDay in 2000: Neville Southall played in goal for Bradford City after
regular goalkeeper Matt Clarke fell down the stairs at home.

At 41 years and 178 days he was he fourth oldest player in Premier League history! pic.twitter.com/2CN9PGcPEP

— Match of the Day (@BBCMOTD) March 12, 2018
5. Mark Schwarzer – 42 years, 159 days (March 14, 2015)
The Fulham hero of old, Schwarzer holds the record for having the most appearances by a non-British player (514) in the Premier League. However, his final game of a long career came with Leicester City in their first season back in the top flight. The Foxes were held to a 0-0 draw against Hull City, with relegation all but a certainty.
Mark Schwarzer has won back-to-back Premier League titles with different clubs; Chelsea and Leicester City. pic.twitter.com/q1JedeeGC8

— Football Tweet ⚽ (@Football__Tweet) May 2, 2016
However, they stormed up the table in the final two months to stay up. Then the 2015-16 season happened with bookmakers aware of never counting out a 5000/1 bet. Leicester City won the Premier League, but Schwarzer did not make an appearance.
4. Brad Friedel – 42 years, 176 days (November 10, 2013)
The Spurs hero of the 2000s, Friedel spent 17 years in the Premier League. He featured only once in 2013-14, against Newcastle United. Spurs lost 1-0 with a goal from Loic Remy ruining Friedel's final outing.
Brad Friedel has kept more Premier League clean sheets in his career than Peter Schmeichel, Joe Hart, David de Gea and Shay Given.

He spent 17 seasons in the PL, making 450 top-flight appearances.

He made 310 consecutive PL appearances for Blackburn, Aston Villa and Tottenham. pic.twitter.com/kNklmpjS49

— bet365 (@bet365) November 29, 2021
3. Steve Ogrizovic – 42 years, 237 days (May 6, 2000)
Ogrizovic had already achieved cult status with Coventry City 13 years ago. He was the goalkeeper as the Sky Blues won the FA Cup in 1987. His 601 appearances for Coventry are a club record, with the last coming against Sheffield United in a 4-1 win. Ogrizovic is still remembered fondly across the club and was one of the great goalkeepers of his time.
#OnThisDay in 2000, Steve Ogrizovic plays his final game for the #skyblues– a 4-1 win over Sheffield Wednesday #pusb pic.twitter.com/cClHtRTGwd

— Coventry City (@Coventry_City) May 6, 2014
2. Alec Chamberlain – 42 years, 327 days (May 13, 2007)
A special case on this list. Chamberlain final appearance was just a minute long and it came in Watford's final game of the season. The Hornets were already relegated by then, and manager Adie Boothroyd gave a chance to Chamberlain to end his career on the pitch.
However, it is not like this was his solo appearance in the top-flight. Chamberlain featured 27 times for Watford in their 1999-2000 season. He retired just days later.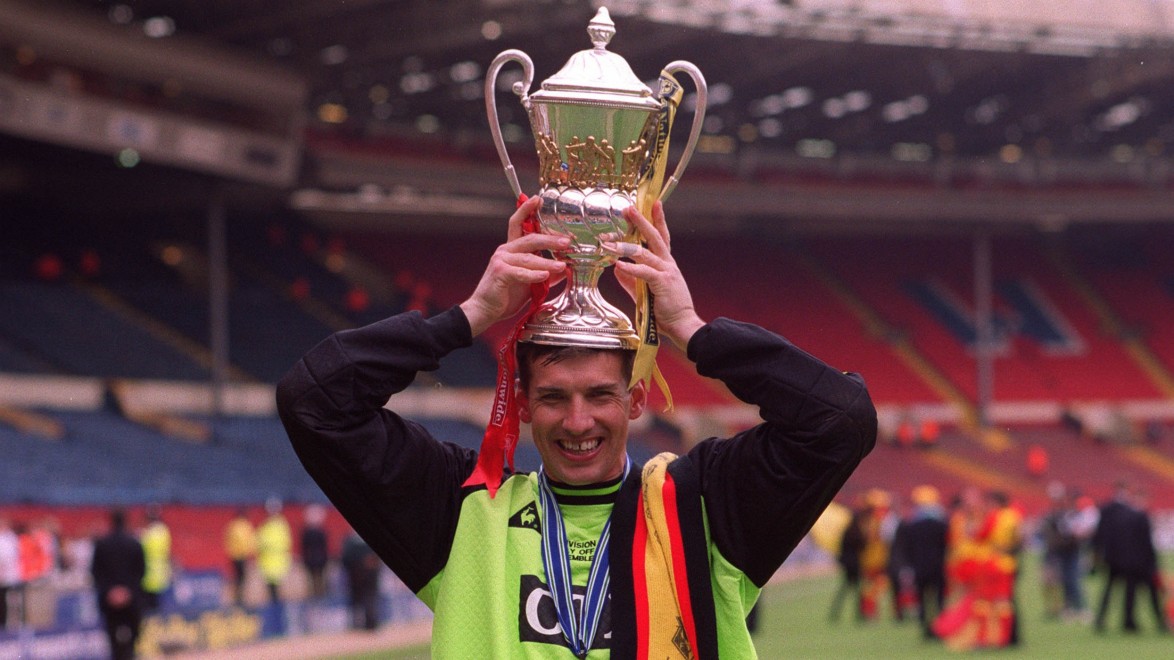 1. John Burridge – 43 years, 162 days (May 14, 1995)
The grandpa of all players in the Premier League era. Burridge proved that age is just a number by playing three-and-a-half games for Manchester City to close out the 1994-95 season.
Fun fact of the day:

Former Manchester City goalkeeper John Burridge is the oldest player to have ever played in the Premier League. At 43 years old he was between the sticks as City took on QPR on 14th May 1995. 🤯 pic.twitter.com/Opshrc7Lxe

— City Chief (@City_Chief) August 11, 2020
His case was helped by injuries and suspensions to the other three goalkeepers, but Burridge was not complaining. The final hurrah came against QPR, though his side lost 3-2 on the day. After leaving City, he would continue playing till 1997, when he ended his career with Blyth Spartans.