The 2022 FIFA World Cup in Qatar is edging ever closer. Wales booked their spot for the mega event by narrowly edging out Ukraine. All teams are set for the first-ever winter World Cup. The group stages are ready and so are the fans.
🏴󠁧󠁢󠁷󠁬󠁳󠁿👏 Wales make their #FIFAWorldCup return for the first time since 1958! #WCQ | @Cymru pic.twitter.com/KB1kml4LLK

— FIFA World Cup (@FIFAWorldCup) June 5, 2022
It will be the final dance at the FIFA World Cup for some of the veterans too. At least, they could count themselves luckier than those players who never got to appear on the World Cup stage.
However, the FIFA World Cup 2022 will also be missing some of the top talents in world football currently.
🗓 Counting down to the #FIFAWorldCup 🤩 #NowIsAll #Qatar2022

— FIFA World Cup (@FIFAWorldCup) May 26, 2022
Several exalted names will not be making the trip to the Middle East. FootTheBall lists the top 10 players whom the world will not see in action later this year.
Gianluigi Donnarumma (Italy)
The hero of Italy's penalty shootout win over England in the Euro 2020 final. Donnarumma was adjudged the Best Goalkeeper of the Tournament. However, his and Italy's fortunes have taken a severe downturn since then.
He was one of the main culprits in the embarrassing meltdown against Real Madrid in the UEFA Champions League. Facing North Macedonia in the playoff semi-final, Donnarumma was beaten from distance.
Read also: Despite winning Ligue 1, PSG's season was far from a success. 
The last 15 days of Gianluigi Donnarumma:

❌ 3-1 loss from Real Madrid and out from Champions League.
❌ 3-0 loss from AS Monaco in Ligue 1.
❌ 1-0 loss from Macedonia and out from 2022 World Cup. pic.twitter.com/zmKoASQLEs

— Football Factly (@FootballFactly) March 25, 2022
That defeat consigned the Azzurri to another World Cup spent at home. Things did not get better for Donnarumma in the Finalissima 2022 either.
He conceded three goals as Argentina won at a canter. The world stage will miss out on one of its most talented young players.
Riyad Mahrez (Algeria)
The Algerian wide attacker has been a consistent performer for Manchester City over the years.
Mahrez is also the standout player for his national team, Algeria, who came within moments of qualifying. Carrying a one-goal into the second leg of their playoff final at home, Algeria fell behind early on.
Something you shouldn't miss out on: Schedule for 2022 FIFA World Cup in Qatar
🎯🇩🇿 Just Riyad Mahrez. Nothing more to say 🤐@Mahrez22 | @LesVerts#WCQ | #WorldCup pic.twitter.com/2kf8eZjOeW

— FIFA World Cup (@FIFAWorldCup) March 18, 2022
The match went to extra time, where they scored in the 118th minute. With only seconds to go, Mahrez and co. were already half celebrating. However, Cameroon and Karl Toko Ekambi had other plans.
The striker scored in the fourth minute of injury time to break Algerian hearts as The Indomitable Lions progressed on the away goals rule.
Luis Diaz (Colombia)
The Colombian sensation has taken the league by storm ever since his arrival in January. Liverpool won two trophies with Luis Diaz dazzling in both finals. However, he could not translate that form for his national team.
🚨 NEW: Liverpool were impressed with how the Colombian FA enabled Luis Diaz to iron out the details of his dream move before their important World Cup qualifier on Tuesday. #awlive [liverpool echo] pic.twitter.com/Tyrhckz3y4

— Anfield Watch (@AnfieldWatch) January 30, 2022
Colombia finished their qualifying campaign in fifth place, just a point behind Peru. With only four spots on offer, Diaz will have to target 2026 now. This was a sad end for the player who finished as the joint-top scorer at Copa America 2021.
Also read: How Luis Diaz settled instantly with Liverpool under Jurgen Klopp
Pierre-Emerick Aubameyang (Gabon)
The striker has experienced a career rejuvenation with Barcelona towards the latter part of the season. Aubameyang is a lethal goal scorer, able to glide past defenders and finish with ease.
Barcelona forward, Pierre-Emerick Aubameyang, will be a notable absentee when Gabon tackle the Democratic Republic of Congo and Mauritania in Group I.

The 32-year-old announced his retirement from international football in May 2022#JoySports pic.twitter.com/s6dnLUFUge

— ⬅️ #QatariQuest ⏳️ (@JoySportsGH) June 1, 2022
However, the difference in quality between him and his teammates is evident when Gabon players. The African nation finished second in Group F of the qualifiers, behind Egypt. Therefore, it will be another World Cup without the prolific bagsman wowing fans.
David Alaba (Austria)
The greatest Austrian player of this generation is still waiting to appear at his first World Cup. Alaba has been a serial winner with Bayern Munich, and now Real Madrid. He plays in a variety of positions for Austria, with each being equally effective.
🎂 Happy 29th Birthday, @David_Alaba!

🏆🏆🏆🏆🏆🏆🏆🏆🏆🏆Bundesliga
🏆🏆🏆🏆🏆🏆German Cups
🏆🏆Champions League
🏆🏆Club World Cup
🏆🏆UEFA Super Cup

🇦🇹 #AUT's main man at #EURO2020 pic.twitter.com/gtaSXyHigA

— SPORF (@Sporf) June 24, 2021
However, they finished behind both Denmark and Wales in their group. Despite having a bevy of European-based players who get regular minutes, it will be big for Alaba and co. in Qatar.
Martin Odegaard (Norway)
After a series of loan spells, Odegaard has finally found his home with Arsenal. He was a mainstay of the young squad that went toe-to-toe with England's best.
Odegaard has been playing regularly for some time and is enjoying himself. Moreover, that form has translated into his national team where is also the captain at times.
Martin Odegaard looks set to be the next Arsenal player to miss out on qualification to the World Cup.

Norway are losing 1-0 to Netherlands with 2 minutes to go.

They've had 1 shot, 33% possession, and need to score twice. pic.twitter.com/xSVZC5XHsh

— Pain In The Arsenal (@PainInThArsenal) November 16, 2021
However, Norway never came close to qualifying for the FIFA World Cup. They have not played at a major international tournament since Odegaard was two. 2026 will provide another opportunity that Odegaard will be desperate to take with Norway's Golden Generation.
Marco Verratti (Italy)
The mercurial midfielder was one of the heroes of Italy at Euro 2020. Verratti's calm presence on the ball combined with excellent passing makes him a must-have for every team. Like Donnarumma, the PSG star was helpless as Italy fell against North Macedonia.
1 – Since his first game in the tournament on June 20th (v Wales), Marco Verratti ranked first among all midfielders at EURO 2020 in chances created (14), passes completed (388), progressive carries (59), tackles (18) and recoveries of possession (37). Architect. #ITA #EURO2020 pic.twitter.com/0rk2IqedT4

— OptaJoe (@OptaJoe) July 12, 2021
It is a crying shame that the Azzurri have not made a World Cup during Verratti's peak years.
Having missed out in 2018, it will be another sad winter at home for Verratti. Moreover, his chances for 2026 are also bleak with Roberto Mancini having announced that he will look at fresh faces.
Zlatan Ibrahimovic (Sweden)
The man, the myth, the legend. Ibrahimovic was the spiritual hero for AC Milan finally winning the Scudetto after 11 years.
His connection with the national team has been unwavering as always. Ibrahimovic came out of retirement to try and help Sweden qualify for the World Cup but it was not enough. They finished second in their group, behind Spain.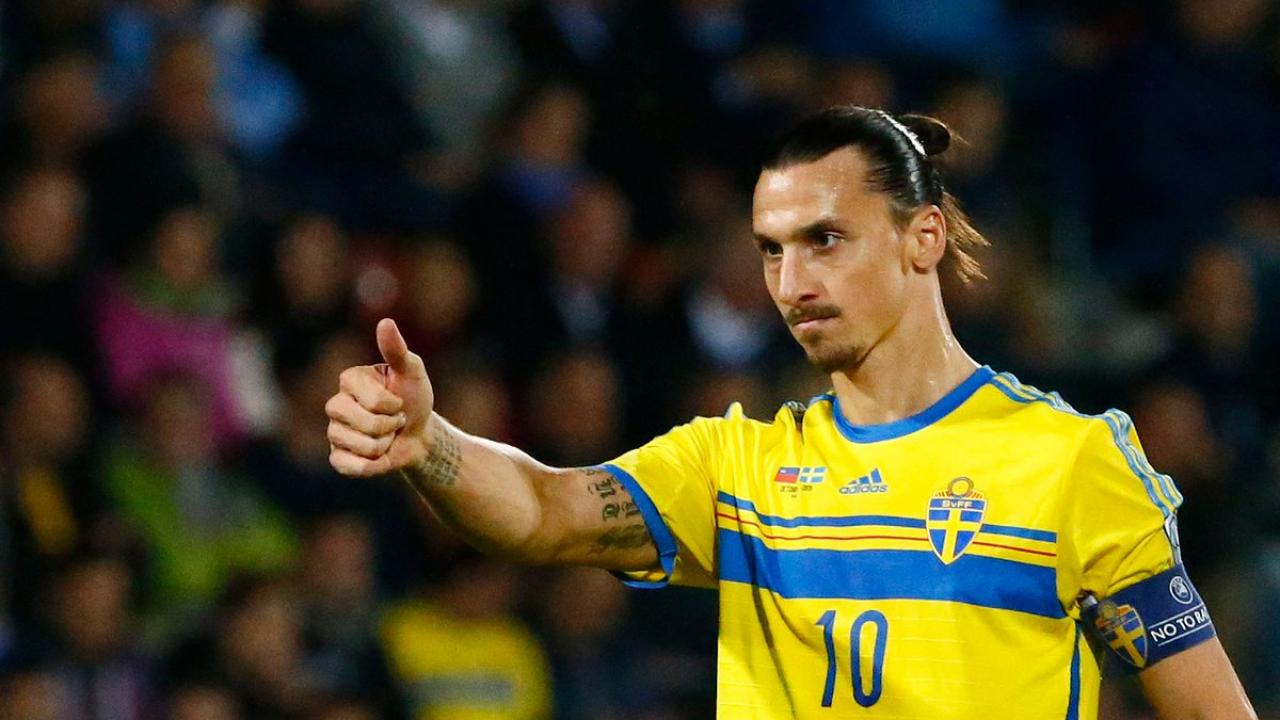 A 1-0 win over the Czech Republic in the playoff semi-final set up a winner-take-all clash against Poland in the final.
However, Sweden fell to a 2-0 defeat as Robert Lewandowski inspired the Poles in fulfilling their own World Cup dreams. At 40-years-old, the world has surely seen the last of Ibrahimovic on the biggest stage.
Erling Haaland (Norway)
Manchester City's newest signing Erling Haaland will not be at the World Cup either. Like Odegaard, Haaland's supreme goal-scoring prowess was not enough for Norway. He has been on an absolute tear at the club level for Borussia Dortmund over the past two seasons.
Erling Haaland for Norway NT at the age of 21:

☑️19 games
⚽️18 goals

Highest-scoring player ever for Norway: Jørgen Juve – 33 goals. Easy-peasy for Erling. 🇳🇴 pic.twitter.com/A6hkIZe7AE

— Football Talent Scout – Jacek Kulig (@FTalentScout) June 5, 2022
There is plenty of time for Haaland to make a World Cup, given he is just 21-years-old. Moreover, he can be joined by his cousin as well, Albert Tjaland, who is becoming a scoring sensation himself.
Mohamed Salah (Egypt)
The Egyptian ace has had a mixed 2022 so far. Egypt lost the AFCON final to Senegal in February. Egypt were knocked out of the World Cup qualifying at the last level by the Lions of Teranga in March. Liverpool won both domestic cup competitions but missed out on the Premier League and UEFA Champions League.
❌ Loses AFCON final
❌ Loses World Cup play-off
❌ Loses Premier League title race
❌ Loses Champions League final

Mo Salah has had a season to forget. pic.twitter.com/v0VKrWjpgs

— Football Tweet ⚽ (@Football__Tweet) May 28, 2022
Salah picked up the Golden Boot and Playmaker of the Season awards for most goals and assists.
He stands head and shoulders above the rest of his national teammates. That gulf in class has hampered his chances of making a World Cup. He will have another chance in 2026 and will be keen to make it through.