Thibaut Courtois is the man of the moment in footballing circles, after his Champions League triumph with Real Madrid in 2022. The Belgian was in top form making several saves to keep the Liverpool attackers at bay.
So much so that, Courtois now holds the record for most saves made by a goalkeeper in a Champions League final, with 9 saves to his name.
View this post on Instagram

But while the discussion and debate rumble on about him being the greatest-ever keeper for Los Blancos, here are 10 facts you need to know about the Belgian wall. We were very close to getting Courtois the left-back!
1) Volleyball Background
Thibaut Courtois was born into a sports-loving family. One cool fact about Thibaut Courtois's childhood is that all the members of his family are volleyball players.
Thibaut's parents were famous volleyball players. His sister, Valerie chose to pursue her parent's passion and became a volleyball player for the Belgium national women's volleyball team as well as the Budowlani Lodz. She has had a very successful career and was named Europe's best Libero in 2013.
Thibaut used to go to volleyball games with his parents as a child. Since he was tall and slim, his parents decided for him to try Gymnastics but as a child, Thibaut was often absent-minded and this led to many injuries. Finally, they decided to let their son decide which sport he likes to go to and When Thibaut turned five he decided to concentrate on football.
#GabrielSlonina is one of the hottest young goalkeeping prospects and @realmadrid want him🔥

How has the 17-year-old fared so far and why is there so much hype around him? 🤩

Read on to find out🙂#RealMadrid #slonina #goalkeeper #transfernews https://t.co/fBPh7yhKkB

— FootTheBall FC (@FootTheBallFC) May 30, 2022
2) Courtois the left-back 
The Belgian is currently one of the best goalkeepers in the world, but he didn't actually start out as a goalkeeper when he began playing football. Courtois was a left-back for his first team, which was Bilzerse Waltwilder.
It was only when he arrived at Genk that they saw his skills for playing between the sticks and decided to give him a shot in this position.
Thibaut Courtois claims the #PlayeroftheWeek prize after his Champion performance in the #UCLfinal #ChampionsLeagueFinal #ChampionsLeague #Champions #courtois #UCLPOTW @realmadrid @LFC pic.twitter.com/QZrm6eEfSZ

— FootTheBall FC (@FootTheBallFC) May 29, 2022
3) His relationship status
Thibaut Courtois's relationship history indicates the inconsistency in his love life. The first known Thibaut Courtois girlfriend was Marta Dominguez, a Spanish model whom Thibaut met when he was on loan in Atletico Madrid. They had a long-lasting relationship and in 2015 Marta gave birth to their first child, a daughter named Adrianna.
However, things started to change once the happy couple ended their relationship in 2017. Marta accused Courtois of having an affair with the Belgium supermodel, Emily Vanhuette.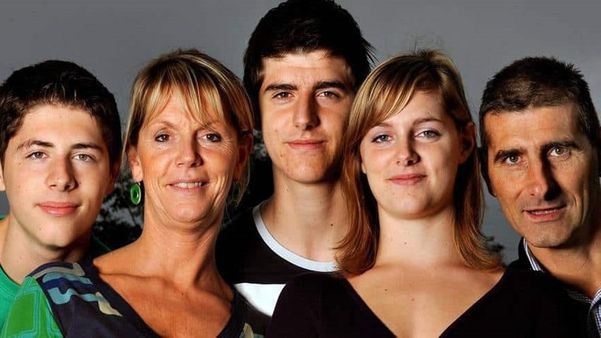 Soon after, Thibaut entered his third and most notorious relationship, this time with Caroline Lijnen, the girlfriend of his best friend and famous Belgium teammate, Kevin de Bruyne.
4) Owner of an eSports Team
In partnership with Real Betis' Borja Iglesias, Courtois owns the eSports team DUX Gaming. Moreover, in June 2020, they bought the Madrid football team Inter de Madrid, which was renamed DUX Internacional de Madrid and which plays in the Primera División RFEF league.
5) 'Thibauting'
'Thibauting' was a term included in a poll for 'Belgian sports word of the year' in 2013, after it was coined by fans who wanted to pay homage to the goalkeeper. Inspired by one of Courtois's most spectacular saves, a Colombian fan created a famous meme called Thibauting.
View this post on Instagram

The word is defined as: 'Emulating a classic Thibaut Courtois goalkeeping save in any random location'.
6) The KDB saga
Kevin's relationship with his then-girlfriend Caroline ended when he found out about her and Courtois. But the feud between him and Courtois had just begun.
De Bruyne was so furious with Courtois that he violently attacked him in one of the national team's training. Caroline later defended herself by stating that Kevin was the one who betrayed their relationship first and famously said that Courtois gave him more in one night than Kevin had given in three years.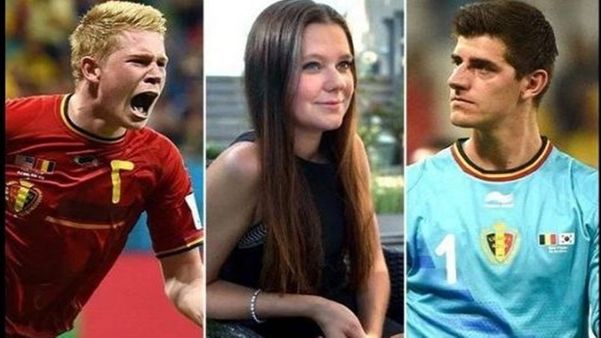 Thibaut and Caroline were together for three years before going their own ways and Kevin de Bruyne found love in the arms of Michele Lacroix and got married soon after.
7) Show me the money!
In the year 2022, it is believed that Thibaut Courtois' net worth is currently at 113m euros. He has been earning a top wage for several years now and also has various sponsorship deals, especially in his native Belgium where he is one of the star players of the national team.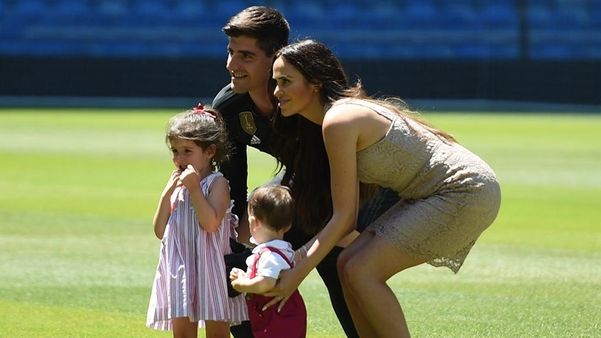 As someone who is also active on social media and Twitch, as well as taking part in many post-match interviews, Courtois is one of the most marketable footballers around, so he earns even more per year than from just his Real Madrid salary.
8) Love for Basketball
At 6ft 6in and with a safe pair of hands, Thibaut Courtois had all the tools to make a career out of basketball. In another life, the former Chelsea goalkeeper could have raised the NBA trophy instead of the UCL title.
Courtois' love of ­basketball started as a child in Belgium and developed to the point where he now takes at least one US trip each year to watch a game.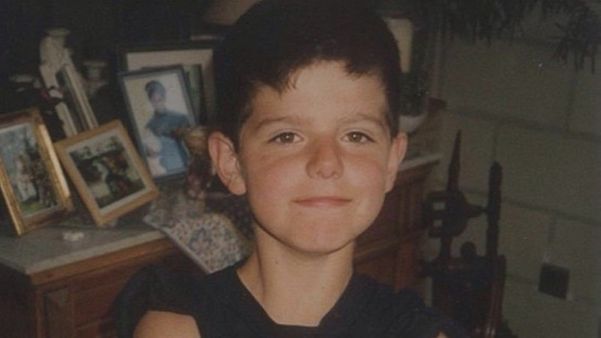 He revealed: "When I started watching basketball, you had Shaq O'Neal and Kobe Bryant at the Lakers. "Then you had LeBron James. I also liked Dirk Nowitzki, who was ­dominating the game. As a ­European, it is always special to see that."
9) His love for celebrating teammates' goals
The Real Madrid goalkeeper once discussed the way he celebrates his teammates' goals and the difference between doing so at home or in front of rival fans, in an interview with his club's official media.
View this post on Instagram

He said: "I always do a little jump. When we play at home I celebrate with the fans, but in the away stadiums they aren't always happy with you and they whistle. I always touch both posts and the crossbar and, when my teammates come back to our side of the pitch, we make a gesture with our fingers."
10) Anointed for success
Courtois got his start with Racing Genk, a Belgian youth league, and made his debut in 2009 in a game against Gent. He'd been a goalie since childhood, having played the position for about 10 years when he made his appearance in the Gent game.
Things heated up for Courtois the next season, and in 2010–11 he conceded only 32 goals in 40 league matches. That year he was awarded the Goalkeeper of the Year and Genk's Player of the Year awards.