NINE. Nine in a row. Let that sink in. Because Bayern Munich has given the perfect parting gift to manager Hansi Flick as his boys raced to clinch the Bundesliga crown for 9 consecutive seasons.
Bayern's party got delayed after the loss to Mainz last time out but, it is confirmed that Bayern Munich will become Bundesliga Champions for the 9th time in a row at the end of the season after Leipzig lost 3-2 to Borussia Dortmund. It was inevitable.
Hansi Flick has guided Bayern Munich to their second Bundesliga title under him. After winning the treble last season it was certain the German giants will decimate the competition with ease in the Bundesliga. 
It is Munich's 30th German top flight title, and even though Flick is set to leave in the summer Bayern would be pretty confident about their chances next season. Their star-studded squad has blown the competition out of the water this year and surely, they will do so next season.
THEIR JOURNEY THIS SEASON
Bayern Munich absolutely destroyed Schalke in the first game of the season. They pummelled them 8-0 at home. The season could not have started more auspiciously than that for Die Rotten. It seemed like last season's most dominant club will be ever so imperious this season too.
No mercy from @FCBayernEN 💀

The #Bundesliga is back 😳#FCBS04 pic.twitter.com/zpO7FBJiTU

— Bundesliga English (@Bundesliga_EN) September 18, 2020
But the Bavarians Stumbled. They lost their second game of the season against Hoffenheim. After the game it seemed that the Bundesliga would finally have new Champions.
Hoffenheim's devastating counter attacks caused havoc for Munich in the game. Bayern's high defensive line was getting exposed as the only chink their armour, but the Bayern Munich machine got into their groove pretty quickly. 
They began to recover well and went on a 11-game unbeaten streak which saw them sit at top of the Bundesliga table after game week 14. 
They have had the best attack throughout the season outscoring teams at will. Despite tough competition from the likes RB Leipzig and Dortmund they were piling up the points.
They did stumble against Monchengladbach and Frankfurt but remained top of the summit, letting teams chase them and did not lose since then in the league.
The Bundesliga chasing pack of RB Leipzig, Wolfsburg, Frankfurt did not ever threaten the position of the Bavarians who also have the 5th best defence in the league despite the numerous injuries to their centre-backs. No one could stop the Munich machine they were charging towards the league title; they were completely focused.
It has become slightly boring though we must admit! We do hope some of the contenders from this season can improve their squad and challenge Die Rotten next season.
THE MEN BEHIND THE SUCCESS
The world should sit and just admire the things Hansi Flick has achieved in his short stint at Bayern Munich. The former national team coach has created a team that will arguably go down in history as the best team ever in the modern era.
Flick has made Bayern Munich into a pressing monster. The Bavarians press their opponent high up the pitch with animalistic intensity. This has resulted in them producing chance after chance and despite their high line getting exposed, he has made sure Bayern Munich always stick to their principles of play.  
Hansi made sure his team would roll over teams in the German top flight and so they did.
Now come the stars of this Bayern Munich side. Robert Lewandowski will surely go down as one of the greatest strikers to grace the beautiful game. The Polish striker has scored a mind-boggling 35 goals in the league. Although he has been injured for the last three weeks or so, Andre Silva from Frankfurt is second in the scoring charts with 24 and can only dream of catching him.
Lewandowski at 32 is seemingly getting better and if he keeps up his form and fitness for another two seasons, he will surely break all scoring records. He also perfectly complements the ruthless winning ethos of Munich itself. 
This season the Polish striker has over-performed his Xg in the league by 9 goals. Which essentially means the Polish genius has put away chances that no one expected to. His effortless finishing has become synonymous with Munich's success.
Bockstark, Lewy! 💪#SVWFCB #FCBayern #MiaSanMia pic.twitter.com/TX68Gxwitw

— FC Bayern München (@FCBayern) March 13, 2021
Now come two players who have been the providers for Lewandowski. Thomas Muller and Joshua Kimmich, who have just carried their sublime form from last season into this. Kimmich who was arguably one of the best midfielders in the world has taken it a step further.  He has become more of a complete midfielder, being able to boss games alone. 
He can score from distance, create, defend, put in pin point crosses, literally everything. Kimmich's performances this season have been so breathtaking in the Bundesliga that the loss of Thiago has not been noticeable at all. Kimmich has got 10 assists in the league this season from a deep midfield role, no easy feat.
Then comes the eccentric lanky genius, Thomas Muller. The 31-year-old German who was seemingly finished under Nico Kovac before Flick took over has become one of the best creators in Europe over the last two seasons. 
Last season he matched De Bruyne's assist record. Although he had a slow start this season he quickly switched into gear and currently leads the assist charts in the Bundesliga with 17.
Thomas Muller has signed a contract extension with Bayern Munich until 2023.

What a ride it's been. ⚽🅰️🏆 pic.twitter.com/mO4ufvsiBX

— FOX Soccer (@FOXSoccer) April 7, 2020
With Kimmich and Muller as the creative hubs behind the ruthless Robert Lewandowski it is not surprising that they have scored 85 goals in 32 games. Which roughly come out to 2.8 goals a game, meaning that the Bavarians have had the best attack in Europe!
Now comes the defence although Bayern's defence was not impregnable, they managed to cope well without the likes of Lucas Hernandez and Niklas Sule for majority of the campaign. They have missed a lot of games this season, but luckily for Munich they have David Alba. 
The Austrian who has now featured almost everywhere on the pitch for Bayern Munich became Flick's most trusted defensive general. He organised his defence brilliantly in front of Manuel Neuer who has also recovered after Kovac's disastrous stint. Unfortunately for them Alba has confirmed he will join Real Madrid next season.  
Huge steps together.
Last steps together.
Fighting till the end coach! pic.twitter.com/fJJj2zoVTC

— David Alaba (@David_Alaba) April 17, 2021
We suppose Bayern Munich would not be too troubled by his departure as the highly coveted Dayot Upamecano is headed to the Allianz next year. Munich also showed that they are still one of the best clubs in the world to develop talent. Jamal Musiala has been one of the best young players in Germany alongside new signing Tanguy Nianzou. Both the youngsters have had proper break out seasons this year and Munich would be grinning as the youngsters actualize their terrifying potentials. 
Happy to have scored my first Bundesliga Doppelpack. 3 very important points! 💯💪🏽 pic.twitter.com/n4dkaikKzo

— Jamal Musiala (@JamalMusiala) April 17, 2021
After a tough first season at Munich Pavard has become a mainstay in the Bayern back-line this season as well and the world cup winner is showcasing all the skill that made Munich buy him in the first place.
Players like Serge Gnabry, Leon Goretzka, Kingsley Coman and Leroy Sane have all had a pretty decent and have contributed to the team when the usual superstars have underperformed.
Like we never left. pic.twitter.com/hkN963wzTS

— Serge Gnabry (@SergeGnabry) September 18, 2020
Bayern Munich being crowned Bundesliga champions has been a true team effort; it is clearly visible that the team is functioning at its peak as a whole with no discernable weaknesses.
WHAT NEXT FOR MUNICH AFTER BEING CROWNED BUNDESLIGA CHAMPIONS?
Bayern Munich have become Bundesliga Champions with 3 games still left to play in the season. Although they were knocked out of the Champions League by PSG this season they would not be too phased by that loss. It will be seen as a minor blimp in what has been otherwise all conquering season.
Hansi Flick has decided to leave Bayern Münich! He won't be the manager next season. Flick has just announced his official decision, also communicated to board and players. Nagelsmann will be the main target as new Bayern manager – not easy negotiation with RB Leipzig. 🔴 #Bayern

— Fabrizio Romano (@FabrizioRomano) April 17, 2021
Even though Hansi Flick is set to leave in the summer and Nagelsmann has already been confirmed as his  replacement, Die Rotten faithful and their hierarchy can be confident in the foundation left by Flick.
In fact, the foundation Hansi Flick will leave at Bayern Munich is so strong that any new manager can establish a dynasty in Europe similar to that of Zidane's Real Madrid that won the Champions League three times on the trot. 
 Flick has done this by reducing the average of the squad and shifting the Clubs dependency on prolific wingers to the eternally prolific Robert Lewandowski. Lewandowski is in fact in great shape and form, both of which have improved as he has aged. Much to a lot of fans' surprise, we see Lewandowski playing till he is 40 much like Zlatan!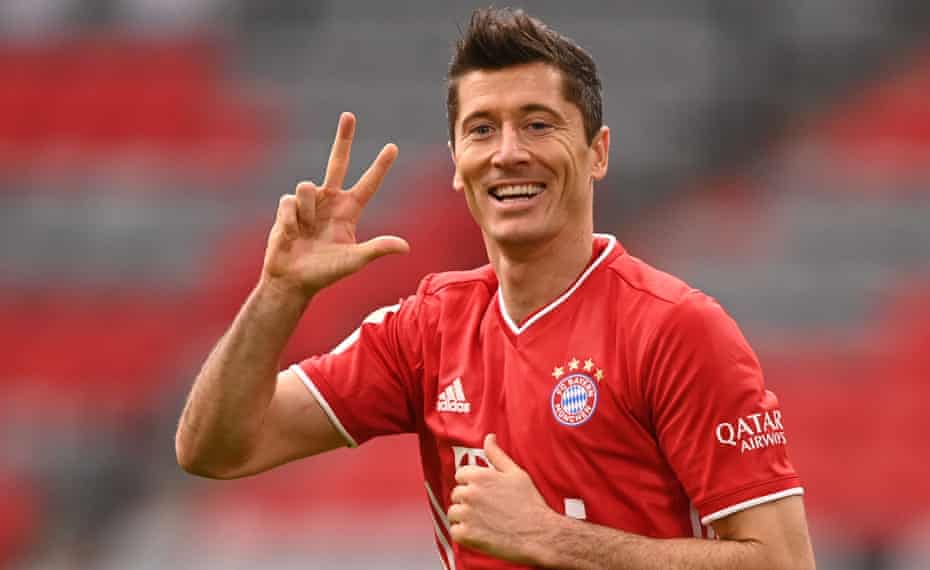 They still need to find a replacement for Lewandowski but they can still wait a season or two we guess.
The other cause for concern for the newly crowned Bundesliga champions should be the age of Thomas Muller their creator in chief but luckily for them Jamal Musiala is rearing to replace the German veteran.
As for the defensive shortcomings they have already signed Upamecano for next season and Nianzou now has a full season of first team football at the top flight. Both Nianzou and Upamecano will make the Munich defence imperious next season surely. They will also have the likes of Chris Richards in their ranks next season who is currently impressing at Hoffenheim.
We are sure that Bayern Munich will be Bundesliga Champions again next season especially now that Leipzig have lost Nagelsmann and Dortmund still might lose Erling Haaland or Jadon Sancho in the summer.
We even see Die Rotten dominate Europe again next season and will surely be going for another treble next season. Also, if they manage to win a 10th domestic title in a row next season, they will become the only club to do so ever!
Surely a new look stronger Bayern Munich would love to chase down such a unique record, a record which can only arguably be conquered by either them or PSG in France but fortunately for the Bavarians the French title is still fairly open till now.
All we can say now is congratulations to Bayern Munich on being crowned Bundesliga Champions and thank you for entertaining us with such high paced dynamic football.