Luka Modric has been precisely that. The ageless wonder, the magician with the mop has defied time with his game. The curved balls that seek a player with automated accuracy, the shots from the edge of the box, where it looks like the ball has a single aim in life, to nestle into the corner- Watching Luka Modric means watching everything that is technically right with the beautiful game.
19 trophies with Real Madrid, after being labelled one of the worst signings in Real Madrid's history upon his arrival tell a story of relentless excellence of mentality. It is precisely that mentality that has allowed Modric to thrive at the ripe old age of 36. Decline? What's that? Modric won the Ballon d'Or at the age of 32.
Luka Modric, in many ways, encapsulates Real Madrid as a club. Someone that frail shouldn't be as successful, a club that lives for chaos shouldn't be a serial trophy-winning machine. But at the end of the day, what you see on the outside is only a part of it. Excellence is in the blood, which drives Luka Modric and Real Madrid. Together, it's a dream combo. No magician reveals his secrets, but we take a look at the numbers behind his game to take a peek at the brilliance of the Croatian maestro.
View this post on Instagram
Luka Modric Stats 
Luka Modric has been a part of the Los Blancos midfield for the past decade. And like so many seasons before, he has been impeccable. According to fbref, Modric made 0.36 assists per 90 minutes in the last 365 days. This number ranks him among the top one per cent midfielders. 
But Modric is not just a player who can create a chance out of nothing. He is a player who can create chances when the team needs them the most. In La Liga, Modric made eight assists throughout the season. And out of these, three assists were decisive, rescuing two wins and a draw.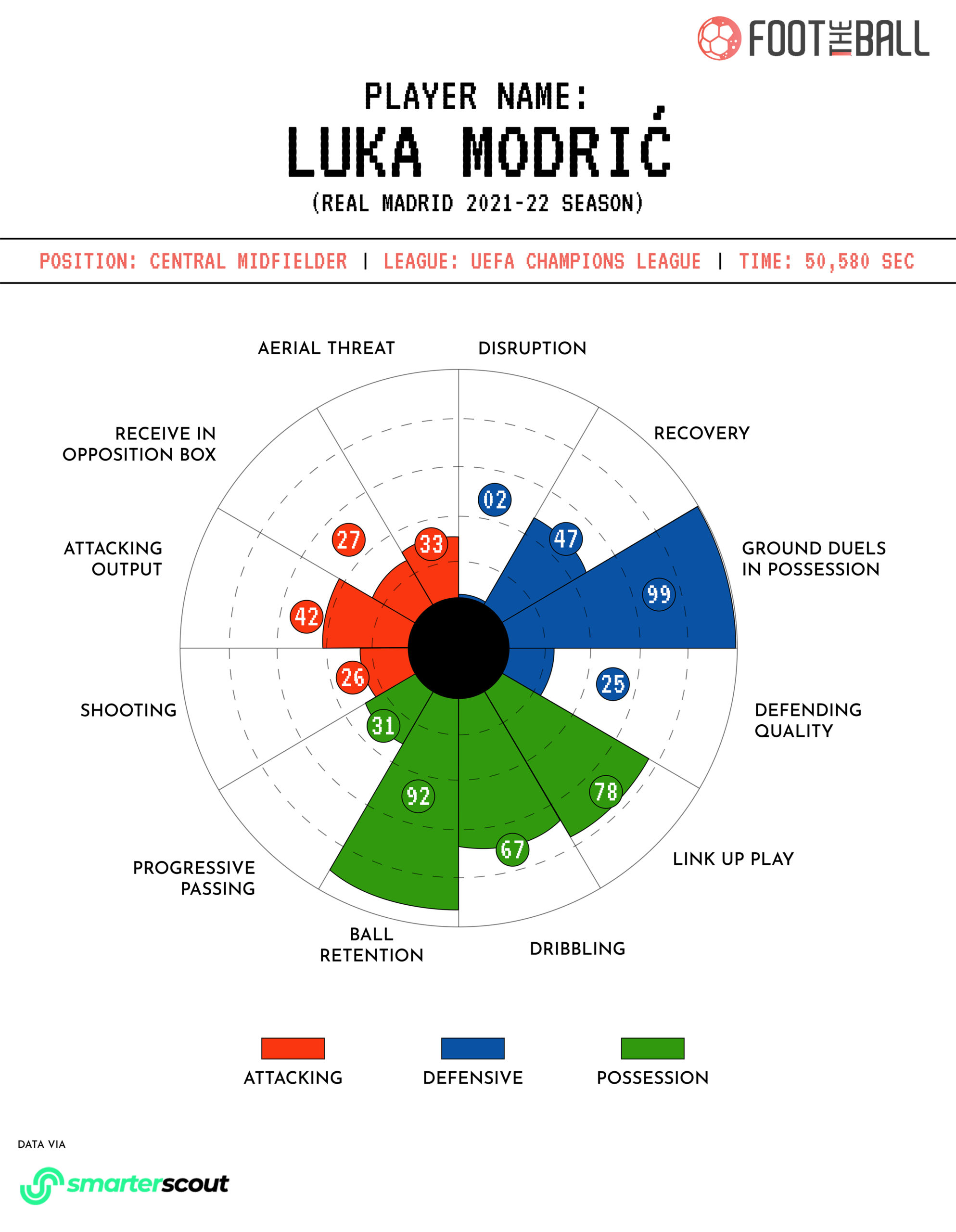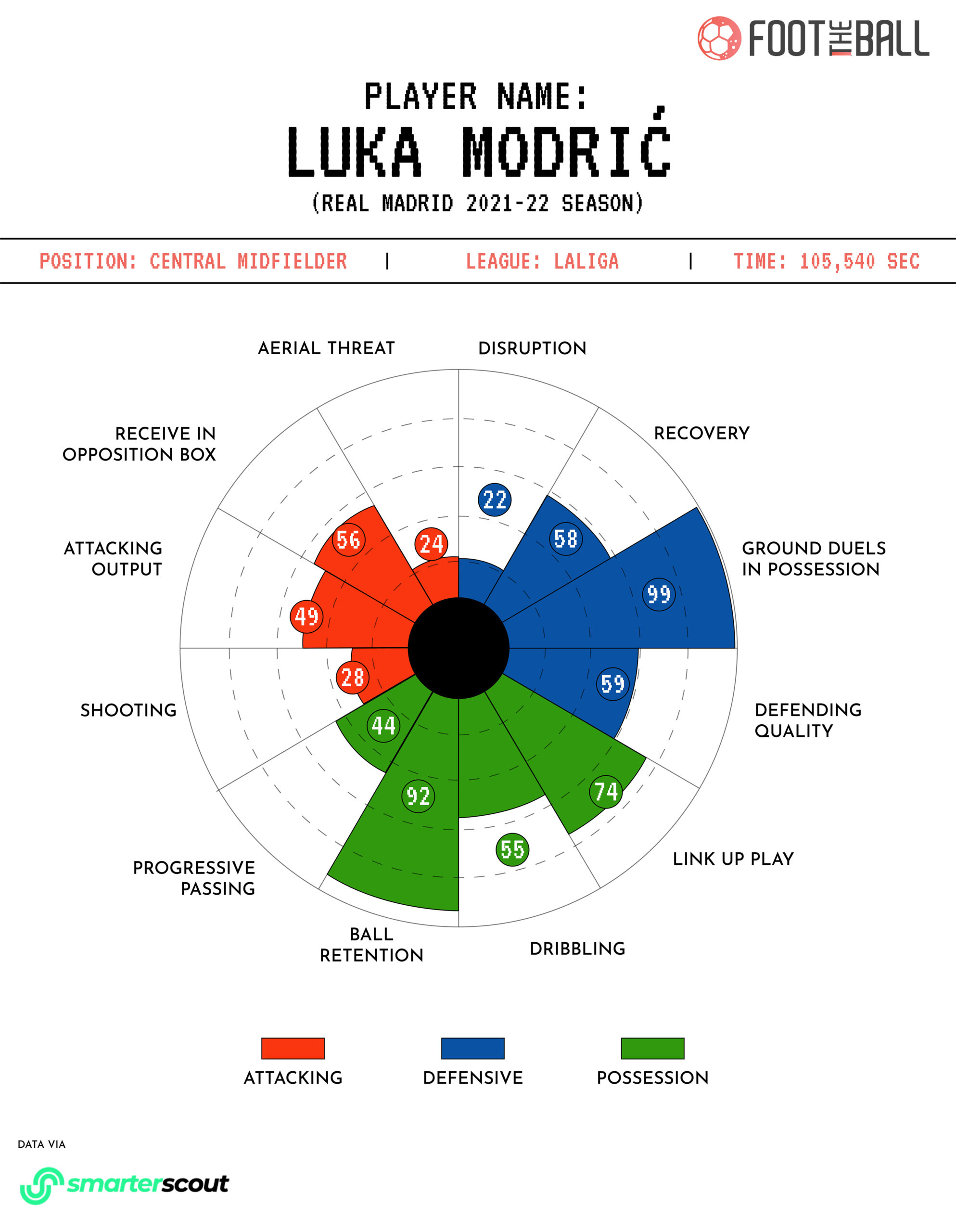 Modric has also been excellent at moving the ball forward. Fbref stats show that he has recorded 6.80 progressive passes per 90 minutes in the last 365 days. In addition, he also creates at least one Goal Creating Actions (GCA) roughly every two matches. This puts him above 94 per cent midfielders. 
His carries numbers are also impressive this season. With 61.38 carries, Modric is among the top five percent attackers. 
Smarterscout's stats for him in the Champions League are not that great, though. However, one stat does stand out, ball retention. His rating for retaining the ball is 92, which shows his elite ball skills.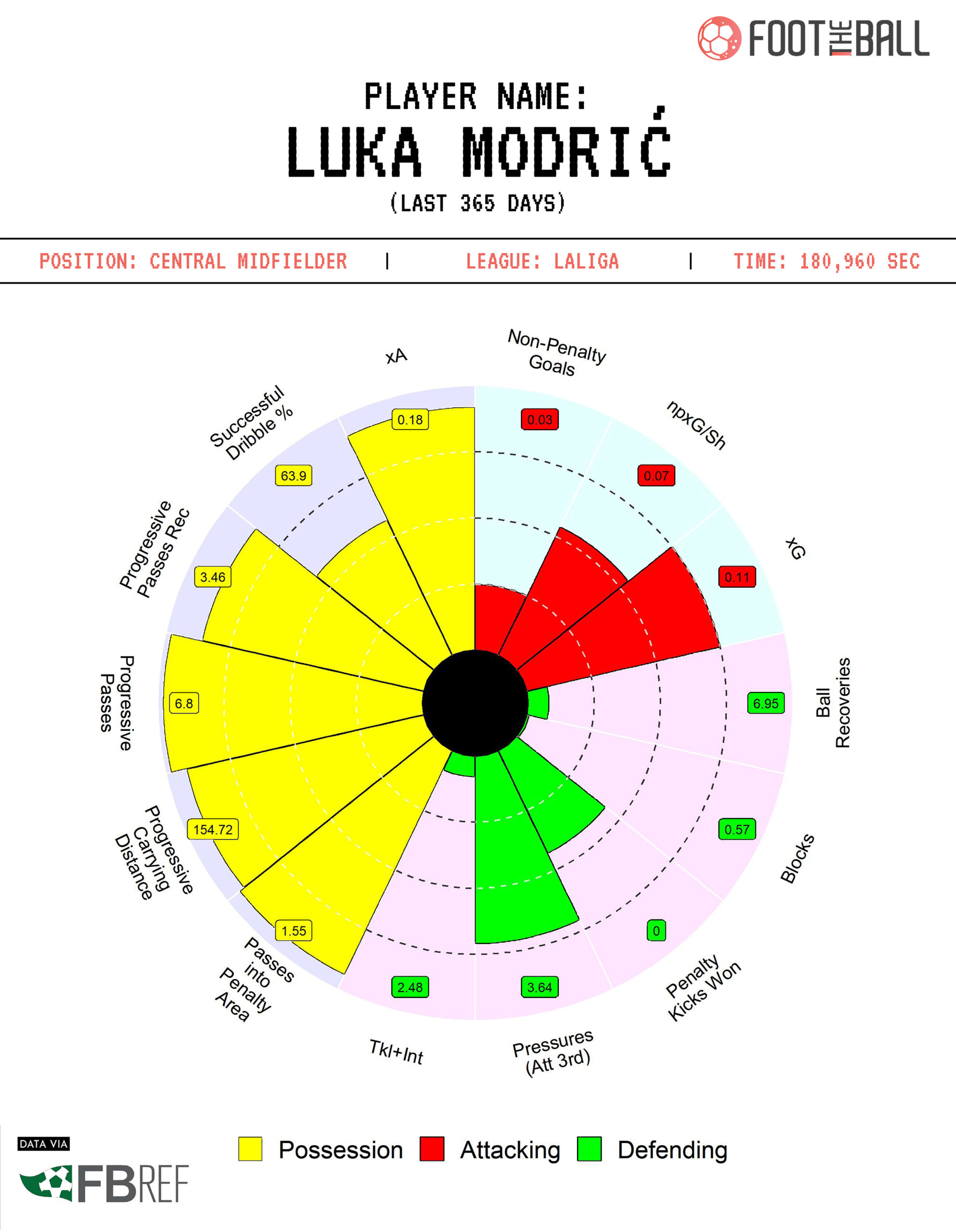 The Croatian also knows the art of arriving late in the penalty area to create or score for his team. His dribbles into penalty area numbers of 0.51 per 90 minutes is a testament to that.   
A tale of Expected Threats and Decisive Moments 
Any player who plays Modric's position can feel hard done by stats. The reason is that the stats do not usually reflect a player's effectiveness. However, we have some advanced stats that can determine how good a player is. One of these metrics is Expected Threat (xT). The Expected Threat (xT) is a metric that measures a player's offensive Threat. This metric takes action preceding the goals, assists, and key passes to determine how a player is involved in a team's attack.
This is a brilliant way of recognising players who start the attack whose vision is the reason behind an assist or a goal.
And according to Soccerment, Modric xT in La Liga is 3.22, the 16thy best in the league. However, there is one interesting observation. Counting only central midfielders, Modric is the fourth-best in terms of xT. Moreover, his xT from passes is even better as he is the second best central midfielder in the league after his teammate Toni Kroos.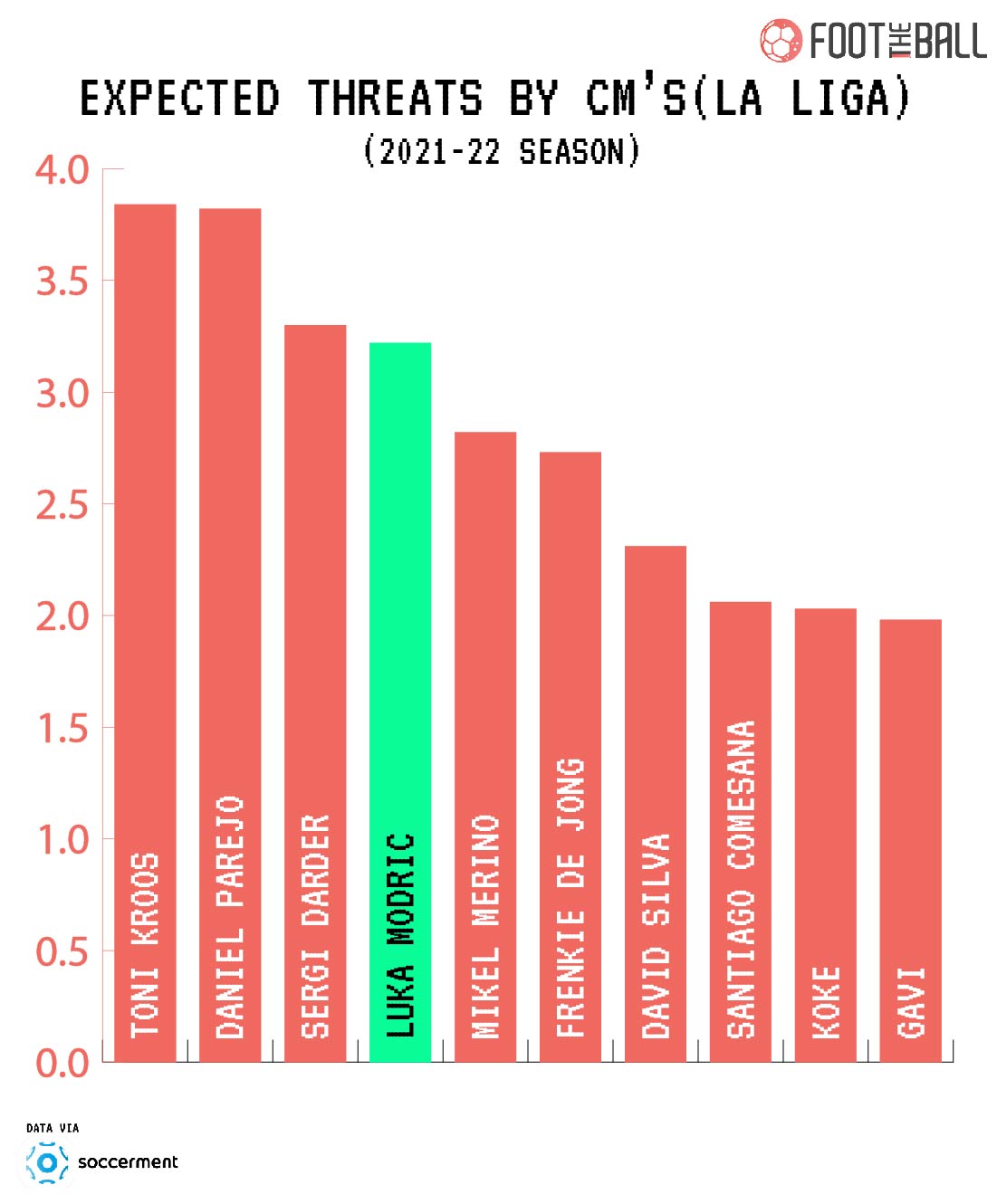 So, how does xT help?
For this, we have to look at Modric's Champions League display. The 36-year-old has four assists to his name this season. One in the group stages against Shakhtar Donetsk, while the rest came in the knockout stages.
His first assist in the knockout stages came against Pari Saint Germain (PSG). This was in the 3-1 win, which knocked out PSG. With the away goals rule scrapped, his assist was a significant reason that Real Madrid won the match.
In case you missed it: Five things we learnt from the Champions League final
The following assist came against Chelsea in the quarter-finals at Stamford Bridge which Real Madrid won 3-1. This assist's importance would be realised in the second leg.
His final assist, perhaps the best we have seen this season, came against Chelsea in the quarter-finals. With Real Madrid 4-3 down on aggregate, Modric curled a beautiful pass from the outside of his right foot, finding Rodrygo, who put the ball past Edouard Mendy.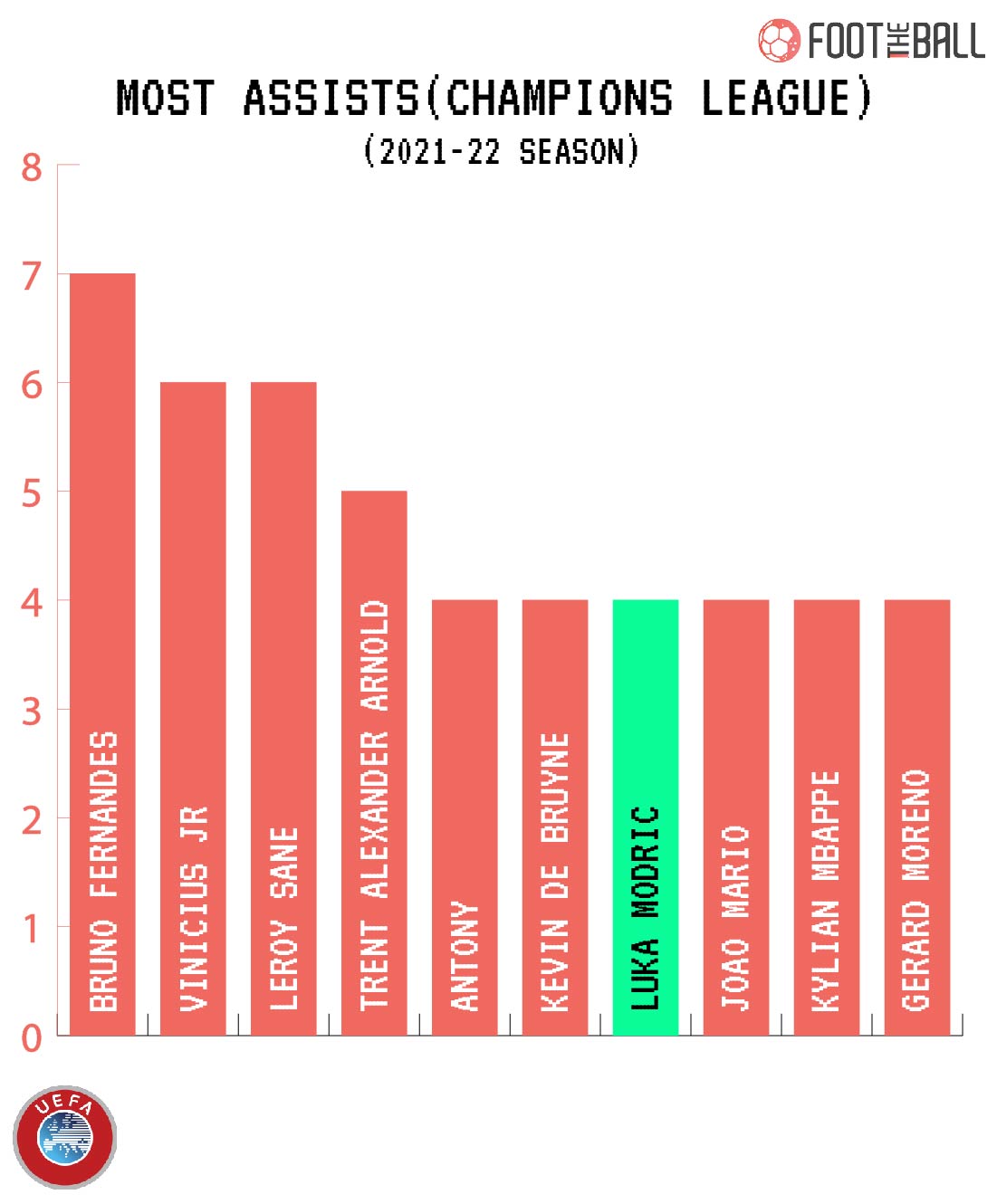 And this has been a trend across the season. When the time comes, the Croatian has managed to pull a rabbit out of his hat to rescue them. 
While these qualities may not reflect in stats, it does not diminish the critical role he has played in Real Madrid's midfield for the past decade, including this season.
What next for Luka Modric?
While Luka Modric has been a star this season, at 36 years old, it is time that he moved on. However, Carlo Ancelloti has said that the midfielder will retire at the club. "He will finish his career here, in Madrid. That's the idea that everyone is following. There will be no problem with his renewal. He is a player that takes care of himself and throughout his career has not had serious injuries," he said.
And the Crotian did renew with the club which was announced just after Real Madrid won the Champions League. The club eventually confirmed the deal on June 8, tend days after the final.
Florentino Pérez 👕 @lukamodric10 #RealMadrid | #Modrić2023 pic.twitter.com/DOpnycd21J

— Real Madrid C.F. (@realmadrid) June 8, 2022
It was a perfect end to a spectacular season at Parc des Princes for the man who went from being touted as one of the worst signings to becoming a club legend.