Argentina's long search for a defensive lynchpin that could see them dominate games has ended. In Cristian Romero, they have found the perfect defender to build their defence around for the next 10 years or so after the Copa America. Romero is a centre-back who plays as for Atalanta BC in the Serie-A on loan from Juventus.
The 23-year-old currently with Argentina for the ongoing Copa America is earning admirers with his performances. After a great season with Atalanta, this was only natural. His journey from the bottom to top was a super quick one thanks to his massive talent and skill-set.
As Romero is going to become a household name if he wins the Copa with Argentina, we compile everything there is to know about the defender. We present a detailed breakdown of who Cristian Romero is and why has he become such a star overnight.
WHO IS CRISTIAN ROMERO?
Cristian Gabriel Romero is an Argentine centre-back born on 27th April 1998. Born in the city of Cordoba, the capital of Cordoba province he developed an interest in football at a tender age. He was noticed by the local side Belgrano and was taken into their academy. Romero showed glimpses of his potential at the youth level and was promoted quickly to the senior side.
He made his senior debut for Belgrano in 2016 as an 18-year-old. For a centre-back, it was a relatively tender age to be trusted with a first-team role. In the two seasons that followed he made around 20 appearances for Belgrano.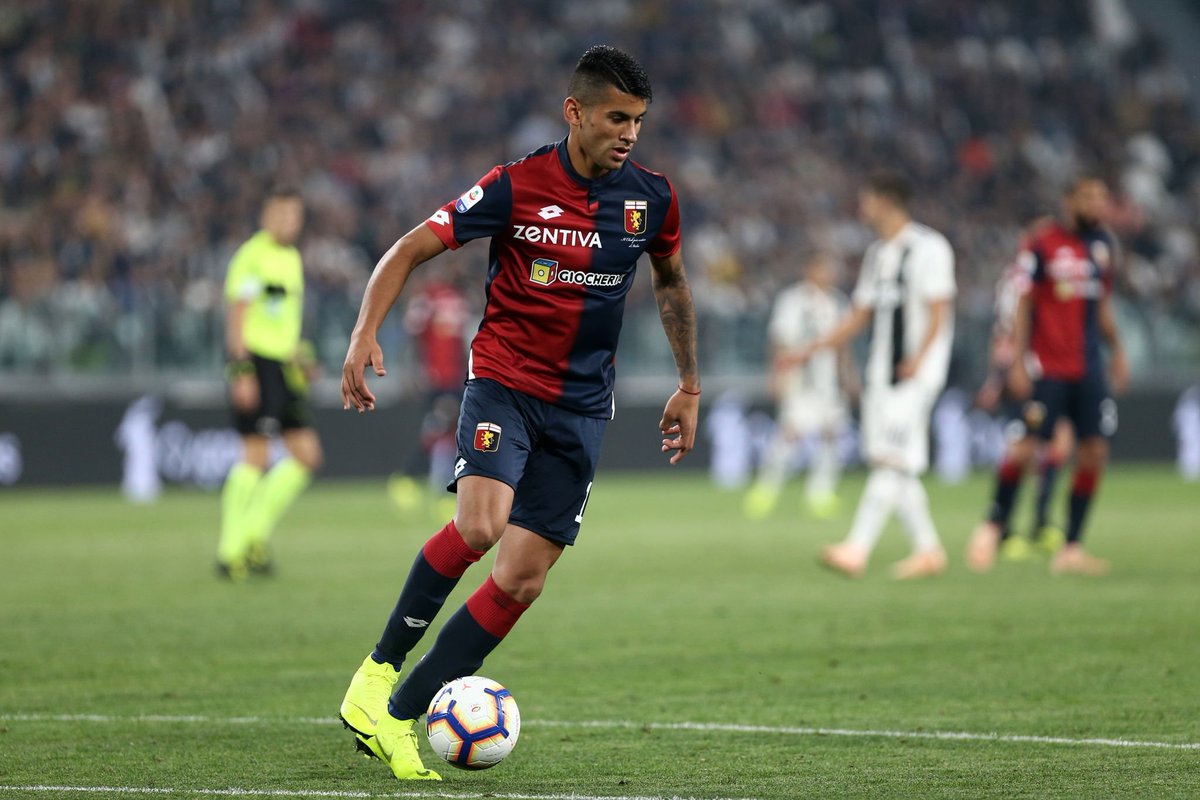 European clubs that bank on South America for young and impressive talents pounced again for Romero. It was Genoa from Serie-A this time that queued up for Romero's signature for around €3 million. Romero was thrown straight into the deep end as he was handed a debut against his future employer Juventus. He had to mark the likes of Cristiano Ronaldo and co and managed to do it successfully.
After a strong campaign with Genoa, Juventus were keen to bring him on board for their project. When clubs like Juventus decide to spend €26 million you can understand the player's quality. Ironically for all the money spent Romero hasn't played a single game for the old lady to date.
Cristian Romero could stay at Genoa for another season if Juventus signs him in the summer. (GdS) pic.twitter.com/hnz3OONHvx

— Khaled Al Nouss (@khaledalnouss1) March 23, 2019
He was loaned back to Genoa immediately to continue his progress as Juventus were well stocked at the back. Romero produced another impressive campaign at Genoa. Upon his return to Juventus, he failed to find a role again. Matthijs de Ligt emerged as a shining light at centre-back after initial struggles. Other options also meant Romero had to leave again. He signed a two-year loan deal with Atlanta where he exploded.
BERGAMO'S BOMB
Italy's Serie-A is known as a defensively sound league. The Italians are generally masterminds of defence and give more importance to it than any other thing. Legendary defenders like Paolo Maldini, Allesandro Nesta, Fabio Cannavaro have graced the land and the league. Romero looked to draw inspiration from those legends. In Gian Piero Gasperini he had one of the best technical coaches to bring the best out of him at Bergamo.
Analyzing Romero's game gives us an interesting insight into his unique skill set. Romero is similar to an old-school centre-back in many ways. He plays the role of a sweeper and mops up loose balls and any attacks before they even begin. Like any other defender of a bygone era, he tackles hard and commits 100% to win the ball. Romero also has an incredible reading of the game and recorded second-most interceptions in the league this season.
🌟MVP 2020/2021🌟

Mejor defensa: ¡Cristian Romero! 🔝

Imparable en el uno contra uno, rápido en las recuperaciones e inteligente a la hora de anticiparse a las jugadas del rival: ¡una temporada sobresaliente!@Atalanta_BC #SerieATIM #WeAreCalcio pic.twitter.com/pR2dd1cJTm

— Lega Serie A (@SerieA_ES) May 31, 2021
Standing at 6'1 he has an excellent athletic frame that helps him dominate aerial duels. He averages 3.8 successful aerial duels per game this season. His size also gives him incredible pace and agility on the ball. He possesses an average goal threat at set-pieces.
Romero is not a finished product yet and has a couple of drawbacks to his game. He becomes hyperactive at times for winning the ball and commits fouls. He has 21 yellow cards and 2 red cards to his name in the past two seasons. Discipline is something he needs to work on. Though he has a wonderful passing range he tends to keep his passing safe. Romero ends up playing sideways pays instead of forward ones in a quick break situation. This trait often hampers their attacking momentum. He is only 23 and would learn these as he goes along in his career.
THE NATIONAL DUTY
Romero started an impressive 31 games for Atalanta this term. He has stayed injury-free and made himself available for selection whenever his coach needs him. Romero also made his Champions League debut and enjoyed a decent campaign there. His form won him the Serie-A defender of the season award and earned him his first national call-up.
🇦🇷 Prima convocazione nell' @Argentina per José Luis #Palomino e @CutiRomero2! 😍 Felicitaciones chicos!!

👏 Congratulations to José Luis Palomino and Cristian #Romero on their first #Argentina call-up! 🤩 Well deserved lads!!#GoAtalantaGo ⚫️🔵 #WCQ2022 pic.twitter.com/uMNQ39dkwY

— Atalanta B.C. (@Atalanta_BC) May 16, 2021
On June 3rd he made his international debut against Chile in world cup qualifiers. It was followed by another start against Colombia where he scored Argentina's fastest ever goal after 130 seconds. These performances were enough to convince Lionel Scaloni to take Romero to Copa America.
Romero was overlooked for their opener against Chile as the game ended 1-1. Lucas Martinez was immediately replaced by Romero for their second game against Uruguay. Romero enjoyed a decent outing as he partnered with Nicolas Otamendi and recorded a clean sheet against the likes of Luis Suarez and Edinson Cavani. He kept his spot for the clash against Paraguay and added one more clean sheet to his tally. Argentina looks an assured side with Ronero at the back. Romero looks like a figure they can bank on to marshall the defence at  Copa America.
WHAT'S NEXT?
The immediate priority for Romero must be winning Copa America. He must be dreaming big about helping Lionel Messi lift his first major trophy. Beyond the Copa, his future is up in the air.
Many top clubs in Europe are looking for a centre-back who can fix their defence. Manchester United are linked with Romero as they look for a long-time partner for Harry Maguire.
Manchester United Submit Much-Improved Offer For Romero
[@NewsUnitedStand] #mufc

Details ➡️ https://t.co/5sllUKilM4 pic.twitter.com/SBI4BFV9wf

— The United Stand (@UnitedStandMUFC) June 20, 2021
Romero is valued at around €40 million. But the chance of a move looks unlikely due to his contract situation. Juventus signed him for a decent amount and might look to cash in if a good offer arrives. The loan deal signed with Atalanta makes things difficult as he has another year to go on the loan spell. Any new offer would mean the club would have to pay Atalanta as well hence elevating the transfer fee. We might expect to see Romero at Atalanta again next season unless a huge offer arrives.