South American football is renowned for its rich attacking talent. The continent that gave the footballing world probably the world's greatest attacking full-back, in Roberto Carlos, is no stranger to prolific attackers. Latest in the line of such attackers is the 21-year-old prodigy from River Plate, Julian Alvarez.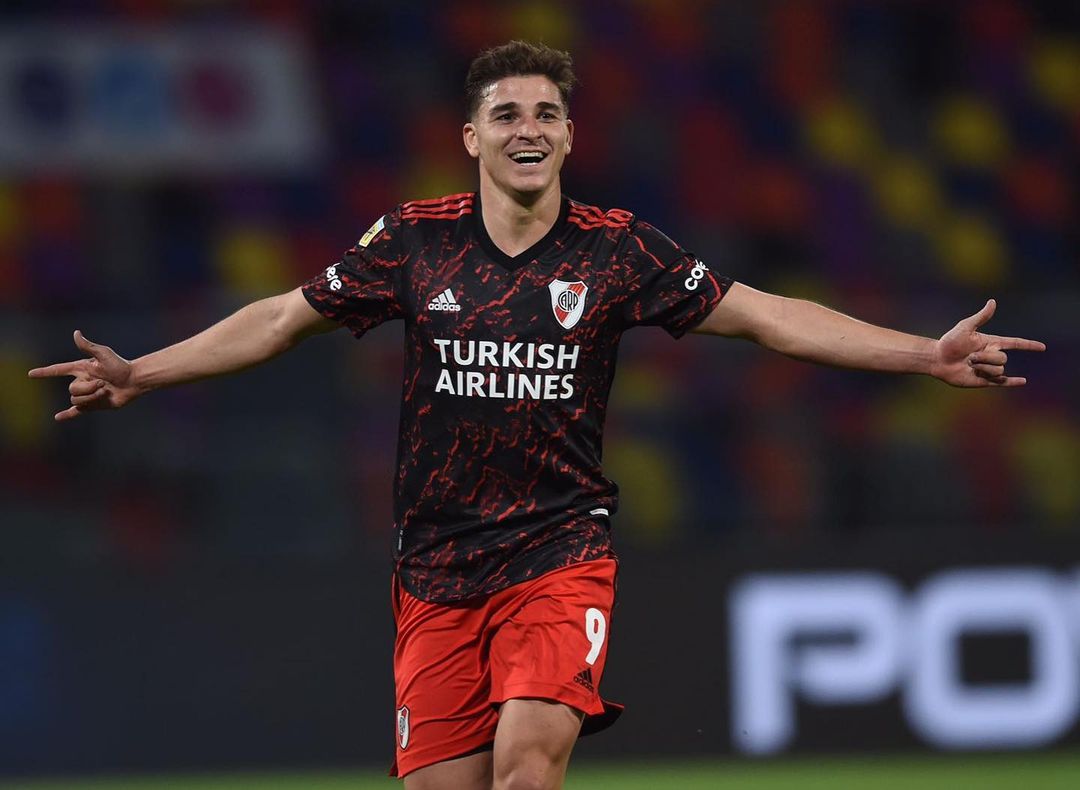 The multi-positional forward has captured the attention of the footballing world after some mesmerizing performances for his club the past season. Now on the radar of pretty much every major European club, fans of those clubs have only one thing on their minds- Who is Julian Alvarez, and how good is he?
Who is Julian Alvarez?
Julian Alvarez is an attacker from the academy of River Plate who has burst onto the scene this season at the age of 21. He has spent the whole of his career playing his trade for River Plate, joining the Argentine powerhouse from his local side, Atletico Calchin.
Interestingly, Alvarez has also turned up for Real Madrid. The youngster was given a trial by the Spanish club, along with River Plate's rivals, Boca Juniors, before he eventually joined River Plate. Julian Alvarez even scored twice for Real Madrid but eventually, a permanent deal wasn't to be agreed upon, paving the way for River Plate to secure his signature.
🗣 "He's the best thing to come out of Argentine football in a while."@Tim_Vickery speaks about the qualities of Julian Alvarez with the player linked to Manchester United pic.twitter.com/tRHpymrEQ9

— Football Daily (@footballdaily) January 6, 2022
The move paid dividends for both, Julian Alvarez and River Plate. The club has been famous for giving youngsters a chance. His footballing education was top-tier, as he made his senior debut during the 2018-19 season under the tutelage of the highly-rated coach, Marcelo Gallardo.
Gallardo slowly started to assimilate Alvarez into the first-team with a few appearances here and there. Notably, he was on the pitch when River Plate beat Boca Juniors to win the 2018 Copa Libertadores.
Slow climb then exploding onto the scene 
Julian Alvarez kept impressing the coaches and he was eventually rewarded with more playing time. He appeared in 25 games in the 2020-21 season. First signs of his stardom had started to appear as he scored five goals in six group games in Copa Libertadores.
Julián Álvarez in Liga Profesional this season:

21 appearances
1,592 minutes
44 dribbles completed
45 chances created
66 shots taken
6 assists
18 goals

Bright Future. 🌟 pic.twitter.com/Dyz5xyMoyI

— Statman Dave (@StatmanDave) January 6, 2022
His ascent to the top has been confirmed with his performances this season, which have put him on the radar of top clubs. Alvarez has scored 18 goals and provided six assists in just 21 games in the Argentine League, a barely believable return of 1.36 goal involvements per game. Despite a quieter Copa Libertadores campaign, yielding only two goals and an assist in 10 games, his overall numbers make for fine reading- with 20 goals and seven assists in 31 games. However, his game is much more rounded than can be shown from just goals and assists.
Analyzing Julian Alvarez: The Player
Julian Alvarez comes from the modern school of football attacking, in the sense that he is a multi-purpose forward player not strictly wedded to a single attacking position on the football pitch. Just this season, he has played in a number of positions, ranging from a central attacking midfielder to a forward player on either wing. However, his best performances have come up front as a No.9.
In today's game, a forward is required to do much more than just finish the chances. Pressing from the front, linking-up play, laying on chances are as important as scoring, sometimes more. The physical demands on the striker, especially in the unrelenting schedule of modern football, have never been higher. Alvarez fits snugly into this style.
Julian Alvarez: the best young talent in South America at the moment. 🕷 pic.twitter.com/7HsmkUhY3e

— Roberto Rojas (@RobertoRojas97) January 5, 2022
With figures of one tackle per game, to go with 0.3 interceptions and 0.2 clearances, it is clear that he is not afraid to do the harrying work of defenders while playing as the striker. He constantly buzzes around the opposition defenders, sometimes enforcing mistakes with his running. However, where he really comes into his own is his scoring prowess.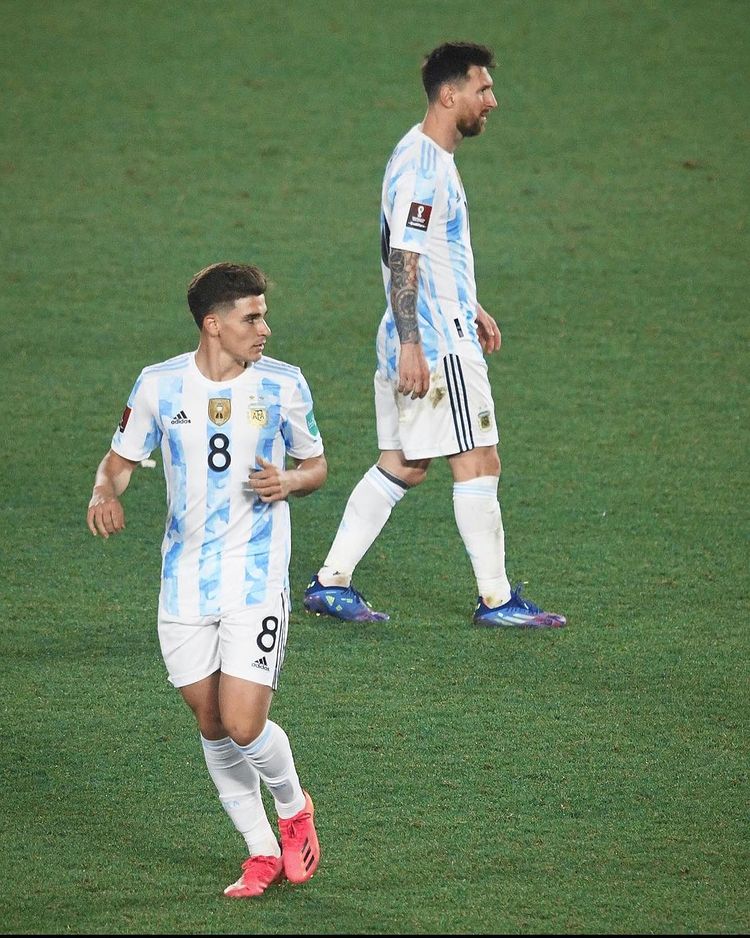 His goalscoring figures speak for themselves, and those are not a fluke. All of his goals come from open play, he hasn't scored a single penalty (attempted only one), and is ruthlessly efficient in front of goal. His shot-on-target accuracy is at 49.2%. For context, Mohamed Salah, Liverpool's hitman and the current leader of the Golden Boot race in the PL, has a current accuracy of 41%. Even accounting for the superior English league, Julian Alvarez's stats are otherwordly at the moment, and one would find it hard to bet against at least some of that performance translating to the bigger stage. This brings us to the biggest question in everyone's mind- What next?
What Next For Julian Alvarez?
After his exploits for his club and international debut, Alvarez has shot to prominence, with pretty much every major club keeping an eye on him. Here, a multitude of factors works in his favour. For one, his contract expires at the end of 2022, so River Plate is not in a position to negotiate aggressively. Moreover, there is a £17million release clause in his current deal, an amount which could quickly prove to be River Plate's best bet as the youngster approaches the end of his contract. Most importantly, Alvarez's goal record makes him a hot commodity. Therefore, it is highly unlikely that Julian Alvarez sees his contract through at River Plate.
Out of all the interested suitors, most noise has come from the red side of Manchester. Although reports have been conflicting surrounding his move to Manchester United, with some claiming the deal to be done, while others saying there's not much, there is undoubtedly interest there. United's strikeforce is heavy in numbers but they are a team in transition. Edinson Cavani looks to be on the move in the summer and Ronaldo will turn 38 next year. Anthony Martial has already asked to leave and other forward line players, like Donny van de Beek and Jesse Lingard have one foot out the exit door.
This is why Ralf Rangnick wants Julian Alvarez pic.twitter.com/rkdW7PIgVs

— Tinka 🔴 (@UtdCode) December 23, 2021
Alvarez also fits in neatly with the age profile of United's crucial attackers. Players like Greenwood, Rashford and Sancho are all of similar age. This also dovetails with Ralf Rangnick's philosophy of scouting for and approaching younger talent before they rise to prominence, which helps him implement his hard-pressing, physically demanding style much quicker.
Julián Álvarez. Manchester United are currently not in the process to sign him in January. Rangnick staff monitored Álvarez at Lokomotiv and Man Utd sent scouts – there's nothing else as of now. 🔴🇦🇷 #MUFC

His agent's gonna meet with many clubs.

📲 More: https://t.co/1qXLBtcZRP pic.twitter.com/LKqzKygsym

— Fabrizio Romano (@FabrizioRomano) January 6, 2022
While other clubs, such as Barcelona, Liverpool and Juventus could also have their own striking vacancies to fulfil, the noise surrounding Manchester United and the fit would say that Julian Alvarez could soon be gracing the Old Trafford pitch. If his career so far has been any indication, United could have a gem on their hands.