Imagine being a teenager, and being courted by European footballing royalty like Barcelona and Real Madrid. Yes, that is how good Karim Adeyemi was in Austria until Borussia Dortmund came calling for him as a replacement for the departed Erling Haaland.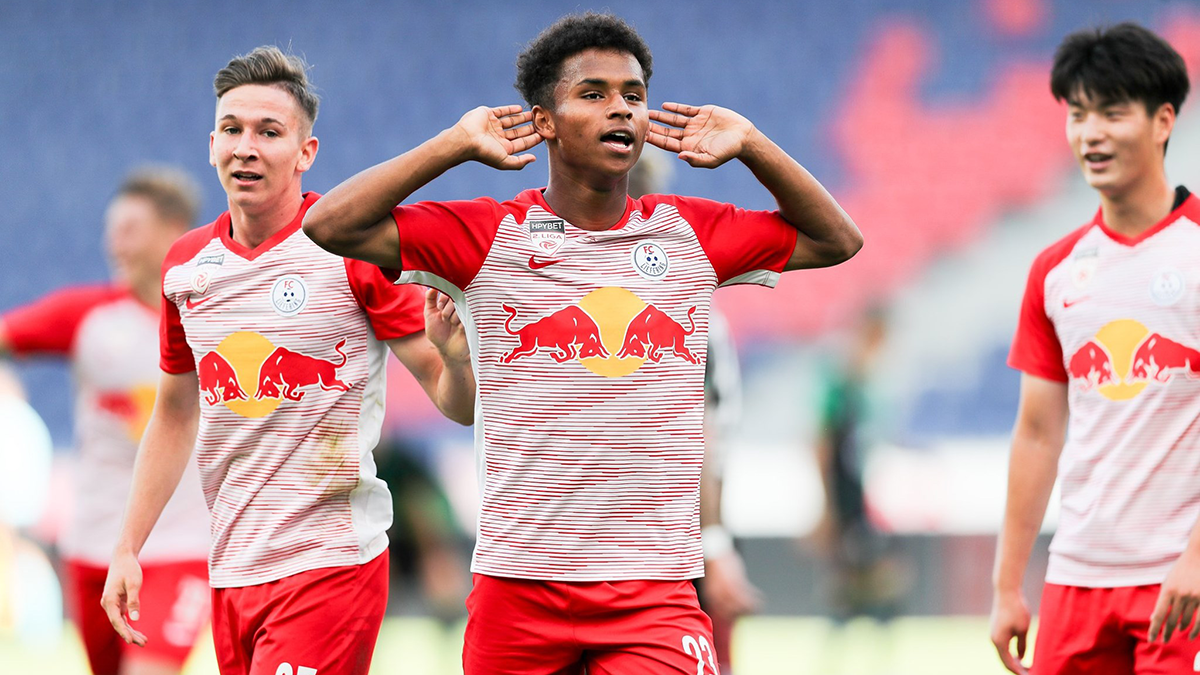 The 19-year old had attracted a lot of interest from European heavyweights such as Liverpool and Bayern Munich too, in addition to the above-mentioned Spanish duo.
As the prodigious teenager continues to feature in the headlines for his performances in Austria, FootTheBall takes a look at the German international from close quarters to decipher how he can become one of the greats of the beautiful game for Borussia Dortmund.
KARIM ADEYEMI – THE STARLET TAKING THE AUSTRIAN LEAGUE BY STORM
If the numbers and statistics for the current season are anything to go by, then Karim Adeyemi is on a roll in Austria, and would fill in Erling Haaland's shoes without any struggles.
If reports are to be believed, then Ronald Koeman wanted the young forward at Camp Nou this very season, but could only land Dutch player Luuk de Jong on transfer deadline day in the Catalan capital.
And reportedly, Los Blancos had also joined the chase for the talented teenager after their arch-rivals Barcelona showed interest in signing him. Adeyemi makes a good case for himself in club football – apart from his stellar record for RB Salzburg, he also scored on his debut for Die Mannschaft.
And his appearance for Germany was one for the history books, as it was the very first time in the post-war era that a player from an Austrian club represented Germany in international football.
At club level too, he has performed brilliantly. And it is understandable that his stock in the transfer market will only rise if he continues to perform in this vein over the course of this season.
The icing on the cake would definitely be noteworthy performances in the UEFA Champions League that would garner more attention for the wunderkind in Europe and set him for a transfer to one of the elite European clubs next summer.
A MOVE TO ONE OF THE ELITE CLUBS ON THE CARDS FOR ADEYEMI?
If the 19-year old continues to perform the way he has been doing until now in the season, then he will surely get a call from the creme de la creme of European football next summer.
Real Madrid are planning a double swoop for Erling Haaland and Kylian Mbappe in 2022 and looks like they have added Karim Adeyemi to their wishlist after seeing Barcelona chasing the youngster.
Adeyemi currently has a release clause worth €20 million, but it could rise significantly given his excellent performances for RB Salzburg in Austria and Europe this season. And Bayern Munich have also joined the race purportedly to sign the Germany international alongside English club Liverpool.
But, it looks like Adeyemi would rather move back to his homeland Germany and his hometown Munich than moving to Spain or England next season if the opportunity does present itself to him.
Therefore, Bayern Munich hold an edge over other European clubs as Adeyemi was born in Munich and was even part of the Bayern Munich youth academy during the early stages of his football career.
Thus, if Bayern come calling next summer, Karim Adeyemi would not have to think twice before accepting their offer for a place in the first team of the Bavarians.
GETTING BETTER AND BETTER
The German international was immediately loaned out to Austrian club FC Liefering when he arrived three years ago in Austria and ever since returning to the fold at RB Salzburg last year, he has gone on to impress everyone with his sublime performances.
Adeyemi is contracted with RB Salzburg until 2024 and as such the Austrians will be in no hurry to part with him next summer – that could launch a bidding war among the suitors of the German forward possibly.
But, from the long-term point of view for all the clubs and the player involved, a transfer would be a win-win as RB Salzburg would pocket a sizeable transfer fee which they can then invest elsewhere within the club.
While the recipient club will benefit from the skill, talent and gifts of the teenager for at least more than a decade, Adeyemi will gain precious first-team experience at one of the biggest clubs in Europe and the world which will benefit him professionally in his football career over the years.