The last time Liverpool bought a Dutch CB with "Van" in the name, it turned out to be quite alright. Now Wolfsburg's 22-year-old CB Micky van de Ven is in Liverpool's crosshairs as the Reds seek to refresh their squad after a season of underachievement. Here's the Micky van de Ven scout report as we look at his strengths and weaknesses while assessing his suitability for Liverpool.
Micky van de Ven scout report
The Good
Micky van de Ven is already an elite ball player. His left foot opens up unique passing angles for him on the field and his schooling in the Dutch school of football shines through in his game.
He is proficient at carrying the ball out of defence, regularly evading challenges from opposite strikers in his own half.
Compared to defenders in the top-five leagues, Micky van de Ven ranks in the 90th percentile with 1.3 progressive carries per game.
His dribbling skills also belie his position. At 0.58 successful take-ons/90, he is in the 93rd percentile of defenders in top-five leagues.
Defensive ability is tougher to judge purely from stats, as some players like to get in and tackle, while some prefer to jockey and hold positions. However, the passing ability is easier to quantify and Micky van de Ven passes that test with flying colours.
Such is his ability with the ball at his feet that he could easily pass off as a "Libero" of sorts. Being brought up in the philosophy of "Total Football" has its perks and they couldn't be clearer in Micky van de Ven's scout report.
Besides his ball-playing ability, Micky van de Wen is also a multi-positional player. He can play as a left-back, where his dribbling and passing skills come to the fore even more. Below is his heatmap for Wolfsburg during the 2022/23 season.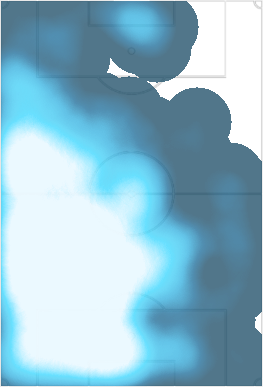 As can be noticed from the heatmap, Micky van de Van absolutely bosses the left part of the field. He regularly ventures to the wing to provide his fullback with a passing option. This is a classic example of having "Passing triangles" all over the field, a staple of Total Football. It means that whenever any player has the ball, there should be two players near him to provide the ball carrier with two passing options. Micky van de Ven excels at this.
Having discussed the tangibles in terms of his skills, it's time to discuss the intangibles.
Micky van de Ven joined Wolfsburg in 2021/22 from FC Volendam. Making the jump from Dutch Second Division to Bundesliga is a bold move. However, Van de Ven has made it look seamless after an initial period of acclimatisation. He made just five appearances in 2021/22 but broke out in the 2022/2 season.
This shows that he has the ability to raise his game to the level he is playing at, an invaluable quality when it comes to changing clubs.
The Bad
For a defender who is 6'4″, Micky van de Ven is surprisingly poor at contesting balls in the air. If he was as good at conventional defending skills as he is at modern ball-carrying, he would be akin to a left-footed Virgil van Dijk. Of course, there's a reason Virgil van Dijk is so highly rated.
It is because he is an elite ball player while bossing the strikers on the "dirty" side of defending.
Micky van de Ven lacks in the latter, to a great extent. With just 1.06 aerials won/90, he is in just the 4th percentile of players. For context, Van Dijk wins 3.19 aerial duels/90, putting him in the 92nd percentile among the same players.
Part of it is down to the general playing style in Bundesliga, where the ball is generally played on the ground. However, a major reason behind this underperformance is Micky van de Ven's own playing style.
He prefers to unsettle the striker and let the ball bounce instead of contesting it in the air. With his height, that is letting a huge advantage go to waste. Van de Ven doesn't rank above the 60th percentile in any defensive metric, including tackles, interceptions, blocks, clearances, and aerials.
While the defensive impact is arguably the hardest to measure in terms of pure stats, it does give an idea about the playing style.
Defending in modern football can be oversimplified under two skill areas- Ball playing and Keeping it out of the net.
It is clear that Micky van de Ven is elite at the first, and needs a lot of work to improve at the second.
Micky van de Ven Liverpool transfer and fit
The Dutch defender made the news recently after he stoked the flames of Liverpool's interest. He said that playing in the Premier League is a dream. Add the prospect of learning from Virgil Van Dijk, and it is clear why Micky van de Ven is so eager for a move.
For Liverpool, they would need to be clear that this will be a project signing, albeit one with a sky-high ceiling.
A huge plus point is his injury record. He made 33 appearances for Wolfsburg in the 2022/23 season and besides a hamstring injury in the 2021/22 season, has largely remained fit and available.
In a team that is constantly changing its CB pairing due to the injury-prone nature of Ibrahima Konate, Joel Matip, and Joe Gomez, availability is the best ability. Micky van de Ven personifies that quality.
Jurgen Klopp enjoys working with young talent who he can mould into his ideal player. Micky van de Ven has all the tools to be an elite player in his position. With proper coaching and a settled team environment, his weaknesses can be ironed out.
The path to becoming Van Dijk from Van de Ven is a long one, but the Wolfsburg player has all the tools to do so.