A diminutive attacking midfielder standing in at 5ft 7in, Pablo Cesar Aimar, was at a point the best number 10 in Football during the early 2000s . Born in Rio Cuarto,Argentina on 3rd November 1979,his father Ricardo Aimar wanted Pablo to focus on his studies as a young boy. But Aimar (fortunately) fell in love with football playing in the streets with his friends. That's where he honed his close control and ability to utilize pockets of space to create or to run at defenders.But he did learn some important things from his father like humility and hard work. He could just glide with the ball through defences mesmerising fans wherever he went with his flair and vision.
🦇 Throwback to Pablo Aimar at Valencia 🔥#UCL | @valenciacf pic.twitter.com/mVOf8uivrg

— UEFA Champions League (@ChampionsLeague) January 24, 2020
Aimar's elegance on the ball ended up inspiring a generation of players throughout the World. He could feature on either of the wings, in the hole or just off the striker; his creativity and ability with and without the ball made him a very useful player in varying tactical setups. If Aimar was given a free role with little defensive responsibilities, he would produce Magic on the pitch often bamboozling the opponents and fans alike.
Pablo Aimar hung up his boots in July 2015, at his first club River Plate, where he had returned like he promised the day he left in 2001 for Valencia, in La Liga where he arguably became one of the best players in the World for a short while, a trophy laden career that took him to Spain, Portugal and Malaysia. In this 20 year long career Pablo Aimar amassed a total of 461 appearances at club level, scoring 60 times and laying on a further 68 goals.  
Valencia had their most historical moments while Aimar was at the club. When Valencia under Rafa Benitez did the domestic double and reached a Champions League final only to be beaten on penalties by Bayern Munich. 
Pablo Aimar was truly a star of the European game who is often forgotten, and is not referred to  the same way some playmakers from his generation are such as Rui Costa or Jaun Roman Riquelme.
The genius of Pablo Aimar! 🇦🇷⚽💫#LaLigaHistory pic.twitter.com/NOTO5R6RlJ

— LaLiga English (@LaLigaEN) January 24, 2018
But what do we know, right? But Messi probably has a better idea of what he is talking about, right? After getting to know about Aimar's retirement La Pulga was quoted saying "Pablo Aimar was, and is, my idol. I really like to watch him play and I have followed his career since the beginning at River Plate,". In fact Maradona referred to Aimar as his 'natural heir'.
PLAYING CAREER
River Plate
Pablo Aimar moved to Buenos Aires at a very young age to go play for Argentine giants River Plate, where he made his professional debut at the age of 16 against Colon and despite his light framework he was able to handle himself comfortably against the physical defenders in the Argentine league. He only succumbed to a few injuries earlier on after taking some heavy hits, something which constantly haunted him wherever he went.He became one of the most prolific players in the Argentine top flight at a very young age playing consistently and his attacking displays at River Platte made them the best team in Argentina during the late 1990s. Aimar played for River plate for four and half years making his debut in 1996 and moved to Valencia in 2001, by which time the world was well aware of his exceptional talent and potential.
He scored 21 goals and provided 28 assists for River Plate in 82 appearances.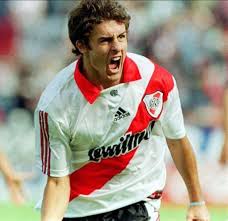 (Courtesy: PabloAimarOK/Twitter)
Valencia 
Pablo Aimar went from River Plate to Valencia for 24 million Euros, which was their club record signing at that time. In one of his first matches for Valencia Aimar showcased his ability against the formidable Jaap Stam, who had to be at his best for Manchester United to make sure they kept a clean sheet against Los Che in the Champions League. Later that month Aimar proved that he is a generational talent, when he scored his first goal for the club it was a logic-defying goal for Valencia against Las Palmas in La Liga.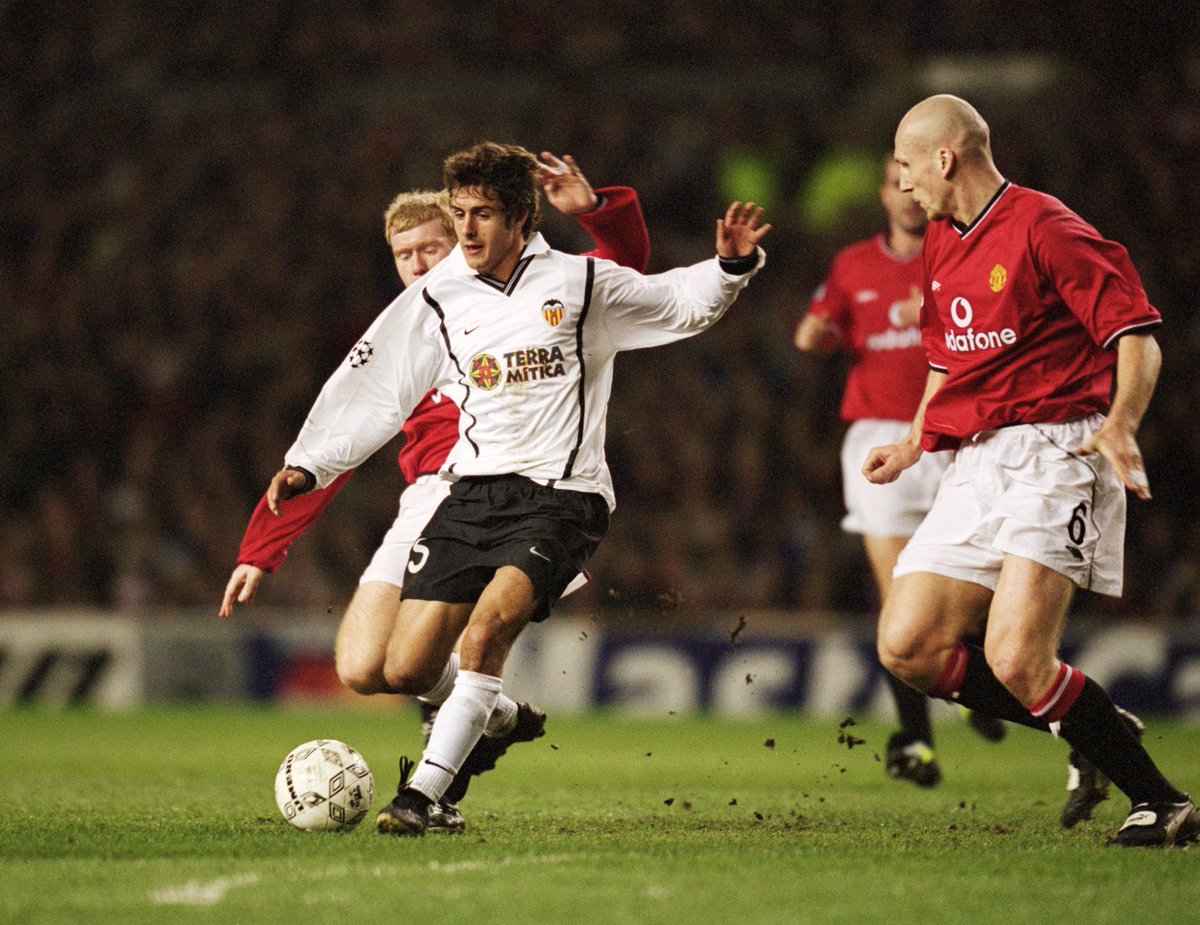 (Courtesy: ChampionsLeague/Twitter)
Pablo Aimar was integral to Valencia reaching a second Champions League final in consecutive seasons in 2000/2001. Under coach Hector Cuper, Aimar became part of a formidable midfield diamond which consisted of Gaizka Mendietta, Kily Gonzalez and Ruben Baraja. Pablo was given the freedom to roam around and connect play with magical touches and passes. Unfortunately, Aimar was marked out of the Champions League final by Owen Hargreaves, who was exceptional for Bayern Munich on the day and restricted 'El Mago' and did not let him influence the game like he used to love doing.
After the defeat to Bayern Munich in the final Hector Cuper, left for Inter Milan, Rafa Benitez was brought in to replace him and Aimar's reputation exploded as he became the creative hub of the team alongside Baraja. Equipped with such refined and versatile midfielders, Valencia romped to La Liga title in 2002. Pablo Aimar's most notable performance that season came against Barcelona, when Los Che defeated the Blaugrana 2-0. That season Aimar ended up being the joint highest assist maker in the Champions League with Rui Costa, despite Valencia Crashing out in the quarter finals. 
(Courtesy: LaLigaEN/Twitter)
Benitez's Valencia with Aimar would claim another La Liga title in 2003/04, also tasting success against Marseille in that year's UEFA Cup final, to cap Los Che's greatest ever season.
After Benitez left for Liverpool the following season, Claudio Rainieri replaced him in the dugout at the Mastella. Aimar had always suffered with injuries because his style of play meant that he was continuously chopped down after beating his man, which took a heavy toll on his body. Rainieri's Valencia was much more defensive than Benitez's, and Aimar was not given the same kinda freedom he enjoyed under Benitez. After a lack of playing time, due to injuries and a lack of faith from the manager led to him falling down the pecking order at Mastella. After a disappointing season under Rainieri Aimar was seemingly finished at the top level.
And in 2006 a year on from Rainieri's sacking in 2005, a depleted and fragile Aimar left for Real Zaragoza.Pablo Aimar, played for Valencia 208 times across several competitions and when he left the club in 2006 he had scored 33 goals and provided 21 assists.Pablo Aimar's performances made him a fan favorite at the Mastella and reached cult hero status as he was adored by Los Che fans.
🦇 Mestalla salutes Don Pablo Aimar 🤡 pic.twitter.com/PeAqeJ7gPb

— Valencia CF (@valenciacf_en) September 9, 2017
Real Zaragoza       
For Real Zaragoza, Aimar's arrival was a landmark event as they had landed one of the best attacking midfielders of his generation right from under Liverpool's nose, who were now managed by his former manager Rafa Benitez. His time at Real Zaragoza also had its ups and downs as the playmaker suffered from injuries but when he was on the pitch he was Zaragoza's best player. In the 2006 season he was seemingly back to his best with his performances consisting of the same vigor and elegance reminiscent of  his earlier years at Valencia as he was given the same Freedom he enjoyed under Benitez. He helped Zaragoza finish 6th in the league that year, but next season injuries took a toll on his form again and he could not save Zaragoza from relegation as they were demoted to the Segunda division.Aimar was never supremely influential for Zaragoza and only scored about 5 goals and provided a further 4 assists in 57 games for the Spanish minnows.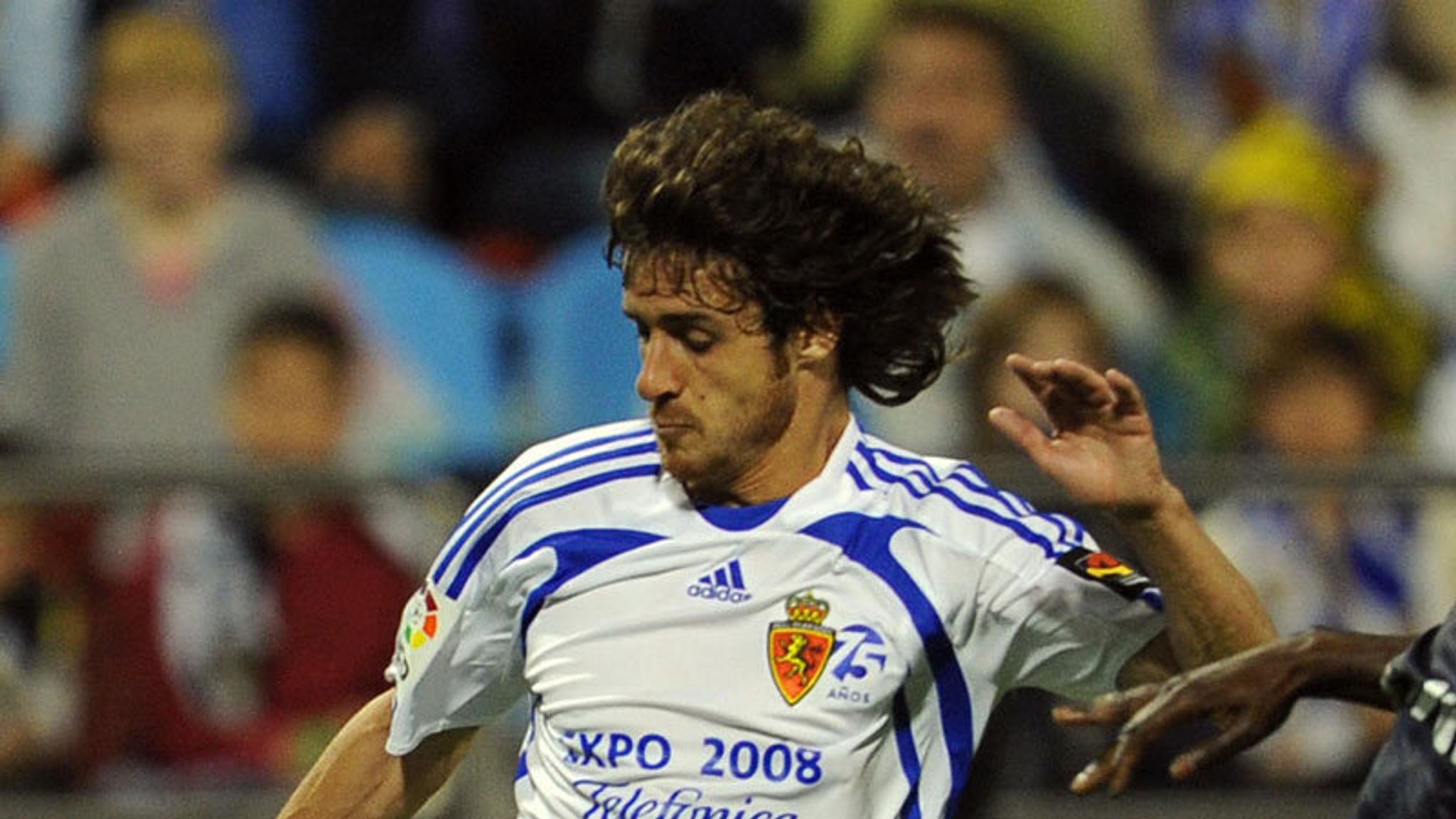 (Courtesy: Skysports/Twitter)
This fall from grace forced Aimar to find a club that will provide him regular first team football in one of the top tier clubs in Europe, and luckily for Pablo Benfica offered him a way out and he made the switch from Spain to Portugal in 2008.
Benfica
El Mago was convinced that Benfica was the right choice for him, as the Potugese club played a fluid brand of football with attacking football taking priority over everything else. The historic appreciation of attacking midfielders at the Liga Nos club where Eusebio was heralded as a god, was reason enough for Pablo Aimar to join the Portuguese outfit. 
(Courtesy: ChampionsLeague/Twitter)
An attack that included Oscar Cardozo, Nuno Gomes,Angel Di Maria  and Jose Antonio Reyes, got the added threat of Aimar and his good friend from Argentina set up Javier Saviola in the 2009/10 season. This made Benfica a scary attacking team that dominated teams in Liga Nos, and in the 09/10 season the supply line of Saviola and Aimar helped Oscar Cardozo to become one of the most lethal strikers in Europe as he plundered to 38 goals in 47 appearances that season. That season Benfica romped to the league title scoring 78 goals and conceded a mere 20 goals in the league, with Aimar, Di Maria and Saviola making an extremely creative hub that was led by this Argentine contention at the club.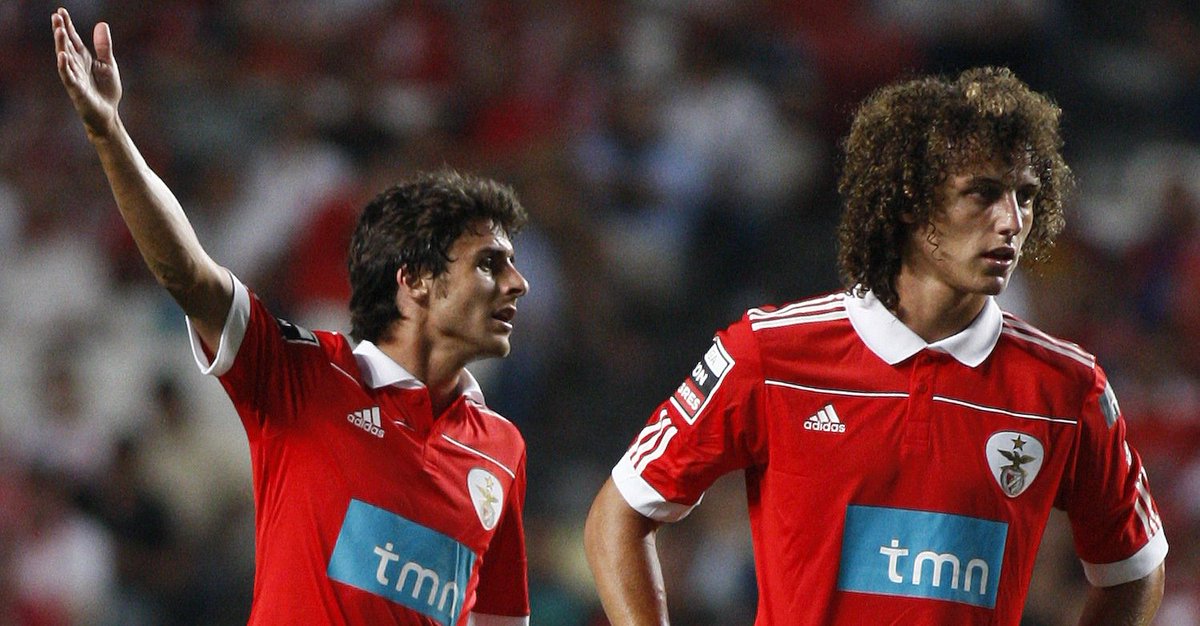 (Courtesy: Bet365/Twitter)
After  174 appearances for Benfica Aimar had scored 17 times and assisted his teammates 42 times in all competitions and at  31,after countless injury lay-offs negating his ability to influence games, Aimar was tipped for return to Argentina but surprised everyone as he ended up joining Malaysian club Johor Darul Ta'zim in 2014.
Johor Darul Ta'zim
A lot was expected of Aimar in the M-league, as he was one of the marquee signings of that edition, and the slower pace and lower quality of the league was supposed to help El Mago to extend his career, but injuries and a lack of confidence resulted in only 2 goals in 8 appearances and he was soon shipped out in April 2014.
Aimar rejoined River Plate after Johor Darul Ta'zim, where he became the well traveled player with European experience was got into the club to mentor the burgeoning young talent at his first club. He hardly played at River Plate but was given the captain's armband in his final match for the club and he ended his professional career in an emotional goodbye.
INTERNATIONAL CAREER
 Pablo Aimar represented Argentina at all youth levels and even won the 1997 FIFA World Youth Championship, alongside Esteban Cambiasso and Juan Roman Riquelme. In fact Aimar and Riquelme scored a goal each as Argentina defeated a England squad 2-0, containing Jamie Carraghar and Micheal Owen in the final.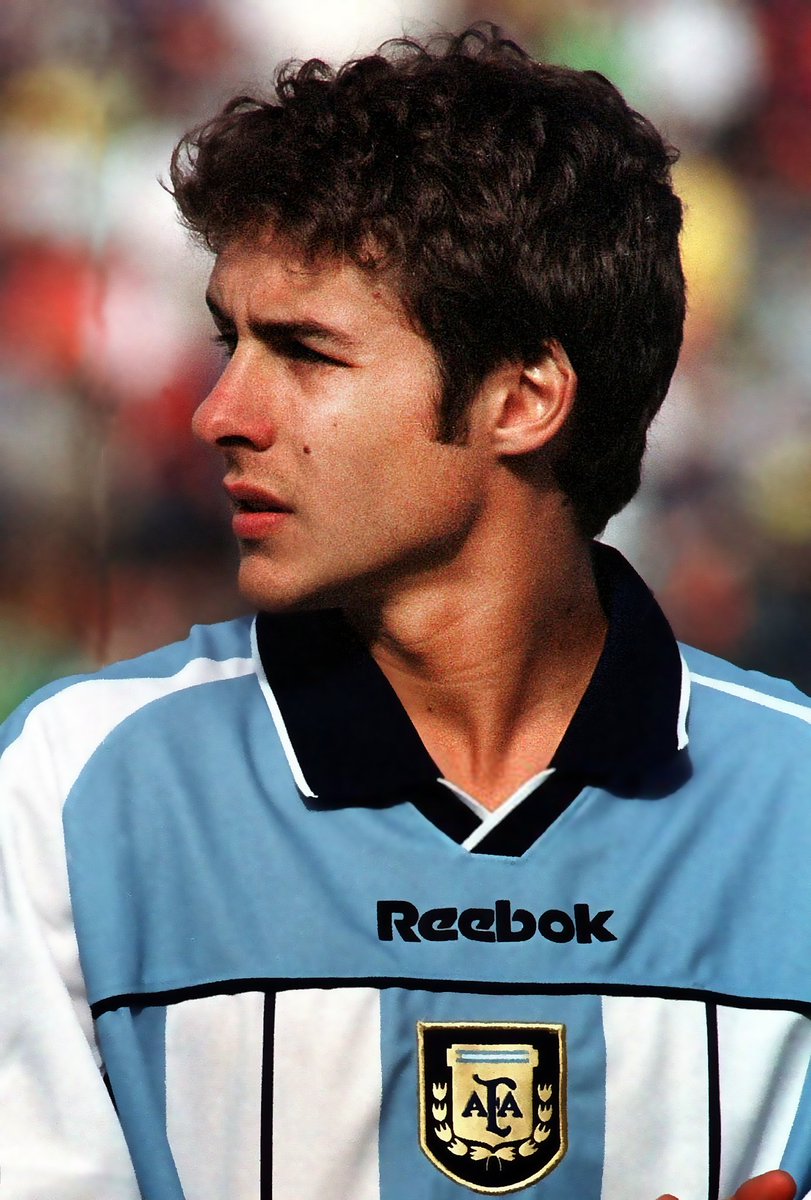 (Courtesy: ARG_HQ/Twitter)
He went on to make a total 54 senior appearances for Argentina, scoring 8 goals in the process. Aimar represented the Albiceleste at the 1999 and 2007 editions of the Copa America and even represented Argentina in the 2002 and 2006 FIFA World Cup. He also scored the last goal of the 2005 Confederations Cup, during Argentina's loss to Brazil in the final.
After a lot of months on the sideline Aimar received one final call-up to the National setup under Diego Maradona, who used to adore El Mago. Aimar repaid Maradona's faith as he assisted Higuain for the opener in a decisive qualifier against Uruguay.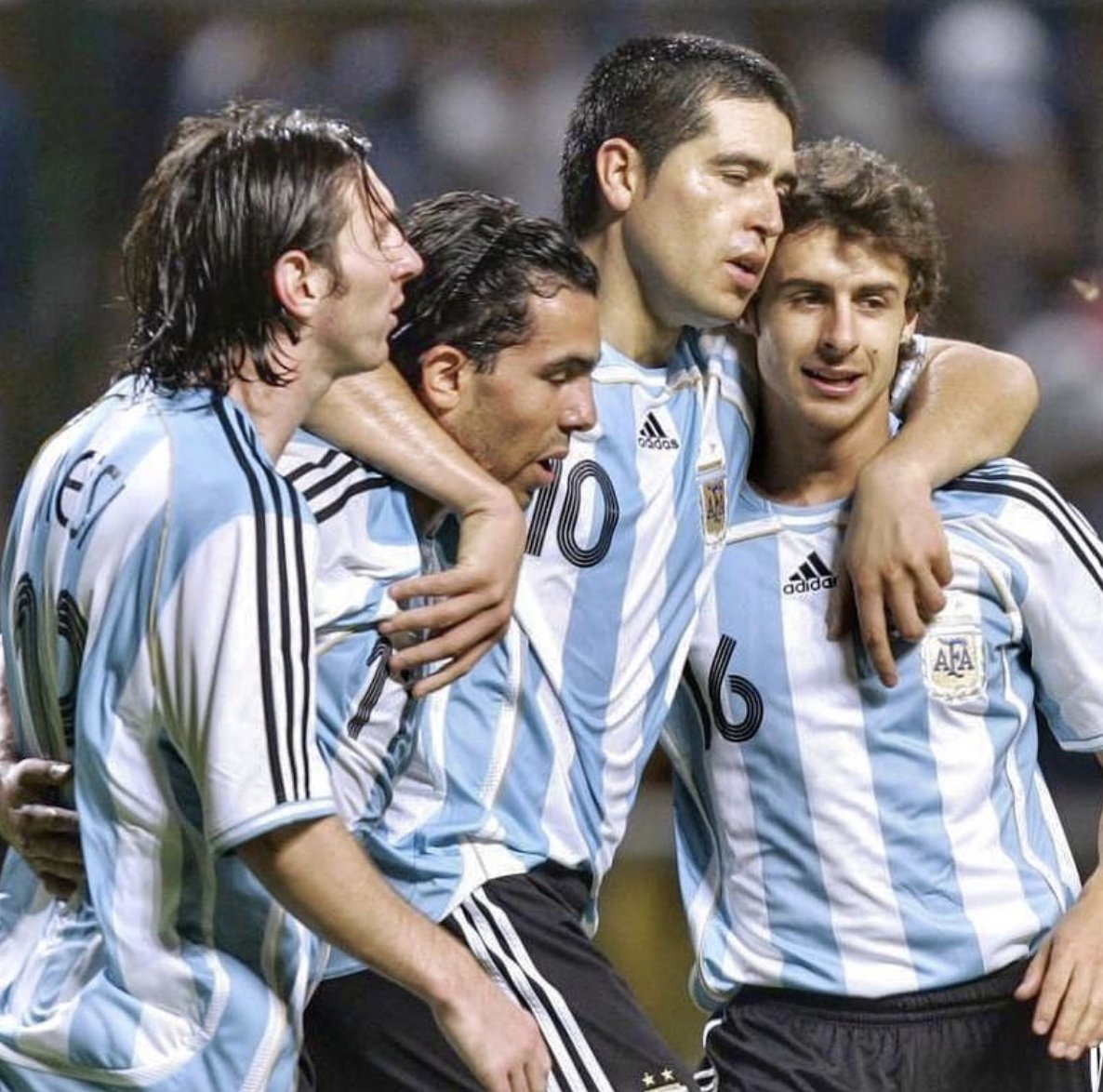 (Courtesy: Football__Tweet/Twitter)
A beautiful send off from the International stage for a magical player that was often overshadowed by his friend Juan Riquelme, but arguably Aimar had a more successful career in Europe.
INDIVIDUAL ACCOLADES 
Pablo Aimar won the best player award at the FIFA U-20 World Cup: Bronze Ball 1997. He was also voted in the South American Team of the Year in 1999 and 2000. His most notable individual accolade came in the UEFA Champions League season 2002–03, in which he was the joint top assist maker tied with Rui Costa. Aimar also won the Trofeo EFE in 2005–06, an award which is given to the best Latin American player in La Liga. He received his final individual accolade in 2011, the Cosme Damião Award, which is awarded to the player of the season at Benfica.
Although Aimar did not win the Ballon D'or, or even get nominated for it he was still definitely and undoubtedly a star who could change games alone with his majestic movement and passing.
LIFE AFTER FOOTBALL
After retiring in 2015, Aimar did come out of retirement for one last hurrah at his boyhood club Estudiantes de Rio Cuarto, where he played a testimonial match to help the financially troubled club. But since 2017 he has been the coach of Argentina's under 17 national team, a post he holds till date.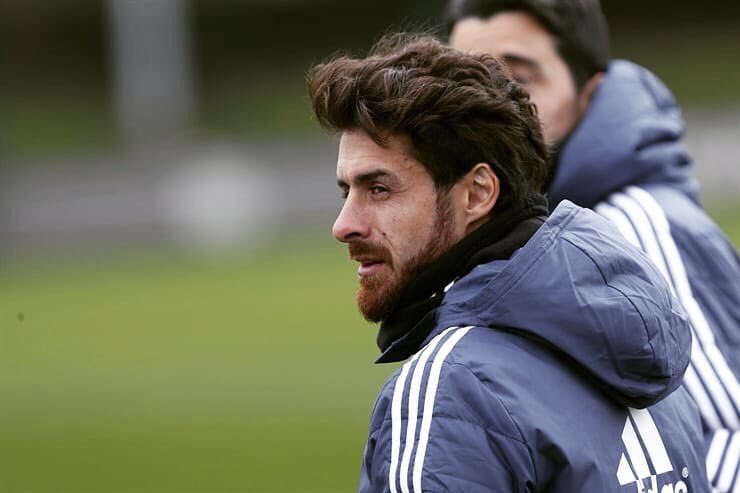 (Courtesy: Pabloaimar_Fans/Twitter)
It is happy to see that El Mago has not lost his love for the game and surely is an instrumental figure in nurturing young Argentine talent in the national setup, where Aimar's European experience leads to unrivaled wisdom from the former Valencia and Argentina legend.