The Bundesliga is often derided for being a farmers' league. Bayern Munich have made it a habit of winning. They have had some of the best strikers in the past. However, one of the most rising stars is not with them.
That is Georginio Rutter, a French striker who is blazing a trail in Germany. The best part about him is he really is a complete player who can score effortlessly along with doing his defensive work.
Georginio Rutter in the Bundesliga this season:

☑️22 games
⚽️6 goals
🅰️4 assists
📊directly involved in a goal every 104 minutes

19 years of age. Immense potential. pic.twitter.com/UAfgyuFWTe

— Football Talent Scout – Jacek Kulig (@FTalentScout) February 14, 2022
Rutter is another member of the famed class of 2002 that has given several rising ballers. These include Eduardo Camavinga, Kamaldeen Sulemana, Hugo Ekitike amongst others. Hoffenheim have a real shot of making it back into the Champions League.
Rutter has been the second-highest scorer in the team in 2021-22 with six goals and two assists. Given that this is his first proper senior season, that is quite an achievement.
Nah, that's just ice cold from Georginio Rutter! 🧊😵🥶 #Bundesliga pic.twitter.com/zl6HiY5uwr

— Bundesliga English (@Bundesliga_EN) December 2, 2021
At 19-years-old, Rutter has a great future ahead of him and looks set to be a superstar in the making. The Frenchman is also a youth international, having represented Les Bleus at all age levels.
Playing career so far
Georginio Rutter has mixed heritage from his father (Martiniquais) and mother (Réunionnais). He grew up in Brittany, France, and started playing with local side Menimur in 2007.
Rutter spent seven years there before moving onto fourth-division side Vannes in Brittany. Vannes counts Didier Drogba amongst their alumni and Rutter would stay for three years. Then came the big break. Rutter joined the famed Stade Rennes academy in Brittany's capital.
He was there the same time as Camavinga was coming onto the scene as well. Rutter scored five times from 22 games between 2018 and 2020. He progressed to the first-team, making his senior debut in September 2020. However, Rutter would only play four times in the league. Bruno Genesio used him sparingly, and at the end of the season, Rutter left.
He revealed, "that there were big teams, but for my part, I was looking for the best sporting project." Eventually, Rutter signed for Hoffenheim, stating "I was presented with a great project. In the beginning, I started with the U23s. But at the same time, I was going with the pros to get some playing time."
1st Bundesliga game ✅
1st Bundesliga goal ✅

Georginio Rutter wasn't wasting any time 😎 pic.twitter.com/F7b8DxmnAI

— Bundesliga English (@Bundesliga_EN) February 23, 2021
Indeed, even Rutter had not expected the kind of impact that he is having on the current campaign. He has featured 26 times in the league, 10 of them being starts. Sebastian Hoeness, one of the more dynamic, young coaches, is being richly rewarded for his faith. Furthermore, Rutter is also a regular for the France U20s side, having played at every level from U16 onwards.
Stats
Given this is the first proper top-flight season for Georginio Rutter, he is outperforming expectations. Rutter is overperforming on his xG of 5.4 by already scoring six times. Those goals have come from a total of 44 shots, with 13 on-target.
Rutter can improve his shot accuracy, with just 0.90 SoT per 90. The below chart shows his strongest attributes over the past year and how he has evolved.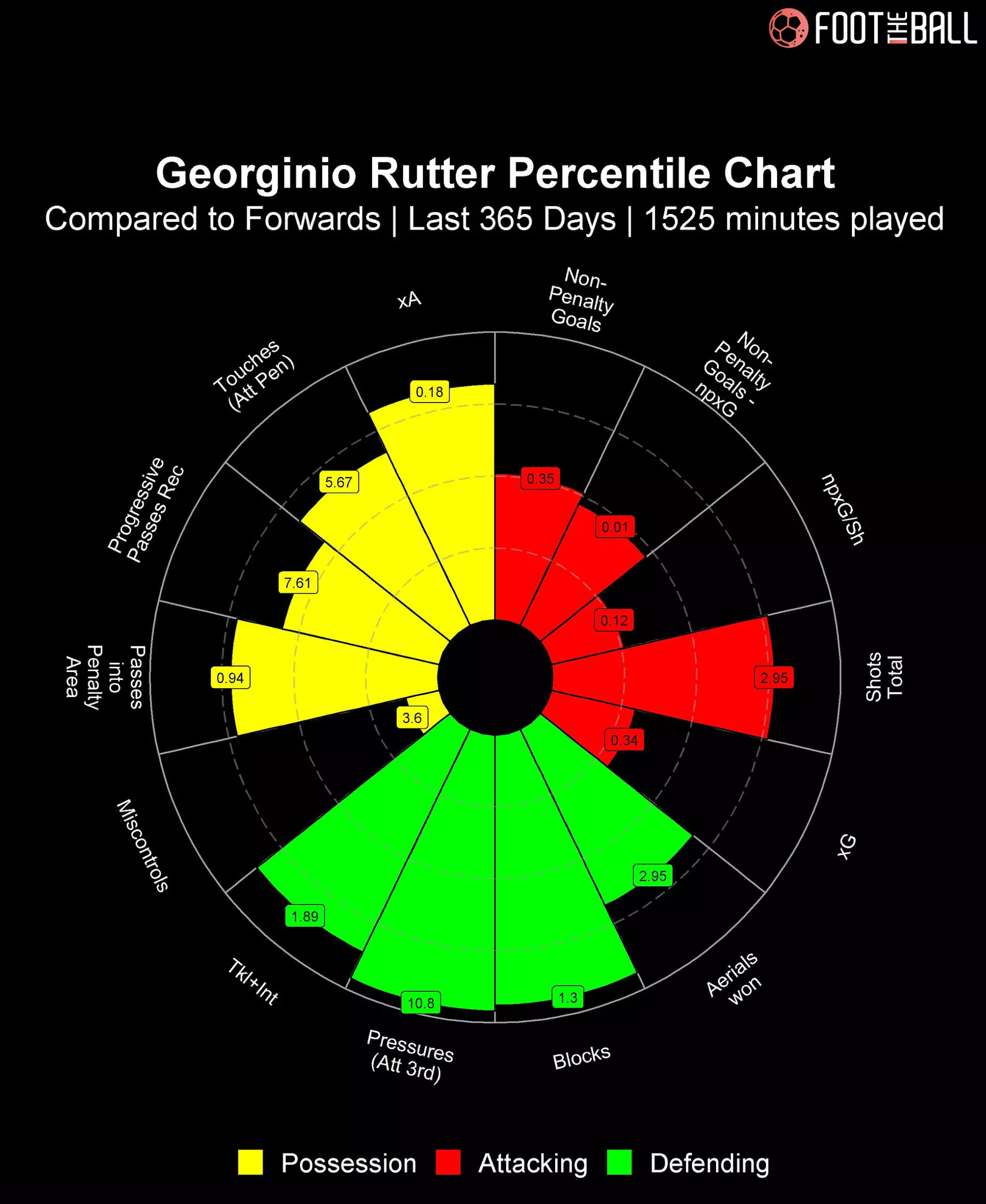 As can be seen, one of the highlights of Rutter's game is his defensive contributions. He has applied 22.13 pressures, made 1.53 tackles, and put in 1.30 blocks (all per 90). These put Rutter in the high 90 percentile of players across Europe in his position.
Hoffenheim's well-coached structure after losing the ball makes Rutter so effective in defending. This is not to say that Rutter cannot contribute to attacks without his goals.
Georginio Rutter's game by numbers vs. Greuther Fürth:

100% pass accuracy
29 total touches
6 shots [2 on target]
2 chances created
2 fouls won
2 goals
1 assist

A direct hand in 3 of his side's 6 goals. 🧨 pic.twitter.com/QEcVTEmB2a

— Statman Dave (@StatmanDave) November 27, 2021
His gameplay and willingness to get on the ball has seen him get involved in 35 shot-creating actions. Furthermore, there have been four goal-creating contributions amongst them as well. Rutter has a lot to improve in his game, of course, because the learnings are never-ending in football.
What the stats do not tell
Georginio Rutter has been very introspective regarding his learnings so far in his career. He has said that his defensive game has improved, calling his previous work "not thought out and I ran a little anywhere. Today, I'm a little more structured, and I have a lot more self-confidence." Rutter's willingness to learn and grow has been a real joy to behold.
View this post on Instagram
He understands that he will not be able to play every match in full. Having made the change in country and league at a young age, Rutter knows that he cannot take things for granted. As he says, his best position is "at the base, I preferred to be alone at the peak." However, given how he is still maturing and the team's demands, Rutter knows he has to continue evolving.
The advantage of being a complete striker helps in playing across the frontline and even running at the wings. Moreover, Rutter's aerial ability has also improved tremendously meaning he can now affect games from the air too.
What makes him special
Rutter has improved on almost all his metrics this season. The most impacted has obviously been his output in front of goal. Rutter has scored seven times in his Hoffenheim career so far and the below chart explains the different positions. He can be aptly described as a fox-in-the-box.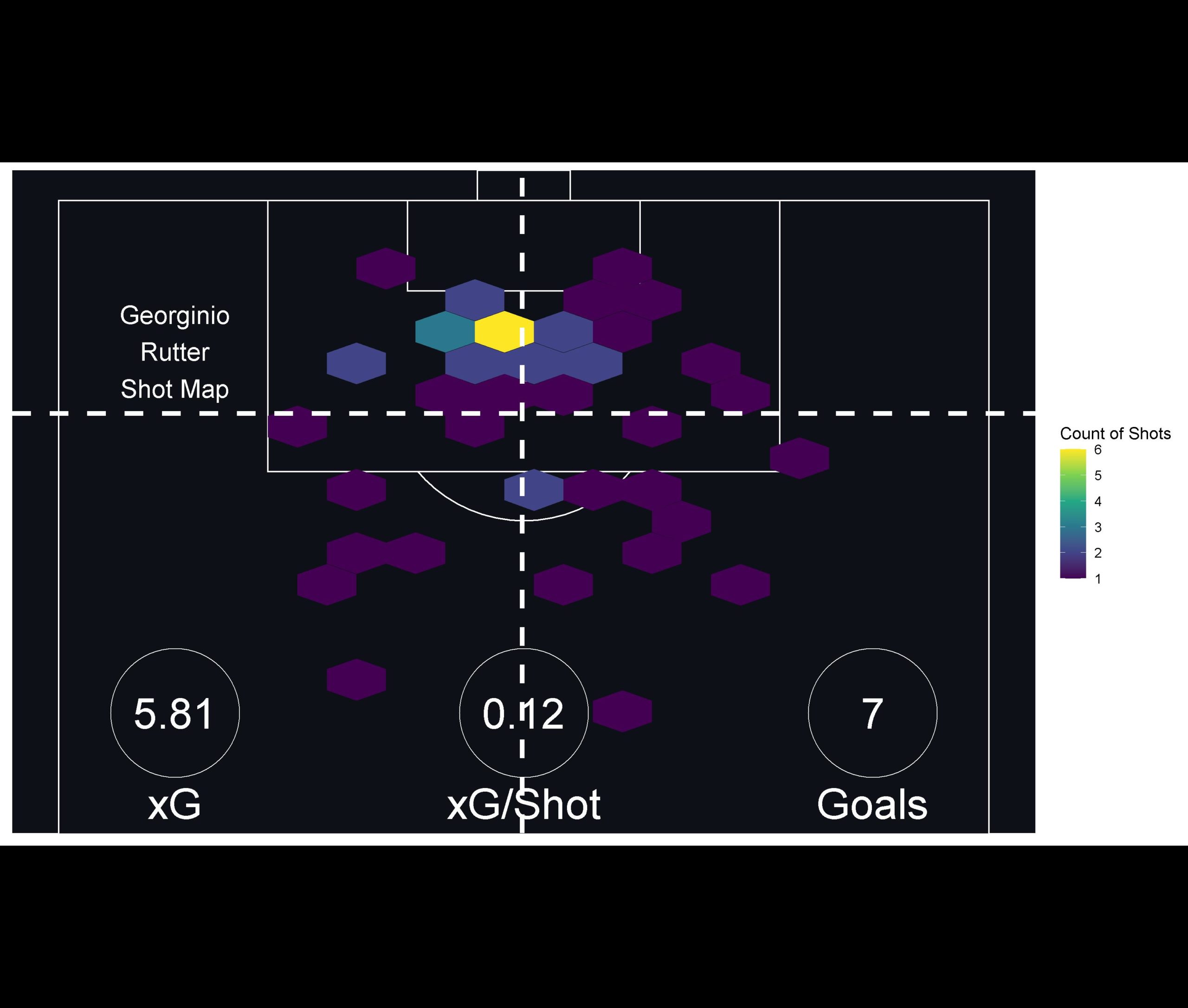 Rutter likes to stay central and get the ball at his feet. A regular run of game time in the senior team has really helped his cause. Rutter is slowly becoming the main striker in the 3-4-2-1. Hoffenheim have benefitted massively with Rutter assuming more responsibility. The below table highlights how well he has adapted to the new league and role.
| | | | | | | | |
| --- | --- | --- | --- | --- | --- | --- | --- |
| Player profile | Goals P90 | Assists P90 | Shots P90 | Chances created P90 | Dribbles accuracy P90 | Interceptions P90 | Blocks P90 |
| 2020-21 | 0.38 | 0.00 | 2.31 | 0.77 | 1.92 | 0.00 | 0.00 |
| 2021-22 | 0.42 | 0.14 | 2.93 | 1.05 | 1.96 | 0.21 | 0.07 |
Data from Soccerment
Rutter is definitely a player to watch out for in the coming years. He has the basic tenets in place to succeed. If he can keep up his hard work, and continue developing at this pace, the sky is the limit.
Potential
The most common question surrounding any upcoming player. Georgino Rutter has a very high ceiling and if all goes well, should be set for a big transfer. The club that could benefit in a lot of ways from having a player like him is Arsenal.
The first reason is Alexandre Lacazette being out of contract at the end of the season. Rutter is already outperforming the veteran Frenchman on a number of fronts as the graphic below shows.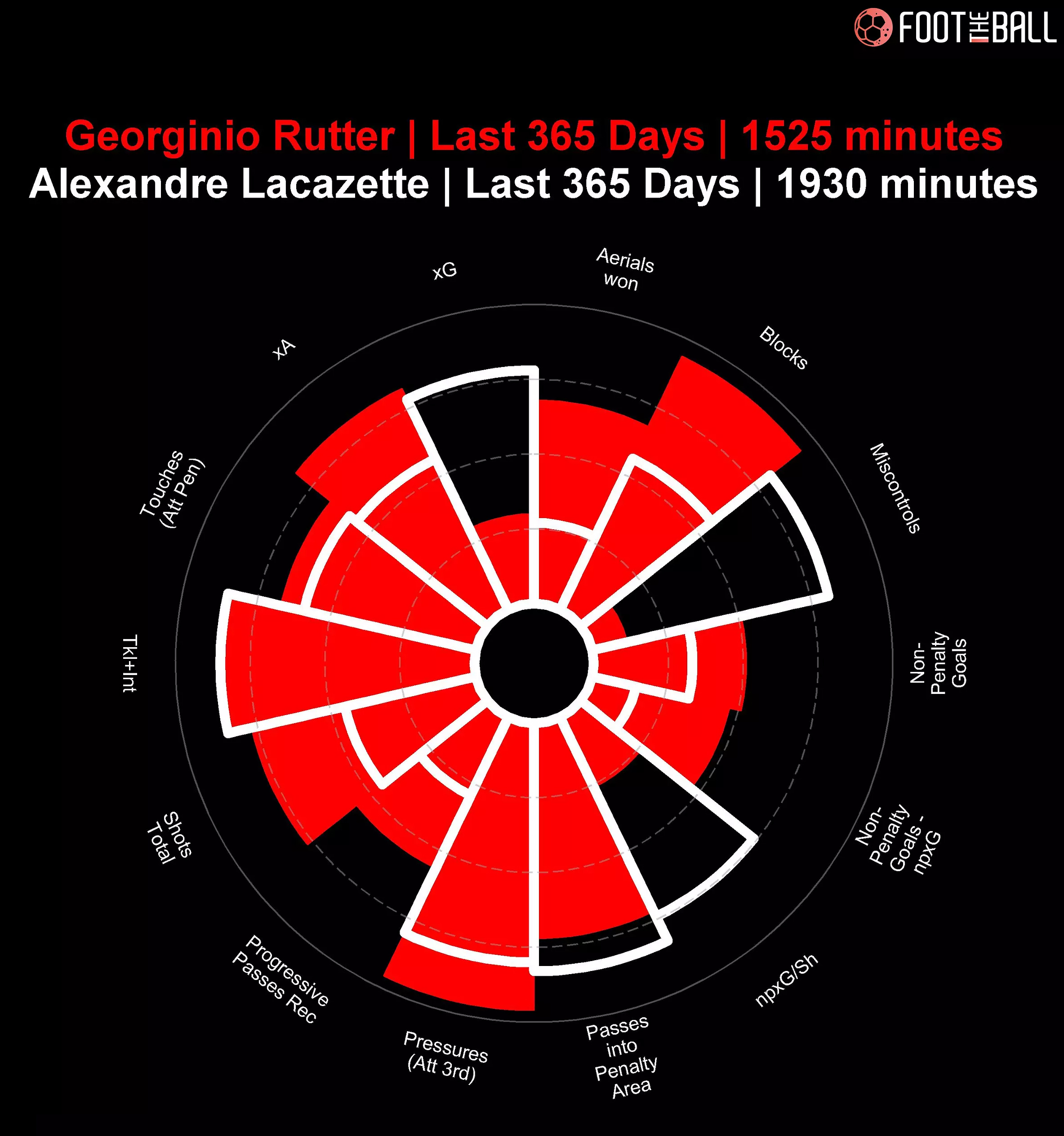 Rutter is ahead on many of the key metrics. Furthermore, his defensive work is also highly touted. Lacazette is a more complete playmaker, yes, but the amount of miscontrols is too high. Rutter is also a more willing runner while Lacazette likes to orchestrate things a bit more nowadays. Mikel Arteta is rebuilding a young squad and they are a very exciting watch. Rutter will fit right into the team.
Bayern, Borussia Dortmund and RB Leipzig have all made contact to sign Rennes forward Georginio Rutter (18). Newcastle, Arsenal and Milan have also inquired about the player [@lequipe] pic.twitter.com/HE1ICqHEJt

— Bayern & Germany (@iMiaSanMia) September 7, 2020
Though he signed in February 2021 only, if Hoffenheim do get Champions Leageue football, Rutter will be in demand. No doubt that he will take the next step of his career in a very thoughtful manner, having considered all the options.
The Gunners were interested back in 2020 before he joined Hoffenheim. It remains to be seen whether they go for him once again which will be great news.