The time of international friendlies is mostly a mundane affair. Coaches try out new players and hand out debuts in order to stumble upon the next find. England's match against Switzerland at Wembley was one such case. Gareth Southgate handed a first start to on-loan Crystal Palace midfielder Conor Gallagher.
An impressive first #ThreeLions start for Conor Gallagher 🔥#ThreeLions | @weetabix pic.twitter.com/0t2ivet7fK

— England (@England) March 27, 2022
The 22-year-old has already racked up eight goals and five assists across all competitions, in one of the finds of the season. Indeed, he also got his first goal contribution for the Three Lions. Gallagher's outside-of-the-foot pass was finished off clinically by Luke Shaw to draw parity in the first half.
England have a bevvy of central midfielders but Gallagher's unique skillset should see him gain more game time.
Box-to-box phenom
Crystal Palace have been using a 4-3-3 in the majority of their matches. Conor Gallagher usually plays on the right side of the midfield three. Patrick Vieira has transformed him into a player who can have decisive impact on matches. The former Arsenal boss and recent Hall of Famer has overseen a youth revolution.
He has given chances to Eberechi Eze, Michael Olise, and Jean Phillipe Mateta among others. That is because Gallagher's exuberant energy, willing to press intensely, and moving fast with the ball make him a big threat.
Also read: Who is Jean Philippe Mateta? The young striker trusted by Patrick Vieira
Teams know that they do not have much time on the ball with Gallagher lurking nearby. No matter the juncture of the match, Gallagher is always alert to move into attacking areas. The following chart explains how Gallagher has been performing over the past year.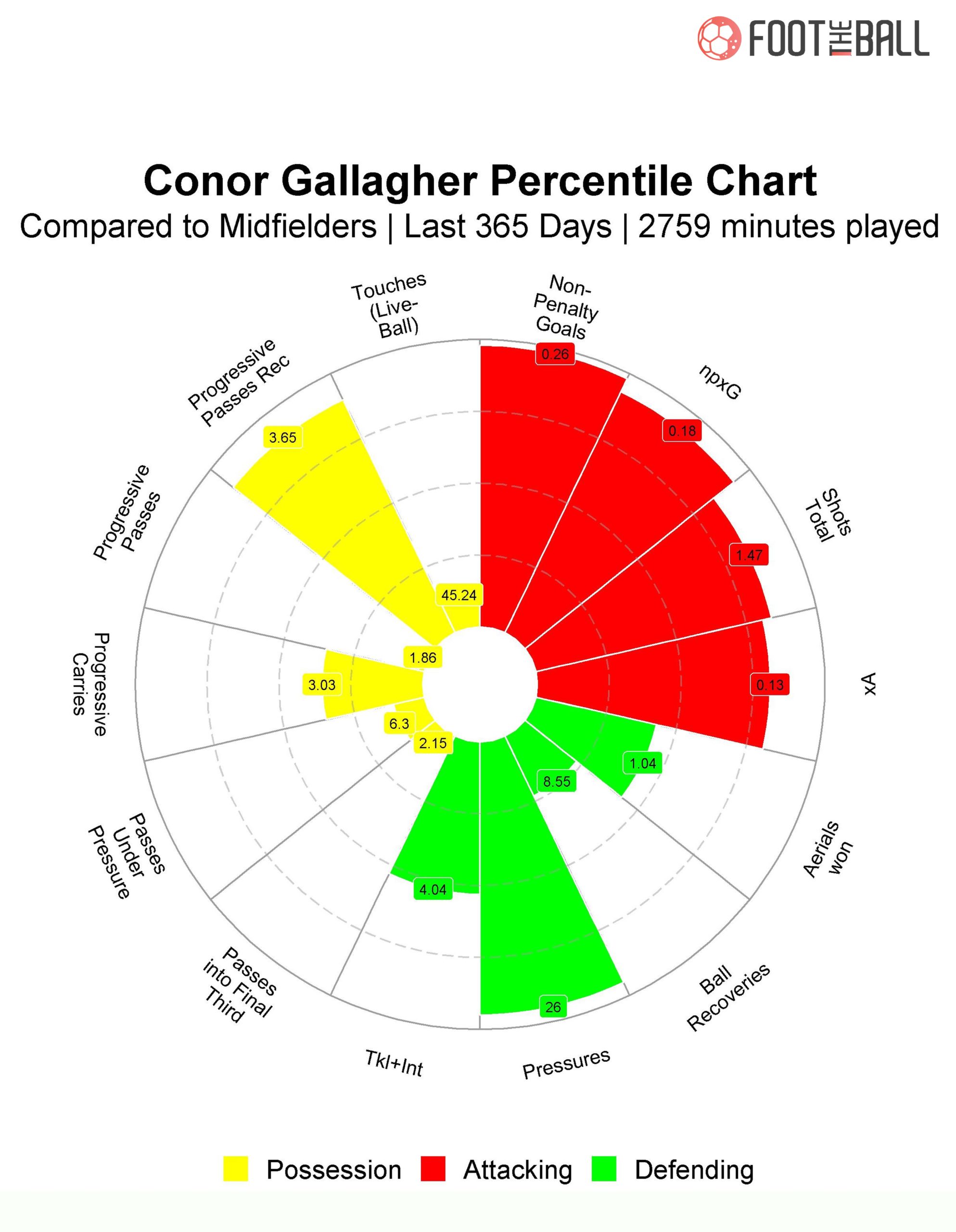 As expected, Gallagher ranks in the 90th and higher percentile for pressures, progressive passes received and touches inside the opponent's penalty area. Moreover, when he does get into dangerous positions, Gallagher is not afraid to shoot or set up teammates. That is where his contribution to the national team comes under focus.
An assist for Conor Gallagher as @England go in 1-1 at the break 👊#CPFC pic.twitter.com/yd086hmOLv

— Crystal Palace F.C. (@CPFC) March 26, 2022
Vieira has been developing Gallagher nicely, with onlookers even stating that he starts for Chelsea next season. Indeed, it does look like Gallagher will be reunited with the Blues as a first-team regular soon. In the meantime, he has been performing excellently. His passing accuracy over long distances can be improved but his defensive work has been immense.
Alongside the pressures applied, 40/61 tackles have ended with the Eagles winning back possession. Therefore, it is no surprise that fans of Crystal Palace, Chelsea and England are looking intently at how the midfielder develops over the coming years.
A new Lion has arrived
Conor Gallagher earned praise from Southgate after a superb first full outing. Some of the words used by the manager are reflective of how his game has developed.
"[Gallagher] presses with ambition. He goes and makes contact and turns a lot of the ball over."
However, the former midfielder was always cautious when describing another part of Gallagher's game. Reflecting on the match, Southgate commented, "We feel Mason Mount and Gallagher press well but can leave us vulnerable to the switch. The Swiss worked that out."
This is something that can work against Gallagher playing heavy minutes too soon. However, the rest of his game more than makes up for it and Southgate should nurture the talent well.
Gareth Southgate on Conor Gallagher. pic.twitter.com/th8h2pSAzl

— Frank Khalid (@FrankKhalidUK) March 27, 2022
Gallagher exited the match with 84% passing accuracy, winning 44% of his ground duels and making six recoveries. Moreover, his impact on the offensive end was notable. Gallagher had a curling shot cleared off the line within 15 minutes before pressing well to get the ball and assist Shaw.
Another fine moment came in the second half as Gallagher's lofted pass beyond the Swiss defence found Harry Kane whose shot was saved. Therefore, it is clear how solid his impact can be when used well.
Can Conor Gallagher become a regular?
Yes and no. Southgate is someone who sticks with the things he knows rather than experimenting too much. He acknowledged how the game against Switzerland was the first in a long time with no Declan Rice or Kalvin Phillips. One of the pair or both will definitely be playing most of the time. Southgate loves the 3-5-2 and played Gallagher on the right side of the midfield, similar to what he is accustomed to at Crystal Palace.
Conor Gallagher vs. Switzerland:

• 1 assist
• 1 shot
• 83% pass accuracy
• 2 key passes
• 43 touches
• 2/2 tackles won
• 2 clearances
• 1 interception
• 6 recoveries
• 4 ground duels won
• 2 times fouled#CPFC | #CFC | #ThreeLions pic.twitter.com/kFv0pwdyHY

— Callum Castel-Nuovo (@callumcasteln) March 26, 2022
However, with the defensive specialists coming back, there will only be space for one more attacking player. Then it becomes a heavy competition. Mason Mount, James Maddison, Jack Grealish, Emile Smith Rowe, Jarrod Bowen. All of them are in the mix when it comes to that position. Gallagher knows that he cannot take things for granted but his regular goal contributions can hold him in good stead.
Conor Gallagher has his sights set on making England's World Cup squad 🦁 pic.twitter.com/w6ombgdlyG

— Mirror Football (@MirrorFootball) March 27, 2022
Moreover, he is the hardest worker amongst all the names mentioned on the defensive side of things too. However, common sense will prevail as the manager moves back to a more pragmatic approach for the big games. Defensive structure is prized over attacking outlay. Southgate has to get rid of his favourites tag and move England on the course to a brand of exciting, explosive football soon.