It is a luxury for international managers to have a pair of central defenders, who are also teammates at the club level, and certainly, this factor has gone on to become one of the main reasons behind teams winning some World Cups and Euros in history.
In 1958 we saw Brazil using Bellini and Orlando, both from Vasco da Gama as their defensive pairing while in 1974, West Germany had Bayern Munich's Franz Beckenbauer and Hans Schwarzenbreck at the back. This trick was repeated by the Die Mannschaft in 1996 with Markus Babbel and Thomas Helmer.
🇮🇹 Italy 🆚 England 🏴󠁧󠁢󠁥󠁮󠁧󠁿

⏱️ 21:00 CEST
🏟️ Wembley
🏆 The big one…#VivoAzzurro #ITA #ITAENG #EURO2020 pic.twitter.com/h3PbLPr7HJ

— Italy ⭐️⭐️⭐️⭐️ (@Azzurri_En) July 11, 2021
The most recent example would be Spain, who in 2010 won the World Cup without conceding a single goal in the knockout stages having the Barcelona pairing of Gerard Pique and Carlos Puyol. And we have a similar show at Euro 2020, where Italy have reached the final, having two all-time greats, Giorgio Chiellini, and Leonardo Bonucci at the heart of their defence and might well go on to win the championship against a resurgent England in the ultimate showdown.
A PARTNERSHIP FOR THE AGES
After the debacle in 2017, which saw the Azzurri not being able to qualify for the 2018 FIFA World Cup, the team had to be rebuilt completely from scratch and the job was given to Roberto Mancini, who successfully built a young, adventurous side around a technically skilled midfield but on the base of an experienced central defence.
If it was the youthfulness of the attackers that took Italy to the knockout stages and then the semi-final, it was the age-old partnership of Chiellini and Bonucci, cultivated in Turin for a decade, that was primarily responsible for holding the raring Spaniards and taking their side into the finals.
Leonardo Bonucci and Giorgio Chiellini. 107 and 110 appearances for Italy respectively. Over 10 years together at club level.

These two are gladiators, for whom age is but a number. The passion, the desire, the drive.

A partnership for the ages. pic.twitter.com/xKQauTnlEa

— EiF (@EiFSoccer) July 2, 2021
Chiellini, 36, and Bonucci, 34, spent the previous nine of the ten seasons at Juventus together, with the 2019/20 season being the sole exception when the younger of the two moved to AC Milan but returned after a single season as he realised the value of having someone like Chiellini as his partner in central defence.
Even though they are only two years apart in age, both have had different paths to reach where they have reached in the present day. Chiellini started off with Livorno in Serie C after which he moved to the Old Lady in 2005, whereas Bonucci had been a mini journeyman during his early days until his move to Juventus in 2010.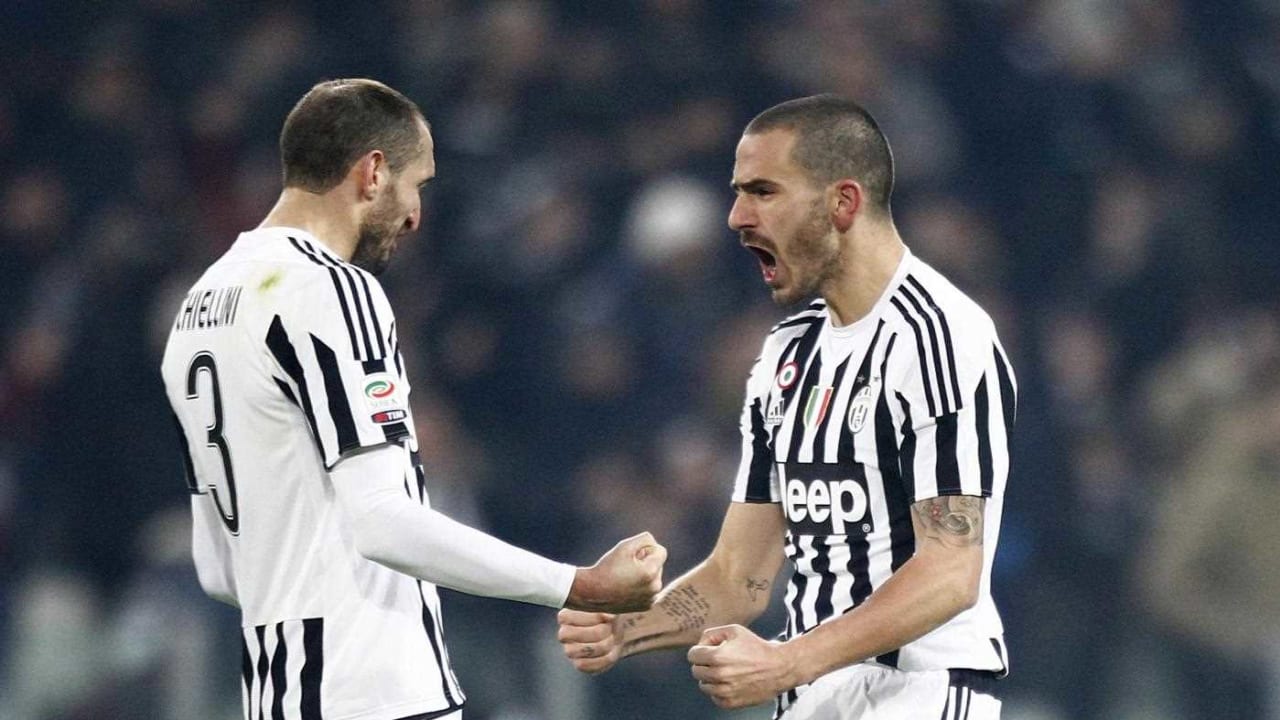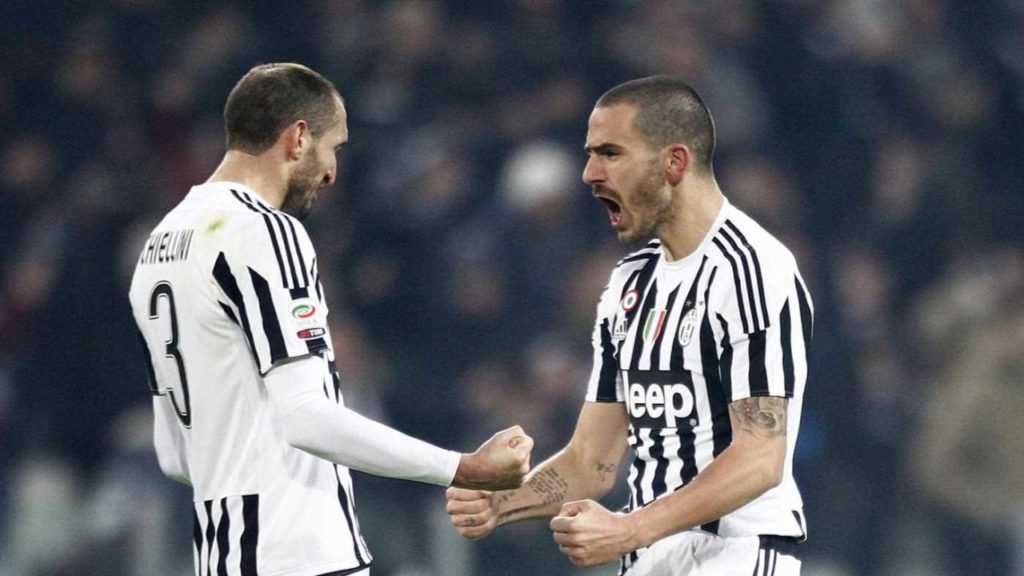 (Image Courtesy: Juventus / Website)
It was a similar story with the national team, Chiellini made his debut way back in 2004, while Bonucci had to wait till 2010 to represent Italy at the senior level. And as fate would seal it, Bonucci made his debut for the Azzurri alongside Chiellini and Fabio Cannavaro in a friendly against Cameroon.
Their relationship goes off the field too. When asked about their relationship after Bonucci returned to Juventus after the one-season spell in Milan, Chiellini said,
"I think I know Bonucci better than I know my wife."
Even after featuring more than 300 times together, they aren't done with each other. "The Euros will end on the 12th and on the 13th we will go on holiday together, so this sums up our relationship on and off the pitch," Bonucci said during the pre-match press conference ahead of the final against England.
SIMILAR BUT DIFFERENT DEFENDERS
If it was their friendship that made them so close, it was the different roles of each while playing together that has made them one of the best partnerships in the world in the past decade. They have similar traits, such as being passionate and skilled, having composure and leadership, but there are two distinct centre-backs there in terms of profile and playing style.
Andrea Barzagli, the former teammate of the two and the third part of the once-revered BBC (Barzagli-Bonucci-Chiellini) partnership, said ahead of the final,
"Giorgio is the type of defender who needs to feel contact, He uses his intelligence but also his physical strength to deny a player space.I don't want to say he is one of the last great Italian defenders, but he is in that tradition."
Bonucci, by contrast, is "more modern," Barzagli said, better at "reading the game, understanding situations," the sort of player that Pep Guardiola,  who is seen as the revolutionary point of modern football,  has described as "one of his favourites ever."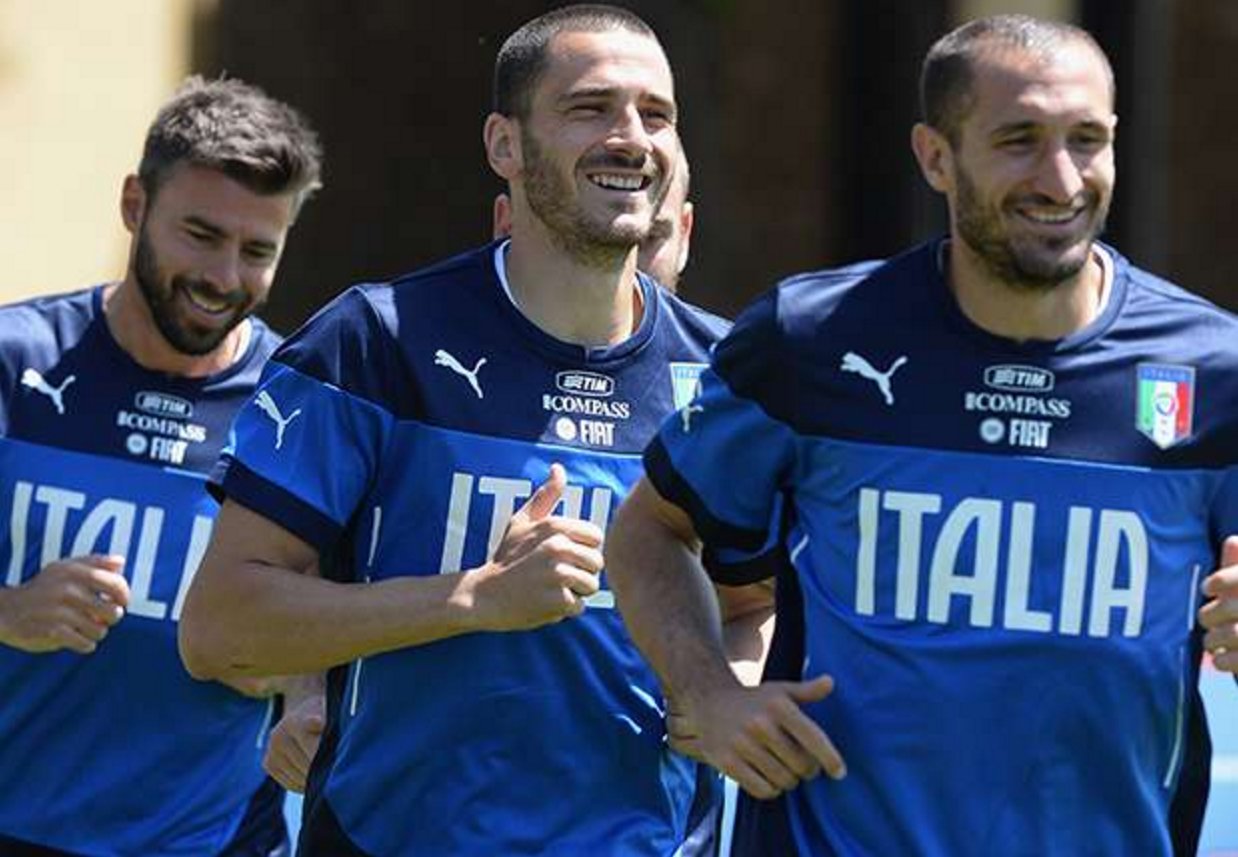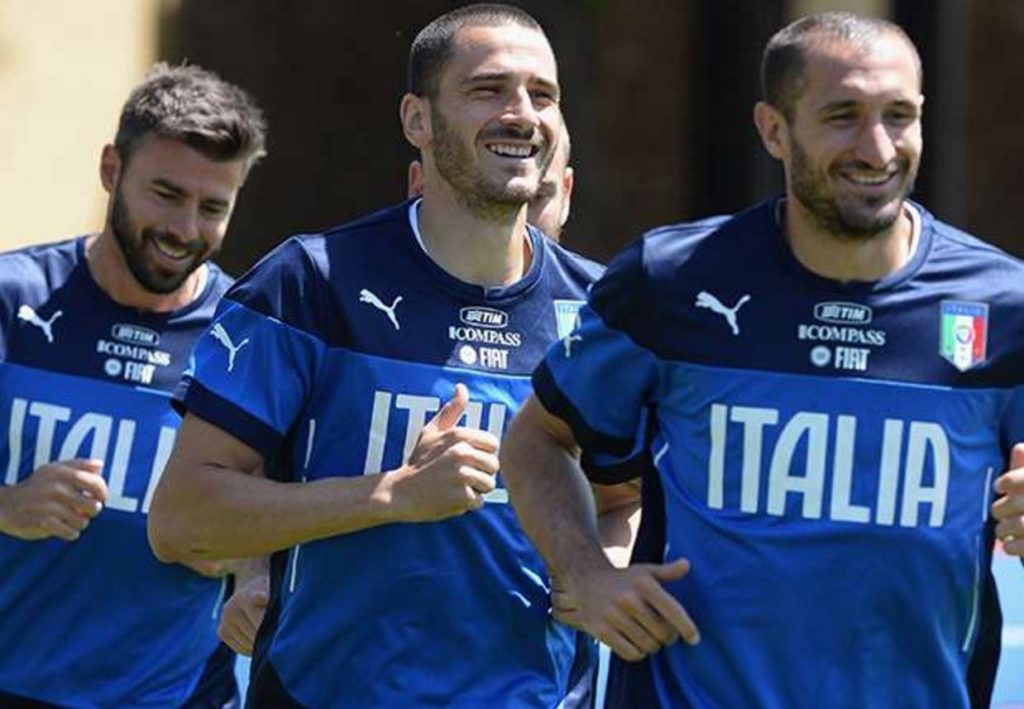 Barzagli with Bonucci and Chiellini during their days with the Italian national team. (Image Courtesy: FIGC / Website)
The 40-year-old hailed the longevity of being at the top-level, which in his words, is a testament to their "professionalism, their dedication, how well prepared they are physically and mentally. That is their great secret, why they have been able to go on for so long."
Even at Euro 2020, the difference between their playstyles is visible. Chiellini made 2.2 clearances and 3.9 headed clearances per 90, while Bonucci has had values of 0.5 and 2.0 per 90, respectively. Although it would be a far cry to describe the Italian captain as a pure warrior, he fits the personality that one should have in a pair, when the other is quite the opposite.
Bonucci has averaged 15 carries of the ball per 90, while completing 42 passes into the final third of the whole tournament, whereas Chiellini has 10 carries per 90 while only completing half the passes that Bonucci had.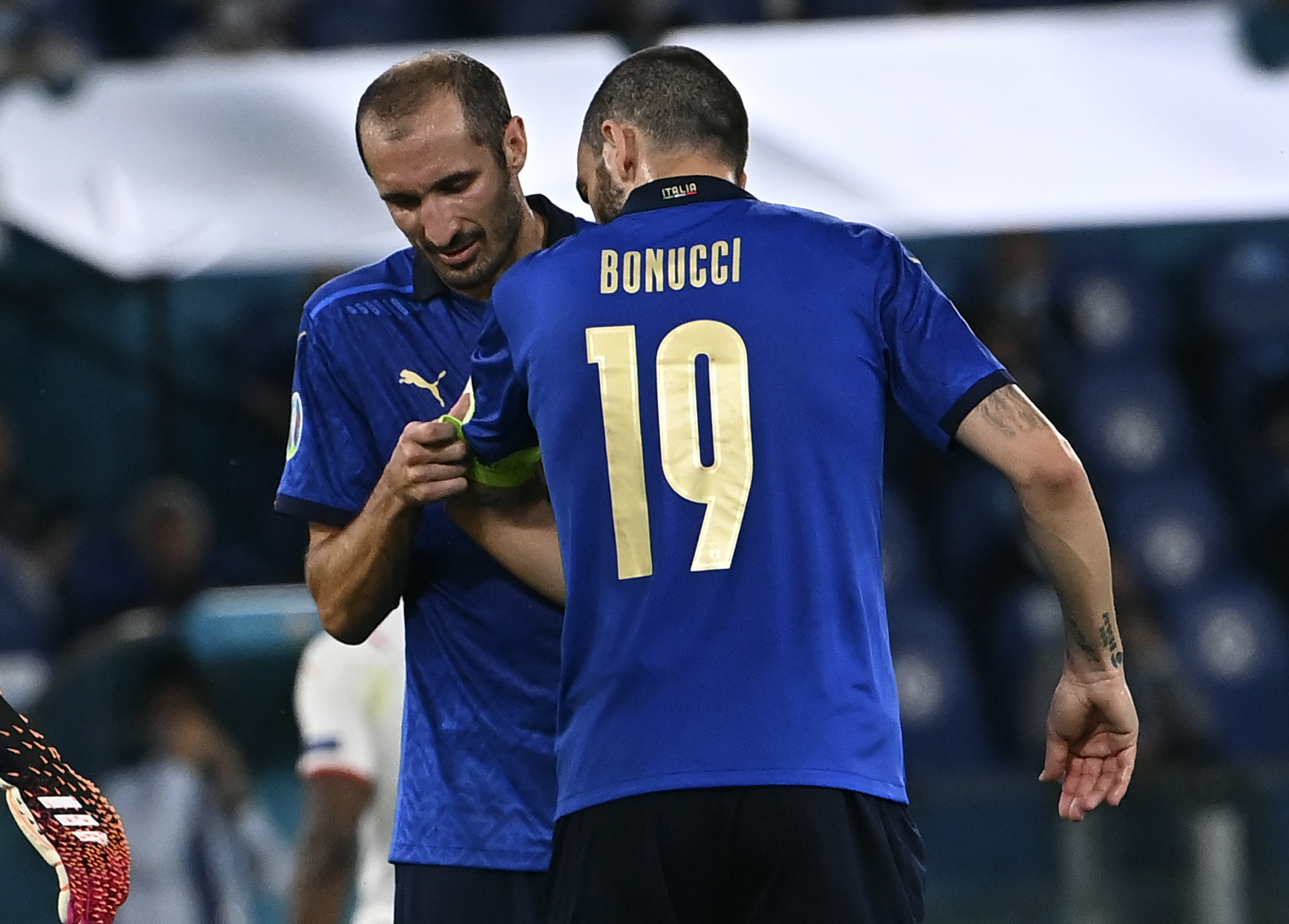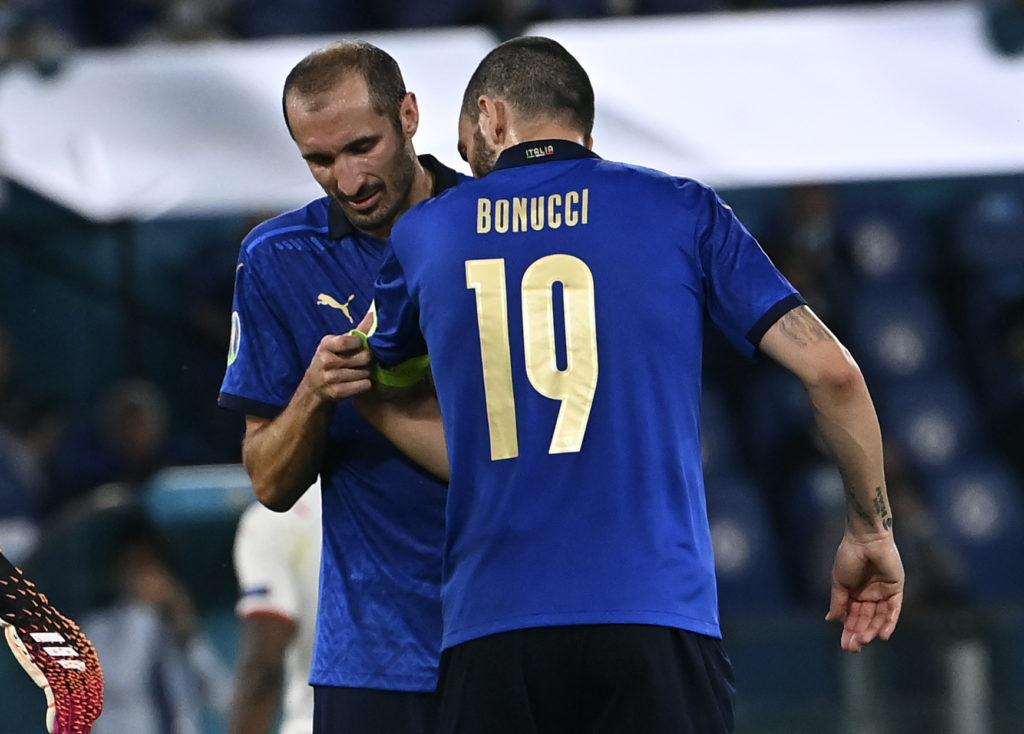 Chiellini transferring the armband to Bonucci after coming off in the game against Switzerland in Euro 2020. (Image Courtesy: Azzurri / Twitter)
But it isn't that one cannot see themselves doing the other's role when the situation arises. In the 335 games that both of them have played together, they have formed a telepathic understanding that allows each of them to swap their responsibilities.
When one goes out to block a shot, the other stays back to sweep it up or block a potential passing option, and when one carries the ball forward, the other stays behind to stop the opposition attack in case the ball is lost.
On Sunday, both of them will most likely play their last match as a pair for Italy. But they will still be celebrating each and every tackle as it was the last of their career and enjoy their work as they did for the first time a decade ago, playing for Juventus against Bari in August 2010.
"Even after a thousand battles, they still smell blood. Winning mentality, experience, character, strength. At managing moments they are two absolutely top players"

– Conte to GdS on Chiellini/Bonucci pic.twitter.com/yHThAWIoGd

— Italian Football TV (@IFTVofficial) July 9, 2021
As Bonucci said, "It is youngsters against old men" in the final against the Three Lions and many defenders in their mid-thirties would fear facing these English lot, but not these two.
Jose Mourinho once said, "Mr Bonucci and Mr Chiellini could give some Harvard University classes about how to be a central defender." They might as well win the title at Wembley and take the flight to Harvard to do that.