Real Madrid entered 2020/2021 as the defending champions of La Liga. Zinedine Zidane's men were in imperious form post restart last season and won the league as Barcelona failed to clinch the title. The title win should've motivated the Los Blancos to go on and capture one more league title. Sadly this season had other plans in store for them. Let's review  Real Madrid and walkthrough on Los Blancos' season.
🤍 This season, in a very special way, we could not forget all the support you have given us, because you are always there as a part of the team. Hala Madrid!#HalaMadrid | #RMFans pic.twitter.com/fCJMdrrIuS

— Real Madrid C.F. 🇬🇧🇺🇸 (@realmadriden) May 23, 2021
The Madrid side was hampered with injuries and covid infections throughout the season. They missed key players at key points in time. Players like Sergio Ramos, Raphael Varane, and Eden Hazard were unavailable when the squad needed them the most. As a result, they have finished trophyless for the first time after the forgettable 2009/2010 season.
This cannot be classified as a bad season as they challenged Atletico Madrid till the last matchday in the league for the title. They also had a good run to the semis in the Champions League. The next season will be interesting as Zinedine Zidane left the club and fired some shots at the board. Incoming Carlo Ancelotti who knows Madrid in and out needs to handle an aging squad and integrate the youth.
https://www.instagram.com/p/CPli4ZgqmdU/?hl=en
SEASON SUMMARY
Real Madrid were hit financially like any other club due to the pandemic. They were also renovating the Santiago Bernabeu and were playing all their games at the Alfredo di Stefano. This meant that the squad wasn't reinforced properly. No major signings were made and surprisingly many young talents were sold or sent out on loan. This left Zidane with a wafer-thin squad.
Madrid started the season with a mediocre 0-0 draw against Real Sociedad. This was followed by three straight wins that helped them top the table before the first international break. In the next game, they surprisingly lost 1-0 at home to a newly promoted Cadiz.
They gathered all their forces to visit Camp Nou for the first El-Clasico of the season. Madrid put a vintage performance as they beat Barcelona 3-1. A string of draws and losses post that game allowed Atletico Madrid to tighten their grip on the league. Madrid firmly sat second and were putting pressure from behind.
👊 We fought right until the end.#HalaMadrid pic.twitter.com/fepWmNGbBJ

— Real Madrid C.F. 🇬🇧🇺🇸 (@realmadriden) May 22, 2021
Heading into the final 10 games of the season they saw an opening as Atletico were slowing down. The Los Blancos needed to win all 10 to lift the league. The squad was tired and were depleted of their starters and drew few games which prevented them from taking charge.
They trailed Atletico marginally going into the final matchday and hope for a slip-up from the Los Rojiblancos. Diego Simeone's side held their nerve to seal the league title and deny Madrid a second consecutive title.
They were on the brink of elimination in their favourite Champions League in the group stage itself. A shocking loss to Shakhtar Donetsk and a draw against Borussia Monchengladbach dented their chances in the first two games. They recovered well to emerge as the group winners finally. Madrid beat the likes of Atalanta and Liverpool in the Champions League knockouts before succumbing to eventual champions Chelsea in the semis.
THE MOMENT THIRD-TIER ALCOYANO KNOCKED REAL MADRID OUT OF THE COPA DEL REY 😱 pic.twitter.com/7TpqN07jLB

— ESPN FC (@ESPNFC) January 20, 2021
Their domestic cup runs were disastrous as they ended on the opening day itself. A 1-2 defeat at the hands of Atheltic Bilbao ended their crack at the Super Copa de Espana. A week later they shockingly lost to Alcoyano in the Copa del Rey 2-1 after 120 minutes of crazy football. For the first time in 11 years, real Madrid finished trophyless.
La Liga- 2nd position
Champions League- Semi-finals
Copa del Rey – Round of 16
Supercopa de Espana- Semi-finals
BEST MOMENT OF THE SEASON
REAL MADRID 2-1 BARCELONA (LA LIGA)
An El-Clasico is always prestigious even if there's nothing to play for both sides. But when the title is on the line, you needn't say more. Real Madrid were in the middle of tough three fixtures and their squad was running on empty. They beat Liverpool 3-1 at home in the quarter-finals the first leg and invited Barcelona for a league meeting before flying to England mid-week for the second leg. They missed key figures like Sergio Ramos, Raphael Varane and Eden Hazard.
Their defence had makeshift right-back Lucas Vazquez and the second-string centre-backs Eder Militao and Nacho Fernandez. They went toe to toe with Barca from the first minute.
An end-to-end game was being played as Karim Benzema wonderfully backheeled a Lucas Vazquez cross to give Madrid the lead. Madrid shortly doubled the lead at the half an hour mark. Toni Kroos slotted a beautiful free-kick past, Ter Stegen. The half ended in Madrid's favour at 2-0.
VICTORY ☄️⚔️ #AlHamdulilah ❤️#HalaMadrid #ElClásico pic.twitter.com/yGWXN4TGkE

— Karim Benzema (@Benzema) April 10, 2021
Madrid were set up to see out the game in the second half and Barca's Oscar Mingueza pulled a goal back at the hour mark. Los Blancos had to be more careful to protect a one-goal lead at the rain-battered di Stefano. The usual El-Clasico theatrics were seen as Casemiro was sent off for a second rash tackle as they tried to prevent Barca from scoring. Their efforts were enough to seal a 2-1 win as the referee blew the full-time whistle.
Honourable Mentions: 3-1 home win against Liverpool(Champions League Quarters first leg); 3-1 away win against Barcelona in the El-Clasico (La Liga)
WORST MOMENT OF THE SEASON
REAL MADRID 2-2 SEVILLA
You could understand how tight was the season when a draw is being considered as the worst moment of the season. The La Liga title race had four teams in contention heading into the final four games of the campaign. All four of them were going head to head the same weekend. Atletico Madrid played out a dull 0-0 game against Barcelona. Real Madrid had the chance to go to the top of the table and seal the advantage as they welcomed co-title aspirants Sevilla.
FT: Real Madrid 2-2 Sevilla.
Eden Hazard with the all-important goal to secure a point for Real Madrid.

La Liga table:
1- Atletico – 77 pts
2- Real Madrid – 75 pts
3- Barcelona – 75 pts
4- Sevilla – 71 pts

Incredible season🔥 pic.twitter.com/22BRfWfbw6

— Lovefootball.ng (@lovefootballng) May 9, 2021
Real Madrid had so many players who came clutch when the team required them the most. That fateful evening anything of that sort wasn't happening. Sevilla started the game brightly and took a deserved lead through Fernando. They held on to that lead going into the tunnel at half-time. Marco Asensio scored the equalizer for Madrid as they had hopes of a turnaround.
Ex-Barcelona player Ivan Rakitic converted a penalty in the 80th minute to give Sevilla the lead. It looked like Madrid's title challenge was over. Eden Hazard who had so many injuries finally came off the bench and scored a lucky goal to square the game deep in the stoppage time. A 2-2 draw spared their blushes.
A win could've easily boosted their title chances as the final margin of defeat to Atletico Madrid was two points. Instead of going for all three points, Madrid were celebrating a point gained.
(dis) Honorable mentions: A 1-0 loss to Cadiz at home(La Liga); 2-1 loss to Alcoyano away (Copa del Rey)
THE SEASON MVP
KARIM BENZEMA
The French centre-forward has aged like fine wine at Madrid. After the exit of Cristiano Ronaldo, he became the focal point of Madrid's attack. He has truly taken his game to the next level as he scored goals, assisted his teammates involved in linkup play and much more.
⚪️ Karim Benzema (33 years, 129 days) becomes the oldest scorer for Real Madrid in a Champions League semi-final, taking the record from Cristiano Ronaldo (32 years, 86 days) 💪#UCL pic.twitter.com/m4eUzW52qi

— UEFA Champions League (@ChampionsLeague) April 27, 2021
Benzema has matured and became a leader of the attack as Zidane built his attack around him. He played a classic centre-forward flanked by two pacy wingers in Vinicius Jr and Marco Asensio. Benzema dropped deep at times to link up the play and create chances. He brought wingers into play and also scored tons of goals. There's a wide variety in his range of goals too. From simple tap-ins to expert backheeled goal against Barcelona and thunderous strikes from outside the box he has been unstoppable.
Benzema has 23 goals and 9 assists to his name. He finished second to Lionel Messi in the golden boot race. The fact that he has the same number of assists as Messi speaks volumes about his game. His scintillating form has earned him a callup to the French national team for the Euros as well. If not for Benzema Real Madrid could've been in a much worse place.
Honorable Mentions: Toni Kroos, Luka Modric, Thibaut Courtois
BIGGEST UNDERACHIEVER
EDEN HAZARD
The Belgian was considered to be the next Galactico as he made his £140 million move to Real Madrid from Chelsea. The winger was considered one of the best players in the Premier League and he was naturally expected to replace Cristiano Ronaldo and provide similar goal outputs. His first season in Spain was hampered by constant injuries and a fit Hazard was expected for this season at least.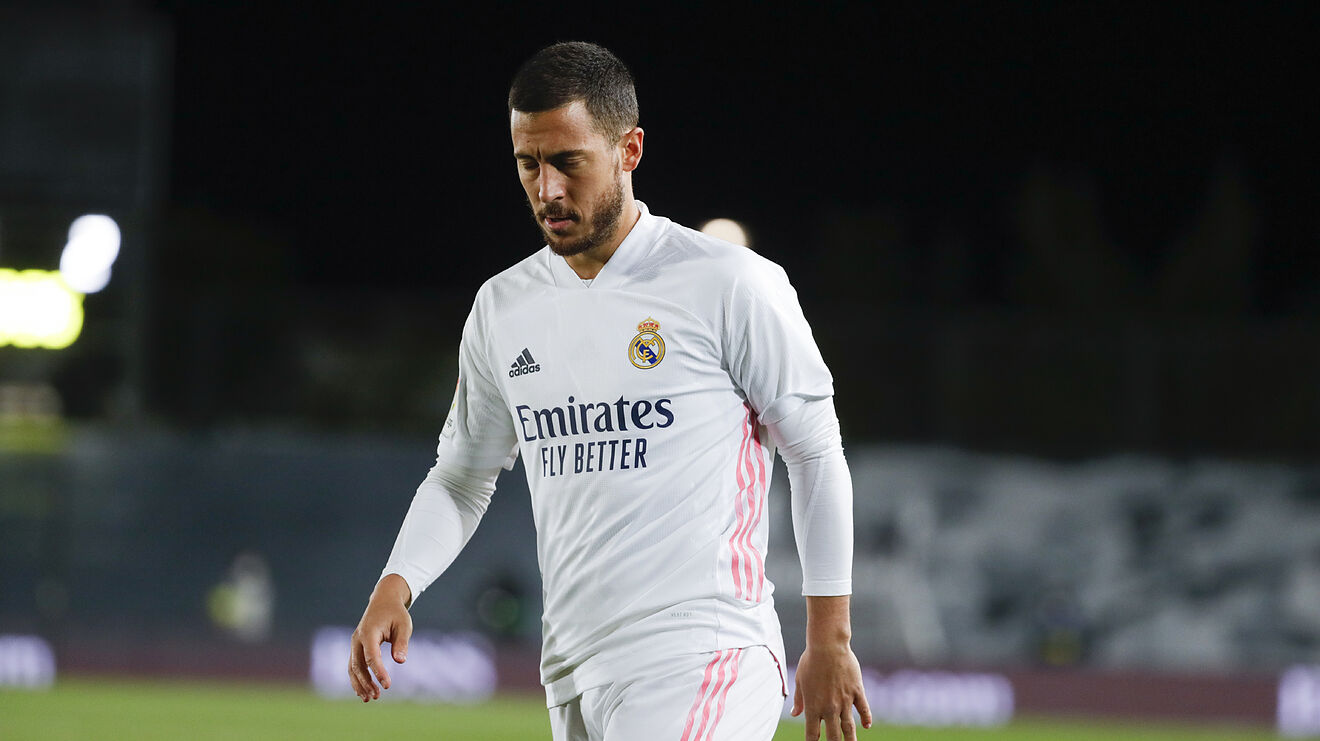 To the disappointment of Madrid fans, they never got to see the full potential of Eden Hazard this campaign too. He was suffering blow after blow as he made only 14 appearances in the league for them scoring only 2 goals and laying 2 assists. He had a recurring muscle injury and also contracted the coronavirus in November. His attitude towards real Madrid was also questioned as he was seen laughing with his ex-Chelsea teammates after they knocked out Real Madrid in the semis of the Champions League.
It is understood that the club and the fans are frustrated with the star winger and his injury problems. A dream quickly turned into a nightmare as another underperforming season ends. This summer will decide Hazard's future.
(dis)honorable Mnestion: Vinicius Jr, Raphael Varane
FINAL GRADE: B