In the 2020-21 season, Stade Rennais played in the UEFA Champions League for the very first time in their 121-year history. Their performance wasn't the best, finishing fourth in a group consisting of Chelsea, Sevilla and Krasnodar. They also slipped down the Ligue 1 table, from third to sixth, qualifying only for the Europa Conference League for the 2021-22 season.
[PROS]

Commençons la semaine par le classement de nos Rennais après 29 journées.🔥 #MondayMotivation 💪🔴⚫ pic.twitter.com/x7oGLTxVq0

— Stade Rennais F.C. (@staderennais) March 21, 2022
It was also inevitable that they lost their star man Eduardo Camavinga in the summer, it was only a matter of where he chooses to go. Given the circumstances, it was reasonable to expect Rennes to retake their usual post in the humdrum of Ligue 1's mid-table. The club from Brittany though has shown that they are ready to be counted among the big boys of France with a stellar season last year. Finishing fourth against all odds once again, with a new set of superstars, Stade Rennais are a model club for the underdogs. This summer, they have again lost a precocious talent in Mathys Tel. He became the most expensive 17-year-old in football history when Bayern Munich splashed 30 million euros ($30.6 million) for him. How do Rennais keep doing it?
The Smartest Club in France?
France may still be world champions, but the standing of Ligue 1 in Europe has fallen down in recent years. PSG's continuous failures, Lyon's inability to build on their young talent, Marseille's self-combustive tendencies and financial struggles throughout the rest of the league have seen it drop out of Europe's top 5 leagues in the UEFA coefficient system.
This makes Rennes' rise, on the back of a sustainable model, all the more impressive. They have built on a good academy system and made it better, leading to the likes of Camavinga, Ousman Dembele and Yoann Gourcouff coming through in recent years. And this is a trend that is not going to stop anytime soon.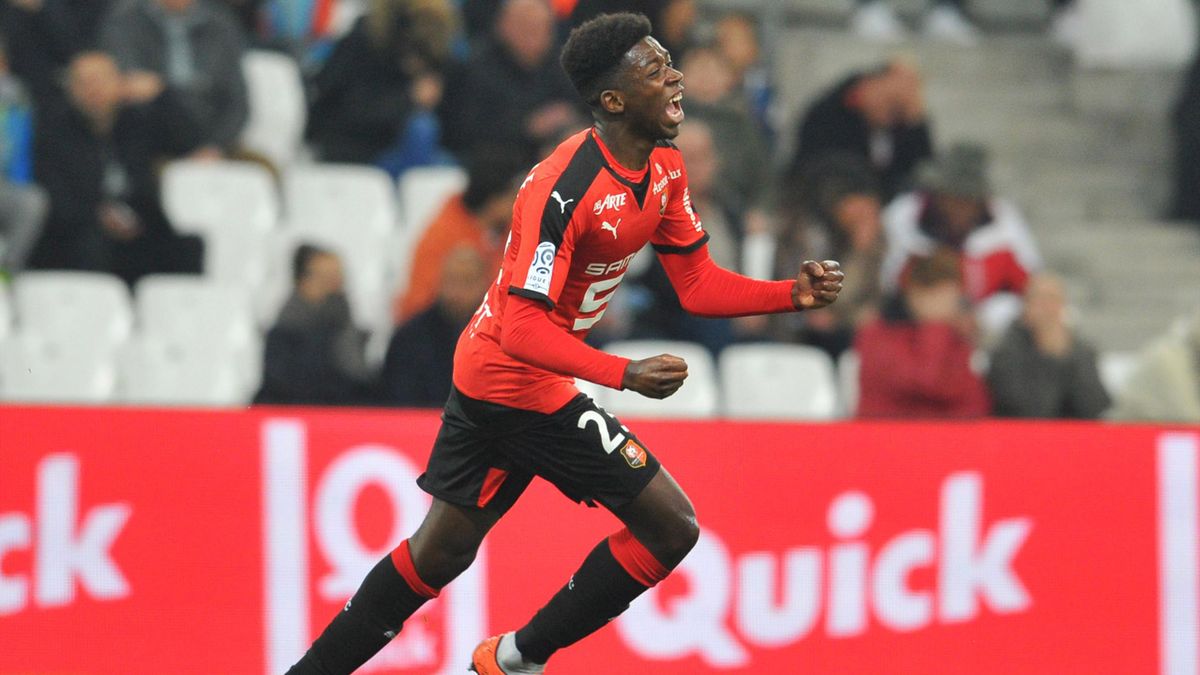 Next line of wonderkids has seen Loum Tchaouna, Lorenz Assignon and Lesley Ugochukwu (among others) get promoted to the first team and earn substantial playing time. Rennes also have plans to expand the academy and embed themselves as one of the best places to be in Europe for young players.
Hand-in-Hand
This reputation has already started to take shape in the minds of players. The money received from Camavinga's transfer was used wisely, continuing the long list of smart transfers that would make most clubs in Europe jealous. Rennes' two major signings last summer were Loic Bade and Kamaldeen Suleman.
Bade was signed from Lens – a major coup given his widely accepted status as one of the best young centre-backs in France. Sulemana, coveted by Ajax and Manchester United, came from Nordsjaelland with a reputation that preceded him already as a teenager. These two transfers followed the arrivals of Jeremy Doku & Martin Terrier in 2020-21, Raphinha & M'Baye Ninang the one before, and Ismaila Sarr & Ramy Bensebaini in preceding years. Rennes' exceptional recruitment and their policy of giving young players good minutes has made the club a hotspot for European football's youth.
Kamaldeen Sulemana has completed more take-ons than any other player aged 20 or under in Europe's top five leagues this season (53).

He's just one wonderkid you should be watching out for at AFCON. ⭐

— Squawka (@Squawka) January 9, 2022
This also naturally translates into a model of buying low, selling high (another sign of football's continuing descent towards late-stage capitalism). Sarr to Watford, Bensebaini to Monchengladbach, Raphinha to Leeds, Eduoard Mendy to Chelsea, and of course, Camavinga to Real Madrid are all deals worth upwards of 20 million Euros. This has certainly softened the blow of the pandemic on the club's finances, something others in France, including recent champions Lille, have struggled with majorly.
What changed?
The Bretons have been a consistently top-half side in this century in Ligue 1 but they have had little silverware or achievements to be proud of in that period. There has been a change in the club's modus operandi that has enabled them to not only be regular participants in Europe but also win the Coupe de France in 2018-19.
Rich Allen ascribes this more ambitious stance, in part, to the appointment of Olivier Letang. Formerly a director at PSG, Letang oversaw the appointment of Julien Stephan under whom Rennes won the Coupe de France and had their best ever Ligue 1 finish in 2019-20 in third position. Letang left the club in late 2020 following a fallout with the owners but he certainly set Stade Rennais on a better growth path. He then went on to join Lille and laid the foundations for Christophe Galtier to win the title with them.
What has powered Stade Rennais' ability to complement home-grown academy talent with young recruits from elsewhere? A big factor is Florian Maurice, as @rich_allen85 explained on the latest Scouted Football Podcast.

— Scouted Football (@scoutedftbl) March 14, 2022
Aside from Letang, there has definitely been an increase in focus on the academy. This has come from the appointment of Florian Maurice as technical director of the club. Maurice is someone who knows French football inside out, having played for PSG, Marseille and Lyon for the bulk of his career. 
French football has seen a large influx of talent in recent years, and Rennes have utilised this well thanks to Maurice. They have tie-ups with clubs all over the Brittany area and have established links with historically youth-oriented clubs like Le Havre. Rennes also work closely with the renowned Clairefontaine academy.
Stade Rennais have established themselves as one of the challengers to PSG's crown thanks to their clever operations and hard-working staff. Could they perhaps make the step up and go from best of the rest to kings of the jungle?