Everybody loves rooting for the underdog, no matter which club you support, there is always that one underrated bunch of players you follow with all your heart. For a long time, rich clubs in the top 5 leagues had a monopoly over European football. Every year we saw the same faces finishing top-4 in their respective leagues and it almost made domestic football a bit boring.
Leicester City, Premier League Champions.
Football – bloody hell! pic.twitter.com/4xbhmOXCkW

— Piers Morgan (@piersmorgan) May 7, 2016
However, everything changed when Leicester managed to win the Premier League in 2016. We saw Arsenal and Spurs, two of the biggest teams in England, not even qualify for the Europa League last season. PSG had complete dominance over Ligue 1 for more than a decade, but their domestic supremacy was broken last year as Lille managed to beat them to the top.
4 – Lille have won their fourth Ligue 1 title in their history after 1946, 1954 and 2011. Lille are the third team to win at least two Ligue 1 titles in the 21st century after Lyon and Paris (7 each). Champions. pic.twitter.com/DJo2gv59Nk

— OptaJean (@OptaJean) May 23, 2021
Football has evolved a lot over the years and recent history clearly shows that even without the resources and money of the top clubs, it is possible for smaller teams to overthrow the giants in Europe. FootTheBall brings you 5 clubs from the top-5 leagues, that can break the hegemony of the so called 'Super League' teams in Europe.
1) PREMIER LEAGUE: ASTON VILLA
Aston Villa were promoted back into the Premier League in 2019 and fast forward to 2021, they finished 11th in the league. Villa have come a long way in these past few seasons and it looks like the only way is up for the Birmingham based club.
BREAKING: Aston Villa promoted back to the Premier Leaguehttps://t.co/tuIgZTI5lx pic.twitter.com/YfTf5lAVp3

— Mirror Football (@MirrorFootball) May 27, 2019
Even with the fierce level of competition in the Premier League, Villa were in the running for a Europa League spot for the majority of their campaign. The club was taken over by new owners in 2018 and ever since then, Villa have only improved in all aspects. They hired Dean Smith at the helm which has proven to be great for the club and other than personnel changes they have also planned to improve the infrastructure of Villa Park.
Villa Park looking 𝐅𝐑𝐄𝐒𝐇 👌#AVLCRY #AVFC pic.twitter.com/iaEFzqo3ip

— Aston Villa (@AVFCOfficial) July 12, 2020
All big teams in Europe have massive stadiums which is why they have decided to increase Villa Park's capacity to 60,000, which is more than Anfield and Etihad stadium. The owners have backed the club financially and 90% of the squad we see are brought in under the reign of the new owners.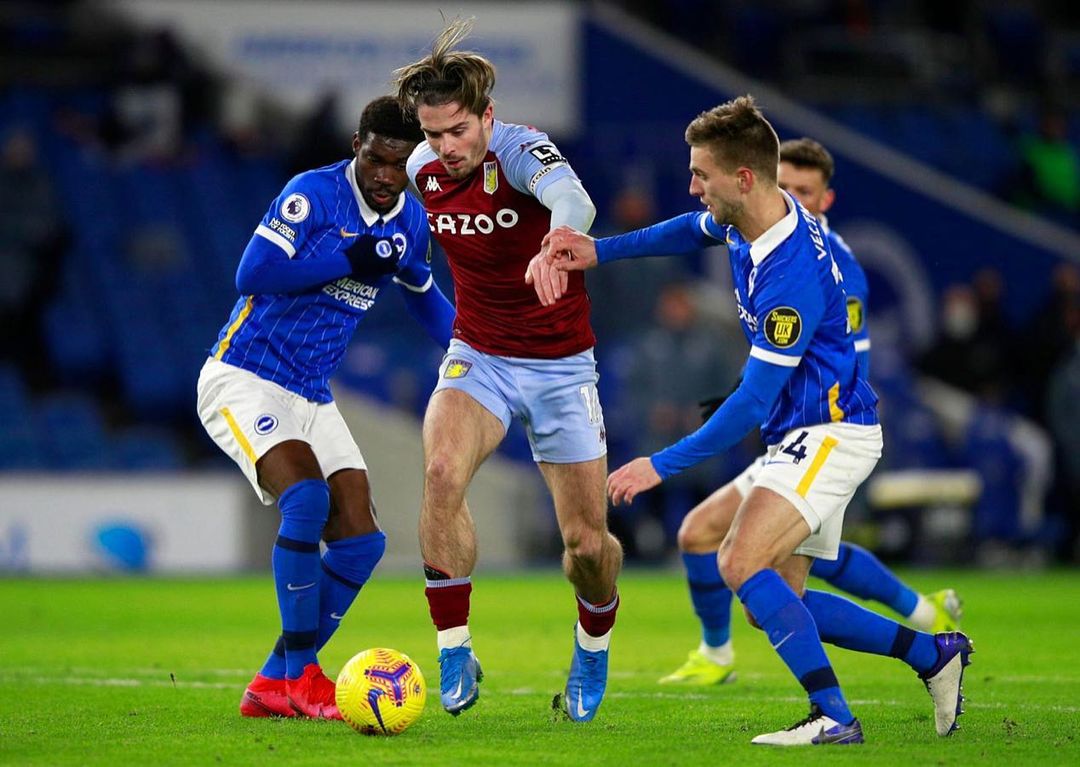 Even if Jack Grealish chooses to leave his boyhood club, Villa have found a great replacement for him in Emiliano Buendia. Aston Villa have enough financial freedom to even challenge for the Premier League title, however, we feel they have a clear shot at qualifying for the Champions League in the next 3-5 seasons.
2) LA LIGA: VILLARREAL CF
No club other than Barcelona, Real Madrid and Atletico Madrid have won the La Liga title since 2004. In the last 17 years, no club has managed to beat the dominance of the Spanish Giants. However, Villarreal are the underdogs in Spain who might break the monopoly.
UNBEATEN 💪

💛 Villarreal are the seventh side to lift either the UEFA Cup or UEFA Europa League without a single defeat in that season.#UELfinal pic.twitter.com/nyph5dCs1o

— UEFA Europa League (@EuropaLeague) May 27, 2021
Villarreal have always had a decent squad but still have never really challenged for the title in recent history. Although, the Europa League win last season has shed light on their true potential. Gerard Moreno, their main striker has been a real thorn in their side. Moreno scored 23 goals for Villareal making him the second-highest goalscorer in La Liga last season. Villareal also have a lot of young talents in their ranks who can contribute to their cause in the coming years.
According to Off The Pitch's financial reports of 2019, Villarreal is one of the best-run teams financially in all of Europe. The club is backed by Billionaire owner, Fernando Roig who is ready to back his club all the way. Villareal finished 5th in the table in their 2019/20 campaign and would have probably finished a lot higher last season if it weren't for a string of poor performances in the end. If not the title, Villareal has the capability to finish at least top-2 in the next 5 seasons and break the hearts of a lot of supporters in Spain.
3) SERIE A: S.S.LAZIO
Since Inter Milan broke Juventus's 10-year streak by winning Serie A last season, the other Italian clubs would be confident about their chances as well. Lazio especially are one of the few clubs in Italy who actually have enough potential to be champions.
Lazio have already won the competition twice, however, they haven't finished close to the title in the past 5-6 years. Lazio have a strong squad all around and more often than not they get off to a great start to their campaign every year. They were part of a fierce title race in 2020 but they bottled it when it mattered the most and ended up finishing 4th in the end.
The Rome based have everything they need to challenge for glory but always end up being inconsistent with their performances in the end. With Maurizio Sarri at the throne, things might look different for Lazio from here on. Sarri has been into coaching for 22 years now and his experience will help his players keep their nerves in check.
Since Lazio failed to qualify for the Champions League this season, they won't receive the much needed prize money ahead of the season. Lazio has been facing financial problems for the past few years, however, they have a great squad at hand. A couple of successful seasons and things will get stable for Lazio off the pitch. Lazio has the potential to even win Serie A in the next 3 years, all they need is consistency and self-belief in the camp.
4) BUNDESLIGA: VFL WOLFSBURG
VFL Wolfsburg went on a dream run in the 2008-09 season as they managed to lift the Bundesliga trophy. However, since then, Bayern Munich have completely dominated the German football scene having won the title for the past 9 seasons. Leipzig came teasingly close to overthrow Bayern's supremacy last season which proves that Bayern aren't exactly indisputable.
Generally, Wolfsburg's name never comes up while talking about the best clubs from Germany, but we believe people need to show more respect to their name. After a horrendous 2017/18 season when they barely managed to stay away from relegation, Oliver Glasner was brought in as their new manager and the rest is history.
After two successful years at #VfLWolfsburg, Coach Oliver #Glasner will be switching to @eintracht_eng

Thank you, Coach Glasner! 💪 pic.twitter.com/WEBvGGpUUv

— VfL Wolfsburg EN/US 🇬🇧 🇺🇸 (@VfLWolfsburg_EN) May 26, 2021
From the 17th place 4 years ago, Wolfsburg have now managed to qualify for the Champions League. They have an influx of fresh set of young talents in these past few seasons who have carried the club to glory. With Oliver Glasner gone, the club haven't yet found a proper replacement for their manager which might create a few problems in the next few months.
Once Wolfsburg have found a bit of stability in their camp, they have the potential to qualify for the Champions League in the next few seasons as well. This will not just bring in a lot of money to the club, but it will also establish them as one of the best clubs in Germany.
5) LIGUE 1: OGC NICE
Nice was recently taken over by Sir Jim Radcliffe, the second richest billionaire from the United Kingdom. Radcliffe is known for his smart investments in the Sports industry and props to him for seeing the potential hidden inside OGC Nice.
🔴⚫️ Welcome !

Sir Jim Ratcliffe (@INEOS) is at the @AllianzRiviera for the first time this evening and receives an excellent welcome with his brother Bob Ratcliffe, Jean-Pierre Rivère and Les Aiglons from the members of the Mèfi Club before #OGCNPSG

— OGC Nice 🇬🇧🇺🇸 (@ogcnice_eng) October 18, 2019
Radcliffe has shown the world how serious Nice is ahead of this season as he managed to get Cristophe Galtier, the manager who led Lille to the title win last season. OGC Nice also have big plans to improve their youth facilities and scouting network in their locality. They are trying to become the hub for talented youngsters from all over France.
OGC Nice have appointed Christophe Galtier as their new head coach.

Galtier, who was tentatively linked with both Tottenham and Everton, led Lille to Ligue 1 glory last season 🏆✒️#OGCNice pic.twitter.com/OgK3N9RVo7

— The Sack Race (@thesackrace) June 28, 2021
Nice finished 5th in the table back in 2020 which means they have the potential to do something special. Under Sir Radcliffe and Galtier, Nice will build stability in their camp and in a few years, they might even dominate French football, however, these things take time and we feel they would at least qualify for the Champions League once in the next 5 seasons.