Before a ball has been kicked at this summer's European Championships, there's already boiling controversy surrounding one of the favourites to win it. England, led by Gareth Southgate, are caught in the midst of a national debate on a seemingly important gesture: taking the knee.
https://twitter.com/BrokenBritainX/status/1401579125001932810?s=20
The practice, adopted at club level last year, has evoked increasingly mixed responses by the media and the supporters. All of this sheds further light on the extremely divisive and racist coverage of the team by the observers. Before we delve into the complexities of this new furore, it will serve us well to have a look at the past treatment received by players.
LONG, PAINFUL HISTORY
The English press has long been associated with being the harshest in the game. Yes, there is intense criticism in other countries too, but there are certain traits that make England the worst of the lot. Firstly, the obsession with winning a major international trophy is maniacal. Since 1966, no Three Lions team has reached even the final of a knockout competition. The scrutiny is further exacerbated by the heart-breaking losses suffered by some of the squads.
https://twitter.com/FootTheBall/status/1401881796485079041?s=20
Case in point being David Beckham's red card against Argentina in the 1998 World Cup turned one of the nation's most premier footballers into a villain within seconds. There were death threats, an effigy of him was burnt and the press ripped his life into shreds for that one mistake. This kind of reactionary reporting that the country suffers from is also due to the fact that England believe they have some God-given right to win all trophies on offer.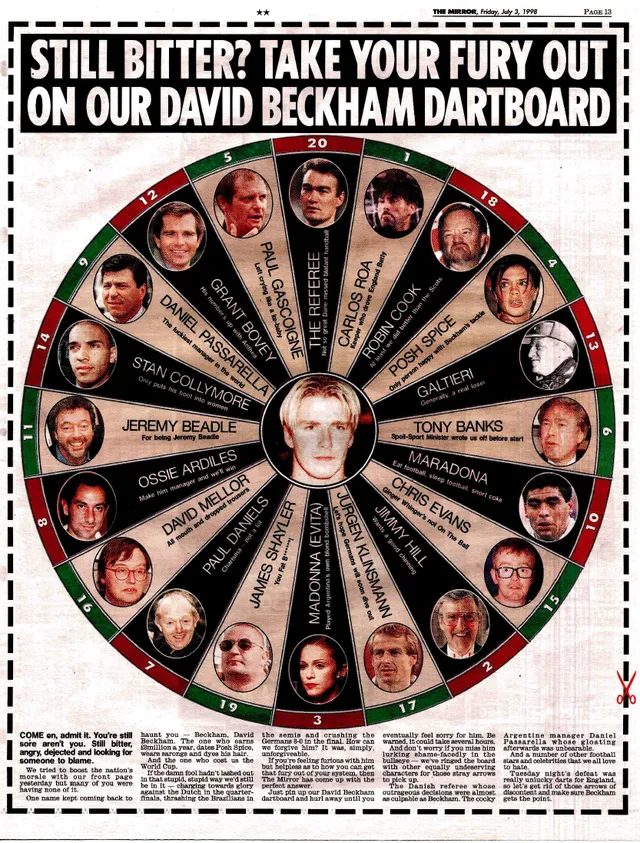 Due to the fact that they are founding fathers of the game, the attitude amongst their fans and media is always of superiority. The most famous lines heard before every major competition: "it's coming home." What is coming home? You have one trophy since your existence at the senior level, pipe it down. All of the above places an enormous burden on the players to win now and then just keep winning, as evidenced by the following graphic in light of them reaching the World Cup semi-final in 2018.
It's coming home… pic.twitter.com/Qxg8g0HvLe

— British Airways (@British_Airways) July 7, 2018
No other country is expected to win all the accolades on offer one after the other. That kind of pressure really turns the microscope on individual players and the littlest of slip-ups can prove damaging. Case in point: the Mason Greenwood debacle in 2020. The teenager was just called up to the national camp for the first time when a video of him emerged inhaling laughing gas. The English press immediately went to town with it.
🗣 Mason Greenwood has released a statement on pictures of him inhaling laughing gas:

"I have now been made aware of the health risks associated with this practice and accept that even trying it, as shown in these historical pictures, was poor judgement on my part." pic.twitter.com/rlltPDJK0J

— Oddschanger (@Oddschanger) September 13, 2020
Greenwood was sent back home, there were reports of him wasting his potential and even his club were said "to be concerned" by his behaviour. None of the reporting took into account the fact that the tragic death of a close friend had seriously affected his mental well-being which is why he was struggling to keep his head in the game. Here comes another of the classic traits of the media.
MORE THAN WORDS
The level of scrutiny heaped on the English players, both at club and international levels, has multitudes of racist overtones associated with it. That is just a fact. Their performances are torn apart to be studied in the most minute of detail. No group suffers more from this than the players of colour. With the advent of social media, the amount of hate that can be espoused by people is at its peak.
The Premier League is making it clear that there is #NoRoomForRacism as we continue to work with all our clubs, fans, the @FA, @EFL, @PFA, @kickitout and the police to tackle discrimination across all areas of football

Find out more: https://t.co/hkQigsq9UA pic.twitter.com/aYbKFqyt4h

— Premier League (@premierleague) October 18, 2019
After every match, there are incidents of racist messages and hateful comments directed at these players. Raheem Sterling, Marcus Rashford, Reece James, Tyrone Mings, Aaron Wan-Bissaka, Trent Alexander-Arnold, all of whom are established stars, have all had to bear the brunt of it. Even Bukayo Saka, the Arsenal teen sensation who recently scored on his Three Lions debut, was termed a "dirty player" by The Sun for doing construction work in his home.
'Something needs to change': Chelsea defender Reece James is the latest footballer to reveal vile abuse received on social media as pressure mounts on Instagram and Twitter to introduce serious measures to tackle racism. pic.twitter.com/VicGGzwvHk

— Frank Khalid (@FrankKhalidUK) January 30, 2021
Raheem Sterling has been a favourite target over the years, with the player being called a "rat" and "footie idiot" which intended to debase the player for his youth troubles. He was even chided for his gun tattoo by The Sun, done as a symbol of remembrance for his late father, who stated that he should be dropped from the 2018 World Cup squad.
His national colleague Marcus Rashford, who was universally praised for single-handedly spearheading a campaign to give food to the nation's most at-risk children during the lockdown, faced calls to leave all of that and focus on his football more.
Marcus Rashford's message to anyone who believes he should "stick to football" and stop campaigning to end child food poverty 👏 pic.twitter.com/qigaCElmo1

— ESPN FC (@ESPNFC) May 25, 2021
This is the kind of coverage that has become a staple nowadays. The good deeds or accomplishments are very much overlooked for the easy chances of attacking and dehumanizing. None of which can be helpful to the mental health of the players, who are having to fight every day in order to put up their best show. Whenever a progressive change is proposed, there are corners of the country to oppose it. Which brings us to the latest issue at hand.
BOOS SET TO CONTINUE
The gesture of taking the knee has its root in the English game's support for the Black Lives Matter movement. The players are in solidarity that racism of any kind will not be tolerated. That has not gone down great with certain sections of the supporters in the nation.
Gareth Southgate is out of touch with England fans.

They have a right to boo when players take the knee for Marxist BLM.

Let's keep politics out of football this summer. pic.twitter.com/7kISwKITKe

— Nigel Farage (@Nigel_Farage) June 6, 2021
During both of their two friendlies, there were loud boos and jeers from the fans inside the stadium when the team was taking the knee. Though it was mixed with loud cheers and support as well, many on social media have called for an end to this "misguided" and "political" gesture. To his credit, Gareth Southgate has reiterated the stance of the Three Lions that they will continue to do the practice throughout the tournament.
Ahead of today's game, our players will once again take the knee as a show of solidarity with the Black community, including members of our squad who themselves continue to suffer abuse on a regular basis.

Please support them, just as we know you will once the game begins. pic.twitter.com/muTvAFeCix

— England (@England) June 6, 2021
Southgate has been praised for his effective handling of the press during his term in charge. He lashed out at misconceived reports which had stated that Trent Alexander-Arnold was to be left out of the Euros squad after being in the bad books of the manager. This was yet another example of the bias faced by certain members of the team. Southgate himself has faced immense backlash for his tactics and choice of personnel. This despite the fact that he has been England's most successful manager this millennium, taking to team to greater heights every year.
WHAT TO DO?
The way forward is really…there is no clear one way. British media did a self-imposed social media blackout for four days in solidarity with English clubs. That proved futile immediately as the above-mentioned Bukayo Saka story broke the day after the blackout ended. There have been specific clubs-based calls for stopping this incessant hate and bigotry. Even tech companies have come to the fore with additional security for players from abuse.
We stand against racism in all its forms. We stand in solidarity with the Black community.

Real change comes through action. Here are some resources from Black creators and Black-led orgs on how we can all fight for racial justice.https://t.co/YMvV7jm0N1 pic.twitter.com/citegWoW65

— Instagram (@instagram) June 6, 2020
However, the basic fact of the matter remains that it is the change in mindset that is most needed. The reporting cannot be of such a negative bias to certain players and the manager. That is easier said than done, when you are questioned at every turn. England's performance at the Euros will be watched most keenly, and if they fail to return as champions…we know the drill once more.