On the 7th of April,Ivan Toney was the victim of racial abuse on Instagram,on the same day after Liverpool's defeat to Real Madrid Trent Alexander-Arnold and Naby Keita, were also subject to racist abuse on Instagram.
We are appalled to see yet more spineless, racist abuse directed at Ivan Toney on Instagram this evening

This has to stop. Now

We stand with Ivan, and all those who continue to suffer abuse online pic.twitter.com/lu3I91ZriP

— Brentford FC (@BrentfordFC) April 6, 2021
This has made them part of a long list of football players that have faced abuse on social media, which has become relentless in recent times.
https://twitter.com/AnfieldWatch/status/1379692100581781504
The list has grown exponentially in the last couple of years making this a major cause of concern for anyone associated with football.
After Manchester United was knocked out by Leicester in the FA cup, Fred received vicious abuse on social media for his error that led to Leicester's opener.
On the 6th of February West Ham faced their London rivals Fulham in a Premier League match. The match was uneventful except the sending off Tomas Soucek in the 97th minute right before the final whistle. He was shown that red card by one of the most experienced referees in the Premier League, Mike Dean.
Mike Dean has asked not to officiate a Premier League game this weekend after receiving online abuse and death threats after handing out two controversial red cards.

— Sky Sports (@SkySports) February 8, 2021
Although Soucek's match ban was appealed and overturned, Mike Dean was not let off the hook as he and his family received brutal abuse and death threats on social media. This led the official to ask for time off for the next round of fixtures.
SOCIAL MEDIA ABUSE FACED BY FOOTBALL PLAYERS
In recent times even referees are not the only ones that are subjected to abuse and hate on social media. Only a week prior to the West Ham- Fulham game, Axel Tuanzebe and Martial endured racial abuses from a set of fans on social media after a game with Sheffield United.
UNITED against racism. We will not tolerate it 🔴⚫️ pic.twitter.com/lR8Qcnxq4N

— Harry Maguire (@HarryMaguire93) January 28, 2021
This is just one of many examples of the hateful and abusive culture that has always plagued the beautiful game of football. This culture of hate and abuse has evolved over time and is becoming more and more apparent due to the rise of social media.
Since the start of 2021, Alex Jankewitz after Southampton's 9-0 loss to United, suffered racial abuse on social media. Following that Marcus Rashford,Axel Tuanzebe,Martial and Wan Bisaka have become victims of abuse on social media.
This culture of hate and abuse does not only exist in the English football, Jude Bellingham received ferocious abuse after the 2-2 draw with Cologne. The 17 year old starlet took a screenshot of the abuse which consisted of monkey faces and faeces emojis, as well as a derogatory message about his mother.
Borussia Dortmund midfielder Jude Bellingham was subjected to racist abuse online after his team's draw at Cologne on Saturday.

"Just another day on social media," he said pic.twitter.com/83xRmonn5J

— The Terrace (@TFTerrace) March 20, 2021
THE MAJOR CAUSE
Such incidents have unfortunately become part of the norm. Specially in a time where fans have been robbed of an opportunity to hurl slurs and abuse at players in packed stadiums where the hate disappears in the white noise. Social media as a platform has become an escape for them.
Liverpool will be lifting their first league title in 30 years in front of an Empty Stadium.

Classic. Absolutely classic 😂😂 pic.twitter.com/jyroKB0Fie

— WelBeast (@WelBeast) March 12, 2020
Since it offers such a wide spectrum of influence and gives everyone an equal platform to make sure their opinions are heard, fans have turned to social media to showcase their hate.
On platforms such as twitter and Facebook specially it is supremely hard to identify the offender too. Social media has started becoming a breeding grounds for 'trolls' who are ready to stoop to any level to get a response. This has left football players open to all the abuse that is hurled at them.
Southampton have confirmed that Alex Jankewitz received racist abuse on social media after getting sent off against Manchester United last night.

Would love to say I'm surprised but it's a daily occurrence online these days. 😤

Please do something about it, @Twitter @instagram pic.twitter.com/Fe3BwP8aq9

— Football Tweet ⚽ (@Football__Tweet) February 3, 2021
The anonymity of these 'trolls' aside, even executives of social media platforms refuse to take accountability for the actions of its users, giving them a free pass to do whatever they want!
People might not realize now but this could also have some serious ramifications on how we consume football content, because surely some restrictions need to be put in place.
THE WAY OUT
After Swansea players that decided to boycott social media platforms recently after Yan Dhandha, Jamal Lowe and Cabango face abuse on Instagram, the sheer volume of hate and abuse players,managers and referees alike have to deal with this in today's modern game is scary.
Steve Cooper outlines the reasons behind our club-wide boycott of social media.

Over to you, social media companies… pic.twitter.com/frQ8gpvEhR

— Swansea City AFC (@SwansOfficial) April 8, 2021
Thierry Henry also quit social media on the 26th of March 2021, stating that "The sheer volume of racism, bullying and resulting mental torture to individuals is too toxic to ignore. There HAS to be some accountability. It is far too easy to create an account, use it to bully and harass without any consequence and still remain anonymous. Until this changes, I will be disabling my accounts across all social platforms. I'm hoping this happens soon."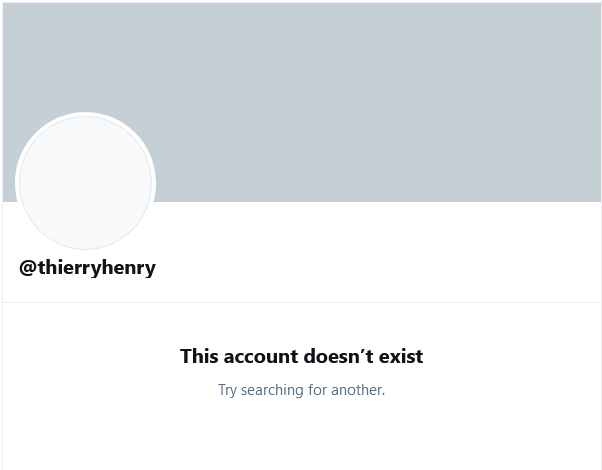 In a time where the modern game demands excellent fortitude and concentration , these hateful actions can be very disruptive for a football player's performance. This can further perpetuate the toxic nature of the abuse received on social media.
Boycotting has become the only way out as players desperately look to avoid abuse.The other apparent solution is if Facebook,Twitter, Instagram start blocking accounts and take action to negate the influence of these 'trolls'.
But then the question beckons how many football players would boycott social media for the big software companies to take action?
We surely hope that someone intervenes immediately before it becomes fatal or causes some serious damage to someone who is put under spotlight constantly such as football players.