One of the greatest stories from the 2020-21 season happened in Portugal. Sporting Lisbon won their first league title in 19 years. Moreover, they suffered only one loss throughout the entire campaign. Behind that stellar showing was the hand of a former Benfica player. Ruben Amorim was hired in early 2020 after Sporting played a record fee to Braga.
Rúben Amorim in his first 100 games for Sporting:

-73 wins
-15 draws
-12 defeats
-177 goals scored
-71 goals conceded
-One 19-year title drought ended pic.twitter.com/0cVdNPFzhJ

— Zach Lowy (@ZachLowy) April 9, 2022
He has been an instant hit with Sporting, winning the Taca de Portugal along with the league. In 2021-22, Sporting finished second behind Porto but won the domestic cup again. Now he is again in the news after his exuberant Sporting side blew away Conte's Tottenham in the UCL. He has worked amazingly well at both his managerial jobs and could soon be eyed by bigger clubs. Wolves have been linked recently due to their Portuguese connection.
FootTheBall analyses what Amorim has done so well till now to position himself as one of the best upcoming managers.
Ruben Amorim tactics- A chameleon
Ruben Amorim has always been a football savant. Back in his playing days, he was an extremely efficient ballplayer. As a manager, Amorim has always been the person who sees the game better than his counterparts. Sporting are a usual team with unusual styles of play. Amorim sets his team up in a 3-4-3 which turns into a 5-2-3 when defending. The team looks to defend the spaces on the pitch rather than marking each opponent player.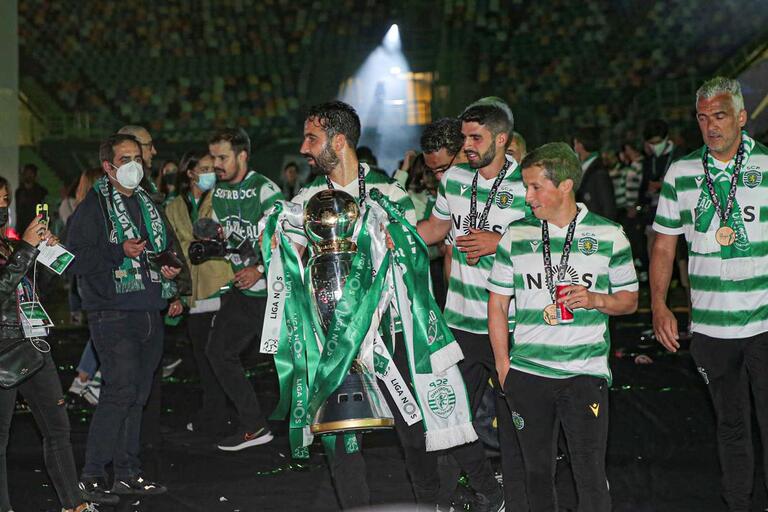 That helps them keep a very congested pressing sequence in the centre of the pitch. Therefore, the opposing team is forced to play out riskier passes to the flanks. This is where the Sporting players are extremely adept in winning the ball back. The formation helps in holding a high line against opponents running in behind too.
Sporting love to dominate the ball, keeping around 60% possession in most matches. Amorim makes great use of his wingbacks which has enabled Sporting to attempt the second-most crosses over the past two years.
𝙏𝙝𝙚. 𝙈𝙖𝙣. 👏

Rúben Amorim vence o prémio Vítor Oliveira de 𝐓𝐫𝐞𝐢𝐧𝐚𝐝𝐨𝐫 𝐝𝐨 𝐀𝐧𝐨 da Liga 🏆 #EUSOUCAMPEÃO pic.twitter.com/xFM07ESun0

— Sporting Clube de Portugal (@Sporting_CP) July 8, 2021
Moreover, when they have the ball, Sporting's front three press high up the pitch. Amorim utilizes them in a narrow shape which allows the wingbacks to charge up and support attacks. They keep a lot of space in between the forward five and the defensive line.
However, given the rise of 3-4-3 across the world, Sporting's secrets have been found out at times. To counter that, Amorim has had to rely on the brilliance of individual players and that is where the supremely balanced squad comes in handy.
A mixed bunch
Sporting have been blessed to have a great pool of players who complement each other well. Pedro Porro has distinguished himself as one of the most exciting up-and-coming right-wingbacks. He has had 6.36 progressive carries per 90 alongside 4.84 progressive passes. On the other side was Nuno Mendes, whose performances earned him a move to PSG.
72 – Sporting CP's Pedro Porro has been directly involved in 72 shots, at least 21 more than any other defender in the Primeira Liga 2020/21 – Porro has created 33 goalscoring chances and has made 39 shots. Weapon. pic.twitter.com/kNpQh9kUNm

— OptaJoao (@OptaJoao) March 30, 2021
In the middle of the park, Pedro Goncalves has proved to be an amazing replacement for Bruno Fernandes. He scored 23 goals and laid on four assists in 32 appearances in the 2020-21 season. He hasn't been able to replicate those numbers since but his role has changed too in an ever-evolving Sporting side.
Joao Palhinha truly established himself on the big scene and his performances took him to the Premier League riches with Fulham.
How Nuno Mendes is ready for the next step sooner than ever
🟢⚪️ Pedro Gonçalves (23) for Sporting CP since the start of the 2020/21 season:

✅ 67 Games
⚽️ 37 Goals
🅰️ 16 Assists

🇵🇹 The Portuguese international has thrived under Ruben Amorim and is now one of the best attackers outside of Europe's top 5 leagues! pic.twitter.com/VtpATglImd

— Soccer Manager Games | Download SM23 Now! (@SoccerManager) April 12, 2022
The most notable fact about all of this is all these players were already present at Sporting. Amorin only brought in Antonio Adan who immediately became the first-choice goalkeeper. However, the most accomplished fact about Sporting nowadays is their watertight defense. Former Liverpool reject Sebastian Coates found a new lease of life under Amorim. Beside him has been arguably the best young defender in world football- Goncalo Inacio. The left-footed ball-playing defender has unlocked new levels to his game and could soon be the target of European elites.
☑ RESUMO
Liga Portugal bwin (#29) | Tondela 1-3 Sporting#LigaPortugalbwin #CDTSCP https://t.co/d4ZfawEoAc pic.twitter.com/aNgr2u9oSW

— VSPORTS (@vsports_pt) April 9, 2022
Moreover, Adan in his debut season kept 19 clean sheets and Sporting won 22 of their matches by scoring twice or less. The combination of all these players and their improved playing has helped the club achieve glory.
Ruben Amorim future
Ruben Amorim and Sporting have reaped major rewards from this marriage. Amorim's excellent man-management and ability to improve the level of each player is imperious.  However, the beginning of the 2022-23 season has been less than impressive.
While Sporting sit atop their UCL group after a famous win against Spurs, things aren't as rosy back home. Amorim's side are 7th after 6 games, already 8 points behind league leaders Benfica. Furthermore, his old side Braga are 2nd.
Sporting will still be reluctant to let him go because he has done wonders for the club in his time there and replacing him will be a huge task.
The future of @Sporting_CP is here!

Both 🇵🇹 Joelson Fernandes (17) and 🇵🇹 Tiago Tomás (18) made their debuts v. Gil Vicente! ✨

Rubin Amorim adds them to a growing list of impressive prospects he's giving the chance to shine. 😍 pic.twitter.com/1NpbjeBsOY

— Football Wonderkids (@fbwonderkids) July 1, 2020
That is unlikely to deter foreign clubs from pursuing the 37-year-old. Everton are in dire straits under Frank Lampard, an appointment that has not worked out so far. The Toffees can certainly use someone of Amorim's calibre in an attempt to rejuvenate their demotivated squad.
Anthony Gordon can become the next Pedro Goncalves while the defenders need lifting.
🏆 Campeonato Nacional
🏆🏆 Taças da Liga
🏆 Supertaça

1⃣0⃣0⃣ jogos de Leão ao peito do nosso 𝙢𝙞́𝙨𝙩𝙚𝙧 e não fica por aqui! 🦁 #OndeVaiUmVãoTodos pic.twitter.com/4FdiMe2EVW

— Sporting Clube de Portugal (@Sporting_CP) April 10, 2022
Bayer Leverkusen could also look at Amorim. They came into the season being touted as the closest challengers to Bayern for the title. They've been flirting with relegation zone. Gerard Seoane is regarded as one the best young managers in world football but the situation could quickly become untenable.
Therefore, Amorim will not be short of options once he decides to leave. Sporting will have a hard time but the world of football revolves like this. No matter where he ends up, Amorim is guaranteed to be one of the lead faces of the next generation of managerial geniuses.
*This article is sponsored by Xebia, a pioneering Software Engineering and IT consultancy company, started in Netherlands. Xebia in Netherlands proudly supports the Dutch national football team.