In football, it is the players who command the adoration of the fans followed by the clubs. The managers who manage the teams are often thought of as being deep into their craft with the main aim of winning games. For quite some time now, there has been a steady rise of young managers who are quickly making a name for themselves. While some are already in charge of heavyweight clubs, others are destined for the top in the near future. FootTheBall looks at 10 best young football managers that the world should pay close attention to in the coming months and years. 
Julian Nagelsmann
There is no other place to start than with the current Bayern Munich boss. Though he only took over the Bavarians last year, Nagelsmann is one of the most popular coaches in Germany and Europe. Having had his career ended at the tender age of 20, Nagelsmann dived right into the world of management by being a scout for Thomas Tuchel at Augsburg.
Julian Nagelsmann is the most successful head coach in Hoffenheim's Bundesliga history:

🧢 Games in charge: 116
✅ Wins: 51
⏹️ Draws: 38
❌ Losses: 27

He makes his first return to Sinsheim today 👋#TSGRBL pic.twitter.com/JXxZmH7APc

— Bundesliga English (@Bundesliga_EN) June 12, 2020
He joined 1899 Hoffenheim's youth setup in 2010 and won the U19 Bundesliga title in 2013-14. Nagelsmann was appointed manager of the senior team in October 2015 at 28 years old, the youngest ever to do so in the league's history. His time with Hoffenheim was a grand success as he led them into the Champions League in his second season for the first time ever.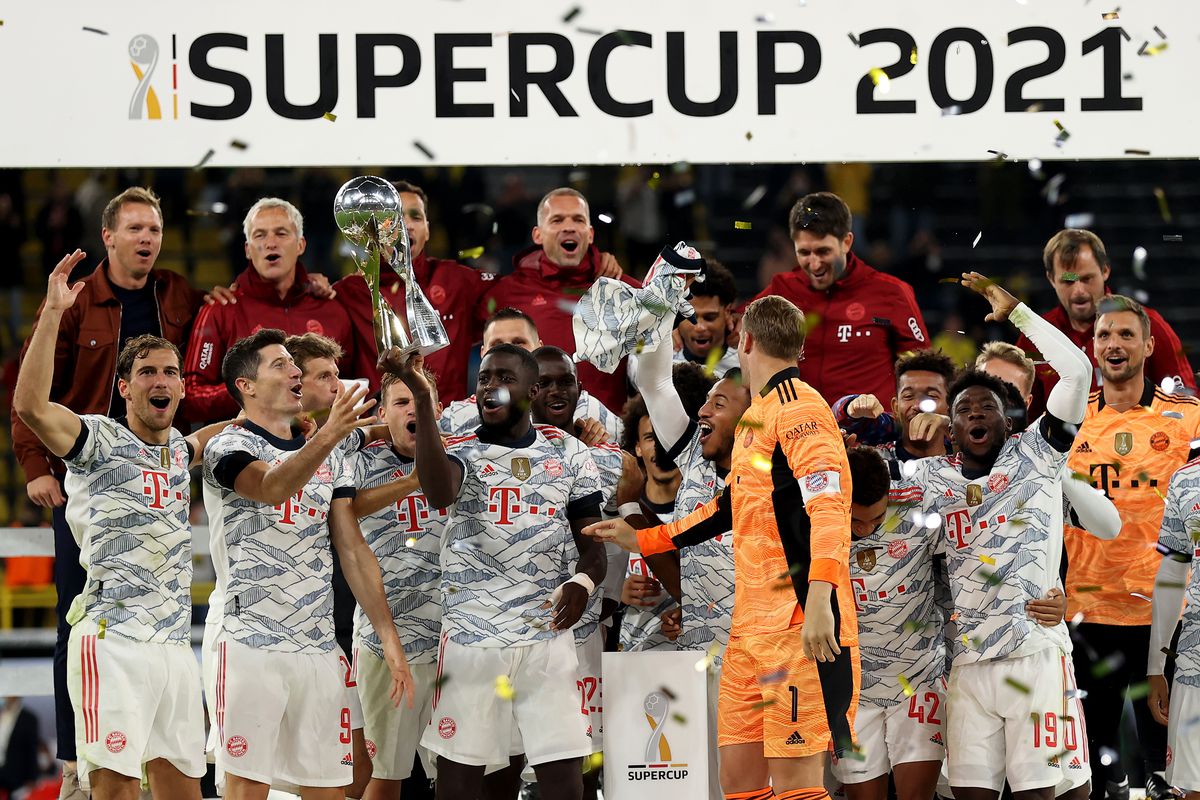 Nagelsmann joined RB Leipzig in 2019 and continued the Red Bull revolution with fast-paced, high-octane gegenpressing football as the team usurped Borussia Dortmund as the country's second-best team. Though he lost the DFB-Pokal final last year, Nagelsmann has already tasted silverware success by lifting the German Supercup and the league title last year. The holy grail of Champions League awaits.  
Graham Potter
Graham Potter is no longer an "up and coming" name in world football. However, he once was, when he was managing Ostersund in the lower divisions of Swedish football. That is precisely why Graham Potter is one of the best young managers in world football. 
Also read: 10 Graham Potter facts you don't know
Graham Potter's tactics worked miracles at Brighton after a short stint at Swansea and those miracles are why he has been appointed the Chelsea boss. Now at the top of world football, the scrutiny is different, and it would be interesting to see how Potter handles the limelight and managing world-class superstars. 
Julien Stephan
Another manager with a short playing career. Stephan retired in 2008, aged just 28 and having completed his coaching credentials soon after, he joined the academy team of Rennes in 2015. He would stay for three years, winning 43 of his 97 official matches before making the jump to the senior team in December 2018. Rennes made it to the last 16 of the Europa League but their most crowning moment came in the Coupe de France. Stephan's side defeated powerhouse PSG in the final to win their first trophy in 48 years.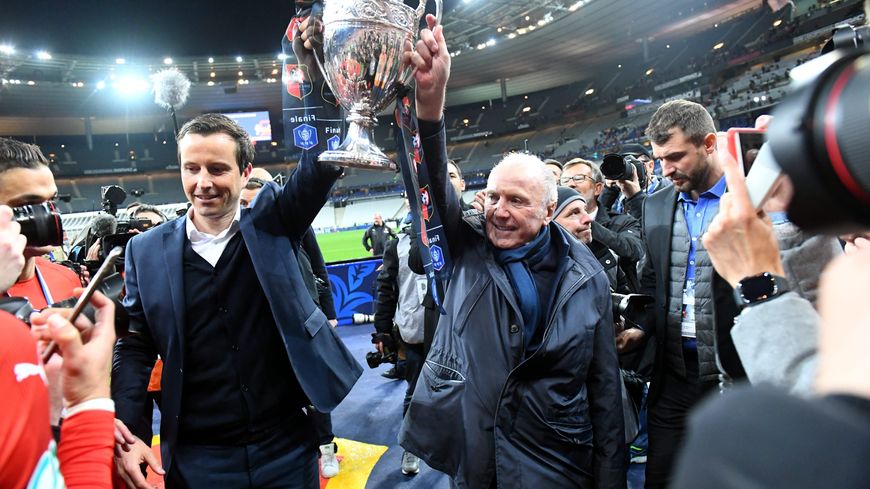 The Frenchman would build on the good work by finishing third in the pandemic-curtailed 2019-20 season, thereby qualifying for the Champions League for the first time. However, he would be sacked in March 2021 and immediately joined rivals Strasbourg. Stephan has continued his good work at his new team. Strasbourg finished 6th in the 2021-22 season, their first under Stephan, after finishing 15th the season before. A European adventure with Strasbourg would be his greatest achievement till date.
Ruben Amorim
Fans of the game FIFA will be able to recognize Amorim's name from its editions of the last decade. The longtime Benfica midfielder only hung up his boots in 2017 and started his studies to earn his coaching license with the Lisbon Football Federation. Amorim joined third-tier side Casa Pia for the 2018-19 season but resigned in January after having found to have given instructions during a match despite not having the required clearance. Amorim joined Braga in December 2019 after a short stint with the reserves.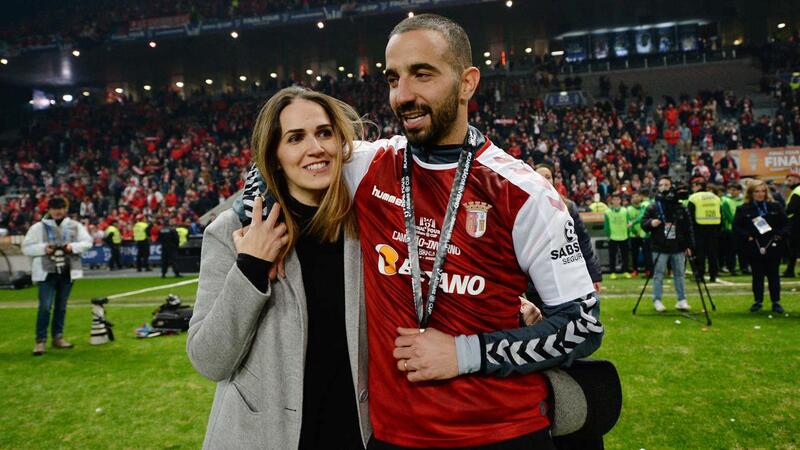 The 13 matches he would stay for would be enough to cement his place as one of the best upcoming managers in Europe. Braga won the Taca da Liga, the English equivalent of the League Cup, by defeating Porto 1-0. He would remain undefeated in the league with 10 wins and a draw with Sporting Lisbon activating his €10m release clause in March 2020. In his first full season with Sporting, Ruben Amorim's tactics won the club their first league title in 19 years while suffering only one defeat along with lifting the Taca da Liga again.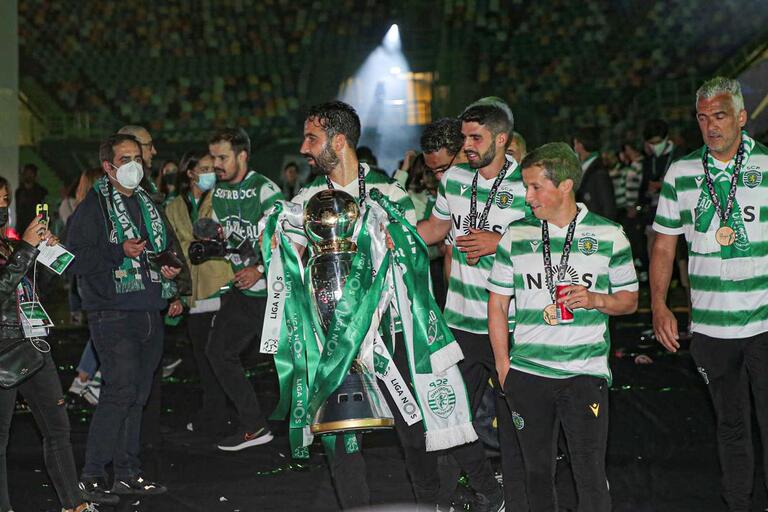 For his exploits, Amorim was awarded the Primeira Liga Manager of the Year and he has continued in the same vein recently. Although Sporting couldn't retain the title, his ability to keep the team competing with Porto and Benfica despite losing key players every summer has him squarely in the eyes of European elites. A move could soon be on the horizon.
Marcelo Gallardo
The Argentine manager is one of the few names on the list who have had an extremely successful playing career. Gallardo won five league championships and the 1996 Copa Libertadores with River Plate, the Ligue 1 title and Coupe de la Ligue with Monaco, another French cup with PSG and the Uruguayan league title with Nacional towards the end of his career.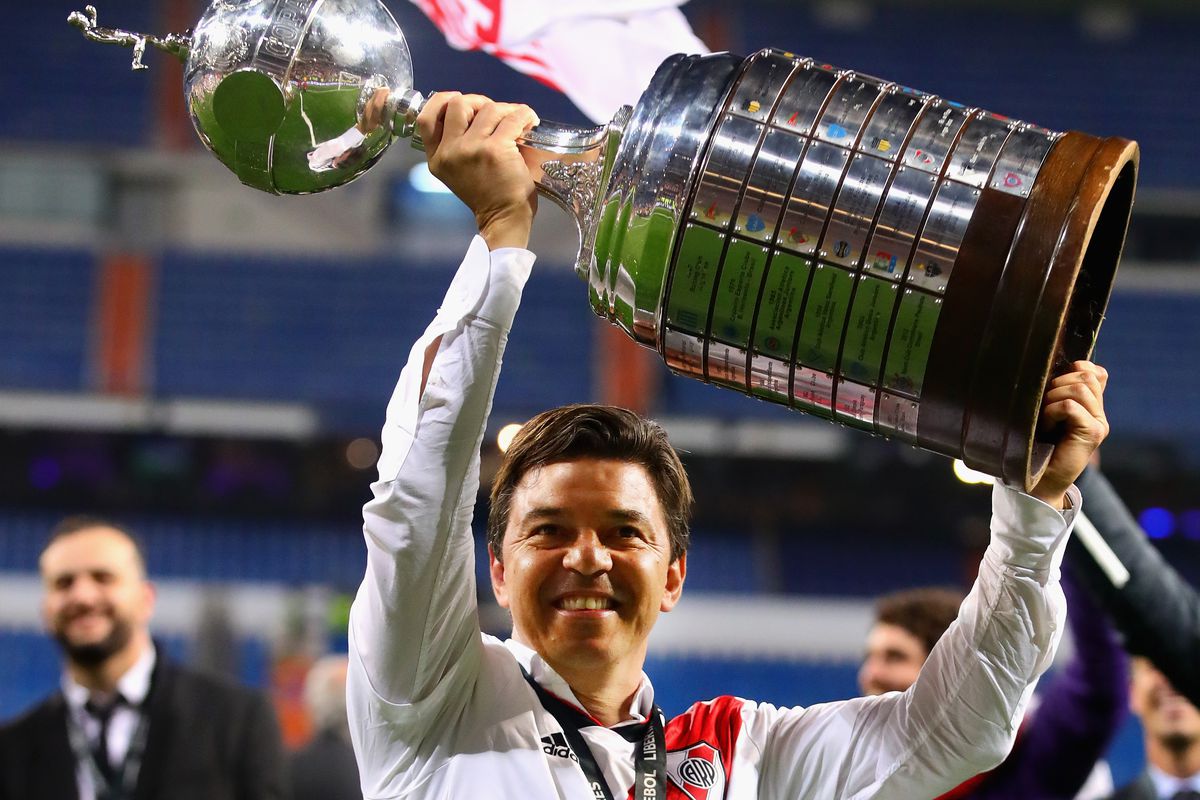 Gallardo was noted for his supreme passing, vision and intelligent footballing mind as he was appointed manager of Nacional for the 2011-12 season. He defended the league title successfully before joining River Plate in 2014 where he still remains to this day. In the eight years he has been there, River Plate have become one of the premier teams in Argentina and South America.
👌 Here's Marcelo Gallardo's trophy cabinet; the man who has changed the history of @CARPoficial!

🏆🏆 #CONMEBOLLibertadores
🏆🏆#CONMEBOLRecopaSudamericana
🏆#CONMEBOLSudamericana
🏆 Suruga Bank

🏆🏆🏆🏆🏆🏆 He's won 6 of River's 11 continental trophies! pic.twitter.com/ZR5s5UszzN

— CONMEBOL Libertadores (@TheLibertadores) December 9, 2018
Still only 45 years old, Gallardo has already won the Copa Sudamericana (once), Copa Libertadores (twice), Recopa Sudamericana (thrice), Copa Argentina (thrice), and Argentine Primera Division (once) among many other accolades as he is already the most successful manager in the club's history. His prospective move to a European team is one of the most anticipated moves in football right now, with Barcelona coming close several times in the past. 
Matthias Jaissle
The Red Bull line has given football some truly visionary coaches and Matthias Jaissle has looked the part as well. Hailing from the Red Bull school of coaching, Jaissle is 34 years old and only retired in 2014. Like many on this list, he dived into coaching immediately with the U17 side of RB Leipzig before being appointed the assistant manager of Danish giants Brondby in 2017.
9 – Matthias Jaissle is only the second FC Red Bull Salzburg manager to win each of his first nine games in all competitions. Before him, only his predecessor Jesse Marsch managed that many wins to start his tenure, no manager more. Successor. #HTBRBS pic.twitter.com/cCC37sjRHG

— OptaFranz (@OptaFranz) August 28, 2021
Jaissle would stay for two years before going back to the Red Bull project with the U18s at Leipzig. Another couple years of honing his skills and sharpening his brain would follow before he landed his first head coach job with FC Liefering in the Austrian second-tier. His big break came when RB Salzburg announced him as manager and there has been no looking back since.
Salzburg are currently five points clear at the top of Group G

Their manager, Matthias Jaissle, is a year younger than Lionel Messi pic.twitter.com/Z3cpoviCO4

— FootballJOE (@FootballJOE) October 20, 2021
The Austrian champions scored 77 goals in 32 games as they walked to the league title. Under Jaissle's tutelage, young players like Karim Adeyemi found another gear to their play. Red Bull clubs generally have a set conveyor belt of talent progression. Therefore, Jaissle could soon find himself at the crown jewel of this empire, RB Leipzig. In the meantime, retaining the league title with Salzburg remains the priority.
Christophe Galtier
The new man tasked with earning PSG the holy grail of the UEFA Champions League. The oldest name on the list, Christophe Galtier has long been one of the most underrated French managers. After a 15-year playing career across various clubs, the 55-year-old's early coaching career can be broken up into two parts. He was assistant manager at Marseille, Aris, and Bastia from 1999-2004 before holding the same position under Alain Perrin at Al-Ain, Portsmouth, Sochaux, Lyon and Saint-Etienne till 2009. Incidentally, it was due to the departure of Perrin from Les Verts that Galtier got his first managerial role in December 2009.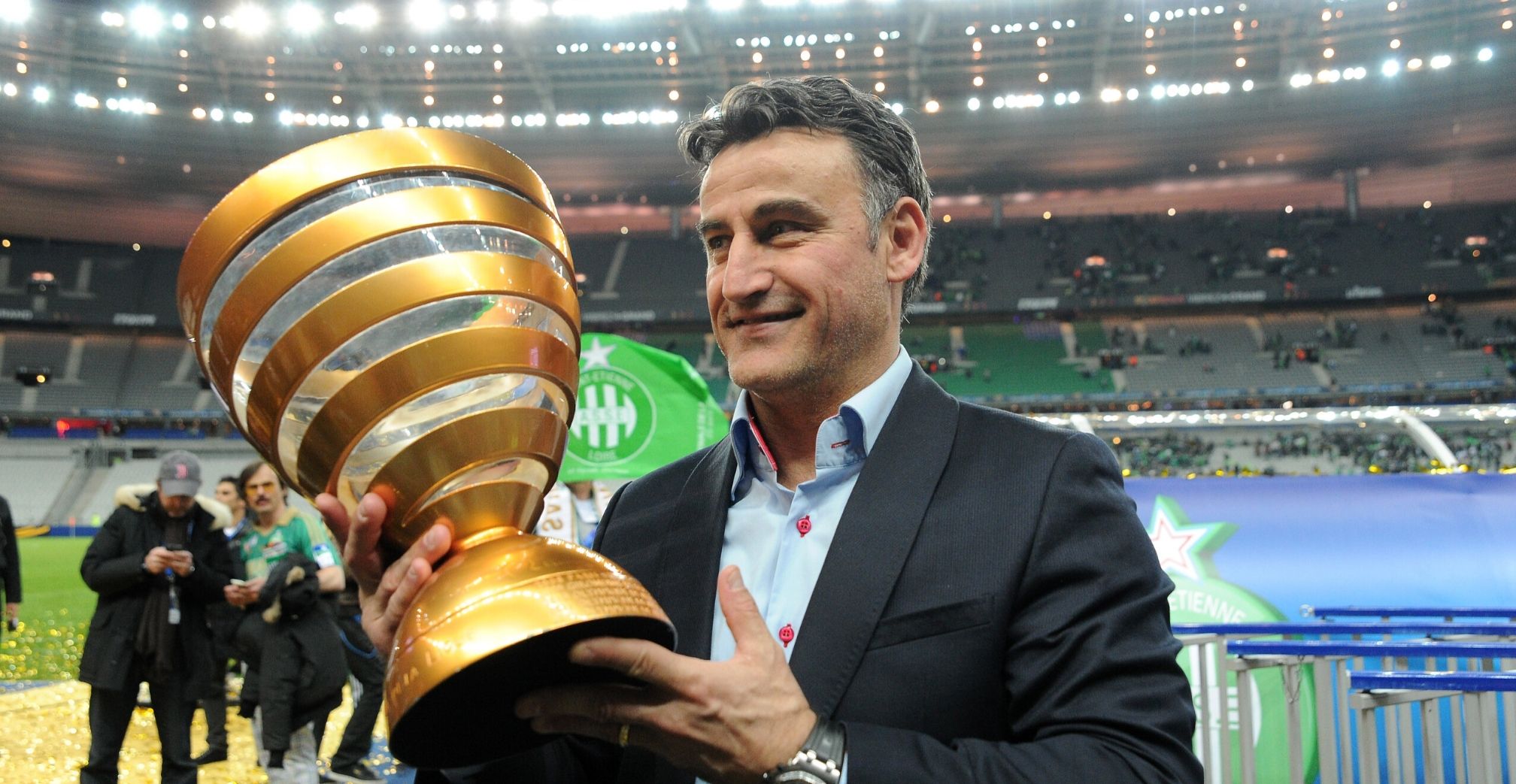 In the next eight years, he would lead Saint-Etienne to a top-ten finish in seven seasons with European football in four of them. The highlight came in 2013 as they won the Coupe de la Ligue, their first piece of silverware in 32 years while Galtier also won Ligue 1 Manager of the Year. He would leave for Lille in December 2017 and after helping them avoid relegation, orchestrated a massive turnaround in 2018-19 as Les Douges finished runners-up.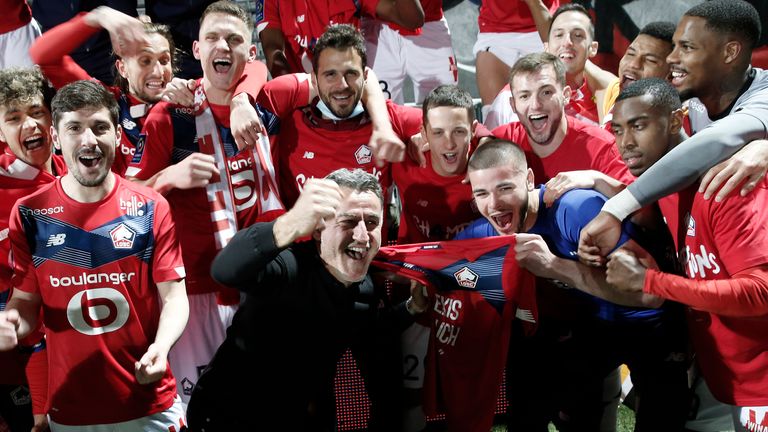 Galtier won his second Manager of the Year award but his greatest sporting achievement was, of course, winning the Ligue 1 title with Lille, upsetting the hegemony of PSG in the process. A third Manager of the Year followed. After a short but fruitful stint with Nice, Galtier has finally got his due. PSG is his first elite club as manager. The early signs are good as he has already won the Trophee des Champions with a 4-0 win over Nantes.
Xabi Alonso
What is it with midfield players becoming ace managers? The current Bayer Leverkusen boss has it all to prove in his first major managerial stint.
After hanging up his boots in 2017, Alonso started on his managerial journey. His first step into senior football with Real Sociedad B, the club he started his career at. Xabi Alonso's tactics and man-management propelled the club to promotion from the third tier.
However, things turned sour soon after as the club was relegated back the next season. However, Xabi Alonso had announced himself as someone to track closely. Replacing Gerad Seoane at Leverkusen will not be easy, but Alonso's potential ceiling as a manager might be the highest among all names here.
Mikel Arteta
Managing one of your former clubs you represented as a player is always special, and even more so if you've won trophies as captain too. Arteta joined the backroom staff of Pep Guardiola at Manchester City after his retirement in 2016 and quickly made a name for himself as one of the most promising number twos in the English game. With Arsenal in constant flux over the last few years, Arteta was brought in December 2019 to Arsenal after the unceremonious sacking of Unai Emery.
1 – Mikel Arteta is the first person to win the FA Cup with Arsenal as both a captain and a manager. Leader. #FACupFinal #ARSCHE pic.twitter.com/RcP0MxYGPz

— OptaJoe (@OptaJoe) August 1, 2020
His appointment was heralded by many fans as to what was required and the season ended in the best possible manner as the Gunners won the FA Cup. However, things took a turn for the worse in his first full campaign with Arsenal finishing in eighth place and missing out on European football for the first time in 25 years.
Fortunately, Arsenal were not trigger-happy this time. A much improved season saw Arsenal narrowly miss out on a UCL place, finishing 5th, just two points behind Tottenham. Now armed with the signing of Gabriel Jesus and further backing, Arsenal are one of the favourites for a UCL place. 
Thiago Motta
The most successful player on the list with 27 official trophies to his name, Motta has won it all in Europe during his time playing for Barcelona, Inter Milan and PSG. After his retirement with the Parisians in 2018, Motta was immediately appointed the coach of the U19s and made headlines for his remarks about revolutionalizing football with offensive play and unique formations.
He left for Genoa in October 2019 but could only manage two wins from his opening 10 games as the team fell to the bottom of the table. Motta was fired in December, and having received his UEFA Pro License in October 2020, took charge of Serie A side Spezia at the start of last season.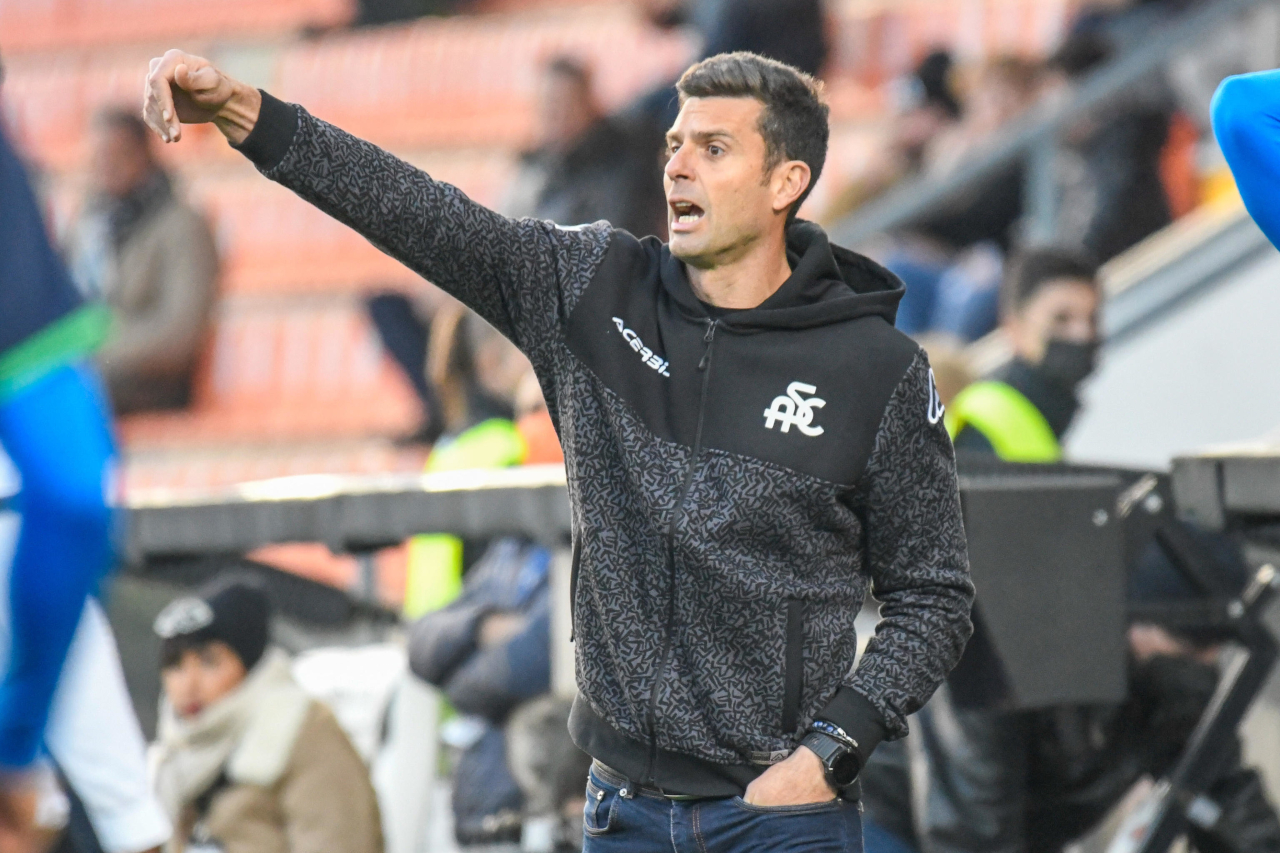 Though the I Bianchi have traditionally been one of the weaker sides in the top-flight, Motta was able to squeeze some fantastic results out of them including wins over Sampdoria, Napoli and present league leaders AC Milan. Spezia miraculously avoided relegation under Motta and he left soon after. His next move to Bologna is going to be exciting to watch.