Whisper it, but Arsenal are nailing the summer transfer window.
The club are going about their business in a manner that supporters haven't seen in years, and their efficiency in the market is spooking rivals. Edu Gaspar, meanwhile, following consistent condemnation is finally delivering. Mikel Arteta knows what he wants, and Edu is trying his utmost to satisfy the Spaniard.
Speaking of Arsenal's Behind the scenes activity – A sneak peek at All or Nothing Arsenal
Fabio Vieira joined the club just days after Arsenal had agreed on a deal with Porto. The Portuguese midfielder will add another creative spark and ensure Martin Odegaard doesn't get too comfortable in the XI. Now, the club looked to have acquired Gabriel Jesus from Manchester City. Arsenal aren't done there, though.
Lisandro Martinez and Raphinha were next on the agenda. But after a much-prolonged transfer saga, Raphinha has joined Barcelona and Martinez looks ever so closer to join Manchester United.
Not many players earn a great deal of autonomy from Marcelo Bielsa, but there are exceptions to the rule: "As a coach with someone like Raphinha, if I tried to intervene, I would only be a nuisance."The legendary Johan Cruyff once said: "It is statistically proven that players actually have the ball for three minutes on average. So, the most important thing is: what do you do during those 87 minutes when you do not have the ball? That is what determines whether you're a good player or not".
In his autobiography "My Turn", Cruyff built on his earlier thoughts by adding "it isn't the man on the ball who decides where the ball goes, but the players without the ball. Their running actions determine the next pass."
The player with twice as many goals as any of his teammates; indeed, a winger who was in a relegation struggle was only outscored by 11 other players that included names like Mohamed Salah, Diogo Jota, Raheem Sterling, Heung-Min Son, Jamie Vardy and Cristiano Ronaldo, Sadio Mane and Harry Kane in the Premier League.
The Brazilian had been both Leeds' best finisher and creator in the 2021/22 season. He stands out, both against his teammates but also some of his opponents, looking like a player destined to join a better team this summer.
Gunners have been excellent this transfer window – But hold on, Why are they called Gunners exactly?
How good is Raphinha?
There were some questions asked about him and why he wasn't playing at the top level at one point of the 2021/22 season, with some fans claiming that it's because he played three times for Brazil in the winter break. In actual fact, Raphinha was rested for the two league matches immediately after the October and November international periods, allowing him to recover and retain his fitness.
However, Leeds stuck by Raphinha given how he had performed across the campaign and there's no doubt he was vitally important to the side who survived relegation which is backed up with statistics. The 25-year-old's strengths include taking set pieces, key passes, long balls, direct free-kicks, and dribbling. Since Leeds had a very open style of play under former manager Marcelo Bielsa, Raphinha is not that good at holding on to the ball.
Chances Created, with breakdown by Open Play and Set Pieces, from TheOther14 in the #PL season so far. @Other14The

Raphinha and James Ward-Prowse at the top.#LUFC #SaintsFC #NUFC #WHUFC #CPFC #BHAFC #EFC #WatfordFC #AVFC #BrentfordFC #Wolves #twitterclarets pic.twitter.com/YPAn6iRCT1

— TheOther14 (@Other14The) February 15, 2022
Up until Gameweek 25 in the 2021/22 Premier League season before the Brazilian hit a rough patch, only Southampton's James Ward-Prowse had recorded as many chances created with breakdown by open play and set pieces than Raphinha outside 'The Big 6' clubs(42).
Leeds teammate Jack Harrison (29) is also on the list, but Raphinha is ranked above Jarrod Bowen and Emiliano Buendia, who have both been praised for their performances in the 2021/22 season. Raphinha's nine assists in the 2020/21 season put him joint sixth in the division, with only Harry Kane, Bruno Fernandes, Kevin de Bruyne, Jack Grealish and Son above him.
Since making his first start in the Premier League in November 2020, only four players that can be classified as wingers or midfielders have produced more combined non-penalty goals and assists than Raphinha's 29 in the competition: the illustrious quartet of Mohamed Salah, Bruno Fernandes, Kevin De Bruyne and Son Heung-Min.
It's also the variety with which he's able to generate opportunities that make him Leeds' golden goose; the source that they keep going back to during games. The Brazilian is a gifted ball carrier who can face opponents up one vs. one, who can hurt opponents with passes from deep and his deliveries into the penalty area generate frequent danger.
Raphinha stats
Raphinha is, quite simply, a demon without the ball. The Brazilian is a stand-out player in the league for his ability to repeat these high-intensity efforts of movement off the ball, which has significant repercussions on the styles of play with which he's able to fit into.
While he's a gifted creator against defensive units that are designed to be broken down, his physical attributes and willingness to run without the ball make him an ideal weapon for transitioning from defence to attack, as well as attacking after recovering the ball through pressing.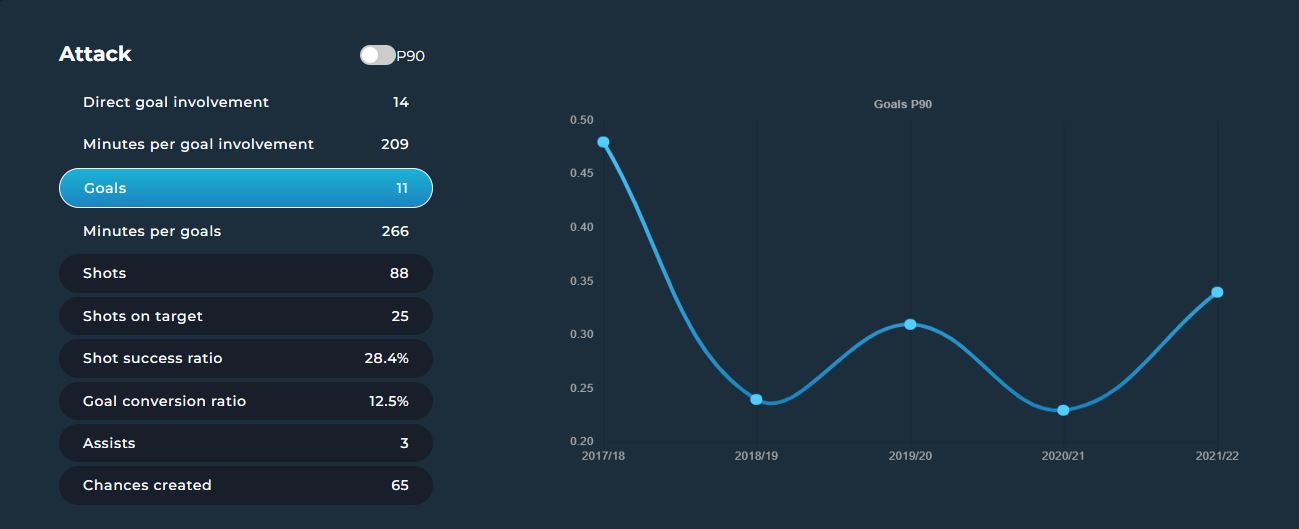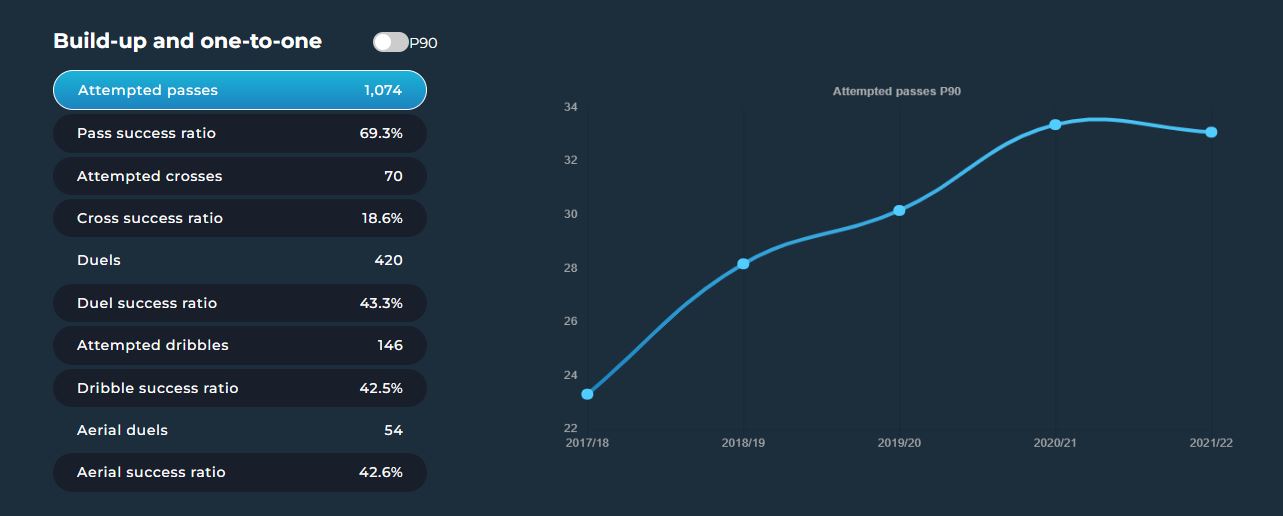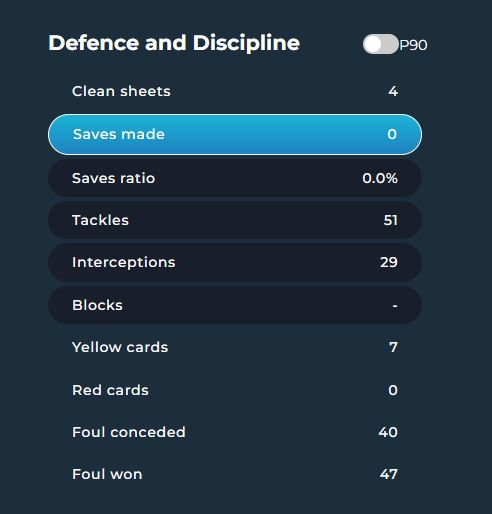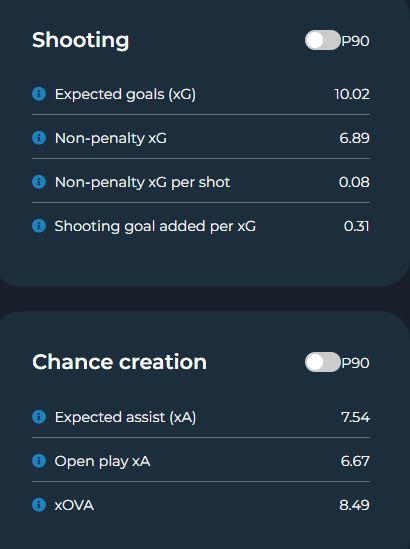 Raphinha scout report?
His ability to contribute to all elements of the attack makes him Leeds' leading individual in each category; he is a passer, dribbler, crosser and shooter. Numbers alone do not do the player justice was a game-changer for both Marcelo Bielsa and Julian Nagelsmann on the flanks. It comes as no surprise that Raphinha's performances have seen him garner interest from some of Europe's top teams.
Understandably, Leeds remain keen on keeping their star man and have made several overtures to have him extend his contract. So far, that has been of no avail. All in all, Raphinha's goals, assists and performances have shown not only why he was linked with a move away from Leeds last summer but also why the club may have a challenge on their hands to keep hold of him this time around. If Leeds were to sell him in the summer, this would surely be an unforgivable act from the club that would definitely upset a lot of fans.
The Elland Road outfit reached out to Raphinha and his camp twice in January but have so far been given the cold shoulder. The Brazilian's current contract runs until 2024, and Leeds still have some time in which they can convince him to sign on the dotted line.
As long as he keeps performing at a similar level, Raphinha will only continue to catch the eye of other top clubs, having also been linked with Bayern Munich not so long ago.
View this post on Instagram
Raphinha transfer news
Just over four years ago, Leeds United's Raphinha was plying his trade in the Brazilian second division. Born and raised in the south of Brazil, in the city of Porto Alegre, Raphael Dias Belloni would spend hours every day juggling the ball in the same streets as the man he idolised, Ronaldinho.
Now, having moved to Portugal, France, England and now Spain, Raphinha is starting to establish himself as world football's latest offensive weapon.
Rennes, renown for producing talents such as Ousmane Dembélé, Abdoulaye Doucouré and Eduardo Camavinga, signed the Brazilian for €21 million, making him their record signing. Rennes president, Olivier Létang described the signing as "the biggest transfer in the modern history of the Stade Rennais."
In a season where they were being sucked into the relegation dogfight, Raphinha had been Leeds' shining light on the field. He has been the difference-maker for the club in tight games. Their top scorer in the 2021/22 campaign, the 25-year-old's importance to the club, cannot be understated. Losing Raphinha is something that Leeds might have to prepare for, but replacing his dynamic presence on the wings would be no easy feat. It promises to be an interesting summer for the player and the club.
The broader picture is of one of the Premier League's best all-round attacking players in who was plying his trade in one of its lesser teams will finally be at a club where he deserves to be. Perhaps a man found near the top of individual charts now will be seen somewhere closer to the summit of the actual table next season.