France met Argentina, Uruguay and Belgium in the knockout stages of the 2018 FIFA World Cup in Russia before they faced Croatia in the finals. The colossal triumph came just two years after they lost out to Portugal in the 2016 Euros by a lone goal. France, for many years now, has been one of the most powerful teams with the most talented players and have the titles to back the claim.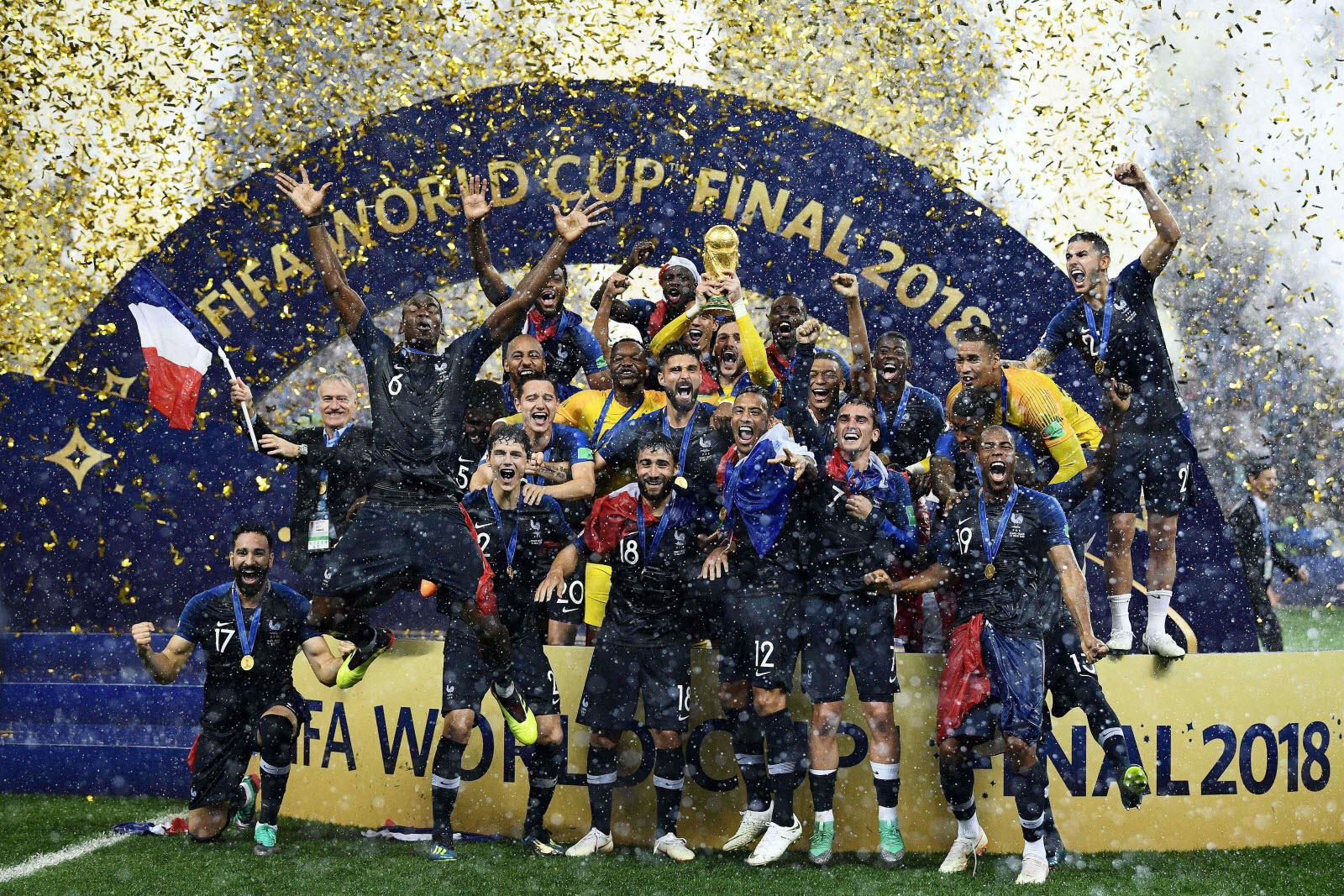 This year, they go into the Euros as World Champions and have bolstered their squad since their triumph in Russia. Many would even argue that the core group of players that won the title two years ago have only reached or yet to reach their prime. In fact, they have added to the list with many more young and talented players vying for a spot in the national team.
THE SQUAD DEPTH
Les Bleus has a minimum of two high-profile players in each position on the field. How many teams in the world can claim a better squad depth? Their range of talents is frightening to be told the truth. Didier Deschamps probably has the hardest time in his life when he has to pick the squad for every international tournament. He is bound to be criticised for leaving every other player from the squad.
France's current squad depth is frightening..

😳😳😳 pic.twitter.com/OKRvgLBeSY

— Oddschanger (@Oddschanger) September 10, 2019
Karim Benzema, Real Madrid's star forward and one of La Liga's and Europe's top scorer hasn't featured for the French side for many years now. The luxury to leave out one of the world's best players like Benzema is a rare phenomenon for a national team manager. To be successful in doing so is an even rarer epilogue.
DEFENCE
Raphael Varane and Kimpembe are the stellar choices for the central defensive pairing. However, to deem them the only option would be a rather overlooked judgement. Barcelona centre-back Clement Lenglet can claim the Real Madrid man's spot if Varane underperforms. Similarly, Kurt Zouma from Chelsea has also been impressive whenever he was given a chance.
The rise of RB Leipzig's Dayot Upamecano will also be of interest for Deschamps. The 22-year-old has already been given a chance in the Nations League last year and had a decent performance. He has also been a stellar performer for the Bundesliga club this season and has already signed a deal with Bayern Munich for the coming season. He poses a serious shout for the national team spot.
🧠 Dayot Upamecano made 8 interceptions for RB Leipzig tonight; No player has made more in a Champions League match this season #UCL pic.twitter.com/mEJAxIs848

— WhoScored.com (@WhoScored) March 10, 2021
Bayern Munich pair Benjamin Pavard and Lucas Hernandez have been the ideal choice in the wing-back positions. They have been exceptional for France as they have been for the Bundesliga champions. Yet, they too have serious competition.
Léo Dubois is a promising right back and has been an integral part of Olympique Lyonnais' exciting squad this year. At just 26 years of age, he has still time for improvement and may well steal the spot from Pavard. The left side has even bigger contention as both the young Ferland Mendy and the breakthrough Lucas Digne will feel they deserve a chance in the starting XI. A phenomenal backline with equally good players rearing for the spot.
MIDFIELD
Just like the defence, the midfield is also a position of contention for the French players. While players like Paul Pogba and N'Golo Kante look like the obvious choice, Adrien Rabiot, Moussa Sissoko, Thomas Lemar, Tanguy Ndombele and Eduardo Camavinga are more than capable replacements. Deschamps is blessed with a rich and diverse midfield that can play in almost any kind of setup.
https://twitter.com/FootTheBall/status/1391427289146003457
Thomas Lemar has been a revelation under Diego Simeone who stand a chance to win the La Liga title this season. Similarly, Rabiot is a constant name in the starting lineup for Juventus and has impressed the club in many of their matches. These two are bound to be used this summer and are potential game-changers for France.
ATTACK
Like Portugal and England, this is one more area that France has a surplus of star names. Kylian Mbappe, dubbed to be the heir to the Ronaldo and Messi era is still just 22 years old. The wonder kid isn't even in his prime and is already a World Cup winner. He is likely to be the next world record transfer and is sure to be a part of the national team for years to come. But it wouldn't be without competition.
Mbappe's UCL stats compared to Messi's when he was exactly the same age 😳 pic.twitter.com/yFFEoQySJX

— ESPN FC (@ESPNFC) April 9, 2021
Borussia Dortmund's Ousman Dembele, Bayern Munich's Kingsley Coman, Manchester United's Anthony Martial and AS Monaco's Wissam Ben Yedder are all still young. All these stars are yet to reach their prime and have already made an impact in their French outfit.
Mbappe may be the biggest young star, be he is not the only one. To be fair, there are plenty more of these world-class players that haven't made the cut. Not to mention, even captain and star goalkeeper Hugo Lloris has a strong backup in the form of Steve Mandanda and Mike Maignan.
THE FRANCE B TEAM
It is quite clear that France has more than enough players in their basket to choose from. An injury crisis would not affect them too much. So, to sum things up, let us look at how France could shape up if they fielded their so-called "2nd best players".
GK: Steve Mandanda
LB: Ferland Mendy
CB: C Lenglet
CB: Dayot Upamecano
RB: Léo Dubois
MF: Adrien Rabiot
CMF: Moussa Sissoko
MF: Thomas Lemar
RW: Ousmane Dembele
LW: Anthony Martial
ST: Wissam Ben Yedder
https://twitter.com/FootTheBall/status/1244927266678648832
Not bad, considering that most of the players in the squad are still young. There are plenty of others that are not included in the list as they have not earned a call up in recent fixtures. Theo Hernandez, Nabil Fakir and Karim Benzema could easily slot into the team. An incredible set of players fell victim to the surplus talent on offer.
Players left out the France squad 🇫🇷

❌ Bakayoko
❌ Benzema
❌ Fekir
❌ Martial
❌ N'Zonzi
❌ Zouma

Crazy squad depth 😳 pic.twitter.com/gGHWPF1tOx

— SPORF (@Sporf) October 5, 2017
France is among the favourites to win the Euro this year. While, Spain, Belgium, Germany and England will bring about their best squads, none have it better than the Les Bleus. A back-to-back international title is definitely on the cards for this young squad managed by one of France's greatest in Didier Deschamps.