It wasn't the fact that England got the win. It wasn't even the fact that England were comfortable throughout the ninety minutes. It was the overwhelming feeling that this met expectations that showed just how far Germany had fallen from the highs of 2014. It is the first time in decades, perhaps the first time since 1966, that England look like the ones on top in this historically lopsided rivalry.
Germany hadn't lost a knockout match to England in a major international competition since the 1966 World Cup final. That remarkable record ended with Euro 2020 last-16 defeat.

👉 https://t.co/Nw8DTFhsfS pic.twitter.com/WdsNoTtjDW

— CNN International (@cnni) June 29, 2021
Coming into the tournament, Joachim Loew's side had been wildly inconsistent. They were managing to get the wins against mid and lower sized opposition (with the exception of the defeat by North Macedonia) but against bigger teams their lack of an overarching game plan was exposed.
The trend continued at Euro 2020. A somewhat undeserving loss to France was followed by a rock and roll 4-2 win over Portugal. Hungary almost knocked them out in the last group stage match, exposing their defensive frailties. A second-placed finish meant that they faced England at Wembley in the Round of 16.
The Three Lions defeated Germany comprehensively, with Loew's men creating just two chances of note. Die Mannschaft already have a corrective action plan in place though with Hansi Flick taking over from Loew after their exit. Here's what went wrong for Germany at Euro 2020 and what Flick needs to do to bring back glory to the German side.
PROBLEM ONE – PERSONNEL ISSUES

After the 2018 World Cup debacle, Loew had claimed that Jerome Boateng, Thomas Muller and Mats Hummels would never be called up again. It seemed like an unnecessary stand to take given that all three of them were not exactly at the end of their careers.
The trio had an exceptional resurgence at club level and Loew was forced to go back on his word and recall Muller and Hummels. However, he did so only for Euro 2020 and after spending over two years out of the set-up they did not exactly fit right back in. Muller was played as a lone striker which is certainly not his best role. In Loew's 3-4-3 system there is no natural place for a player like Muller but the Bayern Munich man did well nonetheless.
Crucial from @matshummels 👏#ENG 0-0 #GER#DieMannschaft #EURO2020 #ENGGER pic.twitter.com/jpFmzIcf9S

— Germany (@DFB_Team_EN) June 29, 2021
Hummels too had an impressive individual tournament but the reintroduction of the duo certainly affected the team chemistry a bit. Timo Werner was relegated to the bench and Kai Havertz was forced to come in off the left. Hummels' presence at the heart of defence made it more difficult to play a high-line. Flick will ideally want his Germany to play a high-pressing attacking brand of football and Hummels might not find a place in that system.
PROBLEM TWO – CROSSING SUSCEPTIBILITY
The 3-4-3 system used by Germany gave too much space in the channels for opposition sides to exploit. Both of England's goals came down that lane on their left as soon as Luke Shaw had someone to combine with in the form of Jack Grealish. Opposition teams find it easy to get to the byline in that area and put in dangerous crosses.
Their defensive problems from crosses though were not limited to open play. Germany's defending from set-pieces was catastrophic. Portugal showcased it in their group stage encounter while England could have grabbed a couple of goals from set plays as well on another day.
The average xG of a shot vs. Germany at #EURO2020 is 0.15. Only North Macedonia [0.17] give up higher quality chances.

Unconvincing at the back. 🇩🇪 pic.twitter.com/ncX8qJomgd

— Statman Dave (@StatmanDave) June 28, 2021
The two wing-backs, Robin Gosens and Joshua Kimmich, were often caught up-field. This left the wider centre backs in isolated situations against the winger. Neither Toni Kroos nor Ilkay Gundogan offered much support from midfield.
The space in the channel bec of Gosens and Kimmich's attacking responsibility forced the wide CBs to leave the central area creating overloads and 1v1 situations in the box. The 3-4-3 didn't work defensively

Snaps from 4 goals Germany conceded #Euro2020 #ENGGER pic.twitter.com/pBHmGCsXEH

— Ritwik Khanna (@ritwikhanna) June 30, 2021
As the wider centre backs went out to engage the winger, it was easy to create overloads in the box with just one or two defenders protecting Manuel Neuer in goal.
PROBLEM THREE – LACK OF A FINISHER
Loew clearly decided to outscore the opponents with his uber-attacking formation. Gosens and Kimmich were irresistible going forward – their forays forward were Germany's most potent attacking threat. Toni Kroos remains arguably the best passer in world football and Thomas Muller and Havertz are amongst the smartest off-the-ball players.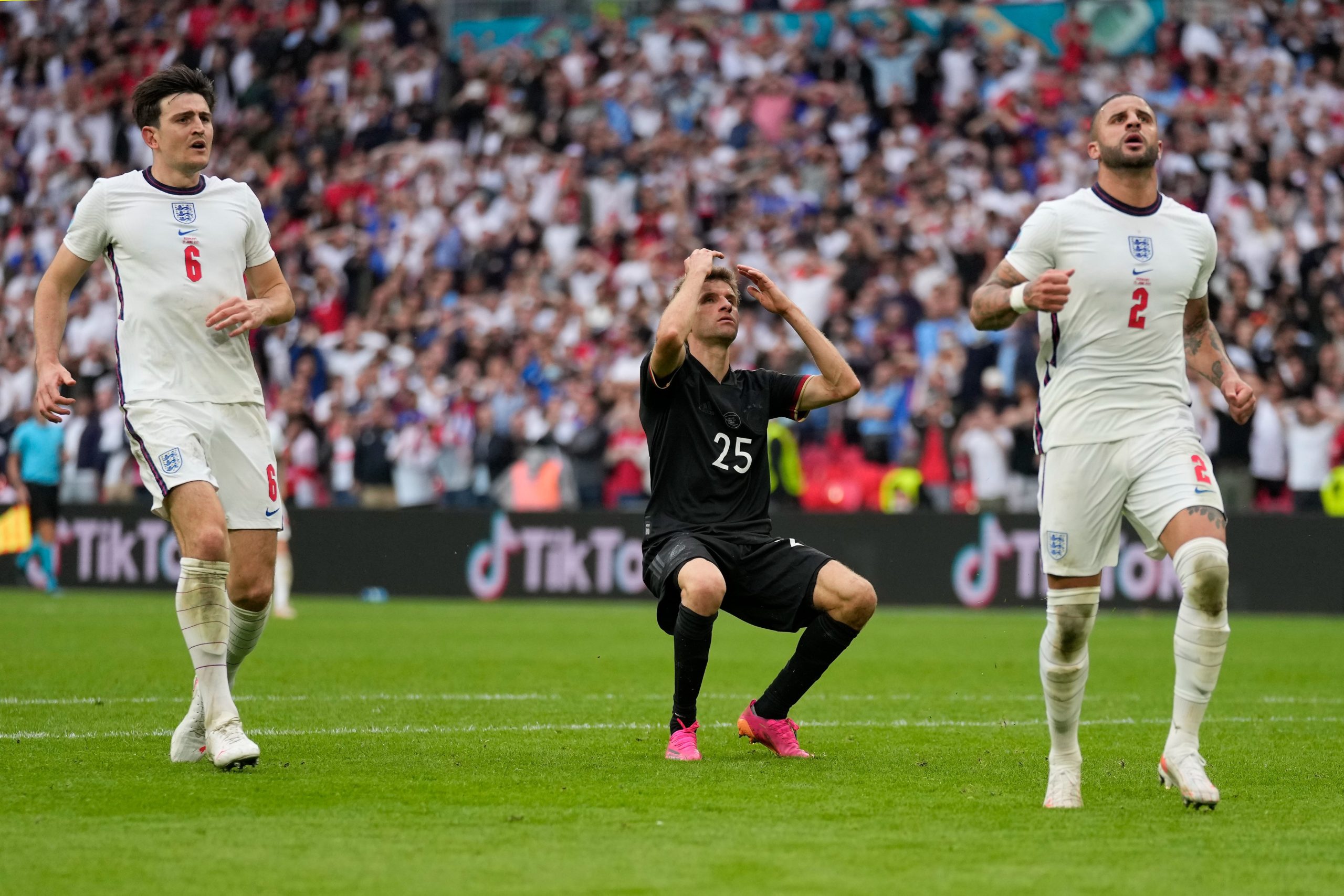 However, all of their creative capacity went somewhat to waste with no one to apply the finishing touch. Werner has been misfiring all season while Muller has never been the most effective goal scorer. Both of them missed great chances to score against England and it was clear that Germany were relying on an in-form Kai Havertz to bring the goals.
The Chelsea winger was forced to come in from the left but it is a testament to his quality that he was Germany's greatest threat while playing out-of-position. His best position perhaps still remains a doubt but there is no doubt that he should be at the heart of the team Flick will build.
22 – Aged 22 years and 8 days old, Kai Havertz is Germany's youngest ever goalscorer in a European Championship game, and youngest at any major tournament (World Cup/Euros) since Thomas Müller against Uruguay at the 2010 World Cup (20y 300d). Talent. #GER #EURO2020 pic.twitter.com/Y6nAj0FLSF

— OptaJoe (@OptaJoe) June 19, 2021
Germany had an underwhelming Euro 2020 but there were still positive signs that can lay the foundation for future success. They remain a footballing giant and they will be back competing for silverware should Flick solve the above problems for Die Mannschaft.