Tournaments such as the European Championship or the FIFA World Cup, are opportunities for players to showcase their talent to the wider public. This includes clubs, scouts or millions of fans alike, irrespective of any barrier such as language or nation.
After a standout Euro 2020 which took place in 2021 due to COVID restrictions, Mikkel Damsgaard has been on the rise. Teams have been taking notice of his superb form in Serie A, and the most recent ones have been Premier League club Brentford.
The Bees had a great first season back in the top-flight, although to avoid the second season syndrome, Thomas Frank is keen on strengthening particular areas of the squad. Who better to replace the outgoing Christian Eriksen, than the man who replaced him in the international scene once?
Who is Mikkel Damsgaard?
Mikkel Damsgaard is a 22-year-old attacking midfielder who plays for Sampdoria in the Italian Serie A. He started off in the youth system of local club Jyllinge FC, where his father was a coach, at a very young age of five and moved to FC Nordsjælland in 2013, as an under-12 player after impressing the scouts during a youth game for Jyllinge.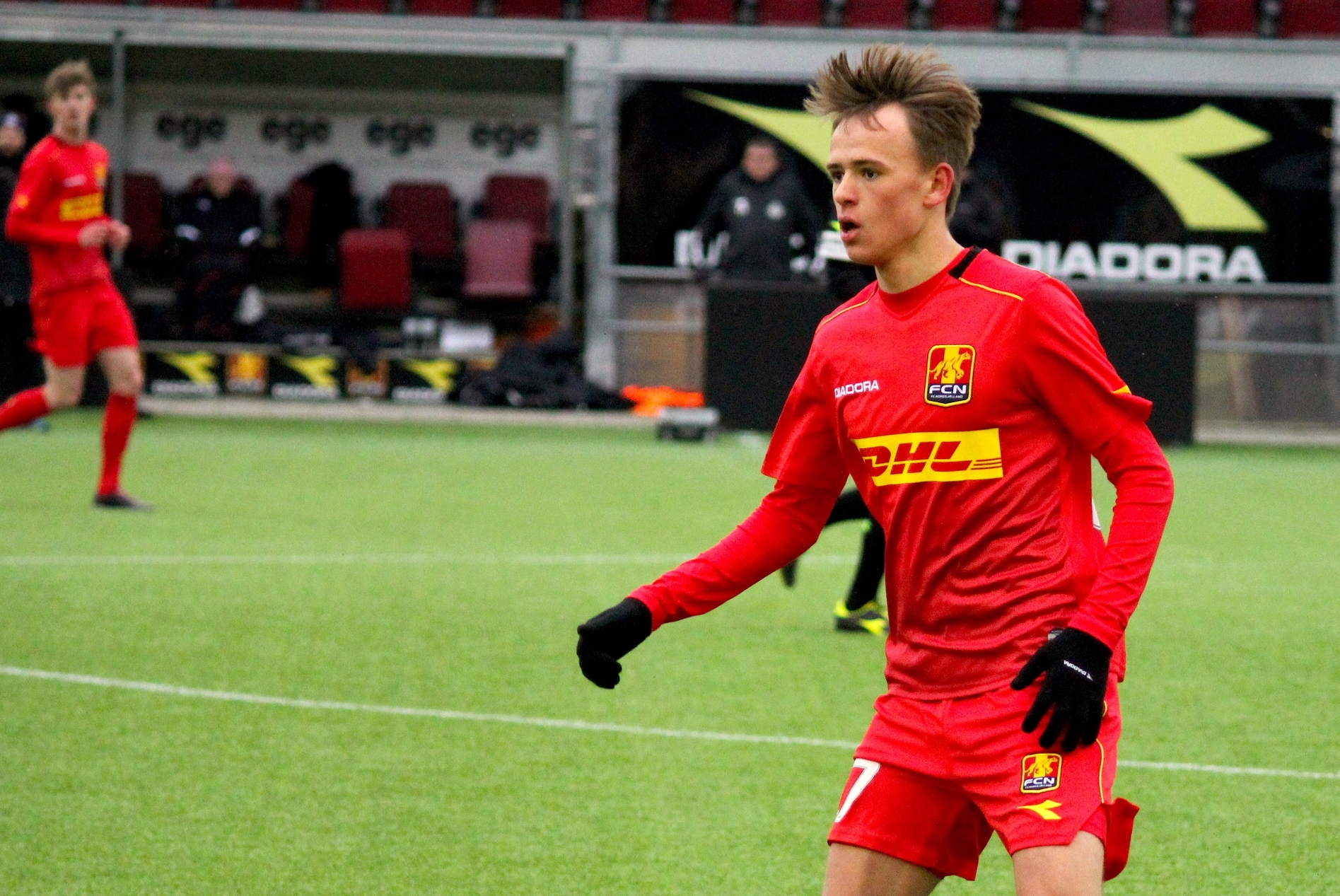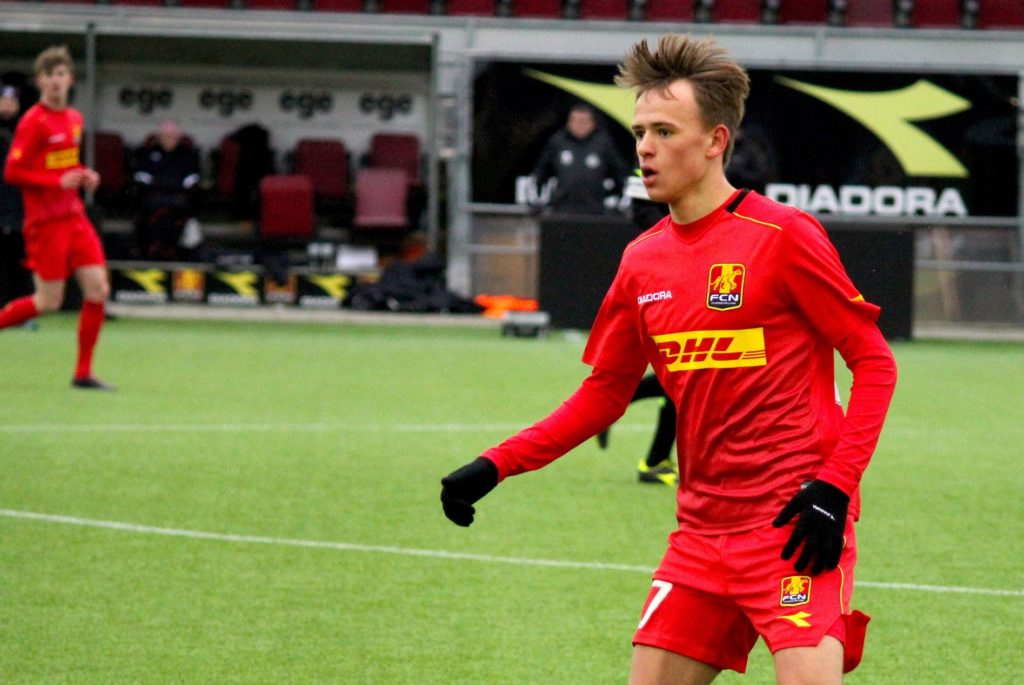 Mikkel Damsgaard during his days at Nordsjælland in Denmark. (Image Courtesy: FC Nordsjælland / Website)
He made his first-team debut in 2017, at the age of 17, and went on to make 93 appearances for the club before moving on to Serie A club Sampdoria in the summer of 2020 for a fee of around €7 million.
In the 2020-21 season, Damsgaard finished with only two goals and four assists in 35 appearances in the league. He only started in 18 of them and managed to play 19.7 full matches worth of minutes in his first season in one of Europe's top five leagues.
Last season was injury-riddled where he missed nearly six months due to various muscle-related injuries. This limited him to 11 appearances where he failed to have any goal contributions.
Mikkel Damsgaard playing style
Damsgaard, in his five seasons of competitive football, has played in various positions across the pitch such as central midfield, on the left wing, as a number ten, and even as a striker.
He predominantly played as a left-winger in Claudio Ranieri's Sampdoria's primary system of 4-4-1-1 but whenever there was a system change or he came on as a substitute, Damsgaard also operated as a right-winger and also in midfield, both as an attacking midfielder and as a central midfielder.
Even under current manager Marco Giampaolo, the Danish plays mostly on the left flank and has made that side his own for the last couple of seasons. One of those rare breeds of having a swagger in their game along with skill and talent, Damsgaard is very much encouraged to join the front two attackers at Sampdoria and create opportunities for his fellow attackers and also score goals whenever there is a chance.
His two goals in the 2020-21 season indicate his underperformance in games and this could be a sign that the 22-year-old still can improve a lot which can only be a boon to him. Also, his 4 assists indicate his tendency to create opportunities from difficult positions on the pitch which is a skill on its own.
However, along with his versatility and positional sense, Damsgaard's best ability is his on-the-ball technique as he is often given the license to play the risky pass, and although he fails at times, his success rate is among the best in the under-23 age group across the top five leagues. Progressive passes is the main quality which Brentford lost with Eriksen's departure. Therefore, Damsgaard should help fill that void.
He is also quite adept at creating space for his teammates and is very skilful at manoeuvring himself into little pockets of space to play one-twos and link up with teammates, which explains why he produces such a high volume of shot creation. Damsgaard is a player to whom raw stats won't do justice. Instead, underlying stats, like xT (Expected Threat), rate him highly.
As well as technical quality, Damsgaard shows grit in his game. His willingness to work hard defensively and put his foot into tackles belied his slight frame has contributed to the compliments that he has received in recent years. In a world increasingly moving toward gegenpressing in football, Damsgaard's willingness to press from the front has made him a favourite of managers.
One caveat can be his inconsistent defensive work and his physical prowess. At times, he has this tendency to dive rather rashly into tackles, which ends up giving the opposition key set plays. Also, he needs to gain some muscle as that would make him a world-class midfielder in the future.
Mikkel Damsgaard analysis
The Italian Serie A has regularly been a decent market for prospective buyers to buy wingers or attacking midfielders. Most of these attackers turn out to be the ones who are fast and supremely skilled and those who are about to reach their prime. Gianluca Scamacca moving to West Ham is a recent example.
Attacking midfielders who are also capable of helping their defence in pressing while out of possession are luxurious items in the current market.
True to form, Brentford, with their data-driven recruitment, moved first and have secured Damsgaard for a cut-price fee. An injury-stricken campaign led to Damsgaard's value in the market declining and Brentford have made an opportunistic signing that could repay them ten-fold in the future.
Damsgaard at Brentford
Damsgaard wasn't a starter for the Denmark national team at the beginning of the Euro 2020 but the unfortunate incident with Christian Eriksen paved the way for the Sampdoria midfielder to become the creator-in-chief for the Danes.
🇩🇰 Remember the name! Mikkel Damsgaard = youngest ever EURO finals scorer for Denmark (20 years, 353 days) 👏#EURO2020 pic.twitter.com/c4rvuJ6ceO

— UEFA EURO 2024 (@EURO2024) June 21, 2021
Life has come full circle now for Damsgaard at the club level too. He replaces the grace and creativity of Christian Eriksen after the latter transformed Brentford's fortunes upon signing last year. Damsgaard is as a like-for-like replacement for Eriksen as was possible in the current market. Moreover, Thomas Frank, being Danish himself, has experience of working with other Danish players too. Brentford's high-paced, hard-running style should suit Damsgaard perfectly and after a period of acclimatisation, he should prove that his transfer fee is a bargain.
Brentford are one of the smartest clubs in Europe when it comes to transfers and a move for Damsgaard has proven just that.