On the verge of a second consecutive semi-final appearance at a major tournament, England prepares for encounter against Ukraine in the Euro 2020 quarter-finals in Rome on Saturday.
The Three Lions defeated their longtime adversary Germany 2-0 to advance to the tournament's quarter-finals with goals from Harry Kane and Raheem Sterling.
Andriy Shevchenko became a national hero once again as Ukraine advanced to the quarter-finals with a thrilling extra-time 2-1 victory over Sweden.
As it is bound to be an intriguing contest in Rome, FootTheBall has identified three key matchups that might be crucial in deciding the encounter between Ukraine and England.
ANDRIY YARMOLENKO VS LUKE SHAW
Andriy Yarmolenko has been turning back the clock with his performances for Ukraine in Euro 2020. This campaign, he made just one Premier League start for West Ham, came off the bench 14 times, and was an unused substitute on several occasions.  He did not score a league goal this season, with his sole goals coming against lower league opponents in cup tournaments.  
However, his dismal domestic campaign just adds fuel to his inner fire and serves as a motivation for him to excel in his national threads like he always has. With 4 goal contributions (2G, 2A) in 4 matches, the 31-year-old is out to prove a point. With 42 goals for Ukraine, he is the second-highest goalscorer in the country's history, trailing only his manager, Andriy Shevchenko, who has 48. He'll be determined to close the deficit in his next matches, beginning with England. He will, however, have his work cut out for him because he will be up against Luke Shaw, who has been in great form.
After a tremendous domestic season that was more about redemption than anything for Luke Shaw, he has carried that form into the Euros. It was evident in his performance against Germany, as he put up one of the best individual displays of the tournament. 
Luke Shaw's game by numbers vs. Germany:

100% tackles won
91% pass accuracy
5 final third passes
2 ball recoveries
1 clearance
1 foul won
1 assist
0.64 xA

Consistent class. 🤩 pic.twitter.com/Wt567PY1iN

— Statman Dave (@StatmanDave) June 29, 2021
With the body of a roadrunner and soul of a winger, Luke Shaw is one of the best all-around full-backs in the world. He possesses a one-of-a-kind combination of technical and physical characteristics. His shift of rhythm, even while stationary, and the quickness of his feet are unparalleled. He is highly creative with his dribbles, regardless of where or in what scenario he receives the ball. Against Ukraine, he'll be hoping to contain Yarmolenko, as they are bound to cross paths more often than not. 
MYKOLA MATVIYENKO VS HARRY KANE
Mykola Matviyenko has been arguably been one of, if not the best center-backs of the tournament. He has been Andriy Shevchenko's most trustworthy man at the back. He is authoritarian at 6 feet, yet he excels more through his tactical intelligence. He thrives in a high line and in open spaces, where he has to abandon his zone and follow his mark.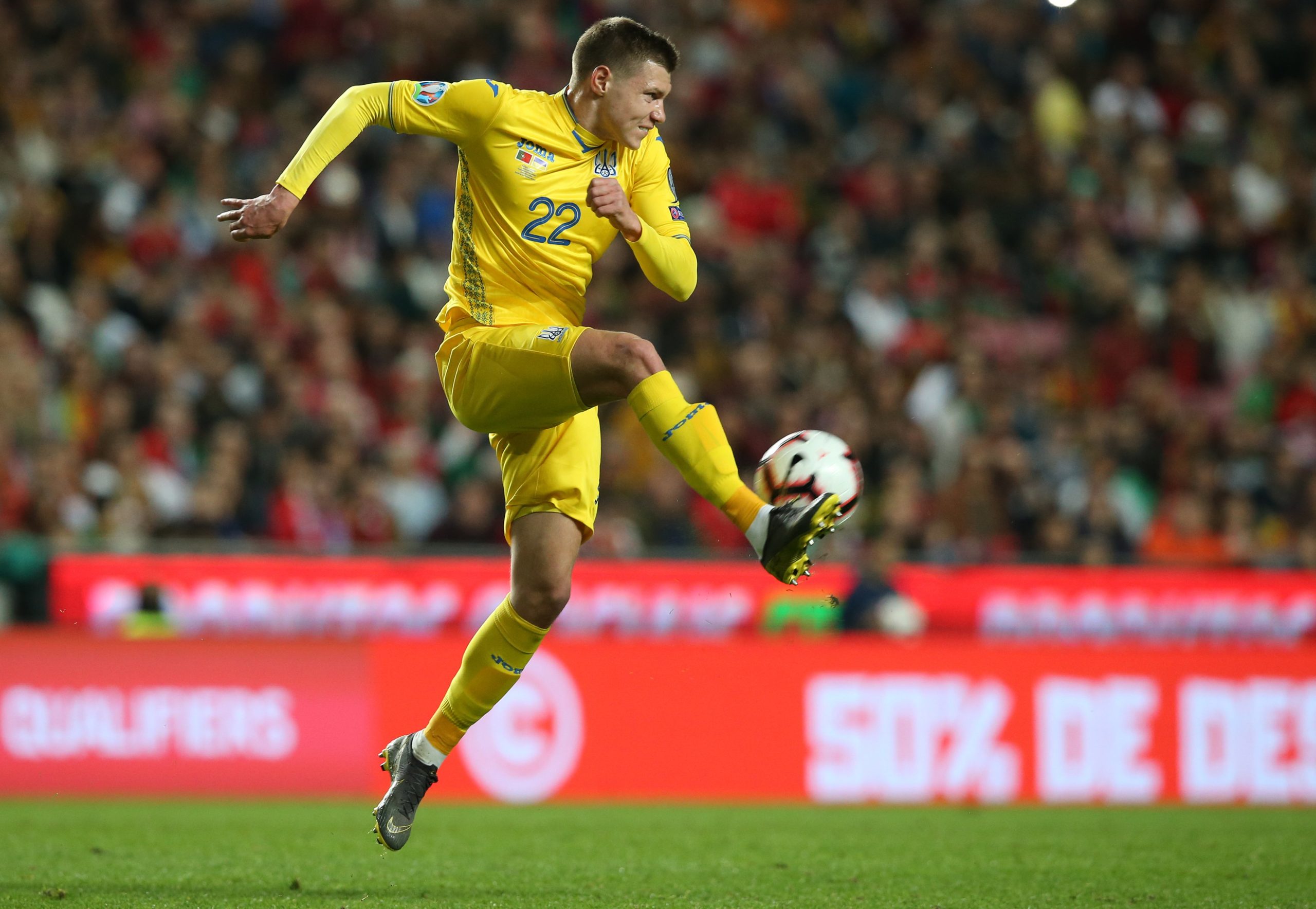 Matviyenko is super explosive and agile in 1v1s against dynamic attackers, and is always well positioned, never loses concentration, and has a great personality. In possession, he is tidy and has all the fundamentals. He doesn't take many risks with his short passing or ball carrying, but he is precise and safe with both, as is evident by his 90% passing accuracy in Euro 2020. Although he will have his toughest challenge of the tournament when he confronts Harry Kane. 
Harry Kane has had a turbulent couple of months. The striker hasn't taken his best game to Euro 2020 after another dismal season with Tottenham where they once again failed to win silverware and all the post-season turmoil. Although he scored against Germany, opening his Euro 2020 goalscoring account, he didn't really have the most impressive outing.  
However, when firing on all cylinders, the 27-year-old is a menace for the opposing defenses, able to score at will. Mobility and pinpoint precision is what the Englishman is renowned for the most. He leaves the box to offer support, lays the ball off for the midfielders or wingers, gives continuity to the play, and brings together the whole team with his passes. He excels at exquisite and quick one-twos, as well as incredibly well-thought-out judgments. Not yet able to make a mark in the tournament, the striker we'll be determined to achieve so, but stands in his way is the Ukrainian wall in Matviyenko. 
OLEKSANDR ZINCHENKO VS RAHEEM STERLING
The match-winner for Ukraine in their round of 16 match against Sweden, Oleksandr Zinchenko dazzled with his brilliant display. Scoring and assisting on both goals for Ukraine, as well as putting up an outstanding all-around performance, he tremendously aided his country's advancement to the quarter-finals.  
🇺🇦 Ukraine hero Oleksandr Zinchenko takes the prize after a goal and an assist in the round of 16! 🥇@Heineken | #EUROSOTM | #EURO2020 pic.twitter.com/ZLHlmLnBbU

— UEFA Nations League (@EURO2024) June 29, 2021
He is an energetic and pacey footballer that plays with the character needed to fit seamlessly into such an electric team. Zinchenko spends most of his time in the opposition half and is utilised heavily in possession. He's a creative passer with the calmness and bravery on the ball typical of a midfielder. He's an extra weapon in attack with his penetrative passes and precise crosses. He'll take a more defensive stance against England though, as he'll be tasked with containing an in-form Raheem Sterling. 
Raheem Sterling has undoubtedly silenced all of his critics for the time being with his fantastic match-winning performances lately. With 3 of England's 4 goals coming from his feet, the Manchester City winger has been firing on all cylinders. 
🏴󠁧󠁢󠁥󠁮󠁧󠁿 Raheem Sterling's last 20 games for England:

⚽️ 𝟭𝟱 Goals
🎯 𝟭𝟬 Assists

👏 Ridiculous output! #MCFC pic.twitter.com/ZAExUnA0qe

— Manchester City News (@ManCityMEN) July 1, 2021
He stands out in interior zones; the tighter the spaces, the better. Off the ball, his mobility is top. From the left wing, he moves invisibly and stealthily, attacking the interval between center-back and full-back. He can stay wide but when he comes inside, he makes quick touches, carries the ball, and makes off-ball runs that drive the defenders crazy. Against Ukraine, he'll be aiming to replicate his recent efforts, which have been pivotal for the Three Lions.