Denmark entered the Round of 16 in a dramatic fashion as their emphatic 4-1 win over Russia, adding to Finland's loss against Belgium, took them from 4th in the group to 2nd, finishing as the runners-up of Group B after what had been a tough week for the Danes.
While Wales had qualified even before they took the field against Italy, they will go into their Round of 16 fixture on the back of a 1-0 loss against the Azzurri.
Denmark in Amsterdam.

It's knockouts time.#WAL | #EURO2020 | #TogetherStronger pic.twitter.com/mVxq0cS6wM

— Wales 🏴󠁧󠁢󠁷󠁬󠁳󠁿 (@Cymru) June 21, 2021
And ahead of what shapes as a fascinating clash between the Dragons and the Danish Dynamites, we, at FootTheBall, have compiled our best-combined XI from the two squads.
GOALKEEPER – KASPER SCHMEICHEL
Although Joel Ward had started all three games for Wales and did a commendable job in conceding only two goals, Kasper Schmeichel's superior talent, leadership and experience are much more impactful for the Danish side in this tournament and as seen at Leicester in recent years too.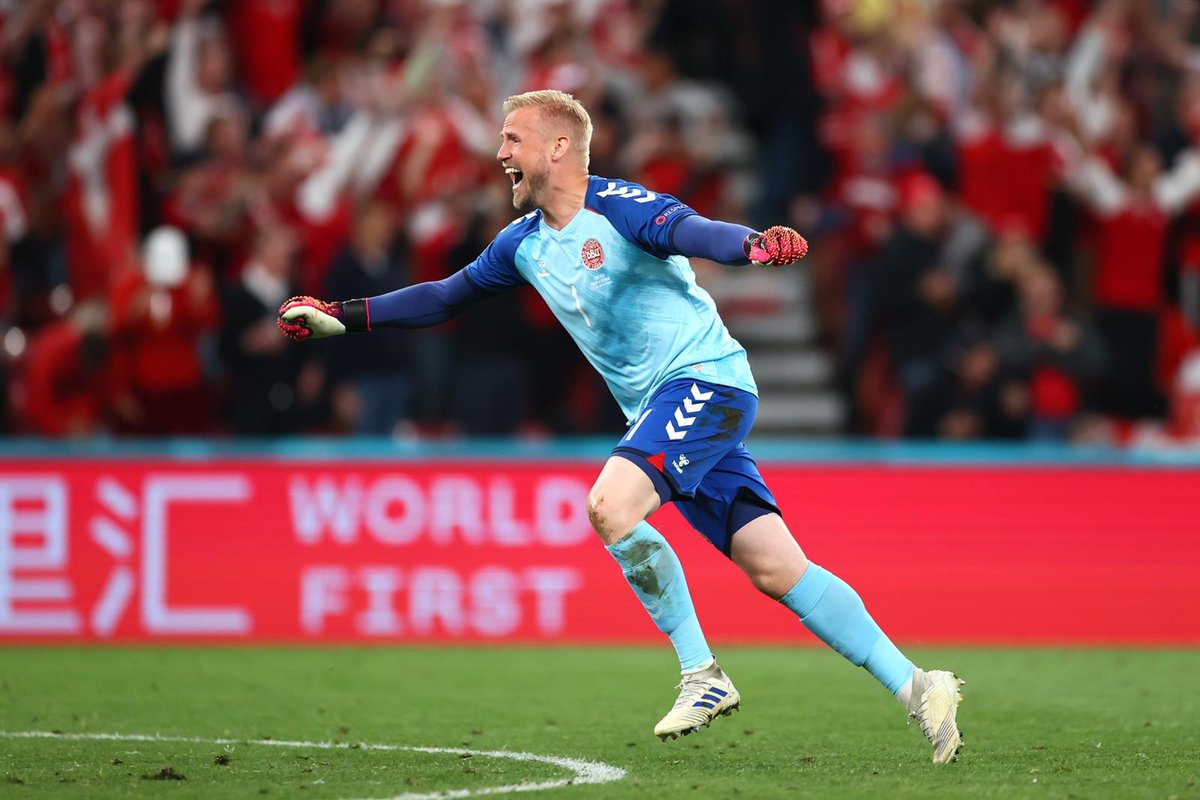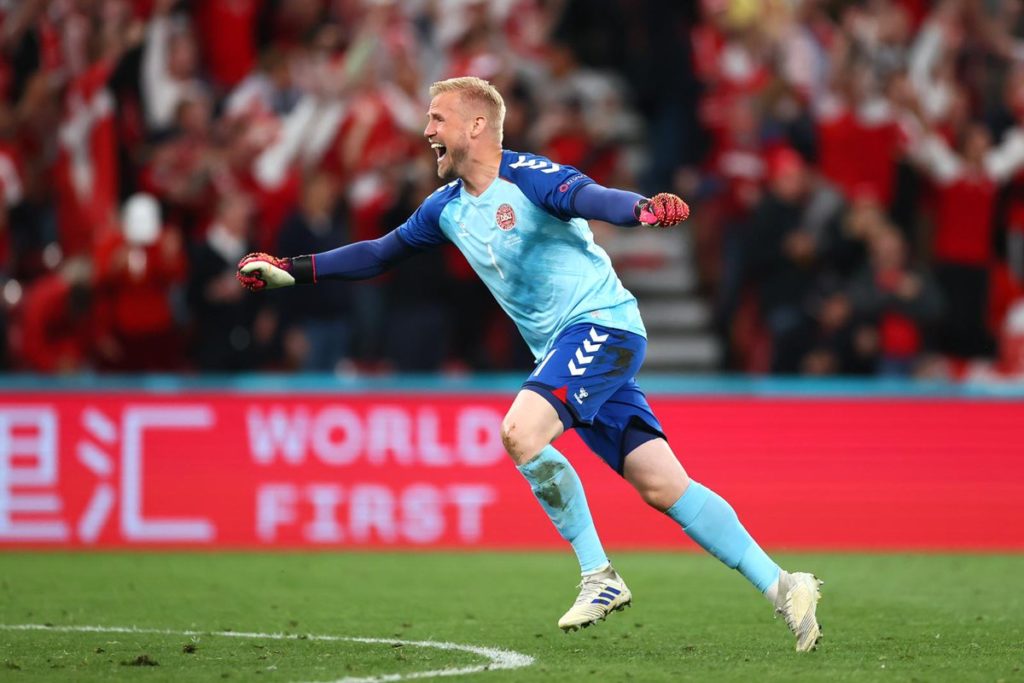 Kasper Schmeichel was outstanding for Denmark in the group stage. (Image Courtesy: Kasper Schmeichel / Twitter)
Responsible for keeping his side in the hunt with two outstanding saves when the score was 2-1 against Russia, Schmeichel has grown in stature and will be the key to keep out Wales' attack in the Round of 16 fixture.
RIGHT WING BACK – CONNOR ROBERTS
One of the quieter ones in this XI, Swansea City's Connor Roberts is the unsung hero of this Wales squad and has been one of the main reasons why the Dragons have qualified in second place from Group A. A very able full-back defensively, Roberts' qualities come out when he relentlessly attacks from the by-line when Bale drifts inside from the right-wing.
2 – At #EURO2020, players who were at Championship clubs in 2020-21 have scored more goals (2, Kieffer Moore & Connor Roberts) than those who were at LaLiga clubs (1, Antoine Griezmann). Tiers. pic.twitter.com/eP8yLVI75p

— OptaJoe (@OptaJoe) June 22, 2021
His goal against Switzerland was a piece of evidence for his attacking intent and if he continues the same in the upcoming rounds, he might be on the move from Championship to the Premier League.
CENTRE BACK – ANDREAS CHRISTENSEN
Just as Russia were looking to threaten the Danish defence and score an equaliser, a goal from the unlikeliest source, Andreas Christensen, and that too a thunderbolt, restored Denmark's two-goal lead. The player who hadn't performed particularly well in the first two games now had his country firmly in the driving seat for the knockout stage qualification.
🇩🇰 Scintillating first-time effort from distance by Andreas Christensen!

👀Goal of the Round 𝗖𝗢𝗡𝗧𝗘𝗡𝗗𝗘𝗥? #EUROGOTR | @GazpromFootball pic.twitter.com/r3Fr0Kuzq8

— UEFA Nations League (@EURO2024) June 21, 2021
Christensen had improved immensely this season with Chelsea but his time at Denmark will build up his confidence even more and if he could help his side achieve a dream run, it will just be an added bonus for the defender.
CENTRE BACK – SIMON KJAER
Just for his actions on the pitch during the unfortunate event involving Christian Eriksen, Simon Kjaer can be regarded as the player of the tournament, and the majority of the football fraternity would not argue. A true leader in every sense, the Danish captain, not only won the hearts with his actions off the field but on the field too, with his example-driven performances.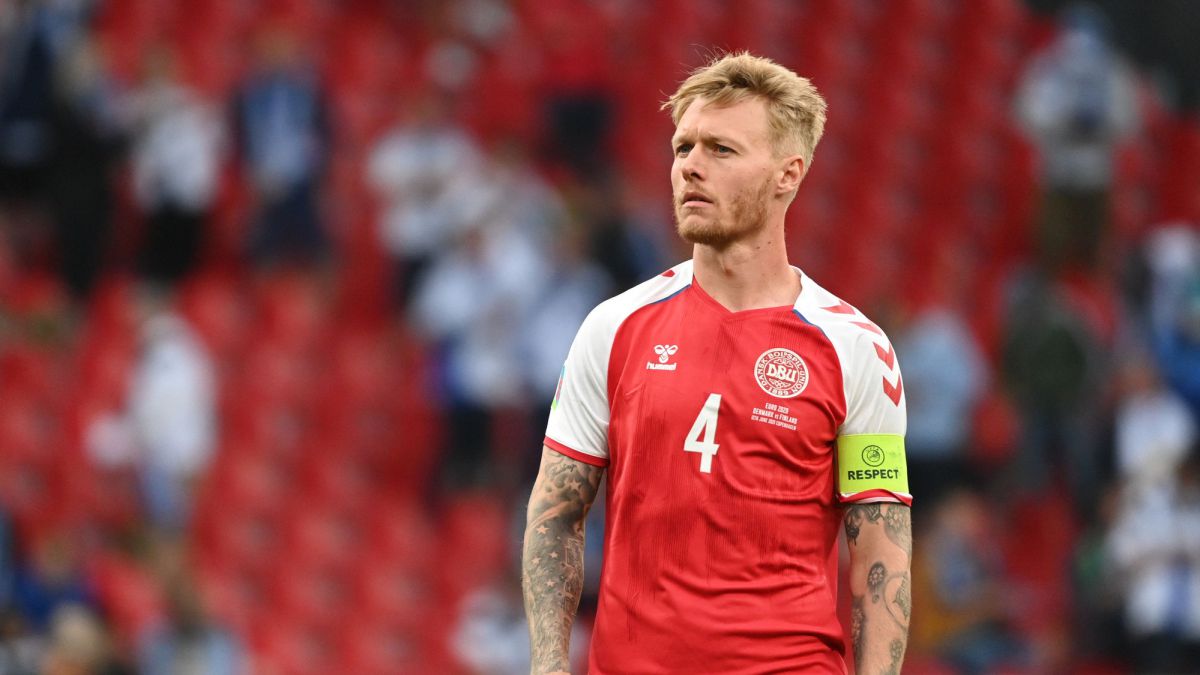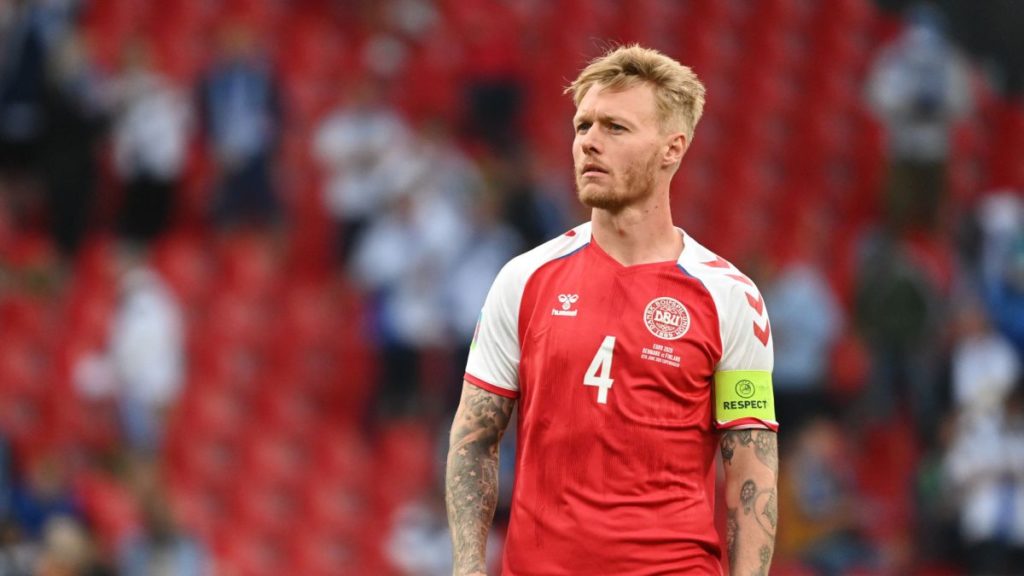 Kjaer has been a true leader for Denmark and will hope to help them beat Wales on Saturday. (Image Courtesy: AS / Website)
A colossus at the back for Denmark, Kjaer will be up against an inspired Wales attack on Saturday, and it will be interesting to see how he tackles the likes of Bale, Daniel James, and Kieffer Moore.
CENTRE BACK – CHRIS MEPHAM
The leader at the back for Wales, Mepham was faultless in the two games that he featured in the group stage and has been a rock in the heart of the defence for the Dragons. Another of Wales's Championship players, it was a big test for him to perform at this level and he passed with flying colours.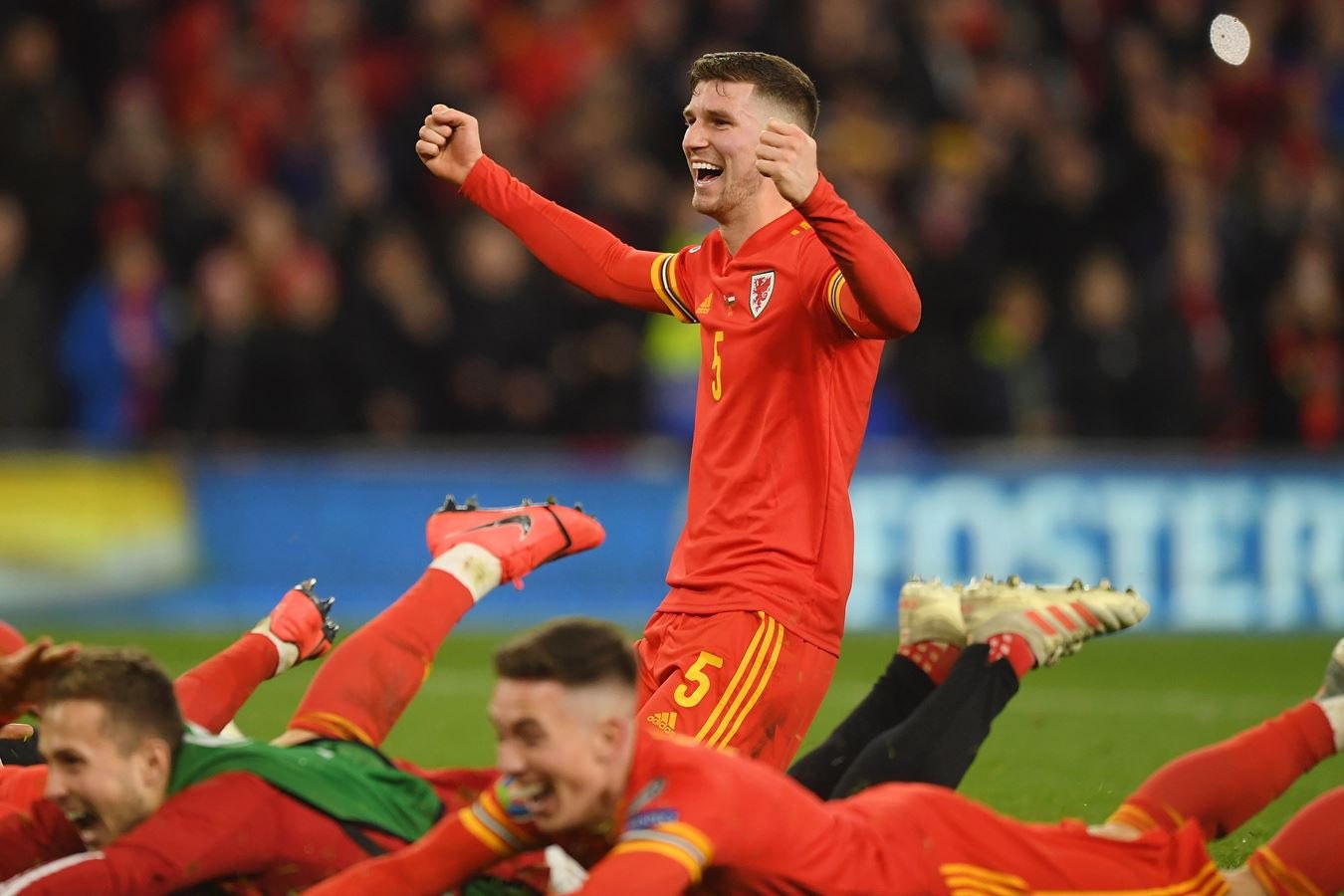 Chris Mepham has been solid for Wales at the heart of the defence. (Image Courtesy: Cymru / Twitter)
Another tough test awaits against Denmark, as it is certain that Yussuf Poulsen's physicality might be the defining factor in the defensive for Wales, but Mepham, who has got ample amount of rest will be ready for it.
LEFT WING BACK – JOAKIM MAEHLE
The latest product from the wing-back factory of Gian Piero Gasperini's Atalanta, Joakim Maehle has caught the eye of the top clubs in Europe after his dazzling performances in the three group stages fixtures which he topped off with a goal against the Russians, helping him achieve a spot in our XI for the group stage.
Joakim Maehle's game by numbers vs. Russia:

84 total touches
75% pass accuracy
8 attempted take-ons
5 attempted long passes
4 successful take-ons
3 successful long passes
2 interceptions
2 shots
1 goal

Outstanding. 🇩🇰 pic.twitter.com/0XWMbhhAwd

— Statman Dave (@StatmanDave) June 21, 2021
Although he got a taste of facing Kevin De Bruyne and Dries Mertens while playing against Belgium for Denmark, his toughest test will be the next, a face-off against Wales captain Gareth Bale. It would be interesting to see how he pans out against Bale as he tends to attack more than defend, which can leave plenty of space for the Welshman.
CENTRAL MIDFIELD – PIERRE-EMILE HOJBJERG
The topper of the assist charts in Euro 2020, Pierre-Emile Hojbjerg has been a revelation in the Danish midfield and has been the engine room for all the attacks for Denmark.
Pierre-Emile Højbjerg has created nine chances from open play at #EURO2020, at least three more than any other player.

Wow. 🤯 pic.twitter.com/D1N1mLbWPt

— Squawka Football (@Squawka) June 21, 2021
He has demonstrated many more qualities such as his ability to find the hard pass, the late entries into the box, in the three group stage games than in the whole season for Tottenham, big players show up in big games and he proved to be just that.
CENTRAL MIDFIELD – AARON RAMSEY
He might have played three games in a week for the first time in years, but Aaron Ramsey went back in time to produce some of the dazzling performances you could ever see from the mercurial midfielder.
50% – Aaron Ramsey has either scored or assisted exactly half of the 12 total goals that Wales have scored at EUROs tournaments (two goals & four assists). Nucleus. #EURO2020 pic.twitter.com/SimdJJwzCi

— OptaJoe (@OptaJoe) June 16, 2021
Although he would be disappointed to have only one goal on his name with the number of chances he had in the three games, he was truly magnificent for Wales and was one of the main reasons for their qualification into the knockout stage.
Fans will hope that he continues this form and help Wales emulate the 2016 run once again.
ATTACKING MIDFIELDER – MIKKEL DAMSGAARD
When Eriksen was ruled out of the tournament after the opening game, the Danish fans and viewers across the globe wanted to see who would replace the Inter Milan star in the line-up and shoulder the responsibility of being the creator for his side.
🇩🇰 Remember the name! Mikkel Damsgaard = youngest ever EURO finals scorer for Denmark (20 years, 353 days) 👏#EURO2020 pic.twitter.com/c4rvuJ6ceO

— UEFA Nations League (@EURO2024) June 21, 2021
Up stepped 20-year-old Mikkel Damsgaard, who first impressed in the game against Belgium but was on another level during the game against Russia, which he capped off with a stunning goal, which made him the first-ever player born in the 21st century to score a goal at the Euros.
Just as Eriksen would do, Damsgaard popped up in different areas of the pitch at different times, making it difficult for the opposition defence to understand his movement.
CENTRE FORWARD – YUSSUF POULSEN
The epitome of being the poacher in a team, Yussuf Poulsen showed his goal-poaching skills when he latched upon Russian defender Roman Zobnin's back pass and broke in all alone on the goal, which doubled Denmark's lead that night.
🇩🇰 What a moment for Yussuf Poulsen & what a celebration!#EURO2020 pic.twitter.com/N1OuqoFdVk

— UEFA Nations League (@EURO2024) June 21, 2021
His performance against Wales will be of the main factors in the result on Saturday as he is the focal point of the Danish attack and will the final third movement will revolve around him. He might be a handful for Chris Mepham which makes it an interesting battle between the two.
CENTRE FORWARD – GARETH BALE
The captain and talisman of Wales, Gareth Bale becomes a different entity when he turns up for the national side. Although he plays from the right for the Dragons, his tendency to drift inwards from the right side as well as for position in this formation, has made him a centre-forward in this team.
Gareth Bale created 5 big chances vs. Turkey.

No 𝘁𝗲𝗮𝗺 have created more in a single #EURO2020 game so far.

We can forgive him for the penalty miss… 😅 pic.twitter.com/KAgJ6gJz0E

— Statman Dave (@StatmanDave) June 16, 2021
Other than his immense goal-scoring prowess, Bale has been the creator-in-chief for Wales this tournament and in the game against Turkey, he alone created seven chances, enhancing the creative side in his game, which can only be an advantage going into the clash against Denmark.