There is no doubt that Chelsea are one of the most successful clubs in recent times. Thomas Tuchel's outfit is a trophy machine, being the most recent English side to win the UCL. However, one of their most talked about and longstanding strategies in the transfer market has drawn praise and critics alike. The loan system at Chelsea is flush with players going out every season in order to experience game time at a senior level which otherwise would have been impossible.
Chelsea's loan army business 🤣

– Dan pic.twitter.com/S7R6iDQBY6

— Chessy Hour® ☆☆ (@ChessyHour) July 28, 2021
This hoarding of youth and experienced players has long been the ire of several rivals and onlookers, with the Blues being accused of only looking after their own profits. FIFA is set to introduce new regulations this summer on the number of players being loaned in and out during a season which will further limit this hoarding of talent by one club in any league.
A financial masterstroke
The most common trope to describe the relationship between Chelsea and the players sent out on loan has been how the club has always been able to sell them eventually for a high fee. There is no doubt that most of those sold would not have been starters with the Blues, but the amount of talent still going out is mind-boggling. Especially combined with the fact that the players have found success elsewhere too. Last season, there were several notable departures who are now thriving at their new clubs.
Southampton are clearing out Cobham.

• Livramento
• Simeu
• Broja
• Potentially Anjorin

Chelsea need to stop seeing easy profit & rather keep the younger players and use them.

It's a never ending cycle of choosing profit over taking a chance on a youth player. pic.twitter.com/L5kJTJzFnq

— Chelsea Loan Army (@CFCLoanArmy_) January 27, 2022
Tino Livramento, once the captain of the U23s, left for Southampton for £5m and immediately became a starter through strong performances. The Saints also signed Dynel Simeu and loaned in striker Armando Broja. Broja impressed and is already a PL-level striker. Two other notable departures in the defensive department were Fikayo Tomori and Marc Guehi, to AC Milan (£26m) and Crystal Palace (£21m). Tomori became a Serie A champion while Guehi is the bedrock of Palace's defence now. All five of these players came through the academy at Chelsea, meaning the club profited immensely. However, the biggest sale of the summer came in the form of Tammy Abraham leaving to join Roma for £36m while the club also made a profit on the sale of Kurt Zouma to West Ham United for £31.5m.
Romelu Lukaku
24 Games
8 Golas
2 Assists

Tammy Abraham
30 Games
17 Goals
4 Assists

Chelsea sold Tammy Abraham and replaced him with Romelu Lukaku, but it's the Roma man who's outscoring his counterpart this season.

Maybe Chelsea sold too soon? 🤔 pic.twitter.com/h86K4CN1VU

— Bet9ja (@Bet9jaOfficial) January 25, 2022
Apart from these permanent departures, the loan army has been in full swing as always. Billy Gilmour, Levi Colwill, Ian Maatsen, Tino Anjorin and Conor Gallagher all spent the last season on loan. Gallagher was the standout amongst them with the best chance of cracking Chelsea's first team. Even this season, highly-rated CB Levi Colwill looks set to depart permanently after the signings of Koulibaly and the targeting of Kimpembe. Colwill is mooted to be in an exchange deal for Brighton ace Marc Cucurella.
🦁 Most league goals of Chelsea players this season:

1️⃣ Michy Batshuayi – 9 (loan)
2️⃣ Mason Mount – 7
3️⃣ Conor Gallagher – 7 (loan)
4️⃣ Jorginho – 6
5️⃣ Armando Borja – 5 (loan) pic.twitter.com/8ijITLOvtn

— WhoScored.com (@WhoScored) January 27, 2022
Even more impressively, Chelsea have loaned out some senior players too to good effect. In a market where big players on huge wages struggle to get shifted, Chelsea's negotiation team has worked overtime. That might change now with the change in ownership at Chelsea, but last season, Danny Drinkwater, Emerson, Michy Batshuayi, and Tiemoue Bakayoko were all important pieces for their respective loan teams. Batshuayi finished in double figures for goals+assists for Besiktas in Turkey. Astonishingly, all the forwards Chelsea let go in the summer outscored Romelu Lukaku. Therefore, while the loan system is rewarding financially, aggressive loaning decisions could be holding Chelsea back competitively. That's where their youth academy comes to the fore.
Chelsea's youth academy: A roaring success
Given the talent that the Academy and the Reserves have molded over the years, it is no surprise that they have seen immense success on the pitch. The Academy team were FA Youth Cup winners for five years straight from 2013-2018 while also winning back-to-back UEFA Youth Leagues between 2014-16. The U23 Reserves, meanwhile, won the Premier League 2 as recently as 2019-20 with all the players mentioned above featuring.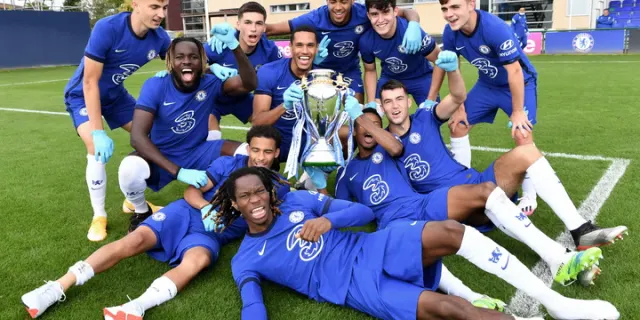 Along with this, all the players are regular internationals at various age levels for their respective countries too. Keeping the financial aspect aside, credit has to go to the scouts at Chelsea for scouring these kinds of talents over the years. The club has also got it wrong in the selling department at times, most notably letting Declan Rice go at age 10 and more recently, Tariq Lamptey and Tino Livramento who are looking like a sure starters for England in the near future. 'La Cobham', as the under-age teams are colloquially called has been extremely beneficial for the senior side and the financial aspect together, but could all of that be coming to an end soon?
FIFA loan rules: Changes coming
FIFA's rules on loaning in and out players essentially put a cap on the number over the season. Only eight players can be loaned out or loaned starting from July, with that number set to go down to seven in 2023 and six in 2024. However, the cap is not applicable to players aged 21 or under and those who have been "club trained or homegrown," meaning they have spent at least three years between the age group of 15-21 at their current club or any other club of the same association.
Huge respect to our players who have gone out on loan, and earned their place in Chelsea's first team.

They earned it the hard way. pic.twitter.com/oJ4U5rnypG

— LDN (@LDNFootbalI) July 19, 2021
Another significant change is doing away with two-year loan spells completely, though Chelsea for their part have not tried that yet. No matter what happens, there is no denying that Chelsea has benefited massively on both sides of the coin. Whether it be through raking in transfer fees or finding a top performer for their own senior team, there has seldom been a bad deal surrounding their loan army. Moreover, with their flourishing youth academy, even these rules won't stop Chelsea from loaning players, since most of them are homegrown youngsters anyways.
Chelsea under Abramovich settled on a very financially lucrative model of loaning players and then turning them over for a profit. The policy can be expected to continue under the more financially watchful eye of Todd Boehly.