Tall strikers. There is something mesmerising about them. Watching them tear the field with their runs, jumping over the defence to unleash a powerful header, and having duels with equally tall defenders is a sight to behold. Fernando Torres, Didier Drogba, and Cristiano Ronaldo are some of the famous names. And then there's Zlatan Ibrahimovic. The Swede has been one of the top players in this century and is still going strong at 40 years. So, when the Swede lavished praise on a certain 17-year-old, the world took notice.
"I have seen him in action, and he is fantastic," Ibrahimovic had said and now Alexander Isak has taken the mantle for Sweden from Ibra
The 21-year-old now stakes claim to become his heir for the Sweden national football team. Alexander Isak, dubbed the "new Zlatan Ibrahimovic", is one of the hottest properties in Europe and is almost certain of a move to a big club come the summer transfer window.
The former Borussia Dortmund player, who made a name for himself in the 2020-21 season and then the Euros, is being chased by Arsenal, who want him to replace Pierre-Emerick Aubameyang.
Standing at 1.90 metres tall, Alexander Isak has a lot of similarities with Ibrahimovic. They are both tall, technically gifted, extremely dangerous in the box and love to find the back of the net.
So, what do the numbers say about the brilliant youngster?
Stats
Isak is a brilliant goalscorer and gets involved in the attacking build-up for the team. Smarterscout, which rates player's between 0-99 on different attributes, has given him 98 and 95 for dribbling and shooting, respectively. 
This is a rare quality for a true centre forward. He also has a respectable rating of 60 when it comes to defending quality. 
And these ratings come in a season where he has struggled with only four goals and one assist to his name.
Even in the Europa League, he was rated 99 for shooting and 82 for dribbling, which is respectable for young prospective talent.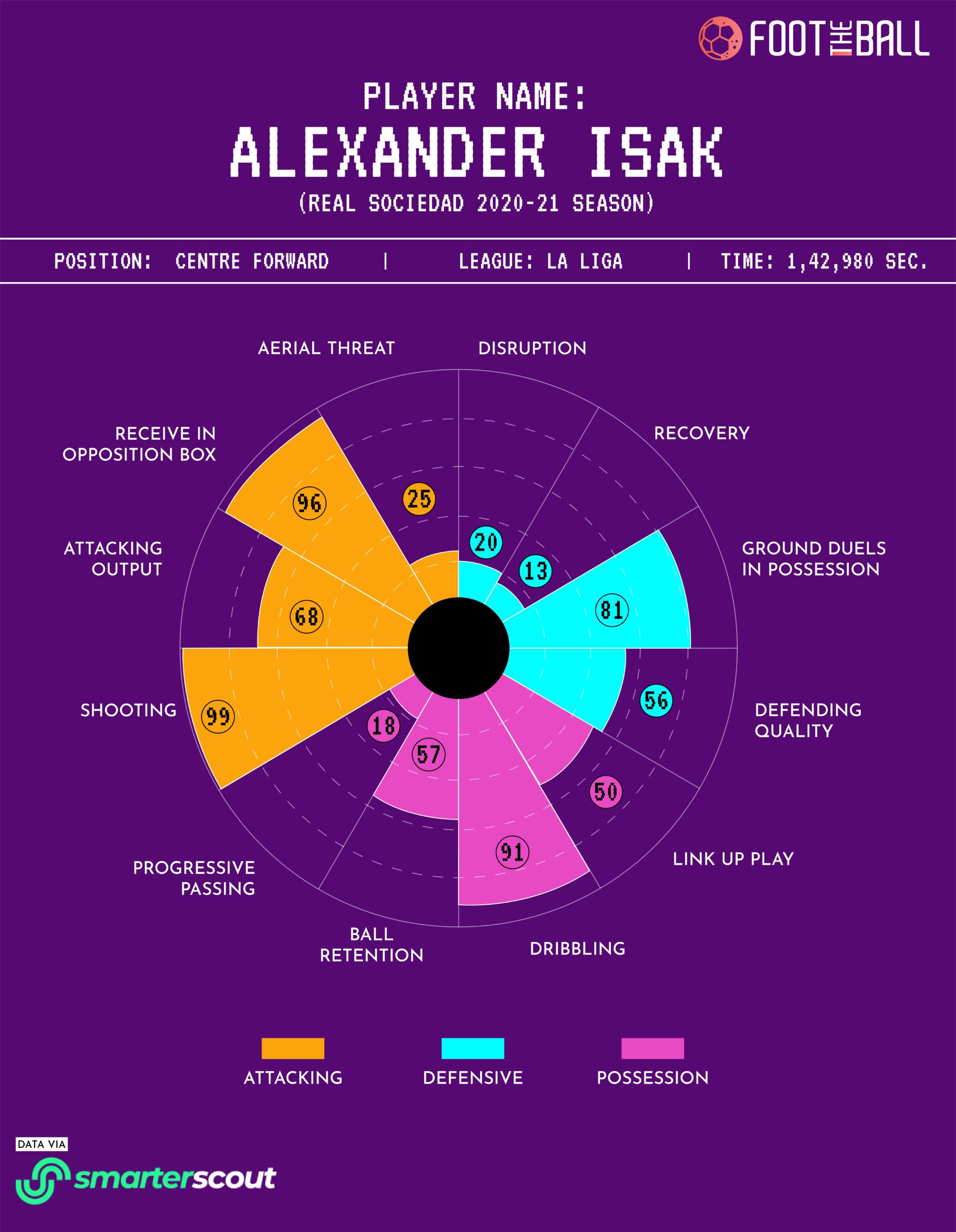 Stats from fbref confirm this too. Isak has made 3.6 dribbles per 90 minutes in the last 365 days, putting him in the top eight percentile compared to other forwards. Moreover, his dribbling completion rate of 1.61 per 90 minutes is a lot better than 85 per cent of the forwards.
Read More: Darwin is the real deal!
Alexander Isak is also quite good when exploiting the space between defenders to disrupt their rhythm.
However, it is in the opposition's box where he does all his magic. His shot map from Understat gives us a better understanding of his supreme attacking talent. Since the 2017-18 season, Iska has scored 29 goals; 18 have been from the penalty area, while seven and four goals have come from the six-yard box and out of the box.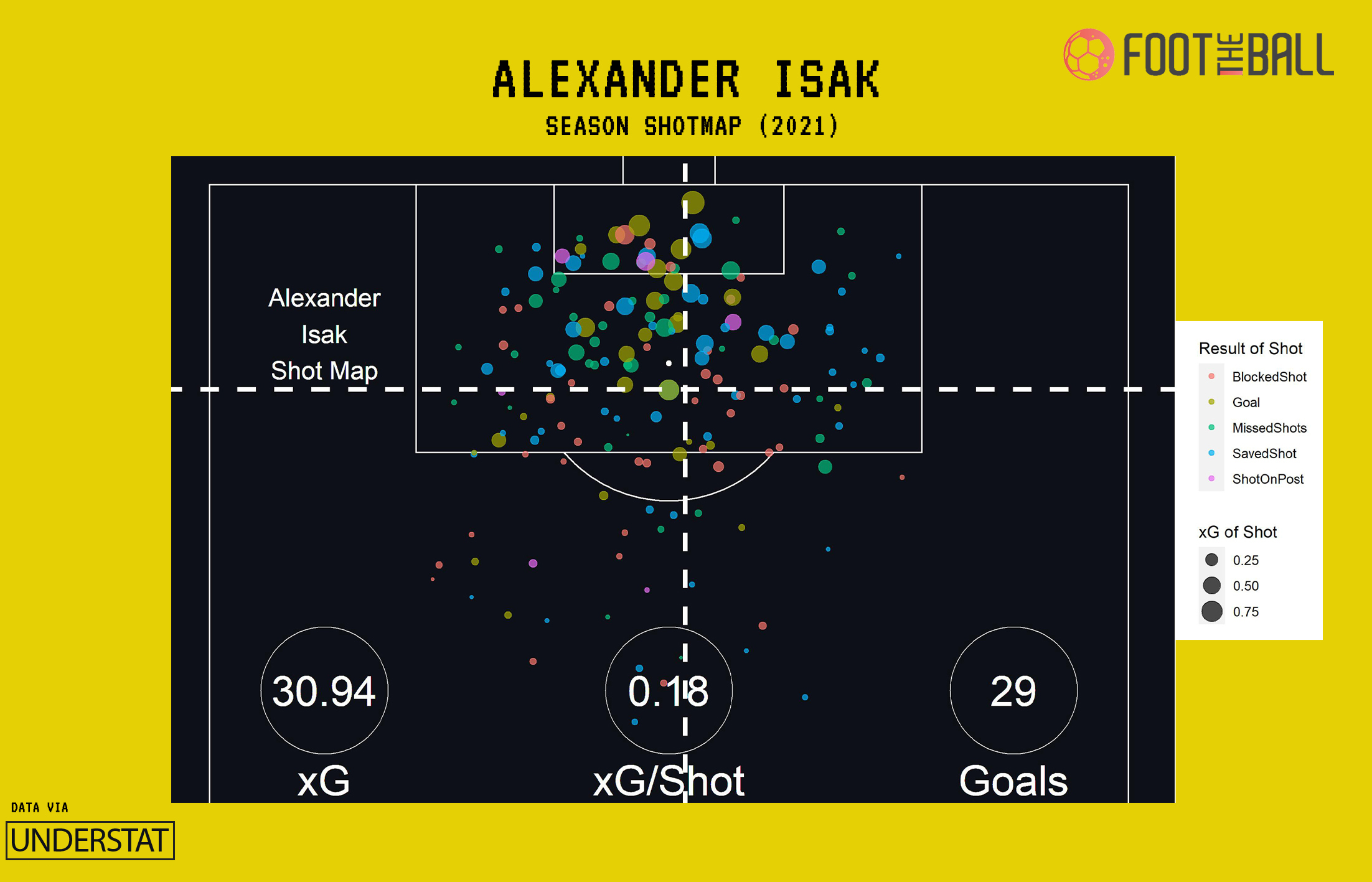 Another essential thing to note is that he scored 17 goals from his right foot and nine from his left foot. And it's his goals from the left foot where he has shown over performance, scoring 2.22 goals more than he was expected to.
Read More: From Argentina With Goals
The breakthrough 2020-21 season and the sloppy 2021-22 one
It is no secret that Isak has witnessed a massive drop in form this season, but it does happen to many players, and his previous season shows why he is so highly rated.
The previous season, he showed himself to be a complete forward, scoring 17 goals which was 28 per cent of the entire team's goals.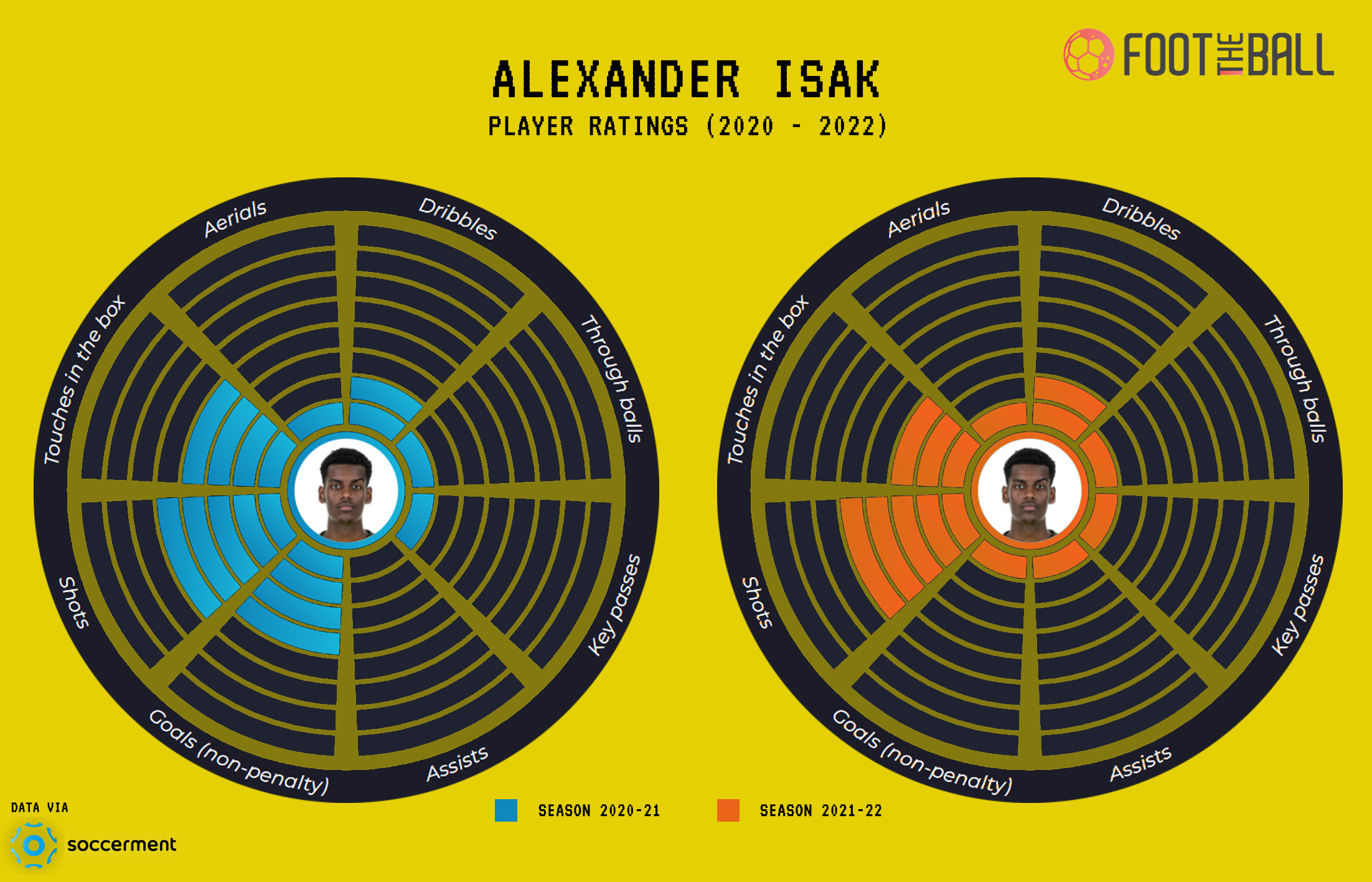 He was also ranked fifth when it came to expected goals (xG) in the league, according to Soccerment.
He was also ranked as the fourth-best player in La Liga in Offensive Value Added (OVA).
His 0.65 goals per 90 minutes was the tenth best in the league, better than Antoine Griezman, Joao Felix, and Iago Aspas.
His stat was even better when it came to non-penalty goals, where he was ranked fourth in the entire league ahead of players such as Luis Suarez, Vinicius Jr, Joselu and Santi Mina.
However, this season, his stats have come crashing down like his performances. Compared to the previous season, he was rated lower on non-penalty goals, touches in the box, and his stats dropped when it came to goals per 90 minutes, assists, and accurate passes.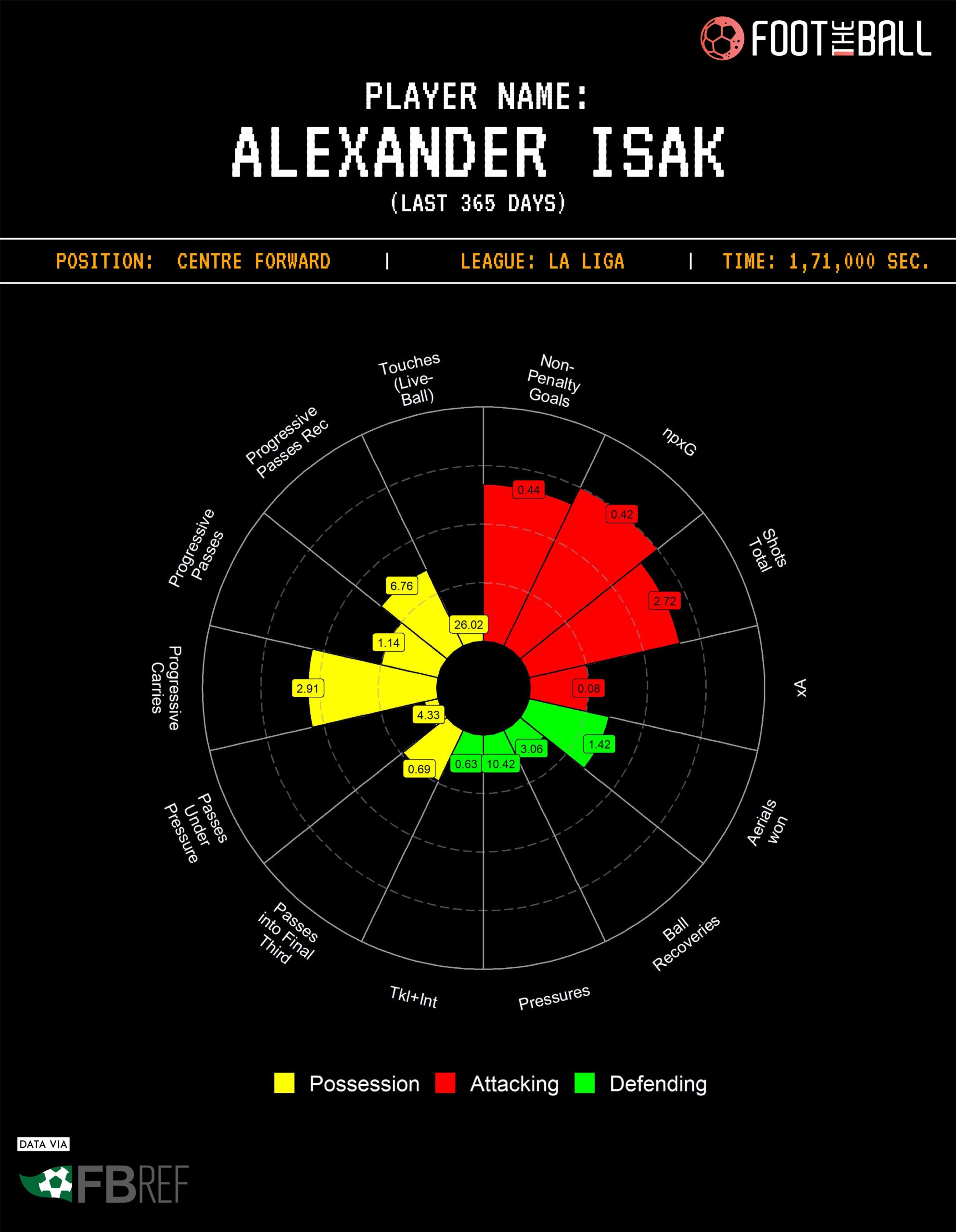 But as a 22-year-old, he can make a comeback. Furthermore, looking at his shot map from this season, we can make important observations. This season, Isak has taken 28 shots from inside the box and has scored three goals.
However, the goalkeeper has only missed four shots while the rest have been blocked or saved. Of course, it's still alarming that he can't find the back of the net, but his shot accuracy is still high, which means that he can reconquer or even pass the highs of the previous season with a bit of luck.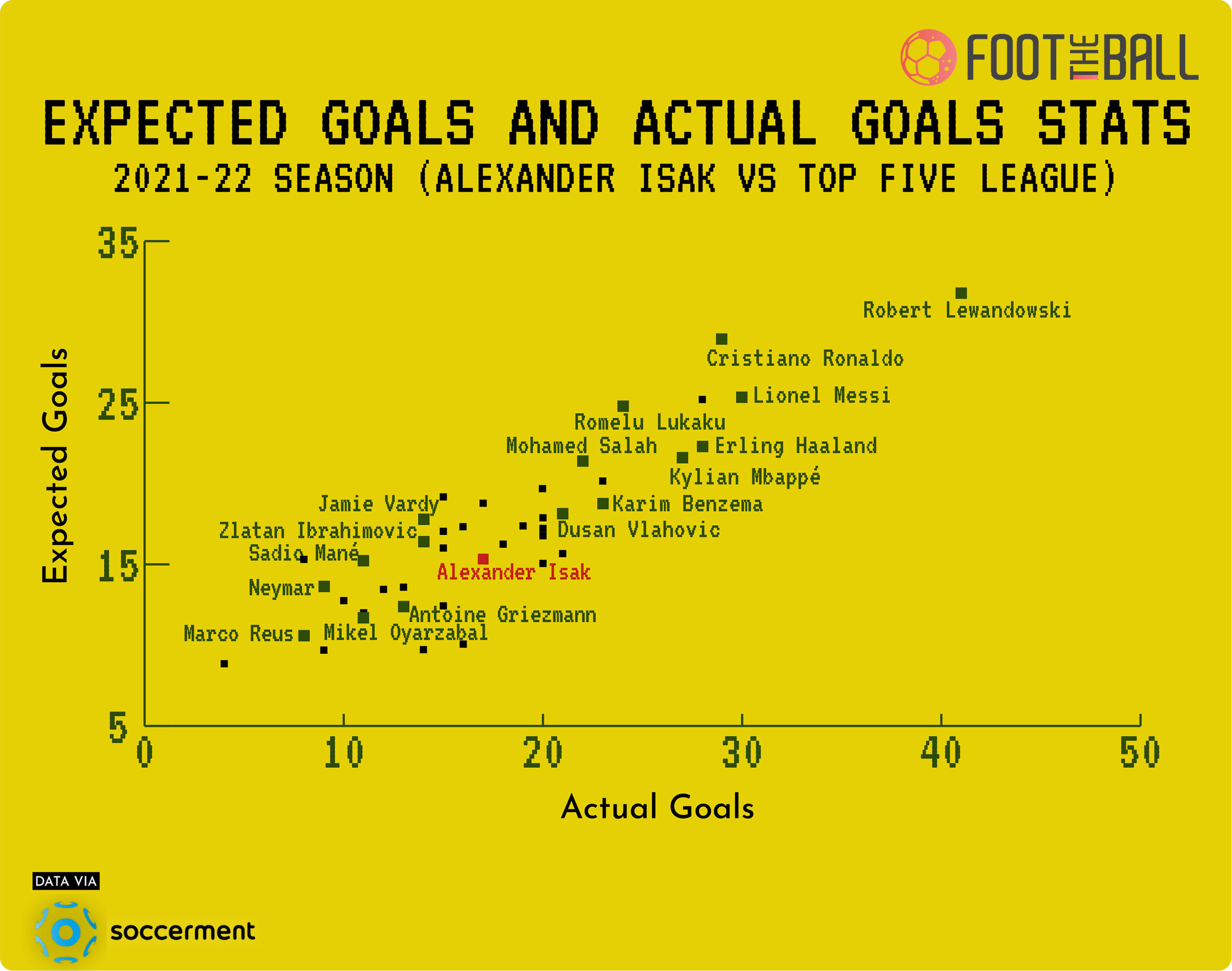 Why should teams sign Alexander Isak?
It is no secret that many teams will be vying for a centre forward in the summer. These teams include Barcelona, Real Madrid (based on Kylian Mbappe's transfer), Paris Saint Germain, Arsenal, Manchester City, Borussia Dortmund, etc. Even teams like Bayern Munich may consider him a quality backup to Robert Lewandowski.'
3 – Alexander Isak 🇸🇪 (21 years and 153 days) became the youngest player to score a hat-trick for @RealSociedadEN in LaLiga in the 21st century. Giant. pic.twitter.com/nKCjMkp7rz

— OptaJose (@OptaJose) February 21, 2021
And in Alexander Isak, they have a player who, with the right coaching, can become the next great thing. The Swede is not just a goal-scoring striker but also can be deeply involved in the team's build-up play. In addition, he is a natural dribbler and thus will offer more flexibility to a team's frontline. 
His heatmap, both from the previous and current seasons, shows that he loves to wander around the pitch, looking to conjure up the perfect attack.
For a player his height, Isak is very mobile, which puts him into a scarce breed of tall players blessed with skills usually seen in players of more diminutive stature. 
And he is still just 21 years old and can improve a lot in the next two to three years under proper coaching.
Kylian Mbappe and Erling Haaland are the top superstars to headline the next generation. But several others will be looking to join them as the best of their age, and Alexander Isak should hope that he is one of the first in line to do so.